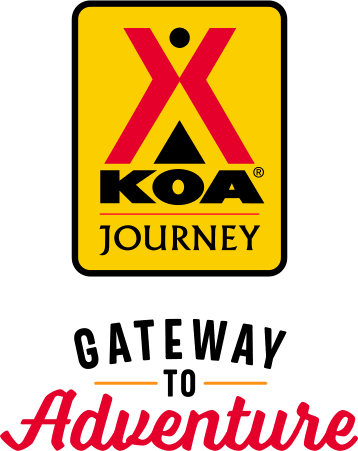 KOA Journey Campgrounds
KOA Journey campgrounds are the perfect oases after a day on the road. Whether it's along the way or a quick getaway, they've got you covered. Located near the highways and byways of North America with long Pull-thru RV Sites, they deliver convenience to the traveling camper. Pull in, ease back and take a load off.
KOA Journeys Feature:
Pull-through RV Sites with 50-amp service
Premium Tent Sites
Well lit after hours check-in service
Directions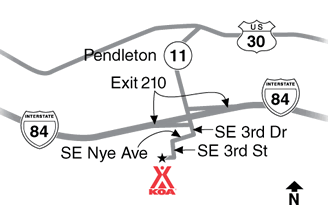 I-84: Take Exit 210.

Head uphill (South)

Take the first right (SE Nye St.)

And then the first left (SE 3rd St.)

Get Google Directions
Apr 30, 2021
We stayed in a site with a patio and a propane firepit, it was the nicest campsite I have ever stayed in. We come through every year and will continue to stay here. Checking in was a pleasure, everyone was nice and very helpful. If you are staying in Pendleton, this is the place to stay!
Apr 30, 2021
If we are in Pendleton the next time we will here. Very clean and nice park. The laundry room was very clean and all machines worked properly.
Apr 29, 2021
We travel from Washington to Phoenix several times a year. We usually stay at a private park in Walla Walla but due to Covid they didn't have open bathrooms. Decided to stay here in Pendleton and boy are we glad we did! We were lucky enough to get a spot that looked out over the valley and the view was beautiful! The park was clean and quiet. We will make this a repeat stay.
Apr 28, 2021
The hosts were friendly. The campground is very clean and quiet. We would stay there again.
Apr 28, 2021
Very convenient location. Well kept grounds. Great customer service.
Apr 28, 2021
The property was clean and pretty, the facilities were very clean. However my biggest complaint is that you are packed like sardines and can pretty much high five your neighbor from your window. The spots are so tight that if you have slides, you'll basically be touching both neighbors. I prefer camping at a distance from others, not 2 feet from everybody. Way too many spaces on the property
Apr 27, 2021
average KOA but about 40% overpriced
Apr 27, 2021
We stayed one night in a 41 foot fifth wheel pull thru site
Apr 26, 2021
I have stayed at the Pendleton KOA about four times in the past. This is probably the best KOA I have stayed with. Clean and orderly sites. Clean and well maintained bathroom/shower facilities. Friendly and helpful staff. Easy access from the interstate. It's a great place to stay and I'll be back.
Apr 26, 2021
This park is well maintained, clean and the staff are very customer oriented! The facilities were so clean. Very well maintained KOA. All sites were in great shape. Thank you for this high standard!
Apr 26, 2021
We felt welcomed at check in. The campground was clean. The restrooms were clean. What more could you ask for.
Apr 26, 2021
We had just picked up our new travel trailer in Boise and we're on our way home. Wanted a quick and easy stay for the night and KOA's are super familiar and I've heard great things about the Pendleton KOA. Reserving online was a breeze and check in was simple. We found our spot and created a.great memory. We will definitely be back!
Apr 25, 2021
A very clean kampground. The full time residents were friendly and helpful in finding our way around the town and area. The town itself is worth checking out.We went on the underground tour and learned alot about the history.
Apr 25, 2021
Nice quiet stay Very friendly staff. Set up nicely for all sized rigs.
Apr 25, 2021
Very clean and well maintained park
Apr 24, 2021
Spaces were extremely tight. We were not aware there was so many full time residents. Spent 1 night. Moved to another RV camp next day. Check in staff were friendly!
Apr 23, 2021
Everything was fine. Just a one night stayover on my way home.
Apr 23, 2021
Clean, friendly, easy in and out.
Apr 22, 2021
Great staff and park is kept clean. My perception was that there are many long term renters at this park. Traveler pull-thru's are nice enough, gravel and the spacing is relatively close to others, esp. with slide-outs.
Apr 21, 2021
Awesome property.
Apr 21, 2021
Super as always!! Great manager and an able staff. Always stay there!!
Apr 21, 2021
Easy access and quite. Restroom and shower area is very clean
Apr 20, 2021
Assigned site difficult to back into; otherwise stay great. Staff accommodating- changed our site so easier to get into
Apr 19, 2021
Great staff and great property. Thanks!!
Apr 19, 2021
Easy check in, clean facility, friendly staff. Thanks.
Apr 19, 2021
As usual, the Pendleton KOA has the friendliest and most helpful staff in the entire KOA lineup -- and by far the cleanest bathrooms!!
Apr 19, 2021
One of the best KOA campgrounds in the US. The staff is wonderful and helpful. The spaces are clean and well kept. We stayed at the deluxe campsite with privacy fence with covered patio and furniture. What a treat. Worth every penny.
Apr 19, 2021
Super helpful and friendly staff! Incredible sunset view :)
Apr 19, 2021
Very nice park. Friendly and clean.
Apr 18, 2021
Pendleton KOA is one of the best KOAs we have stayed at in all our travels. Friendly staff, clean and level sites, and clean bathrooms. What's not to like.
Apr 16, 2021
Very comfortable stay in the Wagon. Very well kept site. Thank you.
Apr 15, 2021
We were given a spot that was too tight to get into and we ended up having a branch that had not been trimmed off of the trees adequately tear into the side of our roof and now we have to get it repaired. You were told the length of the trailer and all about it but yet you put us in that spot and it was after hours with not many alternatives for where to go. Small space is tight spaces �
Apr 14, 2021
Super nice spot in a KOA that was very well maintained, quite and with friendly hosts. Pendelton was centrally located to many of the OR and WA places we wanted to visit so it was great. Cannot ask for much more than that!
Apr 14, 2021
Clean, well-maintained campsites. Everything in good working order, exceptionally clean restroom and super friendly/helpful staff.....one of the cleanest KOA's we've stayed at, will definitely stay again!
Apr 14, 2021
We've stayed at the Pendleton KOA several times on our trips through the area. We always know the staff will be friendly and efficient ands the facilities in top shape.
Apr 13, 2021
Nice park conveniently located. Close to the freeway but very quiet. Staff was friendly and accommodating. Definitely will go back for another stay since we love Pendleton and the area in general.
Apr 12, 2021
A great campground with wonderful staff.
Apr 12, 2021
extremely clean and quiet park.
Apr 12, 2021
Easy to find and get to but very close sites.
Apr 11, 2021
Very clean park with very friendly staff
Apr 08, 2021
Very tight center sites and encroaching neighbors 1 foot behind and 1 foot into the site entrance on one side made getting into our site difficult and meant we had to unhitch to avoid having our bumper into the drive. Easy access from freeway with convenient gas on the way back to the highway. Fine for an overnight.
Jun 06, 2021
Very clean and well taken care of.
- Bob Walsh on Google
Jun 05, 2021
Very nice, clean RV park with a great view of rolling hills and valleys. Level gravel sites with a picnic table for each, and each site has an outdoor night light at the end of each site. Nice little fenced dog park. We did not use the restrooms or showers. The cable was a little fuzzy, but we were just overnighting, so no big deal. Nice playground and a gas grill for RV'ers use. We would definitely recommend this KOA park.
- Kim Seguin on Google
May 31, 2021
Quiet place easy access directly off the highway. We had a relaxing stay and nice shower. On to the next place!
- Steven Prakin on Google