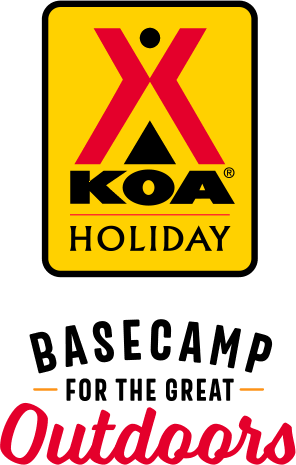 KOA Holiday Campgrounds
Whether you're exploring the local area or hanging out at the campground, KOA Holidays are an ideal place to relax and play. There's plenty to do, with amenities and services to make your stay memorable. Plus, you'll enjoy the outdoor experience with upgraded RV Sites with KOA Patio® and Deluxe Cabins with full baths for camping in comfort. Bring your family, bring your friends, or bring the whole group – there's plenty of ways to stay and explore.
KOA Holidays Feature:
RV Sites with a KOA Patio®
Deluxe Cabins with full baths
Premium Tent Sites
Group meeting facilities
Directions
Driving from the north on Highway 89, go straight through the blinking red light onto Highway 143. Proceed 5 blocks south. We are on the left side of the road.
Driving from the south on Highway 89, turn left at the blinking red light onto Highway 143. Proceed 5 blocks south. We are on the left side of the road.
GPS: N37.814301. W112.434607
Get Google Directions
May 08, 2021
Our favorite KOA. Close to so many things to see and do. Friendly staff, always very clean and well maintained.
May 08, 2021
Clean, friendly, and roomy. Plenty of shade and central to Bryce, Zion, and the other things we wanted to see. I recommend it!
May 08, 2021
Great campground but the cabin selected for us was maybe the worst of the row. There was a powerful light on all night outside the cabin. And the cabin was the furthest you can get from any of the bathrooms. I am used to the cabins being the closest sites to the bathrooms and was surprised by this KOA.
May 08, 2021
Fairly dated RV park.
May 06, 2021
Quick overnight in a cabin - convenient location, friendly staff and clean bathrooms.
May 05, 2021
Our stay was amazing. The camground was clean and well kept. The hosts were friendly and made it easy to check in and out. We absolutely loved the Panguitch KOA.
May 05, 2021
Second time here. Love it.
May 02, 2021
Love the upgrades! Staff very friendly and efficient! We'll be back!
May 01, 2021
He was a nice place for us to be able to explore southern Utah ànd the parks. For just being new to koa's we were highly impressed
Apr 30, 2021
Clean and friendly
Apr 30, 2021
Quiet and very well-maintained park.
Apr 29, 2021
We stayed in a deluxe cabin and was very happy with the unit. It was clean and all the amenities were available to us. Thank you for a wonderful experience
Apr 28, 2021
Enjoyed our time there.
Apr 28, 2021
Our stay with you was great and we will stay again in the future.
Apr 27, 2021
campground was clean. The rows were a little tight and my neighbor had their dog tied out a little too close to my door. Bathrooms were clean. Good distance from major National Parks.
Apr 27, 2021
KOA was such a fun experience. Everything was clean and up to par especially during this time with covid. I am so amazed with this place and would definitely come back again.
Apr 27, 2021
Best showers our entire trip. Clean. Roomy. Plenty of water pressure and can adjust to the temperature you want. Thank you!
Apr 25, 2021
Not amazing. Not terrible. More like a Journey than a Holiday in my mind. Cabin backed right up to the road which didn't have much of a fence. Bathrooms were clean with great water pressure.
Apr 25, 2021
I was Able to check in an get to my space in minutes. I had a deluxe site with a patio that wD AWSOME! Like most the space was adiquit for my rig and having the patio was a big plus. The park was quiet, and the facilities very clean. Even though my kids are grown there were activities available for family fun. I'll stay hear again.
Apr 25, 2021
Great stay , great people the run the site.
Apr 25, 2021
Trouble-free. Nice location. Very quiet. Very clean.
Apr 24, 2021
The man who was closing up the office at 11 am was rude. I had called the evening before to make sure we could check in early and was told anytime after 11. He insisted the reservation states 2 pm, which I understand, hence the call ahead of time. We were only traveling about 40 miles to Panguitch. He reluctantly agreed to let us park early. The sites were extremely small. No cable or tv stations
Apr 24, 2021
Great location for Zions and Bryce National Parks. Cleanest restrooms we've seen. Camp hosts very helpful.
Apr 23, 2021
I would be hesitant to recommend Panguitch to a friend only because it's a bit far away from amenities that bigger towns & cities have. However, the staff I met was so nice & welcoming, and those bathroom showers!! The shower was heavenly and very different from other KOAs. Removable shower head with amazing water pressure, and enough room to turn around & bench space & hooks to put my toiletrie
Apr 22, 2021
Excellent campground. Clean and friendly
Apr 20, 2021
Amazing location with great team
Apr 18, 2021
We spent two nights in the campground and never saw a singles campground employee. None of their water supply pipes are insulated and wrapped, all pipes froze over night. Bathrooms were clean, we enjoyed the town and the local residents.
Apr 17, 2021
I Loved it, friendly staff,, bathrooms were super clean,bathroom and showers excellent,
Apr 17, 2021
It was 23 degrees and snowing. Our heater wasn't working and Martin from Martin's Mobile Service came and fixed it! A very nice clean park. Clean bathrooms and showers. Laundromat very nice also.
Apr 15, 2021
Nicely maintained RV Park.
Apr 15, 2021
Nice headquarters to visit the surrounding area.
Apr 15, 2021
Unfortunately we did not enjoy our stay. The spot was far too small for a 36 ft 5th wheel. This was not a pull through site with the tree on the way we had no way to get get out. The sites are too close to each other . Will not stay here again...
Apr 14, 2021
Friendly and helpful staff. Nice views. Good restaurants in town.
Apr 11, 2021
Super fantastic staff! We had a water issue on our departure day and the staff went the extra mile to get us on our way! They were so nice and understanding through our entire trip. Always available with a recommendation on the area and just to say hello. We will definitely be back!
Apr 11, 2021
Good place, but to many Dogs
Apr 10, 2021
Very nice, clean facility. Friendly people in the town. Appreciated the amenities.
Apr 10, 2021
The cabin was great, very comfortable. The people in the office were helpful.
Apr 10, 2021
Incredibly nice and helpful hosts! We really enjoyed ourselves and appreciated all the great advice.
Apr 06, 2021
While the staff was friendly and helpful and the place was very clean, the sites could not have been smaller. Very few options available where you didn't have to share a fire pit. The neighbor smoked a pipe and we had to close our windows because there was less than three feet from our window and theirs. Absolutely no privacy and we stayed inside our unit the entire stay.
May 09, 2021
Well run KOA campground. All amenties. Pool just being filled.
- Jim Bouchard on Google
Jan 14, 2021
Love the place, been there a few times and it's always clean and the folks are friendly... Well, it's Utah! , everyone's friendly in Utah!. Called for a reservation but it's closed for the Winter.
- jaMie on Google
Oct 09, 2020
Beautiful and cozy stay! Clean bathrooms, easy after hours check-in, easy commute to Bryce Canyon. Would definitely stay again!
- Avery Inskip on Google