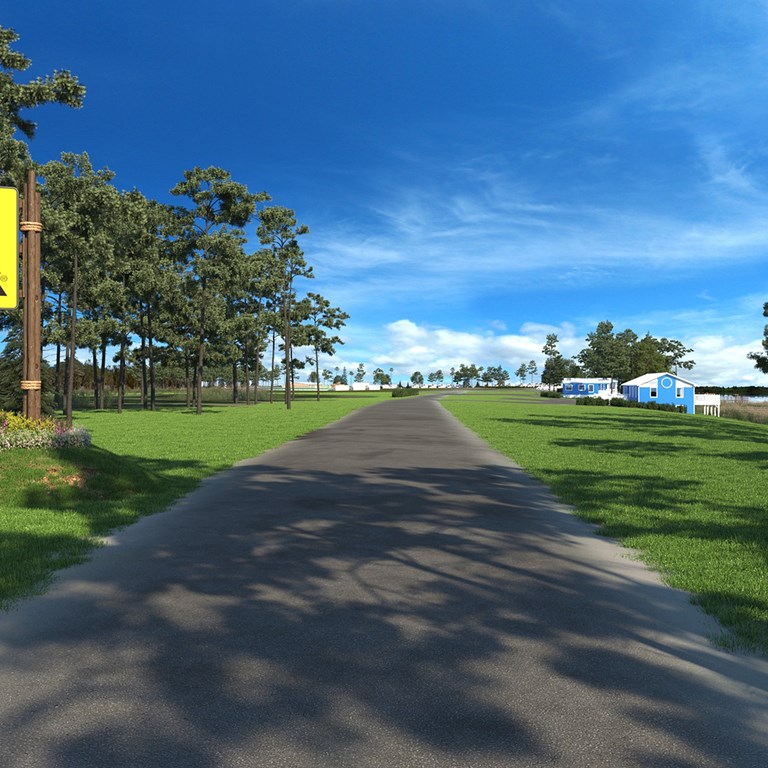 Outer Banks West / Currituck Sound KOA Reviews
Start Planning Your Summer Getaway!
Directions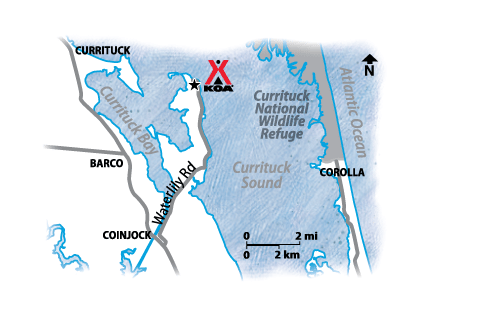 From the north: VA 168 S and NC 168 S; continue onto US 158 E. Turn left onto Old 158 Rd S, then continue onto Waterlily Rd.
From the south: US 17 N and 158 E. Turn onto Old 158 Rd S, then continue onto Waterlily Rd.
GPS: N36.417178, W75.923594
Get Google Directions
Jul 05, 2020
View was great! New facility, improving daily. My only complaint was water pressure, sometimes so low it was unusable.
Jul 04, 2020
No water pressure, lake formed under the MH when it rained. Site was on an unpaved main road the dust from this coated MH food or anything left out. It was difficult to get to piers unless you had a water front site. Not a destination just a place to sleep.
Jul 04, 2020
it was beautiful. staff was awesome and everyone helped out everyone else. the only issue we had was the water pressure. it is great about 3 am but any other time terrible. other then that everything else was awesome and i will be back this summer
CAMPGROUND RESPONSE / COMMENTS:
Yay! A Happy Camper! Thank you! We have a great team here at OBX West KOA! We are working on that water pressure issue and hopefully the next time you camp...it will be so much better.
Jul 04, 2020
THANKS ! Only complaint is the water low ! Will be coming again!
CAMPGROUND RESPONSE / COMMENTS:
You are WELCOME! Our Regional team is working on a plan to make the water pressure better in the park!
Jul 03, 2020
Great location, beautiful scenery we enjoyed our time. This campsite has a potential to be amazing. However, there were a few setbacks, the water pressure was really low at times, I'm thankful we filled up our water tank. There was a power outage that we are not notified of however, it did occur during quiet hours. The Wi-Fi reception is poor, but this did not bother us. Wf sites are too small
Jul 03, 2020
Overall we loved the campground and already booked our stay for next year! It was beautiful and perfectly placed for our needs. The only reasons that I did not give it a five rating was that I called ahead of time to ask if the jump pad and water Taxi were open. I was told "everything" is open. When I arrived the jump pad hadn't even been built and the water taxi was not running.
CAMPGROUND RESPONSE / COMMENTS:
We apologize for the confusion on our amenities. We will do a better job of updating our guests. We are taking those decisions day by day according to state and local guidelines for Covid.
Jul 02, 2020
Pros: Staff was friendly Beautiful location! Highly recommend a back-in waterfront site. Sunrise and Sunsets are gorgeous! Internet connection and speed was good Cons: Water pressure was horrendous.....at times the water would just quit running, However, as a work around we filled our tank and pumped the water for showers. Roads are all gravel so not so great for bike riding.
Jul 02, 2020
We loved the area and the beautiful sunsets. We had no issues with water pressure or electricity. Staff was very helpful and always available during day. The grounds were clean. Grass mowing didn't bother u. When all the amenities are added it will be fantastic, especially a pool. Cabins look great when we walked by them. People on golf carts do need to slow down some. Looking forward to returning
Jul 02, 2020
Checked in and was escorted to our spot. Was in a back in spot on the back row but had a perfect view of the sound. Enjoyed the Saturday Night entertainment. Camp store was nice and workers very friendly. Campsite was nice with fresh sod and new utilities. Hope you add a pool at some point. Would like to see "life rings" at waters edge for safety.Great stay and we will be back.
CAMPGROUND RESPONSE / COMMENTS:
Thank you for staying with us and we are so excited you had a great experience! Please come back as we are just getting started! We like your idea of life rings by the water's edge.
Jul 01, 2020
The views were amazing but as others have said, the amenities listed on the website don't match up with the current offerings. We rented a golf cart and the lights didnt work. Another power outage because of low voltage to the sites. We'd go back again but not until they work out their growing pains.
Jul 01, 2020
All campgrounds, especially new ones, have growing pains. OBX West KOA has done so much to ensure everyone has a great camping experience. Some folks have posted negative remarks about the water pressure and the electrical outages, but the campground has and is addressing those issues. Some are county issues. Robin the Manager is so easy to work with. Staff members Erica and Kirsten awesome!
Jul 01, 2020
Not going back anytime soon. 1. Water pressure unacceptable most of the the time. 2. Too many speeders including staff makes for very heavy dust. 3. Sights unlevel, & poorly graded. 4. Priced way too high for their current offerings. 5. You can't reserve the sight you want, You must take what they give you. 6. Water faucets 6" off ground. Hard on senior campers 7. No pool
Jul 01, 2020
The views are AMAZING and the staff was courteous. We loved having the patio furniture with our site. Once all the kinks are worked out with the water and power, it will be amazing! We would also love to see a pool be added! Overall, we really enjoyed our stay! We will be back again soon.
Jul 01, 2020
We had an excellent stay. Others we were with lost power for several hours however quickly restored. The staff was excellent!!!
Jul 01, 2020
Beautiful campground surrounded by water. If you like water sports, floating in a tube, canoe, fishing then you'll love this. There were some bad reviews earlier when they were still working things out but its good now. Would come again.
Jul 01, 2020
Amazing location on the Sound! Disappointed the water taxi wasn't running, and this should have been stated on web site (false advertising). Sure to distance from grocery store, the Camp Store should stay open later and should have more food items. We had site 04 and we had no one next to us...if we had, then we would have been too close and wouldn't have had room to park our tow vehicle.
Jul 01, 2020
Since the place is brand new it is a lot of things needs to be complete , for the KOA price would be nice if the water pressure is more than 10 psi and have Internet service, put out some Trashcan for waste. Otherwise the place is gorgeous and we had a wonderful time
CAMPGROUND RESPONSE / COMMENTS:
Thank you for providing feedback. The water pressure is definitely low and we are working on a plan to fix it. We pick up trash between 8 and 5pm everyday so you do not have to see or smell trash cans. We have great internet service too!
Jul 01, 2020
Had a great stay, staff is friendly, helpful, and did a great job. Campground is new and they are working daily to make it perfect. Waterfront sites are narrow (like any vacation spot campground) but deep, so plenty of room behind you to enjoy the sound views and breeze. That said be a thoughtful neighbor, and if those around you are as well, no issues. Bathrooms are clean and private.
CAMPGROUND RESPONSE / COMMENTS:
We love hearing all the good things about OBX West! The staff is trying really hard to make it through the pandemic, water issues and sad reviews! We all want our guests to have an awesome experience.
Jul 01, 2020
VERY LOW water pressure. Needs a pool, swimming in the sound is not for everyone. Snack bar should be open. Very disappointed that water taxi was not running.
CAMPGROUND RESPONSE / COMMENTS:
Thank you for providing feedback. The pandemic has limited us on activities and amenities. We do have food trucks coming in on the weekend but our Happy Jack's Cafe is now open. We put the bounce pad up this afternoon so the kids are happy.
Jun 30, 2020
The setting of the campground is nice being on the sound.We enjoyed our stay met some nice people down there.You have to drive a bit for dining but nothing is that far away.Some places we went was Coinjock Marina (twice) and Curituck Bar B Q had very good food.In general I found the people of that area very freindly. Only did not care for about the campground was the gravel roads and no swimming p
Jun 30, 2020
This campground is about 45 minutes to the closest beach, but the seclusion was nice. They are in progress of adding more amenities and upgrading, but if you don't mind the basics it has enough for a nice stay. The water pressure was frequently an issue, they didn't have the water taxi or activities and they had a 1 hour power outage one night, but other than that everything was satisfactory.
Jun 30, 2020
Beautiful campground, wonderful views, very friendly staff and great customer service. The only complaints I have is the water pressure was very bad and access to some of the pier's was limited because of the soft muddy grounds leading to them.
Jun 30, 2020
While we had a blast, it seemed like the campground was not quite ready to open. The water pressure was barely there(not so great for black tank cleanup) and the power company came out to work on the the lines resulting in the power to our site being cut off at 10pm for a while on a hot summer night. We had fun splashing in the sound, but I also wish there had been a pool or a jumping pillow.
Jun 30, 2020
Enjoyed the place and our campier location very much. The band was good and place clean. Will consider koa west a yearly destination when pool, water taxi and other amenities r added. Will b spectacular when complete. Would suggest u have a seafood and vegetable person visit. Local is always best. Thank u for the nice weekend. We really enjoy remaining on site and not having to go anywhere.
Jun 30, 2020
The only problem was the low water pressure. Please get this fixed immediately!!
Jun 30, 2020
We had a great time at a beautiful location. Only recommendation would be a little more lighting at the water and can't wait for more things for the kids to open up but I know you're working on that!
CAMPGROUND RESPONSE / COMMENTS:
We put the kids jump pad up this weekend and opened the cafe' with 16 flavors of ice cream! Come back to stay with us again!
Jun 30, 2020
I loved that all the Workers where very friendly & took the time to say hi & talk for a min about the day.
CAMPGROUND RESPONSE / COMMENTS:
Thank you! Our staff is awesome and hard working! We want you to have the best experience!
Jun 30, 2020
This camper comment has been removed by KOA due to profanity.
Jun 30, 2020
Flex pricing for "semi waterfront" was way overpriced. We asked to move because cable didn't work and was told we had to wait on maintenance (1 person on Sun). The sites are too close and the pull through sites should go the other way to see the water that's a premium price. The road to the campground is dangerous With trees and narrow road will not ever go back
CAMPGROUND RESPONSE / COMMENTS:
We are sorry you didn't have a good experience. We have multiple people working everyday including Sundays but apologize if someone did not come to your site for the cable issue. You are right, we really should have turned those sites around. We have a beautiful campground with a great staff and hope you come back in the future.
Jun 30, 2020
This is a wonderful campground. We liked it so much we have scheduled a week already next year!
CAMPGROUND RESPONSE / COMMENTS:
Awesome! Thank you! I hope you asked for you 20% rebook discount. If not, let us know and we can add.
Jun 29, 2020
This new campground features Great water views & waterfront amenities with many new features around the campground. When all upgrades are finished this will be a top notch campground.
Jun 29, 2020
We were on waterfront closer to the office. The lots was tight, but the placement of the rear patio was excellent. The water pressure is an issue - carry water in with you and plan on using your pump. Mid-week there were fewer people and the water pressure climbed to around 40 pounds of pressure. We will keep this one on our list.
Jun 29, 2020
Enjoyed our stay. The location and setting were excellent. Friendly and professional staff. Noted issues: Poor water pressure; Consider restricting golf carts from sound side road after dark; Consider fencing along waterfront sites to prevent golf carts from driving thru sites to get to sound side road for guest safety and erosion control. Should be a 5 star once completed and fully operational
Jun 29, 2020
Dusty, patio delux sites too close together, no privacy! Website says there is a grill ,which there was not. No water pressure-unable to wash dishes, shower, much less flush the holding tank ... The sewer dump pipe is lower than the concrete ring, difficult to connect y-adaptor for black/grey hoses... had to move the concrete ring to prevent a spill. I don't think it was quite ready to open
Jun 29, 2020
The sites were very cramped and not level. There was very little water pressure which made washing dishes and bathing very frustrating. Not what I expect from the KOA brand.
Jun 29, 2020
There are very few trees or shade which makes for a very hot stay. The "waterview" sites do not have a water view, as the waterfront sites are so close together the view of the water is blocked by all the campers. The pools and bounce pads and other entertainment that was advertised at this campground haven't even been built yet. There is very little cell service and the wifi doesn't work.
Jun 29, 2020
No water pressure. Barely a trickle of water coming out. Paid for water front site and had two huge trees blocking view and the sites were so tight I couldn't open my awning all the way. The Sound was glorious and my girls loved floating and playing. Live band was a nice touch on Saturday.
Jun 29, 2020
We were in a mud hole and asked to be moved but they wouldn't let us Too packed in like sardines.
Jun 29, 2020
Very pretty area on the Currituck Sound. Nice place for relaxing and enjoying nature. Piers have a great view of beautiful sunrises and sunsets.
Jun 29, 2020
No channels on the cable. Water pressure was extremely low.
Jun 29, 2020
Beautiful spot, though very remote. When this KOA is finished completely, it will be amazing. Water pressure is still an issue and the launch to Corolla still isn't running due to the COVID restrictions. When these are fixed, this will be terrific. The staff is wonderful and accomodating. Sunsets are spectacular!
Jun 29, 2020
We were welcomed with open arms and escorted to our site by a nice man that answered all our questions. We had a waterfront view which was lovely and were able to walk to a beautiful pier and fish and swim from it. Our club had a fun time the campground staff was very accommodating to us. Our site was clean the trash was picked up regularly it was quiet.We look forward to our next visit.
CAMPGROUND RESPONSE / COMMENTS:
We absolutely hope you do come back and we are so happy you had a great experience. Our camp hosts are great ambassadors and care about the guest experience.
Jun 29, 2020
False advertising. It is not in outer banks. It is an hour drive to outer banks. There is no beach at the campground, there is just a bulk head. There is one bath house. There is no water pressure. There were even times when you turn on the sink and nothing would come out. The internet is only decent early in the morning or late at night when no one is on it. It has potential, but needs work.
CAMPGROUND RESPONSE / COMMENTS:
We are sorry you did not have a good experience. The county has poor water pressure but our reginal team is working on a solution for our park. We have a family bathhouse and a second bathhouse behind the event center and a brand new wifi system. We hope you come back to see all the great things we do have to offer.
Jun 29, 2020
it was great the first time we actually had grass up to the camper! I hope they can maintain it through the summer heat.The only thing missing was an beach and the store needs more stuff!
CAMPGROUND RESPONSE / COMMENTS:
Thank you! Grass is great when camping so we will work hard to keep it green! You are right... we need more items in the store. We did just open our Cafe' and we have 16 flavors of ice cream!
Jun 29, 2020
Horrible water pressure along with electrical issues. Had to use our water pump the entire stay. Friends had no power during the day which meant no AC. Shut down power to adjacent lots to fix the problem. Granted, Dominion was on it quickly. Shouldn't have had those issues though. Have seen reviews addressing same issues.
CAMPGROUND RESPONSE / COMMENTS:
We apologize for the water pressure and the electricity issues. Dominion recently did an upgrade to the entire area and had a few faulty cables which were out of our control. Our Regional team is working hard to help boost the county's water pressure issue and make it better for our park. Please follow our progres!
Jul 06, 2020
Beautiful sites, nice quiet campground, and everyone us so friendly.
- Antoinette Hanik on Google
Jul 05, 2020
Beautiful campground right on the sound with great swimming and views!! Staff were amazing and they accommodated as best they could with covid restrictions. Jump pad, playground and dog park all next to each other!! Lots of great fishing/crabbing! Will definitely be back 😁
- Brittany Pickens on Google
Jul 07, 2020
We just spent 6 days here and had a great time! The staff was awesome! Management came out to our site to take care of a few hiccups and went above and beyond to take care of our group. When finished this place is gonna be awesome. It would be nice if there was more water access (it's either jump off the pier, jump off the retaining wall or walk down the boat ramps). My kids (4, 8 and 16) had an absolute blast jump off everything. The sites are definitely on the small side but that seems to be the norm now a days with new places. They definitely have the room to space some things out and add some more amenities. They also need more paths to get down to the water (attention fellow campers- IT'S RUDE TO WALK DIRECTLY THROUGH SOMEONE'S CAMPSITE, GO AROUND!!!!!!!) we absolutely can't wait to come back in the coming years. I would have gave it 5 stars but the water pressure is not great at all, the prices could have been a little better for what your getting, the sites are on the small side for what you're paying. The views are awesome and the staff was excellent!!! We were in a group of 6 campers and we all had a great time and all agreed we will be back.
- Joshua Eskins on Google

Outer Banks West / Currituck Sound KOA
Open May 21 - November 30
1631 Waterlily Road
Coinjock, NC 27923
Check-In/Check-Out Times
All Sites
Check-in: 3:00 pm, Check-out: 11:00 am
Outer Banks West / Currituck Sound KOA
Get Google Directions

© 2020 Kampgrounds of America, Inc.