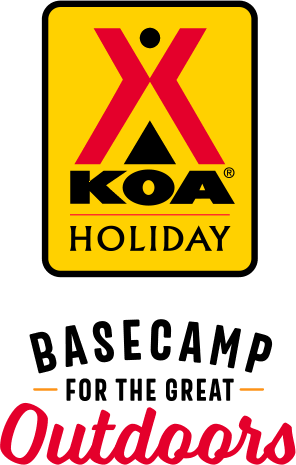 KOA Holiday Campgrounds
Whether you're exploring the local area or hanging out at the campground, KOA Holidays are an ideal place to relax and play. There's plenty to do, with amenities and services to make your stay memorable. Plus, you'll enjoy the outdoor experience with upgraded RV Sites with KOA Patio® and Deluxe Cabins with full baths for camping in comfort. Bring your family, bring your friends, or bring the whole group – there's plenty of ways to stay and explore.
KOA Holidays Feature:
RV Sites with a KOA Patio®
Deluxe Cabins with full baths
Premium Tent Sites
Group meeting facilities
Directions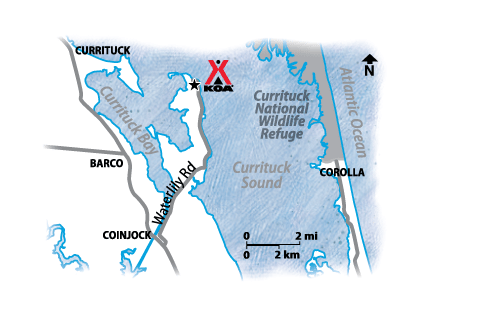 From the north: VA 168 S and NC 168 S; continue onto US 158 E. Turn left onto Waterlily Rd.
From the south: US 17 N and 158 E. Turn onto Waterlily Rd.
GPS: N36.417178, W75.923594
Get Google Directions
Jun 28, 2021
Sites are lovely, but amenities were basic. Several amenities listed on website were not available (boat shuttle to Corolla, inflatable obstacle course). No pool. Overall price was a bit high for lacking advertised stuff. Store is only open until 5 during the week. We did appreciate the late checkout, though.
Jun 28, 2021
The campsites closest to the water are exceptionally tight. The sites on the inland side are very accommodating but absolutely no shade. The full hook ups were excellent. There isn't a pool and an hour away from the beaches. The sound doesn't have swim areas for kids. The depth ranged from 6' one day to 4' the next so kids who dont swim are out of luck.
Jun 28, 2021
The site that I was on was to narrow for my camper. Could not use my awning because of being to close to camper on that side. Other than that camp ground was good. Could really use a pool though. Very tight as far as camp sites was concerned also.
Jun 28, 2021
We enjoyed our stay overall at this campground! The rental RV was fairly clean upon arrival and spacious. The campsite was a great corner lot with a lovely deck and a viewHowever, there was a foul smell with every flush of the toilet. As well during our first night of our two night stay there was a CO2 alarm that went off for two hours, there was no line to call so we had to google how to fix it.
Jun 28, 2021
Love how quiet and peaceful it was. Very nice people that work here. Like the nature trails. Good fishing and adventures out in the sound!!
Jun 28, 2021
Beautiful sites and views. Store hours-very limited. Bath houses - always dirty & needed cleaning. Rental RV had some serious issues - 2x during our stay (2 nights) the heat suddenly turned on full blast and it was miserable - thermostat was obviously broken -2nd time we turned off the gas. Oven was broken (did get a call prior to visit). Bed hard as a rock - bring a mattress topper.
Jun 28, 2021
We had a blast! Will definitely be back, possibly for a seasonal stay! Staff was great, neighbors were friendly, amenities were well kept, and the golf cart rental was a lifesaver. Thank you guys for an awesome weekend.
Jun 28, 2021
Great and friendly staff!
CAMPGROUND RESPONSE / COMMENTS:
Thank you so much!
Jun 27, 2021
The staff was pleasant and accommodating. The site views were beautiful but getting a 36' trailer into our particular site was challenging because of proximity to other opposing site and location of electrical pole and sewage connection. Also it was a tight fit getting the vehicle on the site.
Jun 27, 2021
I didn't like the back in sites. They are tight and you don't have any privacy. fortunately we were moved to a better site. The other issue we had was water pressure. It was like taking a shower from a garden hose at best. Other than that, we had a lovely time in the activities we're good for the kids.
Jun 26, 2021
The elder staff was very rude. The man rode around questioning our son twice asking if he had his drivers license while operating the golf cart once was when he had been in the water all day as if he swims with his drivers license. The elder lady that works in the gift shop was always very short tempered, rude and very unknowledgeable about events, her response was always find Lexy and ask her.
Jun 25, 2021
The campground had beautiful views and was well maintained.
Jun 25, 2021
Loved this campground. We had a beautiful spot right on the water front
Jun 25, 2021
We were disappointed that there was no place for small kids to safely swim. The boat ramp that we were told to use had broken glass at the bottom of it and the concrete was hard on their feet. You also advertised a ferry ride across the sound that we found out has not run in the past year. We did however enjoy the playground, bounce pad and dog run.
Jun 25, 2021
Not what we expected from a KOA. Staff not too knowledgable. The cable had no local news or weather. We arrived thinking there would be a designated swim area for the kids but soon found out they had to use the boat ramp to get into the water. (we saw that a 1/2 mile of sandy beach on Currituck Sound was advertised). Also advertised was a launch to Corolla that has not be operational in 2 yr
Jun 24, 2021
They need to update there website
Jun 24, 2021
Campground was clean, a pool is needed. Lost power several times. We had water front sites but it was more like swamp front sites and shouldn't have been charged as much as those parked on the actual water front sites. The campground itself is at the end of a very long residential road, the road is narrow and is tough for campers. There was suppose to be water activities on the sound, there is n
Jun 24, 2021
Very nice campground setting on the water. Staff very pleasant and helpful. Wifi just ok. Very good cable tv. Unfortunately sites are very tightly packed together. Water pressure not an issue.
Jun 23, 2021
Site location was great, bathrooms were clean, would have nice to have a pool and wider camp site. A little cozy especially if your neighbors aren't careful how the park their rv.
Jun 23, 2021
Really liked the campground! Biggest complaint is what you consider water view. we were water view but in front marsh. the other side of the water view is MUCH better as you are right on the water & can walk out of your camper and be in the water! I just don't feel that you should charge the same rate for both of these as in my opinion, they are NOT EQUAL! Need to add more dog waste receptacles
Jun 22, 2021
Overall the stay was great! I would like to offer two suggestions: - toilets closer to the tent site - tent sites should be numbered/outlined: I was told by staff that there was one fire pit-table/site. However, on two occasions I returned from a day away to find another tent set up on my site, closer to the FP/T. If I had not come with a friend on another site, I wouldn't have eaten those days
Jun 22, 2021
Not kid friendly.
Jun 22, 2021
The descriptions are a little misleading. There really wasn't a "beach" so to speak. Having older kids, jumping off the dock was fine but with no beach and no pool, the little ones are at a disadvantage. Otherwise it is a great location and venue.
Jun 22, 2021
Awesome campground!!! Also great accommodations and staff! We only had an issue on our last day with the camper we rented with the A/C stopped working but it is a machine and they sometimes break. Will be staying again!! Loved the waterfront view and the sunsets are perfect ��� 10 out of 10 would highly recommend
CAMPGROUND RESPONSE / COMMENTS:
We are so glad you enjoyed your time with us!
Jun 22, 2021
We enjoyed the entertainment available to the grandchildren. We enjoyed the staff friendliness and understanding of our minimal rules understanding at this KOA. The Campgrounds were clean and well maintained while we were visiting. The store was well stocked for every campers needs. We enjoyed the camp quietness and minimal noise. issue: Porch screen pulling away and door screen pulling away.
CAMPGROUND RESPONSE / COMMENTS:
We are glad you enjoyed your stay!
Jun 21, 2021
Very fun campground. The sites are outfitted well, and the staff is very friendly and accommodating. Still an issue with low water pressure but if you fill your tank and run your pump along with the shore-water, it's sufficient. Can't say enough about the staff, all very friendly and accommodating.
Jun 21, 2021
It is a wonderful place to unwind and enjoy peaceful, quiet time with a beautiful view. It is not convenient if you want to be in the middle of the tourist attractions. We had to drive an hour which was okay but anyone that wants to be close to the happenings at the Outer Banks may not be happy. I was disappointed that the boat to Corolla was not available.
Jun 21, 2021
My friends and I have stayed several times at this campground. The staff is amazing and take wonderful care of the patrons. The views are breathtaking. Big sites.
Jun 21, 2021
The campground was a good place to escape the hectic traffic in the outer banks. The cabins were clean and offered a great view of the sound. The one reason I am on the fence about recommending the campground to a friend, is that there are no policies about leaving pets unattended in the cabins. The cabins are close enough together that a barking dog left unattended made for a stressful stay.
Jun 21, 2021
The people at the front desk were so helpful and nice. The grounds were clean, the bathrooms had some dead bugs but otherwise clean. The only thing I would add is maybe put in a pool.
Jun 21, 2021
We had a fabulous time on our maiden voyage...first time out with our travel trailer. We wanted to commend the staff on the FANTASTIC job that you all did with the emergency on Friday. You ran that emergency like you done it before. I was really impressed. We will be back again and we cannot wait to see you soon!
Jun 21, 2021
The sound is BEAUTIFUL and overall, it was wonderful. The only downfall is we were tent campers and there are no designated campsites; spots are basically first come first serve in the "tent area". There are NOT enough picnic tables or fire rings for all. You have to hope to find a site with one/them, or snatch it from another site when your neighbors leave. But, again still a beautiful spot!!
Jun 21, 2021
The swimming area was not nice & you have to jump off the docks into the water /no beach area so not safe for kids unless they know how to swim...There is also NO pool which is not great for kids BUT they have a nice playground area&a jump pad for the kids! The bath house has only 4 restrooms/showers&is pretty far from the tent areas but you can use the restroom @ the checkin. Icecream is for sale
Jun 21, 2021
Great location and wonderful staff. We enjoyed our spot…WF 91. Very good activity options. My only negative comment would be a couple of vehicles speeding through the property. We will return for more stays.
Jun 21, 2021
It was great. A pool or a small beach would nice for our 4 year old to swim.
CAMPGROUND RESPONSE / COMMENTS:
We are hopeful to add a pool in the future!
Jun 21, 2021
We loved it. Very quiet and nice and we are coming back the 4th.
CAMPGROUND RESPONSE / COMMENTS:
We look forward to seeing you!
Jun 21, 2021
We had a great time. The people, the location were fantastic
CAMPGROUND RESPONSE / COMMENTS:
Thank you!
Jun 21, 2021
Loved it !!
CAMPGROUND RESPONSE / COMMENTS:
Thank you!
Jun 20, 2021
Downlow on Tent Camping: very primitive. A far walk to bathhouses/toilets. Lots of bugs/ants/loud raccoons around so bring lots of bug interventions! One tent site had a ring and table, but when we came back to the site at night there was a group in our space so if u find a fire ring, claim it! Park ur car up on it so no one joins you! Rent the golf cart for gorgeous views! Great Location/price !
Jun 20, 2021
These little cabins were really nice. We had a great time. Thanks for putting us with the Azzurini's. Will definitely be on the look out for y'all's next cyber sale. Would most definitely want the same cabin.
Jun 20, 2021
The campsite was clean and the tent sotes were nice. The only downfall is that there are NO bathrooms by the tent sites. Also no real place to go swimming with little kids.
Jun 20, 2021
Wish there were more snack and beverage options in the store. Too limited with no other near by options.
Jun 20, 2021
It was our first time to North Carolina. My husband and I thought all of the people were very nice. Our cabin was really nice and we loved our site. It was amazing. Highly recommend and hopefully we'll be back.
CAMPGROUND RESPONSE / COMMENTS:
Thank you so much! We hope to see you again!
Jun 20, 2021
Great new KOA. We used this campground as we made our way to Hatteras Island. Very spacious sites and clean grounds. Beautiful setting along the sound. We will definitely return.
CAMPGROUND RESPONSE / COMMENTS:
Thank you very much! Looking forward to your next stay with us!