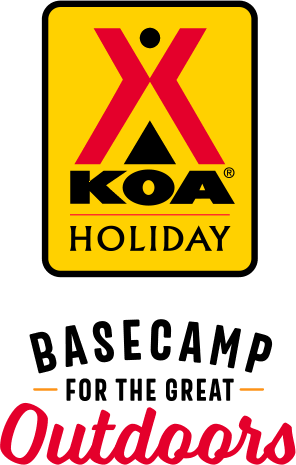 KOA Holiday Campgrounds
Whether you're exploring the local area or hanging out at the campground, KOA Holidays are an ideal place to relax and play. There's plenty to do, with amenities and services to make your stay memorable. Plus, you'll enjoy the outdoor experience with upgraded RV Sites with KOA Patio® and Deluxe Cabins with full baths for camping in comfort. Bring your family, bring your friends, or bring the whole group – there's plenty of ways to stay and explore.
KOA Holidays Feature:
RV Sites with a KOA Patio®
Deluxe Cabins with full baths
Premium Tent Sites
Group meeting facilities
Directions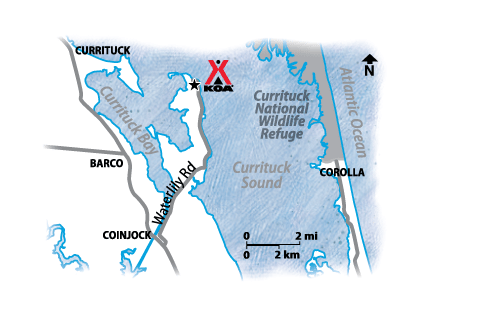 From the north: VA 168 S and NC 168 S; continue onto US 158 E. Turn left onto Waterlily Rd.
From the south: US 17 N and 158 E. Turn onto Waterlily Rd.
GPS: N36.417178, W75.923594
Get Google Directions
Aug 01, 2021
My family and I stayed in one of the deluxe cabins. It was a wonderful place. We had a great time and the staff was amazing. The boys really enjoyed swimming in the sound and I enjoyed driving one of the rental golf carts around the camp. Thank you so much for the awesome experience!
Aug 01, 2021
The staff was very friendly at check in and at checkout. The camper we rented was not very clean. The floor needed to be swept and mopped. The camper had a huge amount of bugs on the outside which came in every time you opened the door. The bugs were so bad you really couldn't sit outside. It's posted on the website about a shuttle to Tim Bucks II but the boat was broke down for are stay.
Aug 01, 2021
We have never stayed at a KOA before but definitely plan on returning! We had a fantastic time and the staff was great!
Jul 31, 2021
The campground was a disappointment. It took 3 days to get a clogged shower cleared and we had to use the bathhouse which has way too few facilities. The cabin had a mouse and midge swarms. There is no pool or safe place for toddlers to splash. The total deal breaker for recommending was the distance to anything. We averaged 3 hours in the car every single day getting to OBX things to do.
Jul 31, 2021
It is a work in progress. A new camp that will take some time to get up to snuff. Trash bins either need to be moved nearer the camp center or be picked up by staff at the sites. Well maintained with plenty of activities. Beautiful ocean views.
Jul 31, 2021
Stayed on two separate occasions. Nice park. Lovely area.
Jul 29, 2021
The cabin was an excellent value. The location was incredible, and the cabin was comfortable for our family. Having the 2nd bedroom for our son made for very flexible sleeping times. It was so easy to get to the places we needed to go from here. We would definitely stay here on our next trip.
Jul 29, 2021
It was nice,
Jul 29, 2021
Our stay was great! The cottage was nice and very comfortable. Loved being right on the sounds. People very nice and friendly. Can't wait to come back.
Jul 28, 2021
We stayed in the tent area. Our site was nice and spacious, which we chose on a first come basis. We did feel like there could have at least been a porta potty in the tent area; it was pretty far to the bathhouses (1/4 mile from our tent site). Other than that, it seemed like a nice campground.
Jul 27, 2021
Quiet and relaxing. We noticed most campers were not enjoying swimming in the sound either because of the lack of easily entering the water or for fear of what might inhabit the area. Would love to see a "beach" area for swimmers
Jul 27, 2021
The F section needs a little more leveling but other than that. Nice park . Friendly staff .
Jul 27, 2021
This was the first time visiting this KOA. The place is beautiful. Had a pleasant time. Will definitely be back.
Jul 27, 2021
Nice campground. Staff was very nice and personable. We stayed in one of their cottages on the water. Lots of small bugs. One suggestion.... install some hooks inside the cottages so guests can hang towels, bags, clothes, etc.
Jul 27, 2021
Beautiful view, nice and clean.
Jul 27, 2021
Your cable was pretty bad, too much pixel lysing on the TV signal is not strong enough. Would not return!
Jul 26, 2021
Clean, quiet, level sites, wonderful views from the water front sites. Fun activities for the kids.
Jul 26, 2021
It was fabulous, great site with beautiful marsh and water view.
Jul 26, 2021
There was no family swimming area like advertised. No water pressure couldn't even get my hair wet
Jul 26, 2021
Loved our stay there! Beautiful views. Clean facilities. Met Robin - she was wonderful and helped us with booking our next stay on a perfect site! Great accommodations for adults, kids (even though there's no pool), and doggies.
Jul 26, 2021
Stay was great! Grounds are clean and peaceful. People were wonderful. Our cabin was perfect size and well laid out. Only issue was bugs abs spider webs on porch - it could really use a good hosing down or ceiling sweep. A pool onsite would have been great for the days when the Sound was choppy.
Jul 26, 2021
It was a very nice campground. My family however wasn't fond of getting into chest high water with the floating grass and such. The activities director, while friendly, wasn't very enthusiastic and the activities were a bit lacking. The buildings and playground were very well kept and clean all the staff were welcoming. A pool would probably be the only thing to bring us back in the future.
Jul 26, 2021
Very nice place with terrific views
Jul 26, 2021
Great park but remote. Loved it.
Jul 26, 2021
It was a great stay. Besides the bugs. We had thousands of bugs around our camper. They were worst mid day. I probably spent 30 dollars on bug spray. Other than that great stay!!
Jul 25, 2021
Great stay! Cabin was lovely and the view was amazing!
Jul 25, 2021
Pros: Friendly staff, beautiful views. Cons: So many bugs it was difficult to stay outside unless the wind picked up. No pool or beach. To get in or out of the water you have to go up and down a ladder.
Jul 25, 2021
Need more children's activities. Longer hours for the camp store. Rental camper worked very well for the two of us. Really liked the waterfront site.
Jul 25, 2021
Very relaxing. Beautiful scenery. Very clean. Everyone friendly. Staff was wonderful. Only concern was didn't see recycling offered.
Jul 25, 2021
The campground was nice we had a great time and we plan on returning. What would make the place a great place is if they got the shuttle boat fixed and would add a pool but I know those things cost a lot of money
Jul 25, 2021
Beautiful site very clean and love the views. But after 4:30 you can't find anyone that works there to ask a question even though the door says open till 6. Other koa sites do a great job keeping you informed but here i felt left in the dark with a lot.
Jul 24, 2021
Very friendly and helpful staff, great view of the sound and we easy access to the water for kayaking. Great location.
Jul 24, 2021
It was a wonderful place to stay. I didn't want to leave and want to go back. I would recommend it highly to anyone who is the area.
Jul 24, 2021
when we arrived they had us sign all these "liability" forms, which staying at other KOA's we did not have to do did something happen at that camp to warrant liability releases???? they gave us the wrong site # and had to call them from that site for the correct one! then there were the DISGUSTING bug invested bathrooms….bugs on entry door, the floor and the windows!! sites too narrow!
Jul 24, 2021
It's a nice campground, but way too far away from any OBX beach life. the 7 miles back to the campground is a nuisance and definitely not a good idea after enjoying a beer anywhere. The sites are too close together with our neighbor sitting on our camp bench to connect their sewer line. we faced a marsh which meant we had more bugs than most campers.
Jul 23, 2021
Definitely off the beaten path. Very quiet and secluded. Bathhouse and showers were extremely clean. Staff was very friendly and helpful. Our first time to the Outer Banks and KOA. Both very positive experiences. The only 2 things need to improve the campground would be a swimming pool and better insect control. I realize the location is a breeding ground for mosquitoes, so pack the insect repel!
Jul 22, 2021
We had a great time, the golf cart trails were a huge hit with the kids. The views were amazing and all the staff was incredibly friendly. Alot of the sites were tight but ours was just amazing (45-46). I have nothing but great memories to hold from KOA west and we will definitely be back!!
Jul 22, 2021
Disappointed that there was no beach or pool. It's so far from the highway that it takes over 10 minutes on very narrow road to get to the campground.
Jul 22, 2021
The campground was new and the staff was amazing. Our kids loved the play area and the jumpy pad. It's nice to see the staff care about the people and the campground.
Jul 22, 2021
Wonderful views, very quiet, and enjoyed it.