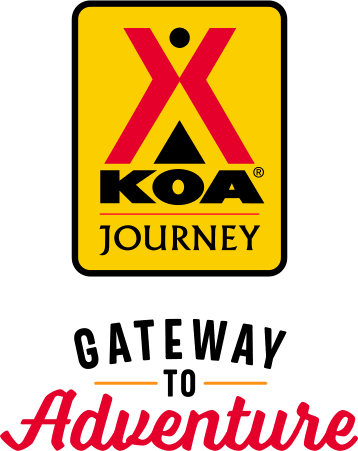 KOA Journey Campgrounds
KOA Journey campgrounds are the perfect oases after a day on the road. Whether it's along the way or a quick getaway, they've got you covered. Located near the highways and byways of North America with long Pull-thru RV Sites, they deliver convenience to the traveling camper. Pull in, ease back and take a load off.
KOA Journeys Feature:
Pull-through RV Sites with 50-amp service
Premium Tent Sites
Well lit after hours check-in service
Directions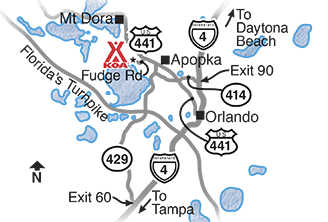 FROM TAMPA & I-4 EASTBOUND*: Take I-4 Exit 60 for FL-429 North toward Apopka/Mount Dora. Take 429 to exit 34 SR 429 Connector Rd. turn Left to US-441 North (Orange Blossom Trail) Mount Dora. Turn right onto US-441 North toward Mt. Dora. Get into left lane and in 1/2 mile turn Left onto Fudge Road. Orange Blossom KOA will be immediately on your right. (DO NOT FOLLOW YOUR GPS THAT SAYS MAKE A U-TURN LOOK FOR OUR BILLBOARD) FROM DAYTONA BEACH & I-4 WESTBOUND*: I-4 W to FL-46 exit 101C.  Turn Right on FL-46 W go about 10 miles, then Left on FL-429 S.  Exit 34 then Right on SR 429 Connector Rd toward US-441 North (Orange Blossom Trail) Mount Dora. Turn right onto US-441 North toward Mt. Dora. Get into left lane and in 1/2 mile turn Left onto Fudge Road. Orange Blossom KOA will be immediately on your right. (DO NOT FOLLOW YOUR GPS THAT SAYS MAKE A U-TURN, LOOK FOR OUR BILLBOARD). FROM MOUNT DORA: Head South on US-441 (W. Orange Blossom Trail) for approximately 9 miles. 1/2 mile past the Orlando-Apopka Airport, turn Right onto Fudge Road. Orange Blossom KOA will be immediately on your right. FROM I-75 heading south, exit onto Florida Turnpike North, continue to 429 North toward Mount Dora to exit 34, turn Left on 429 Connector Rd then Right on US-441N (Orange Blossom Trail). Get into left lane, go .5 miles, turn left onto Fudge Rd. KOA will be directly on your right.  Watch for our billboard, do not follow GPS instructions to do U-Turn.
Get Google Directions
Jun 14, 2021
We were just there for one night. The front office and all employees were very helpful and friendly. The grounds were kept nice and sites were all clean. The kids had fun in the pool and the bathrooms were clean. I'd definitely recommend this campground.
Jun 13, 2021
A wonderful place to stay!!
Jun 13, 2021
Everyone was friendly and grounds really clean and nice!
Jun 12, 2021
The nicest ppl ever. Clean surroundings plenty of things to do beautiful pool. Definitely will be returning and Definitely would recommend. A+.
Jun 10, 2021
It was very quiet and clean.
Jun 10, 2021
Very nice RV park I highly recommend staying there if you are in the area. Close to Disney land .
Jun 05, 2021
I reserved for 2 days. The receptionist was great. The place is clean. But the guy that lives there with a yellow mustang is a bit bossy. I got my two cars delivered from California to the address next door. The guy in the mustang seemed annoyed because I was scooting from my spot to then trace to picks the cars up. Not coming back.
Jun 04, 2021
This was a great campground. Everyone was so friendly and our space was great.
Jun 04, 2021
Nice facility. Clean laundry + rest rooms Nice features to be able to use credit card on the washer + dryers.
Jun 04, 2021
They guy is a bit weird. I got my cars delivered outside and while I was putting my cars into my rental spot he approached in his yellow Mustang saying "Hey do you need help? " I mean , I was just taking my car to my spot and you get offended even when your policy allows 2 vehicles per Rv rental spot. Not coming back even if it's free.
Jun 03, 2021
Very clean and quiet, mosquitos after dark are the only complaint
Jun 02, 2021
Very clean and well kept park!!!! A lot of shady spots to choose from. Staff is very friendly and nice. Mosquitos were bad for the first couple of days but the park gets sprayed regularly and that help tremendously. Also a word of advice the mosquitoes come out at dusk if you wait about an hour they settle down. Great place! Highly recommend
Jun 02, 2021
Everything was great, including the staff! We really enjoyed the Mount Dora area and the sights to see. The only thing that could be improved was the cable reception.
Jun 02, 2021
Very clean and the WiFi was great.
Jun 02, 2021
The property was very clean, we had great, considerate neighbors. Very friendly and accommodating staff. Would definitely stay here again.
Jun 02, 2021
The staff at the front desk is friendly and helpful. The facilities are clean and well maintained. We stay here when we visit our adult children who live in Orlando. It is convenient and close to them so we will be back.
Jun 01, 2021
Very clean, quiet site. Nice pool. Mosquitoes are bad at night, bring spray! The lady in the office was kind and helpful. Only negative is the "gentleman" who works there and insists on "helping" everyone back in to their site. He was quite abrupt and we would prefer to back ourselves in, but felt like we didn't have a choice. Everything else was great!
Jun 01, 2021
Very clean and very quiet. Bathhouse does not have AC so caution those that plan for this in the summer months.
Jun 01, 2021
Great campground. Very quiet
Jun 01, 2021
I liked clean everything great place to stay, nice n Quiet at night
Jun 01, 2021
I was not thrilled to see we were next to a railroad track, an airport and highway but the noise was not bad at night. There was little shade available for the lots. The staff was very sweet and helpful.
Jun 01, 2021
Clean, well kept campground, plus helpful staff. We stayed three nights and arrived after dark on the first night. Our check-in packet was ready for us and they even marked our site with an orange cone so that we could spot it in the dark. We enjoyed our stay very much. The campground was easy to access, and our site (#33) was roomy, even with our 35foot Class A.
May 31, 2021
stay there often. Good service. Clean. rate it a solid 10.
May 31, 2021
Very nice people and clean
May 29, 2021
Nice Salt pool. Big sites are away from highway with new patio. Clean restrooms. Modern laundry machines.
May 27, 2021
We arrived 2 hours prior to check in time and were charged $10.00 per hour for a total of $ 20.00. This has NEVER happened before in all the times we have stayed at a KOA. In fact, we have stayed at this KOA before and really enjoyed it. We were very disappointed, as there was no one using the campsite.
May 27, 2021
Staff is always great, and they do their best to accommodate our requests. Grounds stay clean, and laundry room is handy always being open. Thank you for making our stay so pleasant!
May 27, 2021
Pool good, Wifi good (but nit too many sites occupied). Management friendly. Racetrack with good RV access 1/4 mi away. Food shopping about 2 miles away.
May 27, 2021
We were parked in direct sun. The upsetting part is shaded sites were available and they didn't offer us that option.
May 25, 2021
We always enjoy staying at the OBKOA - nice folks, clean bath house, clean grounds, easy in and out sites. Disappointed the wifi signal was weak. Will continue to use OBKOA as our preferred campground when in the Orlando area.
May 25, 2021
Very disappointed in the people that work there.
May 24, 2021
One of The best part of any campground is pull thru sites - and there were many here! Camp staff was knowledgeable and so friendly. Railroad nearby was not noticeable. Close to a town with many delightful shops. Our only bummer was a couple nights of heavy mosquitoes. Hint: keep bug spay outside for when you return at night is a great help.
May 22, 2021
Park is extremely clean, staff is very friendly. Was happy we could rent a fire pit for our campfires at night. Wish the KOA would actually sell those in their camp store. We didn't mind the Planes, Trains or Automobiles throughout the day. The play ground and pool was clean and so were the restrooms and showers. We will definitely stay there again.
May 22, 2021
You're Missing a few channels on the cable that's provided. Looks more like a local master antenna system than a cable company feed. Other than that, the Kampground is perfect. The staff was super pleasant. Great time of the year to visit.
May 21, 2021
New policy is to force all rules for anyone ever if you are a long term customer. Advised charged $10 an hour for early check in if spot available. Was upset when park was empty but said did not matter we were long term customers. Arrived 29 minutes early and was not charged. All the employees that were there for quite awhile were gone. Mosquitoes terrible. Look for park that cares about loyalty.
May 19, 2021
Great place , great people
May 18, 2021
Nice and clean park, location very convenient for us. Very friendly staff .
May 17, 2021
We stayed here for one week and loved the campground. The bathroom/ shower area was spotless. The pool was beautiful and crystal clear. But the staff was what really made our visit pleasant. They were exceptionally hospitable and welcoming. We will definitely be returning to this campground.
May 17, 2021
Great staff and nice campsites.
May 10, 2021
Always an excellent camping experience at KOA OBT! Thanks again!
May 09, 2021
Great management. Staff was very accommodating. Orderly campground. Nice paved drive through site. Great pool. Clean shower/changing rooms. City water. This location has gone through significant upgrades over the years. Rail spur near by only used occasionally. ++++++