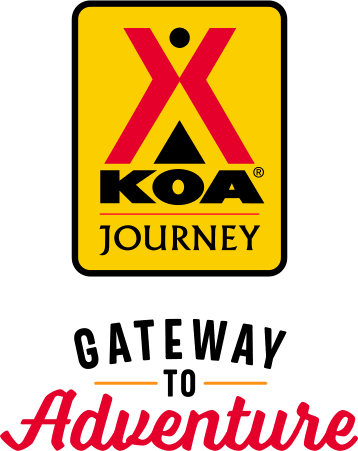 KOA Journey Campgrounds
KOA Journey campgrounds are the perfect oases after a day on the road. Whether it's along the way or a quick getaway, they've got you covered. Located near the highways and byways of North America with long Pull-thru RV Sites, they deliver convenience to the traveling camper. Pull in, ease back and take a load off.
KOA Journeys Feature:
Pull-through RV Sites with 50-amp service
Premium Tent Sites
Well lit after hours check-in service
Directions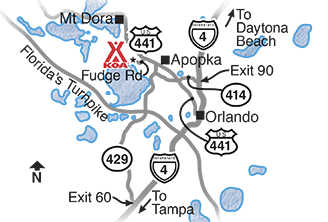 FROM TAMPA & I-4 EASTBOUND*: Take I-4 Exit 60 for FL-429 North toward Apopka/Mount Dora. Take 429 to exit 34 SR 429 Connector Rd. turn Left to US-441 North (Orange Blossom Trail) Mount Dora. Turn right onto US-441 North toward Mt. Dora. Get into left lane and in 1/2 mile turn Left onto Fudge Road. Orange Blossom KOA will be immediately on your right. (DO NOT FOLLOW YOUR GPS THAT SAYS MAKE A U-TURN LOOK FOR OUR BILLBOARD) FROM DAYTONA BEACH & I-4 WESTBOUND*: I-4 W to FL-46 exit 101C.  Turn Right on FL-46 W go about 10 miles, then Left on FL-429 S.  Exit 34 then Right on SR 429 Connector Rd toward US-441 North (Orange Blossom Trail) Mount Dora. Turn right onto US-441 North toward Mt. Dora. Get into left lane and in 1/2 mile turn Left onto Fudge Road. Orange Blossom KOA will be immediately on your right. (DO NOT FOLLOW YOUR GPS THAT SAYS MAKE A U-TURN, LOOK FOR OUR BILLBOARD). FROM MOUNT DORA: Head South on US-441 (W. Orange Blossom Trail) for approximately 9 miles. 1/2 mile past the Orlando-Apopka Airport, turn Right onto Fudge Road. Orange Blossom KOA will be immediately on your right. FROM I-75 heading south, exit onto Florida Turnpike North, continue to 429 North toward Mount Dora to exit 34, turn Left on 429 Connector Rd then Right on US-441N (Orange Blossom Trail). Get into left lane, go .5 miles, turn left onto Fudge Rd. KOA will be directly on your right.  Watch for our billboard, do not follow GPS instructions to do U-Turn.
Get Google Directions
Oct 21, 2021
Nice park with friendly people. Will stay there again and again.
Oct 20, 2021
We had a great stay. Sites are nice and level but try to get one that faces the east so you don't have the afternoon sun shining on you. Staff is very nice and helpful. Nice pool, playground, bathrooms and pet area.
Oct 18, 2021
Nice place to stay. Quiet at the time we stayed. Staff was helpful and courteous.
Oct 14, 2021
Great campground, very clean and the sites are spacious. Loved the pool!
Oct 12, 2021
Nice quiet campground. Large space (81). Enjoyed our stay.
Oct 11, 2021
Very impressed! Sites were wide, intelligently placed for entry & access. Strong WiFi signal, clean water and well manicured lawns.
Oct 09, 2021
The campground was clean and quiet with a great swimming pool. It was located near some great springs where we did some kayaking. We also enjoyed the wildlife drive where we enjoyed a variety of bird and an up close non-threatening view of a lazy alligator basking in the sun on the road as we eased our car around him. This was a very relaxing trip for us and we'd love to come again.
Oct 06, 2021
Best kept secrete for RV travelers in central Florida. We were west of all beach traffic going to Atlantic beaches and KFC, west of all Orlando traffic and west of theme parks traffic. I got my EZ Pass in NY state which was also usable in Florida and negotiating traffic into the theme parks was a breeze. It's a quiet park, everything worked and the pool was just awesome after "Parking" all day.
Oct 05, 2021
Only three nights/ Attended a conference in Orlando, but did not want to stay at the host hotel. Very nice place.
Oct 04, 2021
Everything was great except the Mosquitos - there were so many you were swarmed and they were feeding off you the second you stepped outside. I spent the reset of my weekend about an hour away from this location and not a single mosquito was seen.
Oct 04, 2021
You know, being a KOA journey I expected the amenities to be less than at a holiday or resort obviously, but I was really surprised, the pool was beautiful and clean, they had shuffleboard and cornhole and a pretty decent dog park. The playground is just ok. But the sites are nice and big and well maintained and the park is very quiet. A great base for exploring this beautiful area of central Fl.
Oct 01, 2021
Great park, loved the K9 Kamp
Sep 29, 2021
We have been staying here for 5 years. The management is great and very helpful. The Campgrounds are always well kept and clean.
Sep 28, 2021
Great campground. Convenient to Orlando with spotless amenities! Best of all....we are treated like friends!
Sep 28, 2021
Great location and well kept campground
Sep 27, 2021
A little disappointed when the office called about driving fast based from a person complaining in the pool saying we were going 40 miles per hour which is impossible. We drove in at maybe 10 miles per hour. The office should ask first instead of putting blame based on random person. We have been at this place several times and been with KOA for a long time as well.
Sep 27, 2021
Always a pleasure to visit this KOA
Sep 21, 2021
Great park, nice people. Overall a good stay, clean bathrooms, clean pool. Not to many shaded areas, where there is shade, there are ants.. also tons of mosquitos for to recent rain.
Sep 20, 2021
Very nice & professional staff, would definitely come back when in the area
Sep 20, 2021
This is our favorite hometown KOA. It's the place we go to relax with absolutely no activity...ok, maybe a swim in the lovely pool.
Sep 16, 2021
Beautiful park. Helpful managers. Easy access to attractions around OrlNdo
Sep 14, 2021
This was our second stay, we chose a pull through this time because they are father from the highway. I would give this campsite a 5 star but between traffic and airplanes , it is a bit noisy. But we will not let that deter us from coming back Because it is close to many of the attractions
Sep 13, 2021
I stayed for 1 month and enjoyed the pool and the gracious campground hosts as well as the quiet, clean campground.
Sep 13, 2021
This KOA is great! I have no idea where the negative reviews come from...probably the past because the current situation is "good times" and the future of this location looks bright! Get a site booked before everyone else figures that out!
Sep 08, 2021
Very quiet park with an AMAZING staff. I will definitely stay here anytime I am in the Orlando area.
Sep 08, 2021
Clean, friendly and quiet campground. Would stay here again.
Sep 07, 2021
We've been to several KOA's. This one is now my favorite. The site was awesome. The pool was fantastic, not to cold, not to hot! Everything was clean. Alice and Mike are great people. Really enjoyed meeting them. We will be back for sure. It was terrific.
Sep 07, 2021
Very clean and quiet. A nice place.
Sep 07, 2021
Very nice place and staff.
Sep 07, 2021
It's always a pleasure to stay at this KOA Campground. It's an unknown secret!
Sep 07, 2021
Staff was so friendly to us and our dogs. Very well kept grounds and pool. My son loved that it had a deep end! Convenient to see Mount Dora or drive into Disney.
Aug 31, 2021
We had a wonderful time here. The grandkids visited and we used the playground and swimming pool each day. Both were very clean and nice. I would come back again in the summer.
Aug 31, 2021
At the end of an airport runway, every time a plane flew over the TV signal was lost. Not ADA compliant, no wheelchair accessible toilets, sinks, or showers. Train tracks right outside campground, no trains while we were there though. KOA flag tattered and torn and USA flag not at half staff as ordered. Been here several times, worst stay ever. No wonder the campground was empty.
Aug 31, 2021
Loved the place. The Hosts were awesome, very cordial and helpful. Swimming pool was nice and clean, bathrooms were spotless and the whole campground was really clean and well kept.
Aug 30, 2021
Stayed one night. Nice campground. Mosquitoes were intolerable, even though we were sprayed down with Deep Woods Off. New manager could be a bit more polite. Maybe she deals with all sorts of difficult people, but being a crab about one issue she had with us was uncalled for.
Aug 28, 2021
Great staff, plenty of room, grounds are perfect. Just 5 minutes from town and an easy drive to the attractions.
Aug 25, 2021
Very clean. Spacious sites. Great K9 area.
Aug 20, 2021
Nice, under a shade tree. Well kept, clean, trash pick up, and a large dog park.. I only wish they had weekly rates.
Aug 17, 2021
Staff was awesome. Facilities very clean. Prices for campsite is very expensive.
Aug 16, 2021
This is our favorite KOA in the Central Florida area. We like that the people who work here are friendly and seem to be constantly workin to maintain the campground in top condition. Also, while there are a few long stay campers, this location has everything we need. Visiting the attractions? KOA Orange Blossom Trail is a very good choice; not too close and not too far from the action.