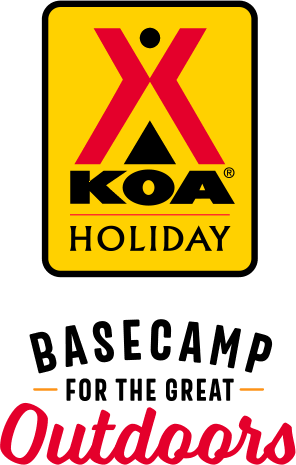 KOA Holiday Campgrounds
Whether you're exploring the local area or hanging out at the campground, KOA Holidays are an ideal place to relax and play. There's plenty to do, with amenities and services to make your stay memorable. Plus, you'll enjoy the outdoor experience with upgraded RV Sites with KOA Patio® and Deluxe Cabins with full baths for camping in comfort. Bring your family, bring your friends, or bring the whole group – there's plenty of ways to stay and explore.
KOA Holidays Feature:
RV Sites with a KOA Patio®
Deluxe Cabins with full baths
Premium Tent Sites
Group meeting facilities
Directions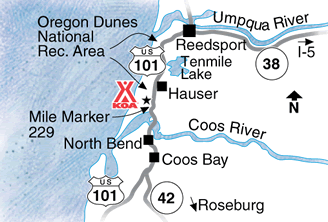 9 miles north of Coos Bay and 19 miles south of Reedsport on Hwy 101, Mile Marker 229. 
GPS: N43.501507, W124.219851
Get Google Directions
Dec 23, 2018
I arrived after hours around 930pm found my key to my cabin in the after hours check in box. When unloading my truck into the cabin for our stay. I walked around the cabin and hit my head really hard on the outside front roof that hangs down to head level almost giving myself a concussion and chipped out half of my front tooth. I feel there should be markings or safety warnings posted outside.
Nov 29, 2018
We could not get a full hook up site for our Motor home so we reserved a dry cabin It was wonderful. we cooked out side and the trips to the shower and bathroom were not at all bad as I thought. The cabins were very clean and comfortable. The staff is great and so friendly and we really appreciated the Thanksgiving dinner it was excellent.
Nov 26, 2018
Everyone there is always very helpful and kind! We love staying with you!!
Nov 14, 2018
new BBQ's are awesome!
Nov 06, 2018
The price was very affordable. Perfect cabin to suit our needs. Very clean the snide and berry well kept grounds in the campground.
Oct 17, 2018
We enjoyed it. Only 'complaint ' is the floors in the cabin were absolutely filthy. We understand we are basically ' camping' but you can tell that the cabin was just briefly swept and the floors need to be CLEANED. So that was gross. Bathrooms, and showers were clean so huge bonus.
Oct 09, 2018
I did think it was a little pricey but nice
Oct 02, 2018
Clean cabins, nice helpful staff all around, they even contacted me when I forgot an item in the cabin. Good honest people and a short ride to the dunes. Also we're able to accommodate a quick change to our site last minute. Made everything stress free. Thank you.
Oct 01, 2018
Brought three grand kids to ride in the dunes.
Sep 25, 2018
It was a great location and had good facilities. My only concern was that it was somewhat on the expensive side, so we might not stay there again for a while. Overall, 4/5 stars on value and quality.
Sep 25, 2018
The messed up my reservation so I had to stay on the other side of the campground as the rest of my party, other than that the place is great as always
Sep 23, 2018
Called 2 times before visit, for balance of site price. Upon arrival, I was charged over $50 more than quoted twice ! Curtains didn't close, some lights d.id not work, toilet didn't refill with water. For the price, these things were unacceptable. I had fun in the dunes, and the people were nice, so I will be back to Oregon dunes, but not sure if it will be KOA campground again.
Sep 19, 2018
My 2 sons and I plan yearly trips to the Oregon Dunes and prefer Coos Bay area ,we have stayed in a deluxe cabin for the past several years. Really like that the campground caters to enthusiasts who enjoy the dunes ,we have always experienced pleasant stays. On behalf of my family and i,we would like to thank the entire staff for their hospitality,
Sep 18, 2018
Received phone call enroute stating we needed to pay in full for our cabin, but no mention of paying in full for our campsite because we were arriving after 8. Been staying here over 20 years and never been demanded to pay in full in advance. One night deposit that had already been paid a year in advance was not sufficient. Annoying, and not feeling welcomed.
Sep 17, 2018
For someone not familiar with ATV/ORV's it's quite an unique experience. Probably one of the few people that came for hiking.
Feb 19, 2021
Love camping here. The cabins are well taken care of. Staff are friendly and very helpful. I love the fact that I can ride my SxS right from the site.
- Ryan Lewis on Google
Dec 26, 2020
Is filling up for the weekend, the dunes have been great
- Julia Rasmussen on Google
Nov 20, 2020
Such a great place and great staff. There's a place for the pooches to run around and do their business and the short trip to the dunes, on your own machine is a short ride from the campsite. I was very pleased and the kids are already asking when we will come back. It was nice to be able to call someone and reserve a place on the weekend when the state parks do not give that option. They also worked with us in the time that we could arrive and depart. Thank you so much.
- Jeffrey Mertins on Google