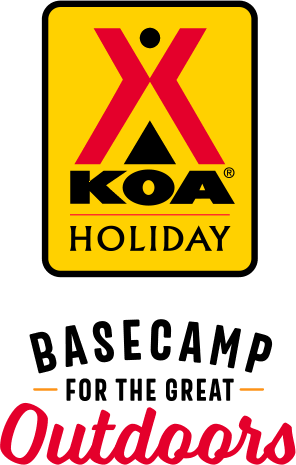 KOA Holiday Campgrounds
Whether you're exploring the local area or hanging out at the campground, KOA Holidays are an ideal place to relax and play. There's plenty to do, with amenities and services to make your stay memorable. Plus, you'll enjoy the outdoor experience with upgraded RV Sites with KOA Patio® and Deluxe Cabins with full baths for camping in comfort. Bring your family, bring your friends, or bring the whole group – there's plenty of ways to stay and explore.
KOA Holidays Feature:
RV Sites with a KOA Patio®
Deluxe Cabins with full baths
Premium Tent Sites
Group meeting facilities
Directions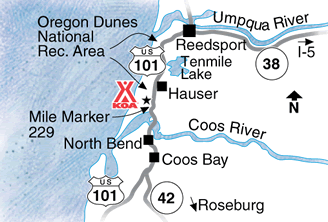 9 miles north of Coos Bay and 19 miles south of Reedsport on Hwy 101, Mile Marker 229. 
GPS: N43.501507, W124.219851
Get Google Directions
Aug 19, 2019
Friendly staff cabin was clean and comfortable. I love the wreck hall with games and fire table. The showers were alright but could use some upgrading .
Aug 18, 2019
Had a fantastic stay. Will be back. Caboose should have a swifter broom or something to sweep up the sand daily as there is no housekeeping during your stay.
Aug 18, 2019
Great for the kids. Good Access to the sand. Fair prices on cabin, and gas available at camp. Awesome!!
Aug 16, 2019
We stay for 6 day every summer. We have a lot of fun. NOTE: need to clean bathrooms more often. The Internet connection is very bad
Aug 14, 2019
Would like to see more effort put into maintaining the grounds; i.e. weedeating, applying weedkiller. Possible longer time for ice cream social?
Aug 04, 2019
Can't wait too go back!
Aug 03, 2019
Staff were very helpful . Washrooms were clean and well mantained. Surprised and very happy to have a fridge, microwave and coffee maker in our 2 room cabin
Jul 24, 2019
Great kabin, good privacy. TV in cabin was an unexpected treat. Thought the dune vehicles would be very noisy - actually wasn't bad at all. Bathrooms were clean and offered good privacy. Tokens for showers were an unpleasant KOA first for us. We would stay here again.
Jul 24, 2019
Loved this camp ♥��
Jul 23, 2019
We loved our cabin and all the amenities you provide. So much effort is put into the activities and unique cabins, etc. The staff was consistently pleasant and helpful. Very easy to relax and enjoy our 5 days! Thank you!
Jul 22, 2019
Always worth it every time we stay here! Would like to see more social events during the week - not just Friday's and Saturday. Happy to see the wreck hall and axe throwing activities added. Cons: front desk wouldn't let us pre-book a big boy site because we weren't big enough (28' trailer and 22' truck), but while we were there a 27' trailer and 20' truck were camped there....disa
Jul 18, 2019
This is a great place to stay if you are in to driving on the dunes. If you have other interests such as site seeing and exploring the Oregon coast it may be to dusty or noisy for you. The owners do a good job of enforcing quiet time ie 10P to 8A. The rest of the time it can be quite noisy due to quads and dune buggies coming and going.
Jul 16, 2019
We had a great time there. The deluxe cabin could use a little attention. Bathroom sink running slow, and front door needs to be aligned. Great facility.
Jul 10, 2019
Very dusty. I should've known my eyes were going to shutdown at 6:30 PM with all the dirt that went into them. You should try paving your roads or keep a water truck in the facility. I personally never coming back. Sorry
Jul 10, 2019
One of the nicest KOA's. Cabins are great and bathrooms have been updated. Nice playground. Great staff. Gets super busy around the summer holidays, but guests seem to abide by the 10PM quiet time. Just wished there were more restrooms/showers, but it's manageable. Overall great place to stay, especially if you want to be close to the dunes and beach.
Jul 06, 2019
The traincar was great! The kids loved it and the beds were very comfy! We loved having our own grill and fire table on our private porch. Playground is literally in the front yard which was great for the kids. The only suggestion I'd make is to have a gate or even just a rope to go across the stairs going to the train. People/kids thought it was an attraction and kept coming up to see inside.
Jul 05, 2019
We had a blast renting the ATV's and going to the sand dunes. I would recommend putting more padding around the big pillow, to make it more safe if kids fall off of it. Staff were great and friendly and our cabin had everything we needed! We definitely plan to come back next year and make this an annual tradition!
Jul 04, 2019
Cabin smelt like sewer, refused to stay in the cabin after that, spoke with management and was told they couldn't refund the rest of the nights, but we were more than welcome to leave early. Thankfully our family had room in there trailer.
Jun 30, 2019
Love staying here
Jun 24, 2019
Our family had a cabin and it was very clean. The jump pad was a big hit. We didn't have atv's with us, but it is the perfect place to bring them.
Jun 17, 2019
Stayed in a cabin which was great. Set up real nice everything you would need.
Jun 10, 2019
We will be back. The only downside really, it seemed a little frowned upon when we asked for more (all) towels mid-week, especially kitchen towels. I was asked how long we had been there and what was left of our stay. Two kitchen towels for a week among 4 up to 6 people is not enough. There should be a new sponge on the sink. Super clean campground, excellent staff!!!! Thank you so much!
May 30, 2019
We come to the dunes to ride our side by side. It's nice to have dune access. We really enjoyed our stay. Everything is clean and maintained. The only issue I had was that we had some rain. The lots got very muddy. I would like to see better maintenance with the gravel in the paring stalls so we aren't tracking mud in the cabins or our trailer.
May 29, 2019
Made last minute reservations for Memorial Day Weekend and only cabin left was Caboose - it was awesome! Great accommodations, nice patio, propane fire pit, grill and conveniently co-located to ATV rental! Recommend closer water access (spigot) and fire pit for wood-burning. Otherwise, was a great stay!! Oh, and bathrooms always clean!!
May 28, 2019
Even though the weather was not the greatest we had a wonderful family time.
May 26, 2019
It was a great stay and we stay here most of the times we go down to the dunes.
May 21, 2019
We had a great time and fully enjoyed the L67 cabin! Having a bonfire pit and bbq supplied with table and chairs made the stay so convenient. Overall our experience with KOA was very enjoyable and I gaurantee we will return!
May 19, 2019
Everything was great; accommodations, activities available, family friendly, pet friendly etc. except the showers-very short time allowance on hot water.
May 17, 2019
All was well, no complaints thank you �
Apr 21, 2019
Love the location. Enjoy the cabin by the pond. Needs some brush trimmed. Would like all shower tokens in advance. TV reception is non existent
Apr 02, 2019
Very relaxed
Mar 31, 2019
It was our first time staying there or at a Koa. Our only complaint is that the wifi didnt work at all. And that the rec hall closed so early. The weather was bad and it would have been nice to have a place to hangout later then 5:30
Mar 28, 2019
Fantastic, Well be back
Mar 27, 2019
It was our first time staying in a cabin, loved it! Had a great experience
Mar 23, 2019
The campground and staff were great, we have been going every year for 5 years now. We have stayed in the bigger cabin for a couple trips and the beds could use a new mattress and a garbage can but other than that they are great.
Mar 13, 2019
We love staying at the KOA in Coos Bay! It is always so clean and the staff are friendly. However during check in and any other time I went to the office, one certain staff memeber was always rude to us. Usually we don't have any issues tho.
Jan 05, 2019
There is a three night minimum stay for cabins with a bathroom. We only needed to stay two nights. The shared bathrooms were very cold even though the thermostat showed 65, it felt like 40 degrees. Additionally, the pathway to the bathroom is NOT lighted and there are stairs and also a curb framing the walkway which you can't see in the dark. I tripped over the curb.
Feb 19, 2021
Love camping here. The cabins are well taken care of. Staff are friendly and very helpful. I love the fact that I can ride my SxS right from the site.
- Ryan Lewis on Google
Dec 26, 2020
Is filling up for the weekend, the dunes have been great
- Julia Rasmussen on Google
Nov 20, 2020
Such a great place and great staff. There's a place for the pooches to run around and do their business and the short trip to the dunes, on your own machine is a short ride from the campsite. I was very pleased and the kids are already asking when we will come back. It was nice to be able to call someone and reserve a place on the weekend when the state parks do not give that option. They also worked with us in the time that we could arrive and depart. Thank you so much.
- Jeffrey Mertins on Google