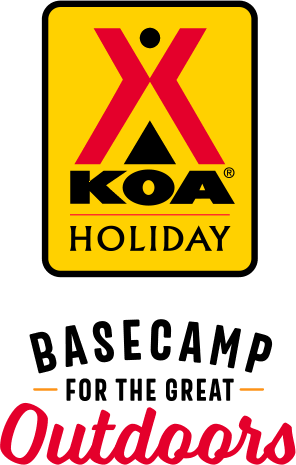 KOA Holiday Campgrounds
Whether you're exploring the local area or hanging out at the campground, KOA Holidays are an ideal place to relax and play. There's plenty to do, with amenities and services to make your stay memorable. Plus, you'll enjoy the outdoor experience with upgraded RV Sites with KOA Patio® and Deluxe Cabins with full baths for camping in comfort. Bring your family, bring your friends, or bring the whole group – there's plenty of ways to stay and explore.
KOA Holidays Feature:
RV Sites with a KOA Patio®
Deluxe Cabins with full baths
Premium Tent Sites
Group meeting facilities
Directions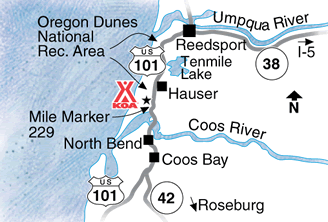 9 miles north of Coos Bay and 19 miles south of Reedsport on Hwy 101, Mile Marker 229. 
GPS: N43.501507, W124.219851
Get Google Directions
Jul 19, 2020
We stayed at the Grand Lodge cabin at the KOA. We talked about returning every year, however upon check out we were alarmed at the price. It was extremely expensive. The staff was incredible and the venue was perfect for our wedding but we do not know if we can afford another 3 night stay in the grand lodge next yr. We were looking forward to everything offered but a lot was shut down from covid.
Jul 14, 2020
Great place 2nd time here renting a cabin. Only complaint is its expensive and its a mile or so to sand so hard on paddles but everything else is great! People are great also!
Jul 13, 2020
we love this campground. This year there were a few things that need attention in the deluxe cabin that we usually rent. The tv reception was fuzzy on all channels, the bbq was not working properly, we found a couple of spiders in the cabin, and the cabin could use a deep cleaning.
Jul 13, 2020
Campground seems more lively and fun than it did last year.
Jul 10, 2020
The bathrooms were extremely clean. The amenities provided at the cabins were above our expectations. Great place for families or adults without kids. Can't wait to stay again!
Jul 09, 2020
It was amazing. We stayed out in one of the smaller cabins that had a fridge, coffee maker, microwave, and even a bbq. The porch had a bench swing which was enjoyable. Then we noticed the larger cabins had bathrooms with showers and kitchens. The staff were very helpful in assisting us with the upgrade. Our stay was wonderful and we will definitely be doing it again!
Jul 07, 2020
Stayed in the cabin #74 and it was super clean, everything worked and the water in the shower was nice and hot. The staff was very nice and easy to work with, it was a very nice trip!!!
Jul 06, 2020
Well wish I could give them a 5 but I can't the prices go up every year which I understand but now we can't park next to cabin like we use too and we can't bring our own wood have to buy theres just seems to be a lot more costly to go there.
Jun 29, 2020
Loved it!!! Camp host was amazing! Everyone there was super friendly, we are definitely coming back!!!
Jun 27, 2020
Tv, fridge, coffee maker & microwave were a nice surprise in our 2 room cabin. Bathroom and shower stalls were small, it would have been nice If there was a handicap stall. Employees were friendly. Park was clean. Most people followed the speed limit- that was great I didn't worry about my 6 year old getting ran over by speeding atvs. Definitely would come back. Thanks
Jun 24, 2020
We love our annual trip to the Oregon Dunes KOA. We have a great week with family and friends. The staff at this KOA are so helpful. We had a reservation mix up and the manager, Serena, went above and beyond to help us sort it out. Her service was awesome! Highly recommend.
Jun 03, 2020
The office ladies and staff are very short with you and not much help. Other than that the actual place is nice to be in. Not the friendliest folks though.
Jun 02, 2020
Need more restrooms around the property for us old folks that use the restrooms more frequently. Other then that love the place.
May 29, 2020
We had a very enjoyable stay and the staff was great ...��ALOHA NUI LOA�����
May 27, 2020
We have stayed twice now in a cabin each time, everything including the staff are great!
May 26, 2020
the stay was great and the people were great as well. first time renting a cabin there and the cabin was wonderful but alittle expensive. been in other cabins just as nice and not as expensive around 130.00 to 150.00 other then that everything was great.
May 23, 2020
Angelina and Will were outstanding. Been traveling for 50 years and this is the best KOA by far. Not even close, good job everybody!!! Craig
May 22, 2020
we have been going there for the last 25 years, our family keeps getting bigger and bigger we love it there. the changes you have made in the last cuple of years have also ben amazing. this year your camp host was the best we have ever seen
Mar 26, 2020
This was our first stay at the KOA and will definitely not be our last. The staff was very friendly and accommodating and the cabins were clean and cozy, bathrooms, and showers were also very clean. Thank you and we will be back again.
Mar 18, 2020
Awesome weekend thanks to the staff for being so patient with us. We'll be back soon
Mar 04, 2020
only complaint was getting the WiFi to connect was weird. We got a piece of paper with a number on it but when we went to open WiFi we noticed it said "this is not a code"? Had to call 877 num several times and get walked through normally wouldn't be a big deal but had work to hassle with this trip and needed WiFi. Other than that it was a great place to stay, no complaints, will be ba
Dec 19, 2019
Cabin L 74 very clean has everything you need in it for your stay very nice patio area with fire pit �
Dec 02, 2019
Great spot and lots to do. Staff was friendly and helpful. A little speedy for camping.
Oct 11, 2019
The people were friendly and the cabin I stayed in was clean.
Oct 01, 2019
Nice place and very clean. Helpful staff and store is a great thing to have close by.
Sep 23, 2019
So peaceful! Great cabin will be back soon!
Sep 18, 2019
Not as clean as it use to be.
Sep 11, 2019
Great time! Clean and very nice people
Sep 09, 2019
There wasn't any instructions on cleaning the cabin like we have gotten at other KOA's so we completed it like we've normally done. We hoped that was okay. The coins for the showers was odd, but worked. Front desk people didn't seem to want to talk to anyone, but again, was fine. Security was helpful when we got there late in the night.
Sep 08, 2019
It is a great location and enjoy our stay there every time. However this time the cleanliness of the bathrooms and showers were disappointing.
Aug 26, 2019
We always have a blast at the dunes. The kOA dunes is prefect place the stay if your into quad riding, your able to leave from your camp site right to the dunes. We will be back for sure.
Aug 20, 2019
The cabins are really cute we love it, but the queen bed was so uncomfortable that we couldn't sleep all night. The wood bundle for fire was expensive for the size.
Aug 19, 2019
I would like Staff to be more friendly. Meaning like saying hello in passing, go around at least once while a person occupies a space and chat for moment, meet your guests, see if they need anything.
Feb 19, 2021
Love camping here. The cabins are well taken care of. Staff are friendly and very helpful. I love the fact that I can ride my SxS right from the site.
- Ryan Lewis on Google
Dec 26, 2020
Is filling up for the weekend, the dunes have been great
- Julia Rasmussen on Google
Nov 20, 2020
Such a great place and great staff. There's a place for the pooches to run around and do their business and the short trip to the dunes, on your own machine is a short ride from the campsite. I was very pleased and the kids are already asking when we will come back. It was nice to be able to call someone and reserve a place on the weekend when the state parks do not give that option. They also worked with us in the time that we could arrive and depart. Thank you so much.
- Jeffrey Mertins on Google