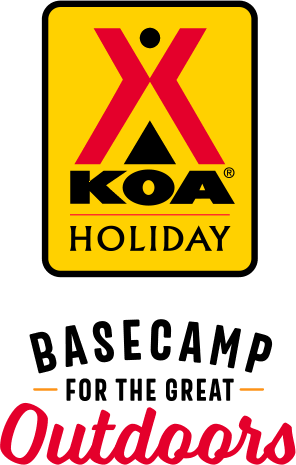 KOA Holiday Campgrounds
Whether you're exploring the local area or hanging out at the campground, KOA Holidays are an ideal place to relax and play. There's plenty to do, with amenities and services to make your stay memorable. Plus, you'll enjoy the outdoor experience with upgraded RV Sites with KOA Patio® and Deluxe Cabins with full baths for camping in comfort. Bring your family, bring your friends, or bring the whole group – there's plenty of ways to stay and explore.
KOA Holidays Feature:
RV Sites with a KOA Patio®
Deluxe Cabins with full baths
Premium Tent Sites
Group meeting facilities
Directions
From Hwy 59 (in Livingston): Take US 190 West for 13.7 miles (campground will be on the right)
From I-45 (in Huntsville): Take US 190 East for 26.6 miles (campground will be on the left).
GPS: N30.811617, W95.129433
Get Google Directions
Jan 20, 2021
Overall pleased. Site 61 where we stayed needs lots of work. No patio area whatsoever. Severe slope from edge of trailer pad down. Even picnic table sits on extremely sloped ground to point of being mostly unusable. We have very large 5th Wheel and this information was provided when we made reservation. Had we known the site would be like it was, we would not have stayed. Will come again.
Jan 19, 2021
We thought the campsite (#8) was excellent. The grounds and facitilies were equally as good. Due to the weather conditions we did not use the pool or do much along the shore, but all looked inviting. A utilized the campground roads for my morning walking workout and all were paved well. We both would recommend this place, and will certainly consider this KOA if our travels brings us here.
Jan 19, 2021
Really great stay. We came by here when we were in the area about 18 months ago and decided we book a weekend. The place has everything you could want, AND very nice people providing it!
Jan 19, 2021
very clean and well operational
Jan 19, 2021
Very enjoyable will definitely be coming back . Staff was very friendly and helpful
Jan 19, 2021
Spots were clean and well laid out. Campground was quiet, especially at night. Area was clean and mowed. Staff were friendly and responsive. On the downside, the trash dumpsters were few and far between. Bathrooms/showers, while clean, were unheated and chilly. Lake beaches and drainage have a considerable amount of trash. Firewood sold on site is green and hard to burn.
Jan 19, 2021
Easy check in. Very friendly. Campground was clean. No issues.
Jan 18, 2021
We had a great stay, only thing that could have been better was for it to be warmer
Jan 18, 2021
We always love staying at the park. Really love it in warm weather when we take our boat. Very pretty and clean. Great addition is the restaurant.
Jan 17, 2021
Park is nicely maintained. Staff is very helpful. Enjoyed the onsite restaurant.
Jan 11, 2021
We enjoyed our stay, the staff were great and the sunset was beautiful.
Jan 11, 2021
Very nice staff and clean campsite! The beach area had some trash on it but that was the only area that needed attention. We appreciate how quick the staff brought fire wood when we requested it. We had to leave one day early and the staff quickly processed our refund for one night. Very happy with our stay at this KOA! Thank you.
Jan 10, 2021
Great management, clean and very nice. Will stay here agin when in area.
Jan 10, 2021
We loved it here! Great view if the lake, amazing sunsets & level sites. Plus all employees were great to work with. If you need more propane just put the canister by the front of your camper & they pick it up & refill it for you. Great Customer Service!! Bring your boat. They have parking & slips available. Can't wait to go back in the summer.
Jan 08, 2021
Some of the rules have changed since the last time we stayed there. Too many people living there permanately.
Jan 04, 2021
One of our go to places hands down, hard to imagine only an hour north of Houston Great staff, clean and maintained grounds, beautiful sunsets and lake views . Don't get any better!!
Jan 04, 2021
This KOA is very beautiful & well maintained, staff is absolutely wonderful, maintenance is on the job fast and always so helpful and knowledgeable. Restaurant just opened, can't wait to try it! The grounds are so well maintained & can't wait for Covid to be under control, pool & hot tub opened again! Beautiful sunsets over Lake Livingston & sounds of laughter from happy campers! Love it!
Jan 04, 2021
We've stayed here many times and love it! The staff is great, the bath houses are clean and it's quiet. Glad there is a restaurant onsite again.
Jan 04, 2021
Nice park, clean and friendly. Wish we would have had a slab patio at our site.
Jan 04, 2021
It was beautiful!
Jan 04, 2021
This is a wonderful place to stay! Tammy the property manager was AMAZING her customer service is top notch. The park itself is so well maintained and you can't beat that water view. We will definitely be back in the future!
Jan 04, 2021
We had a good stay. Would like to have a pull thru but understandable. Otherwise nice and clean. Friendly staff. Tried to call but no one answered phone. So made reservations online. Really like to talk to a person.
Jan 03, 2021
We stay full time and we love it
Jan 03, 2021
This was our second time to camp here. We had a great time. We arrived late and check in the next day was easy. Staff was friendly. We had a nice quiet time. Will definitely visit again.
Jan 03, 2021
Came up for New Years week and ran across three friends there also. It's too bad the restaurant changed hands. Missed the home made pies.
Jan 02, 2021
Been there for a year now. rates are a bit expensive monthly. staff was not friendly at first but have new staff who is friendly. there is an ant problem in my area, constantly spraying them. everything else is great!
Jan 02, 2021
Beautiful park and the team who works here are very kind and helpful.
Jan 02, 2021
The campground was nice. The spots were very close together. While we sat at our picnic table we were just a few feet from our neighbors sewer hose. However, that was the only downside I noticed. There were a lot of other larger spots to choose from for next time. The camp has a lake view even from the back.
Dec 31, 2020
Beautiful sites either on the water or with lake views. All sites are well maintained and the staff was friendly and helpful.
Dec 30, 2020
This is my third time there this year 2020 The staff is amazing I have never seen someone clean bathrooms as much as they do near the middle of the campground. Such a clean place which means a lot to most people. Wanted to check out the restaurant but unfortunately they were closed on Monday which is understandable. Wish the camp spots for a little bigger concrete pad spot 49 was very small.
Dec 28, 2020
We absolutely loved the lake and the park! Very well maintained, friendly people and concrete level sites. Could not have been better!
Dec 28, 2020
The park was very clean and well maintained as well as a very friendly staff. We will definitely be back for future stays.
Dec 28, 2020
Love the park and location. We will be booking another stay next year.
Dec 24, 2020
Very well run beautiful campground. on site restaurant.
Dec 24, 2020
Nice park. Friendly staff and guest. I'm just hooked on state and national parks.we love camping back in the trees and weeds. I would definitely recommend this park.
Dec 23, 2020
We love this KOA and the staff too!
Dec 23, 2020
Great 5 days Our location on the water was stellar!! Awesome facility
Dec 22, 2020
Great! Clean facilities!
Dec 22, 2020
As always beautiful campground. Sites are spacious and clean. And they opened the restaurant this weekend!
Dec 21, 2020
very enjoyable. Wish we could have stayed longer! Our first trip in our RV
Jan 23, 2021
great location nice helpful staff
- JW 'Bil' Cusack on Google
Jan 21, 2021
We have stayed here twice now and have been very pleased with the park. Beautiful lake view, well kept grounds, nice clean restrooms and very friendly staff. Thank you for the great memories!
- Budd Aiken on Google
Jan 21, 2021
Beautiful
- Donny Wataberger on Google