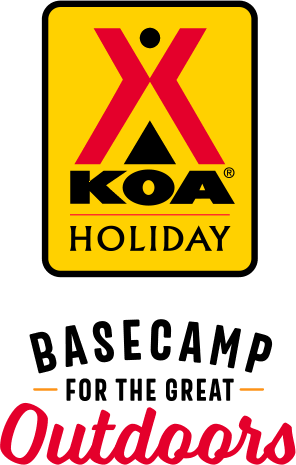 KOA Holiday Campgrounds
Whether you're exploring the local area or hanging out at the campground, KOA Holidays are an ideal place to relax and play. There's plenty to do, with amenities and services to make your stay memorable. Plus, you'll enjoy the outdoor experience with upgraded RV Sites with KOA Patio® and Deluxe Cabins with full baths for camping in comfort. Bring your family, bring your friends, or bring the whole group – there's plenty of ways to stay and explore.
KOA Holidays Feature:
RV Sites with a KOA Patio®
Deluxe Cabins with full baths
Premium Tent Sites
Group meeting facilities
Directions
From Hwy 59 (in Livingston): Take US 190 West for 13.7 miles (campground will be on the right)
From I-45 (in Huntsville): Take US 190 East for 26.6 miles (campground will be on the left).
GPS: N30.811617, W95.129433
Get Google Directions
Oct 23, 2020
Clean, beautiful park with great care takers. Lake was awesome with beautiful views from the RV sites. Will definitely be back.
Oct 22, 2020
Great staff, level sites.
Oct 20, 2020
Great location, nice campground, very friendly staff eager to help. Had a problem with the power pole, fixed immediately. Beautiful sunsets. Hot tub /pool clean . Clean restrooms. We liked it so much we reserved a site for later in the year. Thank you for a great stay .Happy Campers
Oct 20, 2020
We had a wonderful stay. Everyone was friendly & courteous will be back
Oct 20, 2020
Campground and RV sites very well-kept. RV sites are very level and beautiful views closer to the waterfront.This place is definitely a repeat visit very soon. The ladies in the front office were very friendly and funny and upbeat.
Oct 19, 2020
We enjoyed our visit very much in this well kept park with a great view of the lake! We plan to return in the future hopefully for a longer stay.
Oct 19, 2020
We love the KOA in Onalaska the park is so clean and the staff are fabulous. looking forward to making many more memories with them :)
Oct 19, 2020
Wow, our first KoA & it did not disappoint. Beautiful location. We passed by other RV sites off lake livingston, no contest!
Oct 19, 2020
We had no problems at all. Will like it better when the restaurant opens back up but there are alot of places to eat close by.
Oct 19, 2020
Need more trees and our site had some elevation issues / soil erosion. We only had about 6-8 feet on side, then area fell off about 2 feet. Erosion was very bad. Otherwise clean nicely kept RV park.
Oct 19, 2020
Beautiful KOA with amazing views of Lake Livingston! Couldn't have asked for friendlier host. We will be returning soon.
Oct 19, 2020
Perfect as always great staff clean
Oct 19, 2020
Have been many times AND IT IS ALWAYS PERFECTLY CLEAN AND NEAT!
Oct 19, 2020
Probably the most beautiful stay we had on our trip! Clean, beautiful amenities, and sunset views forever!
Oct 19, 2020
Great service from the manager and the entire staff! Very nice and friendly. Grounds are well kept. Cabin was clean and neat. Kids loved it! They swam in the lake, the pool and even played with the sand. It was a nice getaway from the busy city life we are used to. Next time we will stay for at least 2 days! LOVED IT and would HIGHLY RECOMMEND.!
Oct 18, 2020
The place was very clean and gave the staff A+++. They made you feel at home. I enjoyed my stay.
Oct 18, 2020
Had a great time. Clean nice campground and super people.
Oct 18, 2020
Clean and well maintained facilities and campground with nice lake access and paved RV spots
Oct 18, 2020
Staff was great my grand children love there
Oct 17, 2020
Great place and lovely people that run it. We stay here whenever driving through.
Oct 16, 2020
Relaxing by the lake.
Oct 15, 2020
Nice will be back
Oct 15, 2020
Great campsite, had a great time. Everyone at this KOA goes above and beyond to help out with anything you need. Our granddaughters love the pool and they had a lot of fun with the Scavenger Hunt. Our satisfaction with the park and employees are a high 10.
Oct 13, 2020
Koa Onalaska is our favorite place to stay. Super friendly and always helpful staff and they take such care of making it a clean and beautiful place.Kid and pet friendly, also I (a female) have stayed there alone and felt very safe and secure! Love the place! �����
Oct 13, 2020
We enjoyed our camping trip so much! The campsites were great, clean, nice host and beautiful fees of the sunset. Plenty of fishing if you want, swimming in the lake or pool. It was perfect! Thank you KOA if Onalaska TX!! The Coverts
Oct 13, 2020
Staff was amazing, facilities were lovely, and the view was breathtaking. The multiple pet-friendly areas guarantee we will return; we've already rebooked for a future stay!
Oct 13, 2020
We had a great time meet good people, staff is friendly. Park is very clean.
Oct 13, 2020
Loved the arrangement, the courtesy and helpfulness of the staff, the beauty of the park on the lake!
Oct 13, 2020
We've stayed at 18 KOAs since the start of the pandemic. This is the only KOA who isn't taking precautions. While they offer curbside check-in, that is not taking the situation seriously as people were in &out of the office while I was checking in. Secondly be careful which site you book as many of the pull through sites have a flat pad but a steeply graded grassy area for you outside seating.
Oct 12, 2020
Love this campground. Always clean and hosts and staff are super nice!
Oct 12, 2020
Excellent stay. Sites are roomy and well maintained. Very clean park. Will definitely stay again!
Oct 12, 2020
Our first visit. we arrived near closing time Friday evening, and the office staff were very welcoming. Upon arriving at our spot, the gentlemen delivering our firewood offered to help provide an extra set of eyes to help us back our trailer into the spot. He was a tremendous help as we were able to position our 39-foot trailer on the first try. We will be coming back soon.
Oct 12, 2020
Fantastic beachfront spots feet from the water. Great friendly staff.
Oct 12, 2020
Totally enjoyed are stay
Oct 12, 2020
Loved it hands down and will be back soon!
Oct 12, 2020
We had paid for a late departure the day before we left, so when the young girl called me on departure day- said that the maintanence people told her that we hadn't left yet. (Being normal check out is 11:00) I think that she should have checked their records before calling me or when we paid for the late departure, they should have let the maintanence people know so they weren't staring at us.
Oct 12, 2020
Only issue was fire ants were all over our camp site. The park maintenence man was nice and came out twice and sprayed the ants.
Oct 12, 2020
Everything was fine. The facilites were great and convenient. On saturday night got little loud (a truck with a loud engine driving up and down the road) other than that eberything good.
Oct 11, 2020
Very clean park with a friendly staff. Very much enjoyed my stay and will return again.
Oct 11, 2020
We stayed two nights which were unplanned as we moved inland from Hurricane Delta. Had a great time and definitely will be back. One of the best KOA's I have seen or stayed.
Oct 10, 2020
Awesome staff! This place is a 10, but it is because of the staff and how hard they work. The office staff are kind, considerate, helpful and amazing! We checked out early due to a new motorhome purchase and the staff that was working, was early for work and she said come in and I will take care of you. That was a huge blessing! Thank you. Keep it up. I can't wait to see both awards!
Oct 10, 2020
Great sunsets and people
Jan 23, 2021
great location nice helpful staff
- JW 'Bil' Cusack on Google
Jan 21, 2021
We have stayed here twice now and have been very pleased with the park. Beautiful lake view, well kept grounds, nice clean restrooms and very friendly staff. Thank you for the great memories!
- Budd Aiken on Google
Jan 21, 2021
Beautiful
- Donny Wataberger on Google