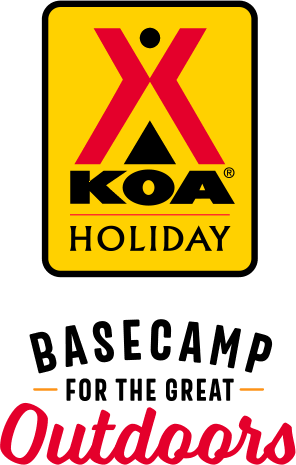 KOA Holiday Campgrounds
Whether you're exploring the local area or hanging out at the campground, KOA Holidays are an ideal place to relax and play. There's plenty to do, with amenities and services to make your stay memorable. Plus, you'll enjoy the outdoor experience with upgraded RV Sites with KOA Patio® and Deluxe Cabins with full baths for camping in comfort. Bring your family, bring your friends, or bring the whole group – there's plenty of ways to stay and explore.
KOA Holidays Feature:
RV Sites with a KOA Patio®
Deluxe Cabins with full baths
Premium Tent Sites
Group meeting facilities
Directions
From Hwy 59 (in Livingston): Take US 190 West for 13.7 miles (campground will be on the right)
From I-45 (in Huntsville): Take US 190 East for 26.6 miles (campground will be on the left).
GPS: N30.811617, W95.129433
Get Google Directions
Nov 09, 2020
Loved this KOA and our Premier spot selection. Great view of the lake and beautiful sunsets. Look forward to coming back!
Nov 09, 2020
Nice, clean site. Great view of lake.
Nov 09, 2020
Great view. Friendly staff.
Nov 09, 2020
The spot was in a great location and we had an enjoyable time.
Nov 09, 2020
Very Clean! Amazing place
Nov 09, 2020
Sadly, we were only there one night but it was clean and BEAUTIFUL. And the staff was so friendly!
Nov 09, 2020
Staff members are super sweet. The park is clean and quite.
Nov 09, 2020
Very accommodating staff!!! Clean and picturesque.
Nov 06, 2020
Amazing lake views, plenty of space between the campsites and nice people in the office. My warning to you would be that their roads and sites are narrow. So if you are a motorhome with a toad, unhook your toad before you move from the office to site. Our toad bumped up on the curb at almost every corner going around the park to get to our road.
Nov 06, 2020
Just a getaway to relax. Nice staff and very clean park. Would love to come back in the summer with a boat.
Nov 04, 2020
Always a great stay at Onalaska KOA
Nov 03, 2020
Not a single thing went wrong, even allowed us to move sites to be closer to family
Nov 03, 2020
enjoyed the cabin site....bathroom a little small, needs small shelf to hold makeup bag or other.....We cleaned our a/c filter....very dirty. But nothing we couldnt do ourselves. The room had a musty smell, but I brought lysol......
Nov 03, 2020
We always love coming here! We have been coming here for the past 3 years. This last time my sister came with her new trailer and we had a blast. We decorated our trailers and actually had trick o treaters this halloween! The weather was beautiful but cold and the campfire was awesome! It will be great when the restaurant will open back up!
Nov 03, 2020
Very nice stay, however we stayed in cabin 02 and it smelled of sewer, could not open windows when there was a light breeze. Overall, was a fun stay with family, would stay again perhaps in a different cabin.
Nov 03, 2020
Beautiful park. Staff could not have been more helpful, especially when we had a problem with our rig on last day. Will definitely return in the spring.
Nov 03, 2020
The service is not great I was not given the WiFi password as we arrived late when I called the front office they did not want to give it to me?
Nov 03, 2020
Stay in cabins and absolutely love it!
Nov 02, 2020
We like it there. We've been here before. This time there was way too much political stuff on the sites. We didn't like that.
Nov 02, 2020
Very clean, nice park for kids, great views and beautiful sunsets!
Nov 02, 2020
Wonderful KOA on a gorgeous lake.
Nov 02, 2020
clean and always well taken care of the campground. workers always ready to help when asked
Nov 02, 2020
There was plenty of space the boat ramp was especially nice and never too crowded and the staff were excellent.
Oct 31, 2020
First time I've ever been accused of stealing and treated like a criminal. Y'all need to run of your retired cop camper host. Treats people with total disrespect. I'd suggest management call me on this one. Your internal mistake led to two customers being treated very poorly. Inexcusable the way it was handled.
Oct 30, 2020
Always relaxing and peaceful �
Oct 30, 2020
Very clean, quiet and friendly.
Oct 30, 2020
Beautiful campgrounds with cement pads and grass. Very nicely taken care of. Most sites can view the water.
Oct 29, 2020
We had a great experience for our first time staying at a KOA! The staff was very friendly and helpful, and the space we were given was wonderful (if we are able to come back would love to have the same one)! The park and it's facilities were very neat and clean throughout, and the store had a good variety to choose from if needed. We would definitely recommend your park!
Oct 29, 2020
The hot tub was lukewarm and the bubbles didn't work. Other than that it was good.
Oct 28, 2020
Called the front desk Saturday about the sewer smell by cabin 1, the lady I spoke with stated she wasn't aware of the smell. The ladies in the office informed her that it was a issue that they were aware of in cabin 1. The lady I spoke with on the phone then proceeded to tell me "that's kinda what you get staying in a RV park". As she laughed about it. Will not return.
Oct 28, 2020
A very relaxing stay. Very clean. We like sitting around the fire in the evenings. See ya soon
Oct 28, 2020
Very clean, nice spaces and facilities.
Oct 27, 2020
Sites are a little close together, but people very friendly and very clean park. We enjoyed it!
Oct 27, 2020
We tent camped for one night. Overall it was a great experience. The staff were very friendly and accommodating. If you needed firewood, they would bring it to you. The kids even remarked on how clean the bathrooms were. Not a spec of trash anywhere on the campgrounds. Will definitely be back.
Oct 26, 2020
Absolutely beautiful campground! The staff was wonderful, sites were perfectly manicured, and the amenities were excellent! The surfside area has the most beautiful sunsets I've seen! Even if you aren't on that side, the pavilion has a great viewing area. I can't wait to book again!
Oct 26, 2020
The area is beautiful, peaceful and quite. The restrooms were kept clean and I loved that they have individual restrooms. It is nice to have that privacy, especially with children. I thought it was fun that there was a nature treasure hunt for the kids. They had such fun finding all the goodies. This was our first stay and we enjoyed it very much. The staff were all very friendly.
Oct 26, 2020
This is my third KOA I am looking forward to booking something in the summertime they're really nice place. Only thing is my picnic table was a little wobbly and felt a little unsafe but we didn't use it. I really enjoyed my spot had a great view.
Oct 26, 2020
Wonderful visit! This is one of the nicest, cleanest KOAs we have stayed at. The space between lots was super...you don't feel so tightly packed in as other KOAs we've stayed at. Everything needed was available...and staffing is so pleasant & helpful! We stayed in #1 spot...and for us & our 3 senior dogs it worked out so well! Thank you to all who made this R&R weekend a good one! Candy & P
Oct 26, 2020
First stay at this location and would definitely come back.
Oct 26, 2020
Wonderful. The bugs were frustrating! Very nice facility; staff was great!
Oct 26, 2020
Clean, Friendly staff , beautiful site gorgeous views....
Oct 25, 2020
VERY VERY clean restrooms - good job to the staff and keep up the good work. Campsites were extremely clean. Trailer spots were very level. Very well staffed with friendly and attentive people. There was a lot of highway noise, but that is to be expected next to a major road. Park could use many more trees to provide shade.
Jan 23, 2021
great location nice helpful staff
- JW 'Bil' Cusack on Google
Jan 21, 2021
We have stayed here twice now and have been very pleased with the park. Beautiful lake view, well kept grounds, nice clean restrooms and very friendly staff. Thank you for the great memories!
- Budd Aiken on Google
Jan 21, 2021
Beautiful
- Donny Wataberger on Google