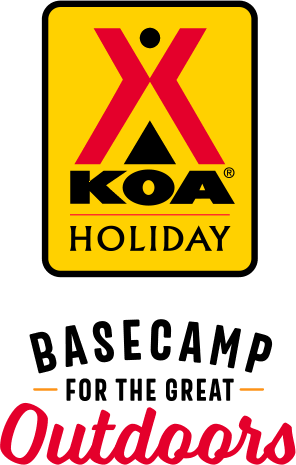 KOA Holiday Campgrounds
Whether you're exploring the local area or hanging out at the campground, KOA Holidays are an ideal place to relax and play. There's plenty to do, with amenities and services to make your stay memorable. Plus, you'll enjoy the outdoor experience with upgraded RV Sites with KOA Patio® and Deluxe Cabins with full baths for camping in comfort. Bring your family, bring your friends, or bring the whole group – there's plenty of ways to stay and explore.
KOA Holidays Feature:
RV Sites with a KOA Patio®
Deluxe Cabins with full baths
Premium Tent Sites
Group meeting facilities
Directions
From Hwy 59 (in Livingston): Take US 190 West for 13.7 miles (campground will be on the right)
From I-45 (in Huntsville): Take US 190 East for 26.6 miles (campground will be on the left).
GPS: N30.811617, W95.129433
Get Google Directions
Oct 28, 2020
Very clean, nice spaces and facilities.
Oct 27, 2020
Sites are a little close together, but people very friendly and very clean park. We enjoyed it!
Oct 27, 2020
We tent camped for one night. Overall it was a great experience. The staff were very friendly and accommodating. If you needed firewood, they would bring it to you. The kids even remarked on how clean the bathrooms were. Not a spec of trash anywhere on the campgrounds. Will definitely be back.
Oct 26, 2020
Absolutely beautiful campground! The staff was wonderful, sites were perfectly manicured, and the amenities were excellent! The surfside area has the most beautiful sunsets I've seen! Even if you aren't on that side, the pavilion has a great viewing area. I can't wait to book again!
Oct 26, 2020
The area is beautiful, peaceful and quite. The restrooms were kept clean and I loved that they have individual restrooms. It is nice to have that privacy, especially with children. I thought it was fun that there was a nature treasure hunt for the kids. They had such fun finding all the goodies. This was our first stay and we enjoyed it very much. The staff were all very friendly.
Oct 26, 2020
This is my third KOA I am looking forward to booking something in the summertime they're really nice place. Only thing is my picnic table was a little wobbly and felt a little unsafe but we didn't use it. I really enjoyed my spot had a great view.
Oct 26, 2020
Wonderful visit! This is one of the nicest, cleanest KOAs we have stayed at. The space between lots was super...you don't feel so tightly packed in as other KOAs we've stayed at. Everything needed was available...and staffing is so pleasant & helpful! We stayed in #1 spot...and for us & our 3 senior dogs it worked out so well! Thank you to all who made this R&R weekend a good one! Candy & P
Oct 26, 2020
First stay at this location and would definitely come back.
Oct 26, 2020
Wonderful. The bugs were frustrating! Very nice facility; staff was great!
Oct 26, 2020
Clean, Friendly staff , beautiful site gorgeous views....
Oct 25, 2020
VERY VERY clean restrooms - good job to the staff and keep up the good work. Campsites were extremely clean. Trailer spots were very level. Very well staffed with friendly and attentive people. There was a lot of highway noise, but that is to be expected next to a major road. Park could use many more trees to provide shade.
Oct 23, 2020
Clean, beautiful park with great care takers. Lake was awesome with beautiful views from the RV sites. Will definitely be back.
Oct 22, 2020
Great staff, level sites.
Oct 20, 2020
Great location, nice campground, very friendly staff eager to help. Had a problem with the power pole, fixed immediately. Beautiful sunsets. Hot tub /pool clean . Clean restrooms. We liked it so much we reserved a site for later in the year. Thank you for a great stay .Happy Campers
Oct 20, 2020
We had a wonderful stay. Everyone was friendly & courteous will be back
Oct 20, 2020
Campground and RV sites very well-kept. RV sites are very level and beautiful views closer to the waterfront.This place is definitely a repeat visit very soon. The ladies in the front office were very friendly and funny and upbeat.
Oct 19, 2020
We enjoyed our visit very much in this well kept park with a great view of the lake! We plan to return in the future hopefully for a longer stay.
Oct 19, 2020
We love the KOA in Onalaska the park is so clean and the staff are fabulous. looking forward to making many more memories with them :)
Oct 19, 2020
Wow, our first KoA & it did not disappoint. Beautiful location. We passed by other RV sites off lake livingston, no contest!
Oct 19, 2020
We had no problems at all. Will like it better when the restaurant opens back up but there are alot of places to eat close by.
Oct 19, 2020
Need more trees and our site had some elevation issues / soil erosion. We only had about 6-8 feet on side, then area fell off about 2 feet. Erosion was very bad. Otherwise clean nicely kept RV park.
Oct 19, 2020
Beautiful KOA with amazing views of Lake Livingston! Couldn't have asked for friendlier host. We will be returning soon.
Oct 19, 2020
Perfect as always great staff clean
Oct 19, 2020
Have been many times AND IT IS ALWAYS PERFECTLY CLEAN AND NEAT!
Oct 19, 2020
Probably the most beautiful stay we had on our trip! Clean, beautiful amenities, and sunset views forever!
Oct 19, 2020
Great service from the manager and the entire staff! Very nice and friendly. Grounds are well kept. Cabin was clean and neat. Kids loved it! They swam in the lake, the pool and even played with the sand. It was a nice getaway from the busy city life we are used to. Next time we will stay for at least 2 days! LOVED IT and would HIGHLY RECOMMEND.!
Oct 18, 2020
The place was very clean and gave the staff A+++. They made you feel at home. I enjoyed my stay.
Oct 18, 2020
Had a great time. Clean nice campground and super people.
Oct 18, 2020
Clean and well maintained facilities and campground with nice lake access and paved RV spots
Oct 18, 2020
Staff was great my grand children love there
Oct 17, 2020
Great place and lovely people that run it. We stay here whenever driving through.
Oct 16, 2020
Relaxing by the lake.
Oct 15, 2020
Nice will be back
Oct 15, 2020
Great campsite, had a great time. Everyone at this KOA goes above and beyond to help out with anything you need. Our granddaughters love the pool and they had a lot of fun with the Scavenger Hunt. Our satisfaction with the park and employees are a high 10.
Oct 13, 2020
Koa Onalaska is our favorite place to stay. Super friendly and always helpful staff and they take such care of making it a clean and beautiful place.Kid and pet friendly, also I (a female) have stayed there alone and felt very safe and secure! Love the place! �����
Oct 13, 2020
We enjoyed our camping trip so much! The campsites were great, clean, nice host and beautiful fees of the sunset. Plenty of fishing if you want, swimming in the lake or pool. It was perfect! Thank you KOA if Onalaska TX!! The Coverts
Oct 13, 2020
Staff was amazing, facilities were lovely, and the view was breathtaking. The multiple pet-friendly areas guarantee we will return; we've already rebooked for a future stay!
Oct 13, 2020
We had a great time meet good people, staff is friendly. Park is very clean.
Oct 13, 2020
Loved the arrangement, the courtesy and helpfulness of the staff, the beauty of the park on the lake!
Oct 13, 2020
We've stayed at 18 KOAs since the start of the pandemic. This is the only KOA who isn't taking precautions. While they offer curbside check-in, that is not taking the situation seriously as people were in &out of the office while I was checking in. Secondly be careful which site you book as many of the pull through sites have a flat pad but a steeply graded grassy area for you outside seating.
Oct 12, 2020
Love this campground. Always clean and hosts and staff are super nice!
Nov 25, 2020
Nice area and beautiful landscapes...
- Calvin P. Tran on Google
Nov 24, 2020
Clean, friendly, efficient staff
- Barbara Pack on Google
Nov 17, 2020
We were here for an RV rally in October 2020. The place is well kept. It has paved interior roads and concrete RV pads. The setting on Lake Onalaska was really cool. We enjoyed our stay here.
- Jim Beletti on Google