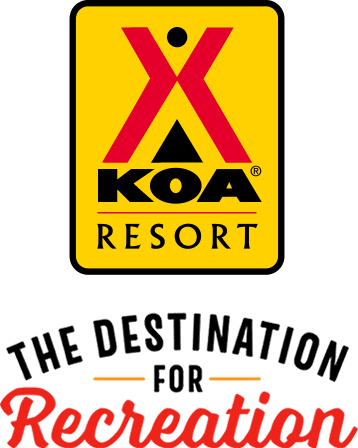 KOA Resort Campgrounds
KOA Resorts offer a carefree vacation in the great outdoors. Enjoy robust recreation and staff-led activities, kick back and relax by the resort-style pool, or grab a bite to eat, all while never leaving the campground. And with plenty of RV Sites with KOA Patios® and Deluxe Cabins with full baths to meet your needs, it's the ultimate camping getaway.
KOA Resorts Feature:
RV Sites with a KOA Patio®
Deluxe Cabins with full baths and linens
Premium Tent Sites
Resort-style pools
Indoor and outdoor group facilities
Directions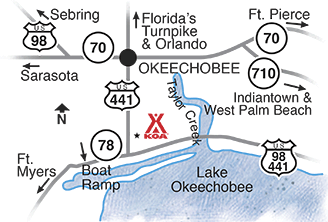 Exit FL Turnpike South at Yeehaw Jct and take US 441 south. Or Exit FL Turnpike North or I-95 N at PGA Blvd. Go west to 710, west to 70, west to US 441 and turn left. Continue south on 441 for 3 miles.
Get Google Directions
Dec 10, 2020
We loved this camp grounds and people are great
Dec 10, 2020
water spigot handle broke, park upkeep not up to par, prices are getting out of hand
Dec 08, 2020
Love this place!! One of favs. Brought two other couples and they thought it was awesome. Will definitely visit regularly.
Dec 08, 2020
Been visiting Okeechobee KOA for many many years. Seems like the campground has gone downhill since the new hosts took over. Roads are crumbling, sites are a mess. When it rains, there are "lakes" all over the property. Maintenance workers are constantly riding their golf carts around doing nothing! Don't even have any tools with them. Don't think I'll be back there anytime soon!!!!
Dec 07, 2020
Very relaxing stay. The staff was very friendly and helpful. We can't wait to stay there again at Christmas.
Dec 07, 2020
STAFF WERE VERY ACCOMMODATING AND FREINDLY
Dec 07, 2020
As great as ever with one exception. The housekeeping in the bath houses was visibly less than in the past.
Dec 05, 2020
This is our third year in a row we stayed for Thanksgiving and we had a great time again
Dec 04, 2020
Had a great time. Will be back
Dec 03, 2020
Had a great time!
Dec 01, 2020
Tammy,Mark and all the crew always go above and beyond to make our family gatherings fantastic. This trip we had an issue with a cabin and they went way overboard to make sure our stay went great without any troubles. 31 people in our group , ALL HAD A GREAT TIME! Thanks Guys
Dec 01, 2020
We always have a great time! This campground is very nice and not too far from home. We enjoyed bike riding and pickleball with friends. The Thanksgiving dinner was absolutely delicious. (We decided to do the take-out.) The heated pools were perfect for the Thanksgiving weekend! Rhonda and Roy Griffis (The Good Time Bunch)
Dec 01, 2020
I think the activities center needs a make over. Roof leaks and restrooms not well maintained.
Dec 01, 2020
A little soggy after the heavy rain. We tried to have some ice cream at the cafe'/store the morning before we left, but there was only one staff member on duty there, and other people ordering breakfast, so we left. The property was nicely laid out and appointed.
Dec 01, 2020
No fire pits! How do you call that camping?
Dec 01, 2020
I have a very good time. I will be back has soon as possible. �
Nov 30, 2020
Great place to relax and meet nice people. Great friendly staff.
Nov 30, 2020
First we arrived and were given site 156 in which the pavement was broken and my husband fell backwards scratching his calf on the rocks. I called and was told we could have another site. We moved to165. Then our golf cart number 4 would not run correctly and plunged forward jarring us terribly. Finally bathhouse number 2 was dirty with fecal matter all over one of the stalls. I reported all issue
Nov 30, 2020
ENTIRE STAFF - AMAZING
Nov 30, 2020
Great place.... very laid back but with things to do if you want to.
Nov 30, 2020
every one was so nice and helpful/ hats off to all your employees
Nov 30, 2020
The staff was extremely friendly and accommodating. Facilities are very nice. This was our first visit and we plan many more.
Nov 30, 2020
We did enjoy your park, but we are used to staying in state parks. We did miss having a place to hike. It is a fine park especially if you have children.
Nov 30, 2020
Very Clean and very friendly staff.
Nov 28, 2020
Absolutely enjoyed our stay. Loved being able to get some food from the general store and to have a beer from the shanty bar. We stayed in a class A Motorcoach. Also rented a golf cart. Will be back.
Nov 28, 2020
Wonderful, friendly staff. Love that there is a gate so only campers are allowed in, love the text messages you receive while camping, a dog was missing and they texted everyone, they found the dog! Bathrooms and laundry everywhere! And a free dog wash!
Nov 26, 2020
We had initially been assigned to site 91, which had a pothole that was at least a foot deep. We received a new spot that was much better. The grass at the sites is very wet. Lots of mud. The sewer hookup is very far back. Bring extensions. The cable didn't work. The sites are very close together and significantly overpriced for the quality you receive. We will not be back.
Nov 25, 2020
The sites were a good size. The cement could used some work. The Picnic tables are very small and also could use some work. I would not even sit on bench. The pool was very nice, clean. We like that you had tennis courts for my granddaughter. It was nice that you had music on Friday and Sat but we didn't go up too many people around without mask.
Nov 25, 2020
We have stayed there many times over the years and the staff is The grounds and faculty are all was clean and well maintained.
Nov 24, 2020
Staff was very good. Enjoyed the long weekend.
Nov 24, 2020
Needs more curb appeal not kept up
Nov 23, 2020
Tammy Hollander and her team go to great lengths to make one feel welcome. There are so many fantastic people there. A few were even a cut above the already amazing team. Cathy at the shanty sometimes in the store or maybe you would find her at the office always service oriented. Betsy, another one you never knew where you would find her but you knows she was going to go the extra mile to help.
Nov 23, 2020
I thought the property was very nice. Most of the staff was wonderful and very helpful especially around the grounds and the general store. Some of the other folks could use a little training. For example, Kathy in the Shanty was quite rude and my wife and I could hear her talking to the locals about the temp guests. We were happy to deal with the other bartender.
Nov 22, 2020
Have stayed many times. Last visit week of Nov. 15th. Love this campground. Many sites are in need of repair. Mosquitoes were relentless this trip, due to way too much rain. As far as amenities, you really can't beat this campground. Friendly staff also. Nice little nine hole golf course when it dries out.
Nov 19, 2020
Excellent time as always!
Nov 19, 2020
It was a great stay! The bathroom and the refrigerator were so clean. The Queen bed was very comfortable, I had forgotten I wasn't at home in the morning. The bunk mattresses were not as comfortable, however. The pool was wonderful, we had fun with the recreational amenities, and the breakfast buffet on Sunday morning was a great value and good quality food! All in all, we'd stay again!
Nov 19, 2020
Loved workers Toni and Danny. Loved everything about it.
Feb 28, 2021
Great place to stay. Friendly staff and campers.
- Sandra McFarland on Google
Feb 25, 2021
We love this campground! Spend a few days here every year. The pool is my absolute favorite. Music, lunch warm water. Everything I love. Campsites are very neat and clean.
- JoAnn Feyereisen on Google
Feb 18, 2021
Great atmosphere. Lots of activities.
- Rick Haufe on Google