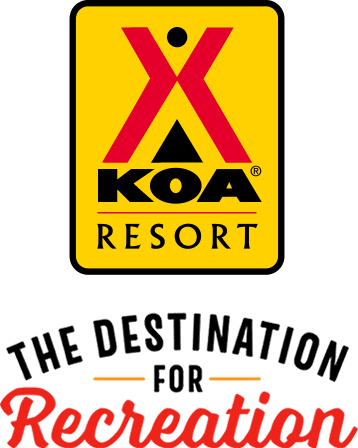 KOA Resort Campgrounds
KOA Resorts offer a carefree vacation in the great outdoors. Enjoy robust recreation and staff-led activities, kick back and relax by the resort-style pool, or grab a bite to eat, all while never leaving the campground. And with plenty of RV Sites with KOA Patios® and Deluxe Cabins with full baths to meet your needs, it's the ultimate camping getaway.
KOA Resorts Feature:
RV Sites with a KOA Patio®
Deluxe Cabins with full baths and linens
Premium Tent Sites
Resort-style pools
Indoor and outdoor group facilities
Directions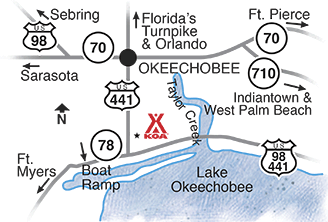 Exit FL Turnpike South at Yeehaw Jct and take US 441 south. Or Exit FL Turnpike North or I-95 N at PGA Blvd. Go west to 710, west to 70, west to US 441 and turn left. Continue south on 441 for 3 miles.
Get Google Directions
Jan 19, 2021
When we arrived our campsite was not available due to an error. Everyone at KOA was very apologetic & went the extra-mile to make sure we were taken care of. They provided a lunch while we waited for another site & gave us a fire pit & a credit for the site that was not available. They did much more than necessary & it was greatly appreciated. This is a wonderful campground & team.
Jan 19, 2021
Entertainment was great - that is the only good thing. Despite having signs that everyone in the store and registration office must wear a mask, NO ONE wore a mask properly - 1 woman working the store grill wore a mask on her chin. The first site we got was horrible too - site 154. That has to be the worst site in the KOA - a humped site with a very small side yard. We were willing to leave.
Jan 19, 2021
The KOA staff are very helpful and friendly. Even the residents of the campground are very welcoming. We had plenty to do. The entertainment at the adult pool was really great. It was nice having bathrooms and showers right there. And also the electric outlets were really handy. The campground is kept very well-kept and we really enjoyed ourselves. We will absolutely be going back there again.
Jan 19, 2021
We love the Okeechobee KOA!!! It's clean, fun, and they have lots of stuff to do!!! Their places where they have food served are great!!! The ONLY think we don't like is that we have to pay for internet. I think with the price of the cabins it should be included.
Jan 19, 2021
This was my first time staying at a KOA and it was absolutely an incredible experience that I've already recommended to many of my friends and family. As a matter of fact I can't wait to go back there soon and we'll be scheduling my next camping trip in the next week or two. The cabin accommodations and cleanliness of the grounds were amazing. The staff was super friendly and professional.
Jan 19, 2021
Road to our site was very poor. Last night there, there was constant trailers, rv and campers pulling into the site next to us where we were sitting out and dumped their septic. Very poor management for the $98 + dollars a nite I paid.
Jan 19, 2021
Great staff and great place to go
Jan 19, 2021
We have a great time, this was our first visit and we love all the amenities, our teens have a great time as well we can enjoy the peaceful environment. Also the location it's great, near the lake and also within walking distance from supermarkets and restaurants. For sure we will come back soon. Thanks!
Jan 18, 2021
We love your campground and it is our "go-to" place at least once and maybe twice to three times a year! Unfortunately our Saturday morning on this visit, starting around 8:30 was with the sound of a pressure washer across from our site. (our site was 155 pressure washer at site 173). This continued until about 3:00 pm. Maybe this could have been done later or during the week (not on the weekend).
Jan 18, 2021
Nicest campground in Florida
Jan 18, 2021
Very helpful, pleasant. Very clean
Jan 17, 2021
Wonderful campground! The facilities are excellent and the staff superb. This is our favorite campground.
Jan 17, 2021
Nice, friendly people stay there. Decent dog play area, just a bit far away. Kinda felt like I was across the street from a carnival all day, tho. Music by pool (I think?) was a bit loud all day, imo.
Jan 15, 2021
Outstanding location for a visit to Lake Okeechobee. Beautiful site. Well run campground with excellent service. Lots of activities on site. Lots of nearby stores.
Jan 12, 2021
Everything has good and employs were helpful and friendly,we had good time.
Jan 12, 2021
Staff couldn't be more friendly. So helpful. Couldn't do enough for you. Enjoyed our stay very much.
Jan 12, 2021
Our first time renting an RV. Everyone was so helpful and accommodating!! From helping me maneuver into the spot to getting everything hooked up we couldn't have done it with out the staff. My boyfriend has never been able to ride a bike and we were so thrilled that you had recumbent bikes to rent!! The ladies in the general store were so sweet they really made our stay special. Thank you!
Jan 12, 2021
We enjoyed our stay although we had to leave a dst early because one of our dogs got sick (no fault of KOA) Very nice campground. I can't wait to return
Jan 11, 2021
only things that need to improve are golf handcarts. all of them had broken straps that hold your bag onto the cart. Also there seemed to more litter than the last times we stayed.
Jan 11, 2021
Very relaxing comfortable stay!
Jan 11, 2021
Telecommuting is very important while I travel. The wifi connection is horrible. Also, the Okeechobee area doesn't have much to offer us other than the warm temperatures.
Jan 09, 2021
People were friendly, helpful, the grounds were well kept and everything worked. We recommend this campground.
Jan 08, 2021
Always great!
Jan 06, 2021
As always we enjoyed our stay very much! We love staying there! I only wish that this time there would have been more activities like there were in Halloween and July 4th since we did stay a whole week. Yet when we came back home they started having activities like the polar bear plunge. Wish that was while we were there! Other than that we loved it!
Jan 05, 2021
First the adult pool heater broke. Kids pool still a little cool. Cable did not work, Wi Fi didn't work. Called WI Fi # on brochure they couldn't fix either. Did not take off my bill for everything that didn't work. Roads need some TSC badly. Regarding cable & Wi FI: others did not work next to me either. Office knew cable out, answer was try again later. Four days later still no cable.
Jan 05, 2021
As always the campground was excellent and the staff professional and friendly! Already booked again!
Jan 05, 2021
People are super friendly and so many activities for the kids and adults.
Jan 05, 2021
We love staying with you but wish you would have asked about the fire pits that we did not get one next time we will ask what our site has thank you we had a great time.
Jan 05, 2021
Nice Koa. We will visit again
Jan 04, 2021
We were disappointed that the heater in the adult pool was not working. Also couldn't get onto the wifi. We met our friends to celebrate NY so a good time was had.
Jan 04, 2021
Nice weekend, need to get better entertainment.
Jan 04, 2021
We always have a great time when we come here. Always meet such nice people. We will definitely keep coming back.
Jan 04, 2021
Clean sites everybody more than helpful very friendly employees enjoy this stay
Jan 04, 2021
The pool heater for the adult pool was broken and we weren't notified until after we checked in. We should have been told up front. Additionally, the pools were closed one hour each day for cleaning, however, we never saw anyone do any sanitation or cleaning. It seems to be a false representation of following good COVID protocols. While the staff is very friendly, they seemed to be under staffed.
Jan 04, 2021
The sites are too close together, the concrete pad was all cracked. There was dog waste on my site upon arrival. The bathrooms were dirty. The speed bump coming in sucks! The office staff was not friendly. We will not come again!
Jan 04, 2021
We had a great time & very pleased with the cleanliness & how helpful the staff was!
Jan 04, 2021
We enjoyed our stay. News Years Eve day live music entertainment by the pool was awesome. New Years Day live music entertainment by the pool was terrible. That guy needs to be replaced.
Jan 04, 2021
Another very pleasant stay at a clean and well maintained campground with a friendly and responsive staff!
Feb 28, 2021
Great place to stay. Friendly staff and campers.
- Sandra McFarland on Google
Feb 25, 2021
We love this campground! Spend a few days here every year. The pool is my absolute favorite. Music, lunch warm water. Everything I love. Campsites are very neat and clean.
- JoAnn Feyereisen on Google
Feb 18, 2021
Great atmosphere. Lots of activities.
- Rick Haufe on Google