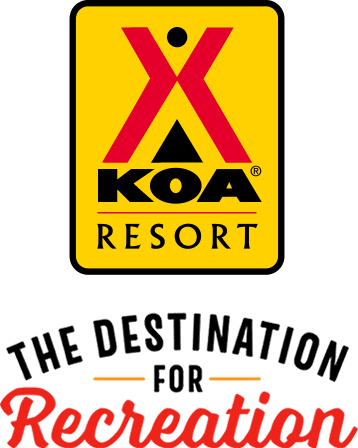 KOA Resort Campgrounds
KOA Resorts offer a carefree vacation in the great outdoors. Enjoy robust recreation and staff-led activities, kick back and relax by the resort-style pool, or grab a bite to eat, all while never leaving the campground. And with plenty of RV Sites with KOA Patios® and Deluxe Cabins with full baths to meet your needs, it's the ultimate camping getaway.
KOA Resorts Feature:
RV Sites with a KOA Patio®
Deluxe Cabins with full baths and linens
Premium Tent Sites
Resort-style pools
Indoor and outdoor group facilities
Directions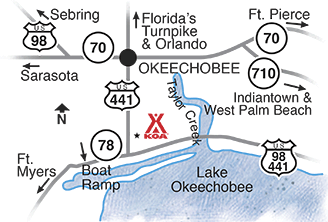 Exit FL Turnpike South at Yeehaw Jct and take US 441 south. Or Exit FL Turnpike North or I-95 N at PGA Blvd. Go west to 710, west to 70, west to US 441 and turn left. Continue south on 441 for 3 miles.
Get Google Directions
Feb 07, 2021
The cable tv did not work. The picture was so fuzzy you couldn't hardly see it and I only got very limited channels. The service guy came and said it was a problem they are having and couldn't fix it. I really think they should have taken some pricing off the bill.
Feb 07, 2021
The people checking us in and on the phone were so nice and friendly. The sites were concrete so we didn't have mud. The pool was warm and clean and the bath house and showers were clean and well kept. They were informative on direction to things we needed. I would love to go back.
Feb 05, 2021
Wish the golf course was in better condition
Feb 05, 2021
Our cabin backed up to a fence. On the other side of the fence is an apartment complex. During the first night we tried to have a campfire but there were kids from the apartments outside being loud and yelling and we had no privacy. We had to go in. I would not stay in KK2 again because of that reason. Thankfully it was a school night and noise stopped at 9. They could be heard inside the cabin.
Feb 05, 2021
Check-in was extremely slow. Once checked in I returned to my coach to wait for the guide. After what seemed like a long ten minutes I went back in and expressed my dis-satisfaction about waiting for the guide to take me to my site and was told to proceed through the gate and he would meet me there. Dumb. The woman checking me in should have told me to go through the gate and meet the guide.
Feb 03, 2021
We absolutely loved our stay at Okeechobee, excellent facility. We have already booked a long term stay for 2021. The golf course course could use some work.
Feb 03, 2021
We wanted to stay next to our friends with children so our children could play, instead we had a retired couple in between us. We asked if the open spot next to us could be used and they said it was booked...it was still empty the day we left. There seemed to be nobody in charge - felt sorry for the employees as lots of campers seemed unhappy.
Feb 03, 2021
Broken concrete so bad could rip bottom out of motor home. The site was filthy food all over the site the patio had food scraps and what appeared to be dog poop The picnic table was so disgusting I wold not burn it for fear the smoke was toxic. I joined KOA a week ago new to the life style THIS WAS A HORRIFIC EXPERIENCE NOT GOOD PR ROBERT DIMARIA
Feb 02, 2021
Solar lights everywhere around sites and none of them worked. WiFi never worked
Feb 02, 2021
As we arrived we were informed it had been sold. As a result the poolside Shanty had no liquor license. Our picnic table had seen better days and was rotted in places. The laundry needs repairs. It was not the KOA we visited last year. Very disappointed - great neighbors saved the stay.
Feb 02, 2021
With the exception of losing water twice while there for a long period of time, this was a nice place.
Feb 02, 2021
It's an ok place. Needs some updating.
Feb 02, 2021
Absolutely loved our KOA stay wish the price was more affordable to be able to stay more often!
Feb 01, 2021
Great resort KOA. Lots to do. I wiuld have rated a 5 but the KOA changed ownership mid stay, closing the Shanty Pub. I look forward to staying there again next year.
Feb 01, 2021
Been coming here for years!!! We love this KOA!!
Feb 01, 2021
We were not told there wasn't any internet. We were not told that the bar was closed. We're we're not informed that there was a 48 hour boil water advisory. Due to the 48 hour boil water advisory the snack bar/restraint was closed. No entertainment? Rates were not adjusted to compensate for the problems. Our sewer cap did not work - maintenance did come and fix it with a brick.
Feb 01, 2021
Very enjoyable staff was excellent
Feb 01, 2021
Only planned stayed 1 night. Clean, friendly, and "over the top" customer service. I live 45 min away and just wanted a quick get away. I will definitely stay here again!
Feb 01, 2021
We were very disappointed that the Shanty was closed and the store had no ice.
Feb 01, 2021
KOA allowed this new camp ground to operate though NOT worthy. As members, we expect to pay more for consistant quality. We feel overcharged and cheated due to lack amenities. No cable, no TV, no internet, barren , no trees, baran etc etc etc. Very Disappointed.
Jan 31, 2021
We loved our location but a few of the office staff were unpleasant
Jan 31, 2021
One of the best KOAs we have stayed at. The only negative was the WiFI.
Jan 31, 2021
We arrived during a change in ownership. No liquor license so the bar at the pool wasn't open. Issues with water and the wifi connection were also problematic. The bathrooms by the pool need updating. I was disappointed that no where was hand sanitizer available. The area is nicely kept up. I imagine within a month or two the concerns expressed here will be resolved. Great location.
Jan 29, 2021
Lots of changes going on over there at that KOA, Internet did not work the whole time they told me I needed to call the provider, concrete pad for $90 a night barely fit my 38 foot motorhome, couldn't even find the sewer connection grass needed weed eating so bad, on the other note some of the maintenance guys were very nice and helpful.
Jan 29, 2021
Love this campground, but we were very disappointed the Shanty was closed
Jan 28, 2021
Had a great time. The golf, hot tub & Shanty, really make for unique KOA resort. Great Staff and service. Couldn't ask for more!
Jan 28, 2021
Beautiful RV Park. Staff very friendly and helpful. Pools and spa very clean. Absolutely LOVED the fitness room. Will definitely return.
Jan 28, 2021
We have stayed at the Okeechobee KOA 4-5 previous times. It's going backward. Site too tight with clutter from neighbor and smell of dog feces evident two of the three nights there. Water problems and no pressure with boil water warning the last day there. Shanty Bar was not open because of new owners. Pools were being closed at unannounced times for COVID cleaning. Will not be back; sorry.
Jan 27, 2021
Don was a great help on our maiden voyage
Jan 26, 2021
We requested pull in we're assigned back in even though there were pull though open. The sites are small and were packed in even though we're open sites where could have been spread out
Jan 25, 2021
Everything was as advertised. Cabin was clean and stocked with everything needed, even dog bowls and bed! Gas for grill was changed on rotation even though not empty to ensure availability. Trash was picked up within 1/2 hour of being placed by curb - anytime of the day. All staff were extremely friendly and helpful! Only issue they ran out of firewood (everywhere!) but Home Depot had some logs.
Jan 25, 2021
The only negatives were anomalies ... no firewood available, and water shut off due to a line break. Otherwise ... we had a great site and excellent stay ... we would certainly come back!
Jan 25, 2021
Enjoyed our stay
Jan 25, 2021
I loved my lot 154. Only thing is I wish we had a fire pit.
Jan 25, 2021
This was our 3rd visit. Day1 there was a water issue and was told The Shanty would be closing ����Day 2 was good .Day 3 we returned from the pool to new neighbors parked so close to us that I could stand between both RV's and touch both ��And family camping in tents across from the restroom were very noisy! I heard kids screaming and playing until 1:20 am . Man in ladies room with young daug
Jan 24, 2021
We were woken up by some lady in a car that said we were in her spot at 2200. They ended up sleeping in their car next to us. 317B needs some more grass it was a lot of dirt.
Jan 23, 2021
Very clean and nice place with a lot to do, or just sit back and relax nice and quiet.
Jan 21, 2021
It was nice. There was no hot water in the shower, which was very disappointing. I waited 10 minutes with running water, and there were no hot water. Also, the water pressure in the shower is very very low. Other then that it is a beautiful place.
Jan 21, 2021
Management won't do anything for you. Been here 26 years, can't get 50 amp, they give it to all the new workers.our cement was broke up years ago when the hurricane went through, now holes and broken cement, from consumer trucks. Only good cement is what we put in ourselves, and paid for. No help from the park itself.
Jan 21, 2021
Lack of WiFi was a problem.
Jan 20, 2021
Would have been better if adult pool heater was working
Jan 20, 2021
As usual, Tammy and her team were awesome!
Feb 18, 2021
Great atmosphere. Lots of activities.
- Rick Haufe on Google
Feb 15, 2021
great place!! 5/5... pet friendly
- David Gutiérrez on Google
Feb 15, 2021
Excelente , limpio , bello..todo cerca.
- Nelly Vargas on Google