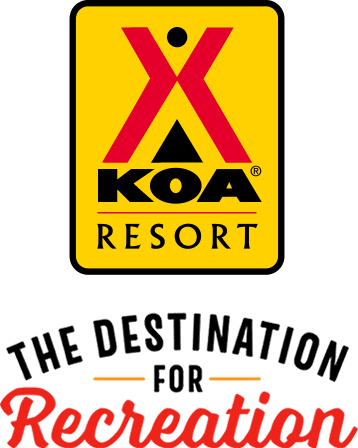 KOA Resort Campgrounds
KOA Resorts offer a carefree vacation in the great outdoors. Enjoy robust recreation and staff-led activities, kick back and relax by the resort-style pool, or grab a bite to eat, all while never leaving the campground. And with plenty of RV Sites with KOA Patios® and Deluxe Cabins with full baths to meet your needs, it's the ultimate camping getaway.
KOA Resorts Feature:
RV Sites with a KOA Patio®
Deluxe Cabins with full baths and linens
Premium Tent Sites
Resort-style pools
Indoor and outdoor group facilities
Directions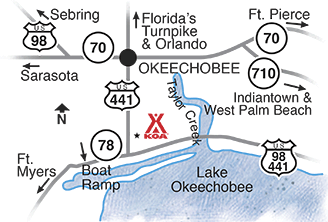 Exit FL Turnpike South at Yeehaw Jct and take US 441 south. Or Exit FL Turnpike North or I-95 N at PGA Blvd. Go west to 710, west to 70, west to US 441 and turn left. Continue south on 441 for 3 miles.
Get Google Directions
Mar 01, 2021
Trouble with cable and no WiFi. Hard to park when full.
Mar 01, 2021
very nice park , well maintain , friendly staff,
Mar 01, 2021
We appreciated the amenities of the deluxe tent site! Community sink and electric hut and sand pit. The live music at the pool was awesome!
Mar 01, 2021
Great spot, with excellent amenities. Being close to Restroom facilities, and having power and a washing cabin steps away from your tent site was a game changer.
Mar 01, 2021
met some great people. had fun on golf course. streets were a little crowded with parking, but other than that, a really good experience.
Mar 01, 2021
Great place. Clean and very much to do. Good time.
Mar 01, 2021
Wish the WIFI was better
Mar 01, 2021
Really loved the lot 232 with a lot of shade beautiful rear view on the golf course ���
Feb 28, 2021
Pullthru pad was too small for my 2285 lance trailer and truck. Had to park on grass at angle. Felt bad that this messed up the grass. Need to patch many of the potholes thru out the park. Had a nice stay. Everything was very clean and staff was friendly.
Feb 28, 2021
Older lady at the front desk. MEAN. Just plain MEAN. Hung up on a friend of ours who called and was rude to other employees in front of us while there. Won't be back for a while til things settle with the takeover. Employees are worn thin and clearly not happy. Let me know if the older lady at the front gets fired then I'll CONSIDER coming back.
Feb 27, 2021
We were reminded several times this KOA was recently sold to a new owner.The employees had low morale. We waited so long to be led to our site that we went looking ourselves.The restrooms were not cleaned in the 3 days we were there (no paper towels in the men's). The wifi did not work; when I asked at the office I was told to call the number on the brochure by an exasperated employee & still none
Feb 27, 2021
Heated pool, luxurious shower with plenty of hot water, near kayaking and fishing
Feb 26, 2021
We had a cabin stayed the weekend daughter loves the pool and park
Feb 26, 2021
WIFI not reliable, no place to walk the dogs, road drainage was terrible after the heavy rain, potholes, our RV was too big for the spot - we sank our levelers. RV are parked right next to each other. Loose dogs, people park on the grass, leave all their "stuff" outside - looks like a giant garage sale. Clearly it works for a very large number of people - just not for us.
Feb 25, 2021
Everything was great. It is first KOA that didn't honor a military discount.
Feb 25, 2021
Camping spots very close together. Rates are high.
Feb 24, 2021
The park is great, but the office staff was very rude. We've been staying there for 4 years and where surprised at the increase in prices. Not sure we'll be going there next year�
Feb 24, 2021
One of the most friendliest campgrounds we have stayed at. There is something to do for everyone & the amenities are outstanding. Big plus for the golfers with the 9 hole course. Wish there was more access for fishing, but the big water is very close.
Feb 24, 2021
Great service. Had a great time.
Feb 24, 2021
Clean & friendly, however greatly understaffed. Golf cart rental had No Brakes (cable not connected), no headlights, and was in rough condition. Was told by staff either return it or deal with it, as they had no other carts available. Not what I expected from a KOA for customer safety. Unfortunately we needed it as we pre-purchased the rental in advance. Just prayed we didn't hit anything.
Feb 24, 2021
Stayed one night. Campsite was great. Grounds were well kept. Staff friendly and helpful. We'll be back!
Feb 24, 2021
Loved the sleeping cabins. A great option for boaters with a pick up truck and no RV. Thanks for the cabin will spend more time next year if available.
Feb 24, 2021
The lack of WIFI, adequate places to walk the dog, speed of traffic, dogs not on leashes. Clearly cater to a different audience than us. Debbie (I think) was very kind about our situation - really needed better WIFI. We love our KOA's - not this one.
Feb 24, 2021
We had a great fun time there. However, following the rain we had, our site #425, and others, held water front and rear for several days and generally in our area drainage of the standing rainwater was poor or non-existant! The paved roads had numerous pot holes which were a hazard when walking and cycling after dark! Repairing these roads and drainage should be one of your priorities!
Feb 24, 2021
We really liked the park and friendliness of other guests. We are very sad though that they no longer along 1 month stays which we wanted to do February 2022
Feb 24, 2021
The camp ground and pools are nice. The spot we were given for our 40 ft trailer was way too small .we only had 30 amp electric and needed 30 ft of sewer hose, and it was way too expensive compared to other campgrounds anywhere.also our friends were told they could not extend there cabin stay even though no one moved into the cabin for the 4 days after they had to leave. I will not be back.
Feb 24, 2021
Booked a tent site, when I showed up to a cement plot that was in the middle of a ton of RVs I was unpleasantly surprised. I immediately left and did not stay the night.
Feb 24, 2021
They ask and I told them I had a 31' Motorhome and pulling A 14' trailer. No problem she says. Sites to small. No overflow available. Staff rude. No assistance in locating site at all. I'll never go back and will tell everyone of my horrible experience. Definitely Not worth $100 a night.
Feb 23, 2021
Excellent service started the moment we pulled up to the gate to check in. The office staff was courteous and professional. The golf pro/snack bar and gift shop personnel were also friendly and very helpful. We intend to continue to spend many more long weekends this year and next all year round as we have done in the past years.
Feb 22, 2021
My wife and I had just purchased a new motor home, and wanted to take it out for its 'maiden voyage'. With about 40+ years of camping, in every type of RV, we found that all in all its not a bad campground, it has some 'older sites' mixed in with new. Golf course is beautiful, pools are nice, staff was very friendly.There was some concrete on site that needs some repair, and cable needs up
Feb 21, 2021
It was like a small city. We were in a tent site and enjoyed our stay. It was like being at a RV show Nice people
Feb 21, 2021
We were put in the middle of a bunch of rec vehicles and we were suppose to have water and electric. It turns out the rv on the opposite site was hooked up to the water and was taking 50% of the plug ins. The grass was beautiful. The picnic bench had a piece of wood sticking up and had tape on the ends. The site was dirty and had cigarette bits everywhere. The showers were great. Only the staff wa
Feb 20, 2021
It was a single overnight for our trip home from Key West. We have traveled in motorhomes for over 10 years and more than 20,000 miles. The ladies at the registration desk were, in our experience, the most kirt, unfriendly and least interested in good customer service we have ever experienced. Fortunately, the maintenance guy (Ed L.?) was extremely helpful and made up for it.
Feb 20, 2021
I was very disappointed in our check in. It took a very long time to get an escort to our site. I called the office twice to remind them we were waiting. Once we got to the site the employee was very helpful. I was later told that because of new owners the employee/staff had been cut by more than half. We were never told the passcode to get back in the park the amenities and activities.
Feb 20, 2021
Nice campground although our site was small and underwater most of the weekend because of rain. Drainage was bad right in the area we were located. Also inquired about a special being advertised for the summer and were told they weren't sure if they would be running the special. Why put up ads all over if not sure about doing it?
Feb 20, 2021
Very tight space. Roadways are 2-way with hardly room for 1 vehicle. When being taken to our lot we met 2 very large 5th wheels and big trucks. I am not sure how we cleared each other. But we did.
Feb 19, 2021
Peggy and Dan were outstanding. Peggy got us checked in with a smile and positivity which was appreciated because of the stress we had in getting to you. Dan facilitated our site and helped us with our electric concerns. The female attendant in the office was a negative person who does not seemingly care about providing a positive experience for her customers whom are providing her her job.
Feb 19, 2021
The bump at the entrance is the worst we have encountered in 10 years of camping. Seriously dangerous is you are towing.
Feb 18, 2021
All in all this is a very nice campground. Just a few things were bothersome. 1) The Shanty was closed (no explanation). 2) It rained hard early Sunday morning but the Golf Course was closed all day even though it was quite dry by early afternoon. 3) There is no free WIFI as advertised. 4) My husband was literally kicked out of the bathroom by the cleaning crew at 9:45 am (Cleaning at 11:00).
Feb 18, 2021
Nice campsite, however priced high. Housekeeping and maintenance is badly needed: washers were broken and insufficient for high number of guests; site guide travels much too fast around campers and guests; ovens not working in kitchen; NO masks being worn by guests in adult pool area; adult bar area was closed for business; campground needs more doggie poop bags and trash bins.
Mar 03, 2021
Nice and clean, great people that make you feel at home.. Only bad is they mow your grass when your trying to sit and relax ..now grass in the camper.
- Jack Whitman on Google
Mar 03, 2021
Beautifully maintained. Very friendly and helpful staff.
- Martha Sharpe on Google
Feb 28, 2021
Great place to stay. Friendly staff and campers.
- Sandra McFarland on Google