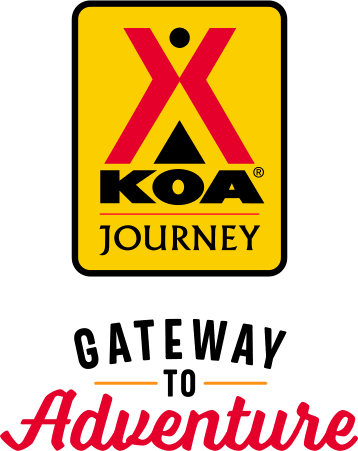 KOA Journey Campgrounds
KOA Journey campgrounds are the perfect oases after a day on the road. Whether it's along the way or a quick getaway, they've got you covered. Located near the highways and byways of North America with long Pull-thru RV Sites, they deliver convenience to the traveling camper. Pull in, ease back and take a load off.
KOA Journeys Feature:
Pull-through RV Sites with 50-amp service
Premium Tent Sites
Well lit after hours check-in service
Directions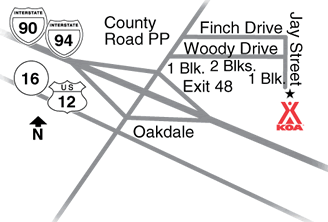 From I-90/94 Exit 48 (Oakdale Exit): Go north 1 block to Woody Dr. Turn right, go 2 blocks to yield sign, turn right onto Jay St.
GPS: Please use Tomah. N43.963570, W90.372460
Get Google Directions
Jun 30, 2020
Great stay. Always fun. We love coming to this one. Everyone is so nice.
Jun 30, 2020
The staff are so friendly. Our cabin was so cute and very clean The pool had perfect temperature. Loved it here will definitely come back!
Jun 29, 2020
Nice level site; close, clean bathroom; lots of shade trees
Jun 29, 2020
Staff is super friendly and helpful. Everything is well-kept and clean. We've been coming to Oakdale, KOA for almost 10 years. It's one of our favorite summer destinations.
Jun 29, 2020
Awesome place, awesome people. That's why we keep coming back every year!!
Jun 29, 2020
Very nice people to talk to about the local area and KOAs in general. This place was well maintained and cleanliness of rest rooms was like no other. Newly remodelled as well! Only downside is, you can hear the traffic very well on nearby highway...but that is to be expected! Thanks for a great weekend getaway...We will be back for sure!!!
Jun 28, 2020
This was by far the best KOA experience! The campground is well taken care of and sites were tight, but each site had its privacy. The goats were quite the treat for our grandkids and pool was well maintained.
Jun 28, 2020
Love staying there! Clean well kept campground. Very friendly staff!
Jun 27, 2020
The staff was very friendly and very child friendly as well. The kids loved the pool and playground. Prices were very reasonable. Only thing we noticed was the highway noise at night but, that's easily remedied by turning on your fan or ac in your unit. I would definitely stay again. Also a gas station and food store are right next door so it was very convenient and within walking distance.
Jun 25, 2020
Place was nice, clean, quiet (highway is nearby, campers weren't rowdy). We arrived a bit later due to road construction. Night man Scott wasn't that thrilled that I missed a small turn and made a loop of the property Looking for my site # (it was only dusk, btw), and when I stopped to ask for help, he responded with "Don't you know how to read a map? Open it and look." Um, OK. Un-th
Jun 23, 2020
Completely perfect hospitality an cleanliness are top notch.
Jun 23, 2020
Mostly a good experience with a few exceptions. We asked about local family coming to visit and they said would be $5 charge (we assumed for the entire family). When family got there, we were told $5 per person. Wood was more expensive than similar campgrounds. Fire pit flooded and didn't drain during storm. Campground overall was well cared for.
Jun 23, 2020
This was just an overnight stay but the park was clean and well maintained. Would definitely come back.
Jun 22, 2020
Nice place but a little tight for large 5th wheels. Easy access off interstate and very close to fuel. Bring mosquito repellent. Most sites have lots of tress which are not big rig friendly. COVID restricted use of pool. Nice place for smaller campers and small motor homes below 36 foot in length.
Jun 22, 2020
Great KOA. Lots of activities for the kiddo's. Staff is outstanding, for sure one of the best KOA's We have stayed at!
Jun 22, 2020
Though the camp was nearly full, we felt a sense of privacy and companionship. The office staff were all wonderful! Kudos to Donna, Kathy and Herb. We got rained out after one night and our tents and sleeping bags were soaked. Kathy refunded the 2nd night of our stay. We will be back! Thank you, KOA! -Nathan Stoffregen
Jun 21, 2020
Scott was awesome!! As soon as we arrived, he came right over to help us with hooking up and answer any questions as he knew it was our first time camping. He even let us borrow a cable for the TV and checked all of our levels and equipment. Campground was clean and well maintained and I liked the private bathroom.
Jun 19, 2020
The owner is a friendly man who was happy to share and show off his beloved goats and chickens. My little kids adored "the campsite with the chickens and goats" and cant wait to return. Additionally, the restrooms were immaculate and the facility was very well maintained.
Jun 16, 2020
The hosts were very nice and it was clean
Jun 16, 2020
Great stay with comfortable accommodations. Nice bathrooms and showers. Accommodating staff.
Jun 15, 2020
Had to leave early on our own account. The people are supper friendly, the grounds are clean and well kept. We would definitely coming back!
Jun 15, 2020
Staff was friendly campground was clean and well taken care of
Jun 15, 2020
Beautiful sites. Very convenient from highway. Wonderful people/hosts.
Jun 14, 2020
Excellent place to stay. 1st time staying here & Highly recommended to stay here again. Very helpful & kind staff
Jun 12, 2020
Very convenient to the highway. Clean, quiet and staff was very friendly and accommodating. Large level sites. Would stay again. : )
Jun 10, 2020
Great campground. Clean facilities. Awesome staff.
Jun 10, 2020
This park is immaculate, grounds are beautifully maintained! The upgrades show a lot of hard work and dedication. This park is a must for any travelers. Pool, jumping pad, play ground and 2 dog parks in addition to a well stocked store with pizza delivery on site. Definately worth the stop.
Jun 08, 2020
Was nice. The attendants were friendly. Firewood was a little wet and hard to start. That needs to be sorted out for the price. Other than that, nice park.
Jun 08, 2020
Wonderful and friendly staff - we could not have had a better stay! Looking forward to returning in July!
Jun 08, 2020
a last minute reservation and a wonderful stay. staff very friendly and our request to stay another night was swiftly taken care of. after a long trip, the park lends itself to a peaceful rest. would definitely travel out of our way to stay again.
Jun 05, 2020
We really liked the friendliness and cleanliness of the campground. We typically do not stay in private campgrounds. We were pleasantly surprised with the check-in and ease of parking in the site.
Jun 02, 2020
This place is a gem. Everyone is exceptionally friendly and helpful. Sites are large, level and shady. They have a cute little farm onsite with goats and chickens. Lots to explore in the area for motorcycles in the WI driftless area. Amish farms and several state parks. Wifi is strong and the pool is open!
Jun 02, 2020
A clean well maintained campground.
Jun 01, 2020
Very pleasant people, helpful!! We were looking forward to the breakfast Sunday morning, I guess it got canceled.
Jun 01, 2020
Clean bathrooms nice sites and had fun time.
Jun 01, 2020
Everyone was nice. Wish the highway wasnt so close.
Jun 01, 2020
We loved the big cabin that we rented! It was more than I ever thought I could get for $100 per night!
Oct 13, 2020
Have stayed 4 times this year, love it, have made new friends.
- Tim Mundwiler on Google
Oct 11, 2020
Nice campground. Friendly staff.
- Denise Harrison on Google
Sep 24, 2020
Great place. Really nice people and very clean. We would definitely stay again!!!!
- Lori Funk on Google