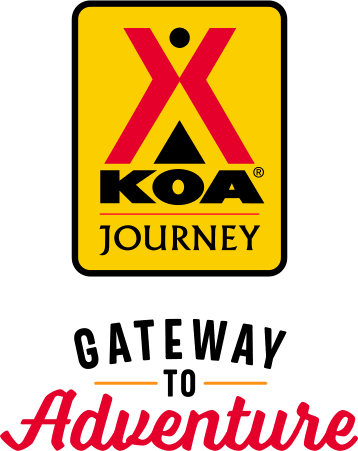 KOA Journey Campgrounds
KOA Journey campgrounds are the perfect oases after a day on the road. Whether it's along the way or a quick getaway, they've got you covered. Located near the highways and byways of North America with long Pull-thru RV Sites, they deliver convenience to the traveling camper. Pull in, ease back and take a load off.
KOA Journeys Feature:
Pull-through RV Sites with 50-amp service
Premium Tent Sites
Well lit after hours check-in service
Directions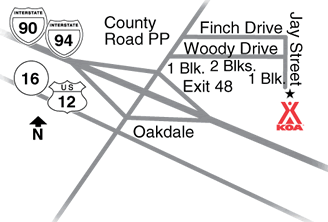 From I-90/94 Exit 48 (Oakdale Exit): Go north 1 block to Woody Dr. Turn right, go 2 blocks to yield sign, turn right onto Jay St.
GPS: Please use Tomah. N43.963570, W90.372460
Get Google Directions
Jul 09, 2020
Nice park, friendly staff, conveniently located near store/eatery, well maintained. Would recommend and stay again
Jul 08, 2020
We love the campground! Scott, Donna, and Joe are so kind and welcoming! We would not consider staying anywhere else. We absolutely love the goats and chickens. It is a highlight of our day to watch Joe take them out for a walk. Loved the pool - it was a game changer with the weather. The store is awesome - bought wine, meat, and cheese for a delightful snack! Can't wait for our next visit!
Jul 08, 2020
Everyone was so friendly!! Kids loved the pool mostly but the GAGA pit was also a big hit! Wonderful to have wood and ice delivered to our tent site, one less thing to carry! The greatest thing was we were able to get a cabin out last night since we were exhausted from the heat and they credited our tent site cost towards the cabin! Thank you OAkdale team for a great time, you ll see us again!
Jul 07, 2020
Sites overall were relatively small but we had deluxe patio site that was great. People were very friendly and enjoyed our stay there.
Jul 07, 2020
It was very hot so we spent a lot of time in the pool. The pool was very clean. The staff was friendly and helpful. It was too hot for lengthy bike rides but we did ride from the campsite to town to do a little geocaching. Nice ATV trails were about 20 miles away via 94.
Jul 07, 2020
Outstanding customer service. Friendly, helpful staff. The grounds and pool are well tended.
Jul 07, 2020
This is the best of our trip. Wish we could have stayed longer.
Jul 07, 2020
Awesome place. The couples cabin was perfect. The bar and stools by the window were a nice touch. We could avoid the bugs and still sit by the window and watch the fire. We will be back.
Jul 06, 2020
Very nice people!
Jul 06, 2020
As usual had a wonderful stay! Donna, Scott and Joe are just as awesome as ever! A great campground!!
Jul 06, 2020
Enjoyed our stay at the Oakdale KOA. Clean, cozy and included all the amenities we needed. The staff was friendly.
Jul 06, 2020
Everyone was very friendly and super helpful. Every area was very clean. Very happy with our stay, loved the pool!! We will be coming back!
Jul 05, 2020
Only stayed one night but this was a well kept campground and the owners were awesome to work with! Would definitely stay again if we come back through.
Jul 04, 2020
Very cute little campground with everything you need for a fun weekend getaway. Bathrooms and showers were clean and the staff was very friendly!
Jul 04, 2020
Our cabin was very clean and had a wonderful cedar smell. Delightful! Thank you so much.
Jul 03, 2020
If it rained I needed a kayak to reach my vehicle, site in front of me was right on top of me. I left koa because I could move down the road a mile and save $86 per week and get the same amenities that I used.
CAMPGROUND RESPONSE / COMMENTS:
I am truly sorry that you did not enjoy your stay with us as you are a valued repeat guest. We did have record breaking rainfall when you were visiting our park. I believe in one day we received 6.5 inches. I was glad to see the rain go away as well.
Jul 01, 2020
Wonderful place! Friendly staff nice sites with good distance between pads didn't feel like your to close to your fellow camper. We will come back
Jul 01, 2020
Very clean and well equipped journey campground. Owners were very nice and hospitable. Bonus goat walk and chickens!
Jun 30, 2020
Donna and her crew are of the nicest people! they all make you feel like family they're always so welcoming when checking in and once settle into your site. a big kudos to them!
Jun 30, 2020
Great stay. Always fun. We love coming to this one. Everyone is so nice.
Jun 30, 2020
The staff are so friendly. Our cabin was so cute and very clean The pool had perfect temperature. Loved it here will definitely come back!
Jun 29, 2020
Nice level site; close, clean bathroom; lots of shade trees
Jun 29, 2020
Staff is super friendly and helpful. Everything is well-kept and clean. We've been coming to Oakdale, KOA for almost 10 years. It's one of our favorite summer destinations.
Jun 29, 2020
Awesome place, awesome people. That's why we keep coming back every year!!
Jun 29, 2020
Very nice people to talk to about the local area and KOAs in general. This place was well maintained and cleanliness of rest rooms was like no other. Newly remodelled as well! Only downside is, you can hear the traffic very well on nearby highway...but that is to be expected! Thanks for a great weekend getaway...We will be back for sure!!!
Jun 28, 2020
This was by far the best KOA experience! The campground is well taken care of and sites were tight, but each site had its privacy. The goats were quite the treat for our grandkids and pool was well maintained.
Jun 28, 2020
Love staying there! Clean well kept campground. Very friendly staff!
Jun 27, 2020
The staff was very friendly and very child friendly as well. The kids loved the pool and playground. Prices were very reasonable. Only thing we noticed was the highway noise at night but, that's easily remedied by turning on your fan or ac in your unit. I would definitely stay again. Also a gas station and food store are right next door so it was very convenient and within walking distance.
Jun 25, 2020
Place was nice, clean, quiet (highway is nearby, campers weren't rowdy). We arrived a bit later due to road construction. Night man Scott wasn't that thrilled that I missed a small turn and made a loop of the property Looking for my site # (it was only dusk, btw), and when I stopped to ask for help, he responded with "Don't you know how to read a map? Open it and look." Um, OK. Un-th
Jun 23, 2020
Completely perfect hospitality an cleanliness are top notch.
Jun 23, 2020
Mostly a good experience with a few exceptions. We asked about local family coming to visit and they said would be $5 charge (we assumed for the entire family). When family got there, we were told $5 per person. Wood was more expensive than similar campgrounds. Fire pit flooded and didn't drain during storm. Campground overall was well cared for.
Jun 23, 2020
This was just an overnight stay but the park was clean and well maintained. Would definitely come back.
Jun 22, 2020
Nice place but a little tight for large 5th wheels. Easy access off interstate and very close to fuel. Bring mosquito repellent. Most sites have lots of tress which are not big rig friendly. COVID restricted use of pool. Nice place for smaller campers and small motor homes below 36 foot in length.
Jun 22, 2020
Great KOA. Lots of activities for the kiddo's. Staff is outstanding, for sure one of the best KOA's We have stayed at!
Jun 22, 2020
Though the camp was nearly full, we felt a sense of privacy and companionship. The office staff were all wonderful! Kudos to Donna, Kathy and Herb. We got rained out after one night and our tents and sleeping bags were soaked. Kathy refunded the 2nd night of our stay. We will be back! Thank you, KOA! -Nathan Stoffregen
Jun 21, 2020
Scott was awesome!! As soon as we arrived, he came right over to help us with hooking up and answer any questions as he knew it was our first time camping. He even let us borrow a cable for the TV and checked all of our levels and equipment. Campground was clean and well maintained and I liked the private bathroom.
Jun 19, 2020
The owner is a friendly man who was happy to share and show off his beloved goats and chickens. My little kids adored "the campsite with the chickens and goats" and cant wait to return. Additionally, the restrooms were immaculate and the facility was very well maintained.
Oct 13, 2020
Have stayed 4 times this year, love it, have made new friends.
- Tim Mundwiler on Google
Oct 11, 2020
Nice campground. Friendly staff.
- Denise Harrison on Google
Sep 24, 2020
Great place. Really nice people and very clean. We would definitely stay again!!!!
- Lori Funk on Google