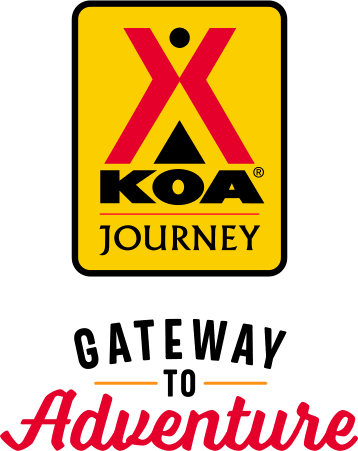 KOA Journey Campgrounds
KOA Journey campgrounds are the perfect oases after a day on the road. Whether it's along the way or a quick getaway, they've got you covered. Located near the highways and byways of North America with long Pull-thru RV Sites, they deliver convenience to the traveling camper. Pull in, ease back and take a load off.
KOA Journeys Feature:
Pull-through RV Sites with 50-amp service
Premium Tent Sites
Well lit after hours check-in service
Directions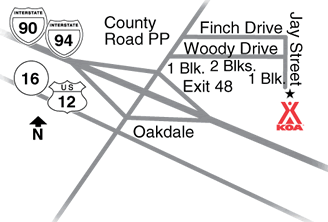 From I-90/94 Exit 48 (Oakdale Exit): Go north 1 block to Woody Dr. Turn right, go 2 blocks to yield sign, turn right onto Jay St.
GPS: Please use Tomah. N43.963570, W90.372460
Get Google Directions
Jul 28, 2020
This was just an overnight stay for us but from what we could tell this would be a very nice campgrounds for a longer stay. The site we had was level and was pretty big. The campground workers were friendly and extremely accommodating.
Jul 27, 2020
Check-In was quick & easy. We were escorted to our site and assisted with parking. All hookups were in good working order and easy to access. The pull-through site was plenty big for our travel trailer and tow vehicle without disconnecting as we were there for only 1 night.
Jul 27, 2020
great campground, clean and plenty to do.
Jul 27, 2020
Late arrival was not a problem. They called us to let us know the details. Very clean. Nice tent sites with fire pits and picnic tables. Bathrooms were very clean.
Jul 26, 2020
Nice clean campground, staff are very friendly and helpful.
Jul 25, 2020
We stayed one night in a cabin. Our cabin had a half bath, but there was a small (one toilet, one sink, one shower) full bath house only 30 ft away. Bathhouses, grounds, and swimming pool we very well maintained and clean. Check-in/out was easy; everyone was helpful and friendly. We bought 1 bundle of wood, it burned 3 hours. Added attraction was the goats/chicken cage at the entrance.
Jul 24, 2020
This is our favorite KOA - it's our last stop every year on our way to the Northwoods from Arizona and never disappoints!
Jul 23, 2020
Wonderful stay. Campground employees were excellent, kind and very helpful. We will be staying again. Only drawback was highway traffic and noise.
Jul 23, 2020
Hosts were amazing. They were available and helped with everything we needed. Great place to stop for a rest off 90.
Jul 21, 2020
We had a great stay at this location. The people working were so friendly and took care of use upon arrival. we ordered pizza and it was delivered smoking hot to our motorhome. grounds were very well kept and a great place to walk after a long day of driving. Great Job Doug
Jul 21, 2020
Convenient spot for an overnight but a lot of interstate noise. We have stayed here several times with no issues.
Jul 21, 2020
Very clean and friendly.
Jul 20, 2020
Too close to the freeway. I could hear the traffic all day and night
Jul 20, 2020
Very clean, personable staff and nice surroundings.
Jul 20, 2020
The owners and staff could not have been nicer or more accommodating. We wanted to take our grandchildren on vacation. This was the first time they were away from Mom & Dad for a week. They were fantastic age 7 & 9. They enjoyed the pool everyday, the playground and bouncy pad. We found out what a great checkers player my granddaughter is at the recreation hall. Cooper enjoyed the dog parks!
Jul 20, 2020
Awful for tent camping, but really friendly service.
Jul 20, 2020
We had an Amazing time. The Staff there was very friendly and extremely helpful.
Jul 20, 2020
Show on map where dish washing facilities are located for tent campers
Jul 20, 2020
Last minute request for a site could be accommodated. Caretakers were present & helpful. Property is well cared for. This is a campground where I will likely stay at again.
Jul 19, 2020
Nice campground with clean and well lit bathrooms. We arrived as they were closing, owners helpful with info, ice, etc for us first time RV-ers. Thank you!
Jul 19, 2020
We were very pleased with the service and cleanliness. It was great to visit the state parks that were close:)
Jul 19, 2020
This Campgrounds had a nice layout and the owners were really friendly. But the tent sites in the back of the lot were right next to a stagnant swamp which meant it was very buggy. The reason I would not quickly reccomend this to others if they are tenting is only because of that. I for one was ill-prepared to deal with them but I still wouldn't want to stay here again if I was putting a tent up.
Jul 18, 2020
We would recommend this LOA to everyone. Very clean and very friendly. We would like to book a cabin end of September that has full bathroom. Let us know please. Thank You. Joe & Lori
Jul 18, 2020
It is a beautiful camp ground, so organized and clean. The hosts were so accommodating and kind. We enjoyed talking to Scott by the camp fire.
Jul 16, 2020
Great cabin!! Would definitely stay again if in the area!
Jul 16, 2020
Enjoyed it so much the week before we decided to travel home the same route and stay again! Got the same awesome cabin!
Jul 15, 2020
Very pleasant campground. The staff are very nice and helpful. Our site was close to the highway and we could hear traffic noises all night. Recommend asking for a site far from the office next to highway.
Jul 15, 2020
This was our first night camping in our new camper. Very friendly hosts, they came by several times to make sure we were settled in and did not have any questions.
Jul 14, 2020
1 nite stay .very pleased.clean.pool nice and clean also
Jul 14, 2020
Nice well kept but smell by goats where a little much but love the animals
Jul 14, 2020
Cleanest KOA with the best and friendliest hosts that we have stayed at. Great pool and activities for kids.
Jul 13, 2020
We had a great site ..premium with patio! Loved the patio furniture amazing firepit and a grill was available as well ...had a wooden double swing to swing on also. The hosts were so friendly, took us to our site and made sure we were taken care of. Pool and other things were open .large variety of kid friendly stuff. We will stay again many times.
Jul 13, 2020
Herb and Kathy were helpful and very accommodating. Offered us a cabin with half bath that came available with details in pricing when we arrived. Opted for reserved cabin with no bath and it was fine, close to facilities. Amish cabin was roomy and clean but AC was lacking, just needs an upgrade. Ceiling fan and reading light in cabin are welcome touches. Roads maintained, guests quiet.
Jul 13, 2020
Campsite was fine. Green & shady. Hookups in working order. Helpful staff—BUT—employee who checked us in & guided us to our space was not wearing a mask. He came right up to the driver's window—no social distancing.
Jul 13, 2020
Herb & Kathy were very friendly - hope to see them again perhaps in Florida this coming winter!
Jul 13, 2020
Great little campground
Jul 13, 2020
Very nice place to stay. Staff were very friendly and helpful! We will be back!
Jul 12, 2020
Great staff. Nicely kept grounds. We will be back
Jul 10, 2020
This KOA was well kept and the staff was friendly and helpful. It was clean and convenient. The only reason I would not stay there again would be because the highway noise was extremely loud.
Jul 10, 2020
The staff was very friendly. Campground was clean, bathrooms were nice, basic playground & nice dog area. Highway traffic was loud by the pool & could be heard at campsite. Concrete around pool had something painted over cracks which was very slippery! My daughter wiped out twice along with a few others including myself. Jumping pad material was too hot to jump on. Campsites a little tight.
Jul 10, 2020
Beautiful, wooded campground. Clean and quiet. the pool was sparkling clean. Friendly staff. Will definitely return to this restful and well maintained park.
Jul 10, 2020
Very nice campgroundand the owners were wonderful!
Jul 09, 2020
This was a fabulous clean campground wish we stayed longer!
Oct 13, 2020
Have stayed 4 times this year, love it, have made new friends.
- Tim Mundwiler on Google
Oct 11, 2020
Nice campground. Friendly staff.
- Denise Harrison on Google
Sep 24, 2020
Great place. Really nice people and very clean. We would definitely stay again!!!!
- Lori Funk on Google