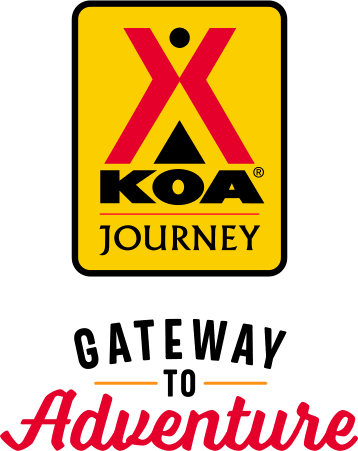 KOA Journey Campgrounds
KOA Journey campgrounds are the perfect oases after a day on the road. Whether it's along the way or a quick getaway, they've got you covered. Located near the highways and byways of North America with long Pull-thru RV Sites, they deliver convenience to the traveling camper. Pull in, ease back and take a load off.
KOA Journeys Feature:
Pull-through RV Sites with 50-amp service
Premium Tent Sites
Well lit after hours check-in service
Directions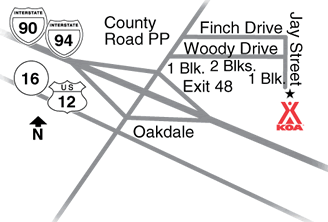 From I-90/94 Exit 48 (Oakdale Exit): Go north 1 block to Woody Dr. Turn right, go 2 blocks to yield sign, turn right onto Jay St.
GPS: Please use Tomah. N43.963570, W90.372460
Get Google Directions
Aug 17, 2020
We had a great time. The cabin was super clean and the patio was spacious and perfect for our family. The campsites were close together, but we didn't mind - it was quiet and peaceful. My kids loved the pool and jump pad. Having never camped with the kids before, it was a perfect way to try it out together. We will definitely do this again!
Aug 17, 2020
Very clean easy access from highway
Aug 17, 2020
It was very nice place to stay.
Aug 16, 2020
A relaxing country atmosphere with clean facilities. Nice location for our site seeing in all directions. Friendly, informative and always helpful staff. Thank you!
Aug 16, 2020
Hosts were excellent! Campground pool was one of the best KOA pools I've been to. This is an excellent KOA!
Aug 15, 2020
WE ENJOYED THE PARK POOL WAS VERY CLEAN ANT THE HOSTS WERE VERY NICE
Aug 15, 2020
Beautiful grounds clean and quiet everything was perfect touché .
Aug 14, 2020
Friendly staff, and nice tent sites.
Aug 14, 2020
Small but very family friendly KOA. We stopped over just for a night but were welcomed by the staff even after hours. Check in after the office closed was easy and as it wasn't too late we were able to call someone on staff to bring us over some firewood. Plots were nicely spaced and bathrooms were clean. Highly recommended.
Aug 12, 2020
It was an in out stay for us again on the way to Sturgis and it was great. Owners were nice folks and made us feel at home and welcome. Cabins had extras we didn't expect which was really nice. I would go back again for sure.
Aug 12, 2020
Staff very helpful. Very clean and restful environment. My husband and I follow our KOA book religiously and camp as often as possible! This KOA is a 5 star! You obviously care about your families. Keep up the good work!
Aug 11, 2020
Very nice stay with such a hard working crew, we always seen people busy and very friendly staff. A camper would leave and as soon as they pulled out the staff were cleaning it. They left a very good impression with our family. We will be back
Aug 11, 2020
The kids had a great time swimming, bouncing, and hanging out but our electric tent site was mostly dirt. There was not a lot of grass. Just wasn't as comfortable as it could of been. But otherwise its a nice campground.
Aug 11, 2020
Came in late and left early the following morning. But did have time to meet the owners and must say they were very congenial and hospitable.
Aug 10, 2020
We had the best experience, as we celebrated our family reunion from Friday through Sunday!!!! We will be back. Thank you for going the extra mile, to make sure we created wonderful memories!!! We so appreciate you for all that you did for us.
Aug 10, 2020
The excessive Trump flags were a bit much, but the faculty was clean, the patrons were nice and check in / check out was smooth.
CAMPGROUND RESPONSE / COMMENTS:
The Trump flags are outside our park. Wish I could control what our neighbors display in their yards.
Aug 10, 2020
Well kept campgrounds but it is just under the highway and noisy. Sites are also very close to each other. Ok for a one night stay while traveling but would not stay there longer.
CAMPGROUND RESPONSE / COMMENTS:
I am glad you were happy with our campground. We cant control the highway noise but do provide easy on/easy off access.
Aug 09, 2020
Beautiful Campground! Loved the animals! Friendly and helpful staff. They also sell the BEST Ice Cream! Next trip out will be back again!
Aug 09, 2020
Oakdale is an excellent campground with spotless facilities and many interesting activities along with the terrific large swimming pool.
Aug 09, 2020
Came in late to stay in cabin. Night check in was easy! Cabin was excellent. Requested close to bathroom and was placed right next door. Bathroom was prefectures clean and nice size.
Aug 09, 2020
Nice evening traveling through Nice clean KOA, nice sites
Aug 08, 2020
It is very well maintained, the kid's amenities are fun and kept us busy!
Aug 08, 2020
Very nice and helpful staff.
Aug 04, 2020
A very lovely, tidy and convenient campground! Everyone we met was super helpful. We were able to keep our tow vehicle attached at a pull-thru site. There are some stunning tent sites, which make for a nice walking destination.
Aug 04, 2020
Very nice, easy in and out. The Interstate traffic was loud...
Aug 03, 2020
Our stay was great overall. The pool was a little to bleached and the showers were a little small. The staff was very friendly and dripped wood off to our site very fast. It was a great weekend and we will be back!
Aug 03, 2020
Good pit stop for a long drive, clean toilets.
Aug 03, 2020
Nice pool! Great staff!
Aug 03, 2020
Excellent stay! Drove about two hours from home to get there Friday evening and I find out one of my lifter cables broke on my pop up. The staff was awesome and helped me out with a couple hose clamps to hold it through the weekend. Great atmosphere, great people, awesome staff and made new friends. What else could you ask for??
Aug 03, 2020
Road noise was prominent at our site. #20. But not so bad that we couldn't rest.
Aug 02, 2020
We stayed for 5 wks and had a great stay. Staff is very friendly and helpful and keep a beautiful park - always clean and quiet! Monthly rate is amazing - just wish there was a weekly rate - the daily rate times 7 is almost half the monthly rate!! We will definitely be back and strongly recommend.
Jul 31, 2020
Great service and location
Jul 31, 2020
Guys who met us was quite unfriendly and trashy.
Jul 30, 2020
They were very helpful in trying to accommodate us.
Jul 30, 2020
A smaller campground but a lovely stay! Pool is a great size, facilities were clean, and staff was helpful and friendly. Recommend!
Jul 30, 2020
It was an overnight but the staff was friendly and accommodating.
Jul 30, 2020
Very nice and welcoming staff. The campground and facilities were very clean. Overall, a really nice place to stop for a night or two.
Jul 28, 2020
Nice sized sites for a KOA. Lots of trees for shade. Good sized pool. Very well kept and friendly staff. Easy on and off I90-94.
Oct 13, 2020
Have stayed 4 times this year, love it, have made new friends.
- Tim Mundwiler on Google
Oct 11, 2020
Nice campground. Friendly staff.
- Denise Harrison on Google
Sep 24, 2020
Great place. Really nice people and very clean. We would definitely stay again!!!!
- Lori Funk on Google