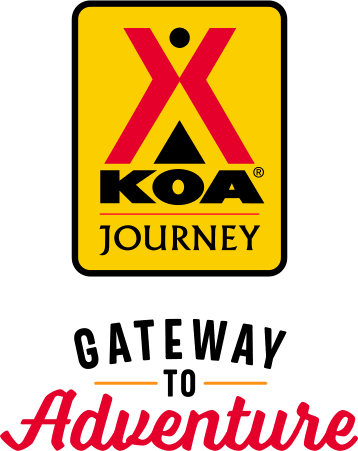 KOA Journey Campgrounds
KOA Journey campgrounds are the perfect oases after a day on the road. Whether it's along the way or a quick getaway, they've got you covered. Located near the highways and byways of North America with long Pull-thru RV Sites, they deliver convenience to the traveling camper. Pull in, ease back and take a load off.
KOA Journeys Feature:
Pull-through RV Sites with 50-amp service
Premium Tent Sites
Well lit after hours check-in service
Directions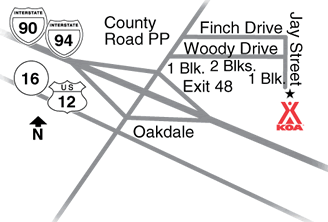 From I-90/94 Exit 48 (Oakdale Exit): Go north 1 block to Woody Dr. Turn right, go 2 blocks to yield sign, turn right onto Jay St.
GPS: Please use Tomah. N43.963570, W90.372460
Get Google Directions
Sep 08, 2020
3rd time spending Labor Day in Oakdale with 20 friends was the charm'
Sep 08, 2020
Never any issues, very nice place to visit
Sep 08, 2020
Coming from the city the highway sounds did not bother my husband or myself. It was a very peaceful weekend. We will be back in the future
Sep 08, 2020
We rented one of the cabin's. Staff was very helpful and friendly. Campground was full due to Labor Day Weekend. Very quiet after 10 pm. Grounds were very clean and well kept.
Sep 08, 2020
I had a great time. The campground is run efficiently and well maintained. The owners are not only on top of things, they are great people. I really enjoyed getting to know them and I had great neighbors. Very peaceful and relaxing. The couples cottage is really cute and very accommodating. Thanks guys for a great time!!���
Sep 08, 2020
It was ok would have been better if the people across from us wasn't having parties until 2 am keeping my 3 year old awake
Sep 08, 2020
Everything was perfect.
Sep 07, 2020
Nice tent camp site, Very flat glass ground.
Sep 07, 2020
no unexpected issues--smooth check-in and relaxing
Sep 07, 2020
It was very clean and inviting. The staff was wonderful and helpful!
Sep 06, 2020
nice people and facilities, BUT, must be able to expect a flat and level pad...ours was crowned and heavily tilted to front... hard on levelers and MH chassis
Sep 06, 2020
I didn't care for all the Trump political signs the owners had on display. I want to get away from politics. Let's be honest, whoever endorses Trump is basically saying that they are racist. Trump is a divider and this KOA won't be getting my money again and I will be warming others about it.
CAMPGROUND RESPONSE / COMMENTS:
To be clear, the owners of this KOA does not display any political affiliation on our grounds. Our neighbors coming into the park have their own views which we cannot do anything about it.
Sep 05, 2020
We have never, ever seen such clean bathrooms at a KOA or any other park RV establishment. For our next 150 miles of traveling West into South Dakota, my wife kept talking about how great all of the facilities were . KOA Oakdale WI will be the new judging norm of all other places we stay. Keep it up KOA and Oakdale, thank you for a most enjoyable stay, that includes the other campers!
Sep 05, 2020
Honestly, it's just way too close to the road.. why would anyone build a campground here?
CAMPGROUND RESPONSE / COMMENTS:
The park has been here for over 60 years,even before the interstate was put in
Sep 03, 2020
Great stop! Clean bathrooms..... Very nice people run the place! And love the goats.....
Sep 01, 2020
Great staff. Huge help to these novice campers. Very clean.
Aug 31, 2020
Every time I have National Guard training I love staying here. Even better with the military discount.
Aug 31, 2020
Campground was very clean and owners were very friendly. Really nice older trees with a lot of shade at most sites. Store was not open all the time. But they were not far away.
Aug 31, 2020
Ths staff was friendly �� were clean.we enjoyed the pool. Would return.
Aug 31, 2020
camp ground is super clean, pool was nice, kids loved it and it was great that they got to play with the goats and chickens. would stay there again.
Aug 31, 2020
Very nice and very friendly.
Aug 30, 2020
Clean! Very helpful helping us setup and hitch camper! Thanks!
Aug 29, 2020
Nice RV site. Would have given 5 stars except be aware staff will typically charge full amount for a partial propane refill. Make sure tank is empty. Top offs will be very disappointing
Aug 28, 2020
Loved the campground. Nice roomy sites. A tad noisy with the interstate close by. People vey friendly. .
Aug 28, 2020
Oakdale KOA was very well maintained and clean. It was very relaxing. The owners were friendly and very helpful. I would stay again.
Aug 27, 2020
WiFi could have been a bit better if that matters to you. A little noisy from the highway but nothing the air conditioner didn't block out. Very nice bathroom. The goats and chickens were fun to watch (our site was right by them).
Aug 26, 2020
We stayed one night en route from Virginia to Montana. Our kids really liked the goats and the playground. Overall, the camp was well kept and clean, and other visitors respected the quiet hours.
Aug 26, 2020
Very nice and clean place they were very accominadating
Aug 25, 2020
Not a lot of campers during the weekday stay. We enjoy the small campground. Most visitors are traveling trough for one night. A nice swimming pool.
Aug 25, 2020
We enjoyed it alot!
Aug 24, 2020
Was a one night stay as we passed through. Camping site was not level and small gravel base. Was one of our least favorite KOA's to-date.
Aug 24, 2020
Great staff, super clean campground, great location!
Aug 24, 2020
We had a wonderful stay at this KOA. Probably THE cleanest campground I have ever stayed at!! They do a fantastic job with everything and are so friendly. We're already planning a return vacation next summer with a bigger group!
Aug 24, 2020
Very nice and clean.the help was very easy to work with,nice weekend.
Aug 23, 2020
Easy like Sunday Morning!
Aug 22, 2020
The staff were very friendly. The bathrooms were the CLEANEST I have ever been in at a campground and the two dog parks were very nice. They had poop bags available at both dog parks and I didn't see any messes left from other dogs.
Aug 21, 2020
Had a great time, Scott was very helpful and even taught me some things about my camper I didn't know. Store is awesome.
Aug 20, 2020
Nice site. Helpful staff. Cleanest restrooms ever!
Aug 19, 2020
Very nice with the exception of the traffic noise
Aug 18, 2020
We only stayed one night in a class C. The KOA itself is fine, but it is so close to I-90 and therefore VERY noisy. Tough getting a good night's rest.
Aug 18, 2020
Very friendly staff and nice location.
Aug 18, 2020
Very enjoyable!
Aug 18, 2020
Over night stay. Staff very friendly and helpful.
Oct 13, 2020
Have stayed 4 times this year, love it, have made new friends.
- Tim Mundwiler on Google
Oct 11, 2020
Nice campground. Friendly staff.
- Denise Harrison on Google
Sep 24, 2020
Great place. Really nice people and very clean. We would definitely stay again!!!!
- Lori Funk on Google