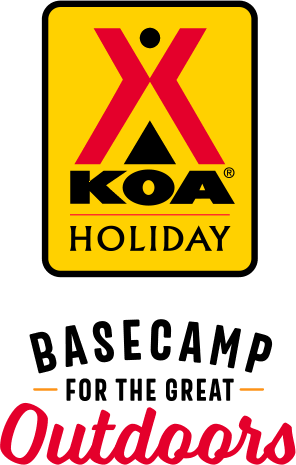 KOA Holiday Campgrounds
Whether you're exploring the local area or hanging out at the campground, KOA Holidays are an ideal place to relax and play. There's plenty to do, with amenities and services to make your stay memorable. Plus, you'll enjoy the outdoor experience with upgraded RV Sites with KOA Patio® and Deluxe Cabins with full baths for camping in comfort. Bring your family, bring your friends, or bring the whole group – there's plenty of ways to stay and explore.
KOA Holidays Feature:
RV Sites with a KOA Patio®
Deluxe Cabins with full baths
Premium Tent Sites
Group meeting facilities
Directions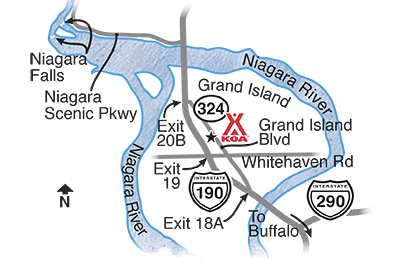 From Buffalo: Take I-190 N to Exit 19, turn right onto Whitehaven Road; Left at second light (Grand Island Blvd 324). South on I-190 from Niagara Falls: Take Exit 20B, turn right onto Long Road and right onto Grand Island Blvd (324). KOA is on Rt 324 next to Fantasy Island.
Get Google Directions
Nov 19, 2021
the weather was nice during our stay, we decorated a little and enjoyed the kids in costume trick or treating, office staff was helpful and friendly brought wood out to camp site, would recommend to others
Nov 07, 2021
It rained every day of our visit. We enjoyed the comfort of the cabin! We are looking for to our next visit.
Nov 04, 2021
Fantasy Tour
Nov 04, 2021
It was great! The camp is beautiful the employers are very nice and helpful!
Nov 02, 2021
Beautiful fall weather, very kind,helpful and friendly staff. Very satisfied. Phyllis
Nov 01, 2021
The stay was fine, and the staff was super friendly. Too bad the weather didn't cooperate but that's not their fault. We will be back next spring for certain.
Nov 01, 2021
The entire staff was very friendly, Easy to find.
Oct 30, 2021
Staff was friendly. Location of campground very convenient to Falls and aquarium. We had to leave a day early and was refunded payment for one night without even asking for it. We will definitely be staying here again.
Oct 30, 2021
Our stay at the Grand Island KOA was fantastic. The premium site was extremely nice with plenty of space and the staff were all very nice as well. Will definitely be back.
Oct 29, 2021
It rained the whole time we were there, the Maid of the Mist closed for the season the day we arrived. Can you do anything about any of that�
Oct 29, 2021
Clean and convenient location.
Oct 28, 2021
Friendly staff and clean room, but nothing deluxe about the cabin. There are 5 different deluxe cabin types so you can easily get confused when booking. The kitchen was no different than any hotel except it had a toaster. No utensils, plates or bowls. The inside of the AC was filthy. The internet is BEYOND a joke. No lock on inside of doors. Guests must leave by 9 but kids can scream until 10pm
Oct 28, 2021
Beautiful and well kept grounds with plenty to do to keep the whole family having fun! The swing zip line on the playground was a huge hit and the dogs loved the space they could run free as well!
Oct 27, 2021
Our site was fairly level and long enough however it had standing water. We asked the guy that took us to the site about swapping sites and he asked us how long we were staying. We answered 3 nights. He got on his golf cart and drove off. The rain started the day before we left and needless to say the site was covered with 2+ inches of water. Not happy with how that went.
Oct 27, 2021
I'm rating this with keeping in mind we visited the last week they are open for the season, just a small section of the park open..with saying that I'm guessing it's fabulous in the summer !! The young man working inside was super helpful and knowledgeable with paces to visit and eat in the area … highly recommended !
Oct 25, 2021
The campground was very nice but unfortunately the tent site we were put at didn't get any sun at all and it rained before we got there and our site was a swamp. There was mud everywhere for the whole 5 days. I'm sure this site would be perfect in the summer when you want the shade but not in the fall. The people were very friendly.
Oct 25, 2021
A very well maintained Campground. Sites are long and level. No problem unhooking. We had a nice patio with firepit, chairs and tables but weather did not cooperate. This is a very large park with many cabins and a wide variety of site accommodations. Be sure to get an EZ Pass for tolls. Niagara Falls and the Herschell Carousel Museum were fun and interesting.
Oct 25, 2021
Staff were GREAT!! Facilities extremely clean and well maintained. Great location for visiting the Falls.
Oct 25, 2021
Very neat, clean campground. Plenty of space between pads and nicely landscaped. It was the last week before closing for the season so nice and quiet. Close proximity to the falls.
Oct 25, 2021
Corey was wonderful at check in - so polite and informational. Park was extremely clean.
Oct 25, 2021
Very well kept park, spacious sites, great location, friendly staff, clean facilities; showers a bit small and could use some updating/maintenance, several outlets in bathroom not working
Oct 25, 2021
nice campground find very clean bathrooms very friendly staff
Oct 22, 2021
We were impressed with all the amenities and, although we were staying in a 5th wheel, we really like what they have done with their camping cabins.
Oct 22, 2021
Nice patio site. Expensive with all amenities closed for the season and most of campsites closed.
Oct 22, 2021
Staff was awesome and the campground was really clean.
Oct 22, 2021
Very nice and clean. Large spaces.
Oct 22, 2021
Awesome spot close drive to the falls we were very comfortable in our van and appreciated having the nice showers here
Oct 21, 2021
I really appreciated the recommendation of the Italian restaurant that was close by. Their food was excellent and so was the service.
Oct 21, 2021
Cabin was perfect for our Niagara getaway. And the staff was super friendly
Oct 20, 2021
By far one of the nicest campgrounds we have stayed at. Each patio campsite is large, plenty of room to spread out and has beautiful landscaping. Staff are friendly and efficient. Very pleasant walking the area due to all the grass and trees. We stayed in October and it was very restful. I'm sure this is very popular for families in the summer. Great location too! Top notch, good job!
Oct 20, 2021
Nicely kept grounds. Easy access to roads for surrounding tourist attractions. Short, scenic drive to Niagara Falls State Park.
Oct 19, 2021
Rented cabin was nice and comfortable. Great location close to falls.
Oct 19, 2021
large sites a plus.
Oct 19, 2021
Staff was kind, professional and very helpful. Enjoyed our 3 day stay at Niagara Falls KOA. Got all rested up for the journey back to calif. ..�
Oct 19, 2021
The premium sites are amazing, the concrete pad makes it beautiful no matter what the weather. The furniture, the firepit, the size of the sites and the staff - everything is great!!
Oct 18, 2021
We love coming here, we always have an Amazing time fishing and staying in the cabin. The workers there are always Amazing and very helpful. Can't wait to come back for a stay
Oct 18, 2021
We liked this KOA - some ideas for improvement…Thought price was high and will look around for better deal next time (price would would not stop us from staying at this KOA) & the site we had seemed narrow (would like more crushed stone to walk on).
Oct 18, 2021
Nice stay. Large camp ground. Shower area well maintained. Large pool and good play ground for kids. We enjoyed the fact that a tour group picked up at the park for tours of the Falls. Close to shopping. A bit of highway noise in pack of park, but the ability to pull through with extra parking is nice for those staying overnight. Did not use the Laundry facilities. Well stocked store. Great staff!
Oct 18, 2021
I had a great time at this campgrounds! My kids all enjoyed all of the Halloween activities and the staff was the most friendly and helpful people on the planet. I can't wait to go back!
Oct 18, 2021
Friendly staff, not sure why we were put all the way in the back next to the highway noise when lots of spaces available closer to the front. Nice campground other than that and as I said the staff was very friendly and helpful.
Oct 18, 2021
We had a very nice time, the park was well taken care of and the staff was helpful and very pleasant. We would definitely stay there again and recommend it to others.
Oct 18, 2021
Staff is very nice. Lots of activities for kids, love the playground, pickleball court.
Nov 01, 2021
Very nice place to stay near Niagara
- manohar ghanta on Google
Oct 29, 2021
Fun staff, landscaped areas, stayed in cabin. Convenient location for the sites.
- Find Your Shine Within on Google
Oct 17, 2021
Clean facilities and very friendly staff
- KC G. H. on Google