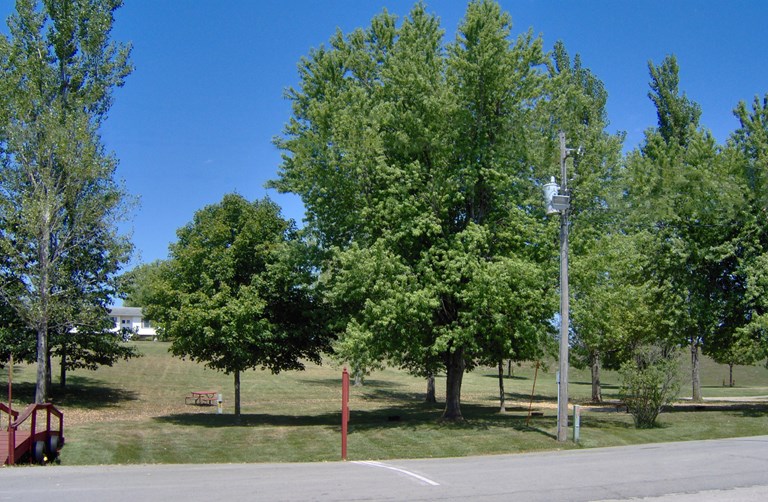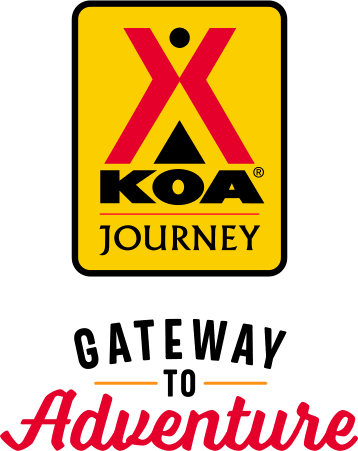 KOA Journey Campgrounds
KOA Journey campgrounds are the perfect oases after a day on the road. Whether it's along the way or a quick getaway, they've got you covered. Located near the highways and byways of North America with long Pull-thru RV Sites, they deliver convenience to the traveling camper. Pull in, ease back and take a load off.
KOA Journeys Feature:
Pull-through RV Sites with 50-amp service
Premium Tent Sites
Well lit after hours check-in service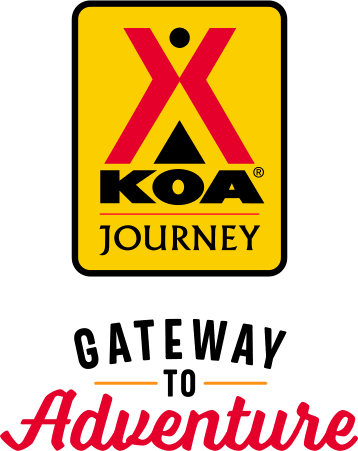 KOA Journey Campgrounds
KOA Journey campgrounds are the perfect oases after a day on the road. Whether it's along the way or a quick getaway, they've got you covered. Located near the highways and byways of North America with long Pull-thru RV Sites, they deliver convenience to the traveling camper. Pull in, ease back and take a load off.
KOA Journeys Feature:
Pull-through RV Sites with 50-amp service
Premium Tent Sites
Well lit after hours check-in service
Directions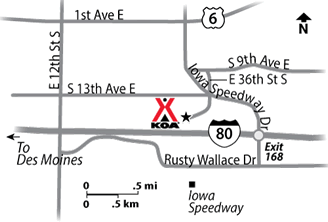 From I-80: Turn north at Exit 168 onto Iowa Speedway Dr. Travel about 3/4 mile and look for the "KOA" sign on left. Take a hard left in front of the lighted Newton KOA sign between Barney's towing and a church. Go 1/4 mile down our lane into our KOA.
Check in at the office and you will be assigned a site.
Relax and enjoy!
Do not rely on GPS. You may be routed needlessly through Newton. GPS: N41.684937, W93.013722
Get Google Directions
Aug 12, 2020
Our kids loved all of the amenities like the barrel train, jumping pad, pool, playground, fishing, and gaga ball area.I wish the bathrooms had keypads like a couple of the other KOAs we visited. There were also several areas that had a lot of people gathered together not social distancing, which made us a little nervous.
Aug 07, 2020
We had a very nice cozy spot with very friendly staff. Would definitely stay again.
Aug 06, 2020
Owners Curtis, Jean and the entire staff were amazing, Friendly and very attentive with our needs. We had the most amazing tent site in the entire park and will absolutely be returning in the future. The site was kept very clean and sanitized throughout our stay. THANK YOU ALL FOR MAKING OUR WEEK IN NEWTON KOA THE BEST EVER Marshall , Peggy & Samantha
Aug 03, 2020
We just had a quick one night camp but every staff member I came across was super friendly and helpful even though it was pretty busy! It was a relief knowing that masks were required in the office and that made us feel super safe, plus the bathrooms and showers were squeaky clean with disinfectant set out for campers to use. This was my first KOA experience and we will definitely be coming back!
Aug 03, 2020
I tried calling several times in the evening (about 8pm), and left a voicemail about making a reservation. No one answered or returned my calls. When I arrived at the campsite, the office was closed, with a sign directing me to a remote checkin. I spoke with an employee named Dana, who was extremely rude and only begrudgingly checked me in.
Jul 27, 2020
If I would have known the tent site was next to a stagnant stretch of mosquito breeding ground and literally a stones throw from interstate 80 I would never even considered staying there. The noise of the traffic was deafening Just awful We broke down camp and left 3 hours after arriving. The nerve you have to charge someone 30 dollars for the privilege to endure that crap is unacceptable
Jul 27, 2020
Very friendly and helpful staff. Felt safe staying by myself. Will definitely be back!
Jul 22, 2020
Great stay with great and clean amenities!
Jul 20, 2020
It was a nice place to stay ,just Hard to sleep with traffic from the interstate
Jul 13, 2020
Quick stop on a road trip out west. Staff was great and very accommodating of our late arrival. Really nice clean bathroom.
Jul 05, 2020
Due to COVID instead of flying from Colorado to Michigan we drove and decided to tent camp along the way. We couldn't have had a better experience. Your staff was very friendly and helpful. We would stay there again if the opportunity arises.
Jul 03, 2020
Nice area - CLEAN bathrooms and pool area. Our only real complaints were that the pool hours weren't consistent. With two teen boys they were annoyed :) Noise from the highway was really loud by the tent sites but we knew picking this place it would be that way. Overall the campground seemed very quiet, not very many people out and about. Our experience was positive.
Jul 01, 2020
It was excellent. Very family friendly place and my kids had a blast. We didn't feel like we had to leave to find entertainment.
Jun 29, 2020
Everything was clean, well organized, and the staff were friendly and efficient.
Jun 21, 2020
Viajamos desde CA, a medio camino están Uds. Llegamos después de las 19:00 e iba a llover. La linda señora, en la oficina, nos prestó el adaptador para 15W y nos prestó un cable prolongador. Mil gracias a ella! Y, también gracias al señor que nos guió a nuestro lugar de estacionamiento.
Jun 20, 2020
After-hours check-in was clear and convenient, and my campsite was easy to find, even in the dark! Lovely location as well.
Jun 06, 2020
The owners were so kind and welcoming. I had forgotten a towel and they gave me one of the pool towels and told me to keep it. The bathrooms were extremely clean and I had no fear of possibly getting covid. I would stay at this camp site instead of a hotel if I am ever back in the area!
Jun 02, 2020
Not all the way open but charged full price---+so, what is fair about that ?
Sep 10, 2019
Though short, we enjoyed our stay. I enjoyed the nature walk and the folks were very inviting and welcoming.
Aug 12, 2019
We had a tent site. Tents sites are away from the camper jungle. VERY nice area for tent sites. Flat area and grassy with shade trees. VERY NICE!!!.. Great pool, small area for little kids but went to like 8 feet deep. SUPER NICE campground. Well maintained. Extra helpful and friendly staff. BEAUTIFUL park. Lots of things for kids as well as adults to do. We missed the ice cream social! :(
Jul 21, 2019
This camper comment has been removed by KOA due to profanity.
Jul 08, 2019
Loved the staff, the area of the campground. Only thing the family had to say were the restroom facilities were a bit out dated. But we plan to return this summer!
Jun 27, 2019
Nice little campground, but it was like camping in the middle of interstate 80, very loud, no sleep
Jun 17, 2019
Was there for one night for race weekend and wasn't on property much. Bathrooms and showers very clean and working properly. Will stay there again.
Jun 08, 2019
Excellent campground; clean and well-maintained, with a well-stocked store, and not much highway noise. Staff is helpful and efficient. My only regret was that because I had to leave before 7:00 am, I didn't have the opportunity to try the "KOA Breakfast". I would stay again at the Newton, Iowa KOA.
Apr 16, 2019
Lady at check in was so very nice. Very clean. I felt safe and comfortable.
Nov 28, 2018
Glad the Newton KOA was opened through the end of October. Will use this KOA again when the need arises. Thanx!
Oct 13, 2018
The road was closed, so I followed the detour. I could see the KOA sign, but not the entrance. I was pulling a u-haul, so I couldn't drive down the unpaved roads to try to find the entrance in case I couldn't get turned around. KOA staff should have told me about the closed road and given detailed instructions when I spoke with them on the phone. I slept in my car at a rest stop that night.
Oct 09, 2018
Facilities looked pretty rough - spiders and bugs hanging out in the shower stalls etc. Laundry wasn't 24 hour and was in a small room with no windows (felt like timeout). The grounds were pretty, but I don't think we would make a point to stop here again. An ok place to spend one night when on the road.
Sep 24, 2018
People running the campgrounds were very helpful. They let me borrow something for the weekend without making me buy it. Much appreciated! I will stay there again next year!
Sep 17, 2018
We weren't there for long but the customer service over the phone was great! The mosquitos were bad and there were several spiders in the bathroom but overall it was a good stay! Thank you!
Sep 03, 2018
Owners were very friendly. Showers were a bit small, but the water pressure was great, and there was plenty of hot water! Also liked they had paper towels in the bathrooms, so we could wipe down the countertops. It POURED when we were there, so hopefully next time we can enjoy more of the campground.
Aug 28, 2018
This campsite has a great location. Right next to interstate 80. A very clean and well kept campground, with a friendly staff. Why 4 stars? Being so close to the highway, there is a lot of road noise.
Aug 18, 2018
The first visit was in 2010 during cross-country trip.. 8 years later and this little gem was as great now as it was then! Please people, clean, great showers, well maintained and nice and quiet! :)
Aug 15, 2018
Easy access, nice facility, friendly staff. For E/W tent camping, sites are next to I-80, so road noise is a big issue, and distance to the restrooms/laundry/etc. is about as far as you can get at the site.
Aug 13, 2018
We arrived at night and the tent sites are directly under the interstate. Not what the website depicts at all! We drove to Grinell at 10pm and got a hotel.
Aug 13, 2018
Nicely groomed grounds, clean bathrooms and pool. Campground staff is awesome!
Aug 05, 2018
I loved my short time here. Very friendly staff and met good people right off in the campsite. I hope to make this THE place I stop when coming back from the west from now on. Thank you for the beers, Dwayne! Des Moines is the halfway point roughly from Rapid City S. Dakota, and if I make it here, I know I'll be home the next day in Dayton, Ohio
Aug 04, 2018
This was a very nice campground. The workers were very kind.
Jul 31, 2018
Lots of fun stuff for the kids to do. Very clean and well kept. All of the staff was very nice. Highway noise was pretty annoying all night last night (which I realize they have no control over). Only down side they could fix is that the bathroom is really far away from the tent area. Would have been great to have at least a port a potty or something closer.
Aug 06, 2020
Very clean, lots of amenities, great staff!
- J States on Google
Jul 30, 2020
It is beautiful out here
- Marshall Williams on Google
Jul 26, 2020
Most family friendly place you will love.
- Robert Rush on Google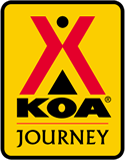 Newton / Des Moines East KOA
Open January 1 - December 31
1601 East 36th Street South
Newton, IA 50208
Check-In/Check-Out Times
All Sites
Check-in: 1:00 pm, Check-out: 11:00 am
Operating Hours
Sunday: Open 9:00 AM to 8:00 PM
Monday: Open 8:30 AM to 8:30 PM
Tuesday: Open 8:30 AM to 8:30 PM
Wednesday: Open 8:30 AM to 8:30 PM
Thursday: Open 8:30 AM to 9:00 PM
Friday: Open 8:30 AM to 9:00 PM
Saturday: Open 8:30 AM to 9:00 PM
Newton / Des Moines East KOA
Get Google Directions