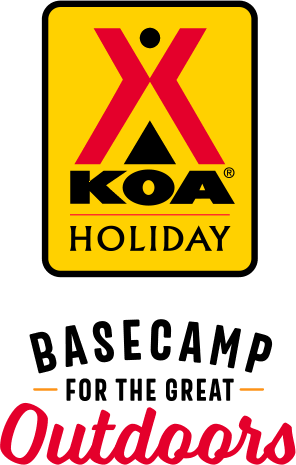 KOA Holiday Campgrounds
Whether you're exploring the local area or hanging out at the campground, KOA Holidays are an ideal place to relax and play. There's plenty to do, with amenities and services to make your stay memorable. Plus, you'll enjoy the outdoor experience with upgraded RV Sites with KOA Patio® and Deluxe Cabins with full baths for camping in comfort. Bring your family, bring your friends, or bring the whole group – there's plenty of ways to stay and explore.
KOA Holidays Feature:
RV Sites with a KOA Patio®
Deluxe Cabins with full baths
Premium Tent Sites
Group meeting facilities
Directions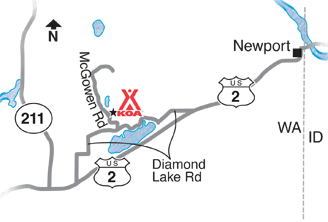 Spokane: From Division St "Y" on north end of town, travel about 27 miles on US 2. Turn left onto Northshore-Diamond Lake Rd. Follow signs 4 miles. Turn left onto McGowen Rd. Follow 1 mile to KOA.
From Newport: Take US 2 south for about 6 miles. Turn right onto Southshore-Diamond Lake Rd. Follow 2 miles to Diamond Lake. Turn right onto Northshore Rd. Follow 2 miles. Turn right onto McGowen Rd, follow 1 mile to KOA.
Get Google Directions
Aug 17, 2020
Great location and very friendly staff!
Aug 17, 2020
Staff was so friendly. It was a really nice campsite too. Place was very clean, we found the lake so easy. They have area for our dogs so that's really a plus! We had so much fun on our little vacation. We are highly recommending this place. We would come back soon.
Aug 17, 2020
Everyone was really nice and it was very peaceful. We definitely plan to stay again in the future! We just wish the dump stations were more easily accessible, and that there were descriptions and photos of each site when you register online.
Aug 17, 2020
Very good service....bathrooms were cleaned often and was a pleasant experiance.
Aug 17, 2020
The customer service is horrible! We got there and the first thing we saw was a hand written sign that said" We are grumpy because our customers are rude". It went down hill from there. If the lady at the front, that greeted us was my employee, I would fire her. I get we are in difficult times, everyone is, but she was INCREDIBLY rude as I drove up to the gate for the first time.
CAMPGROUND RESPONSE / COMMENTS:
Were sorry we didn't meet your expectations. We don't have any hand written signs. We have a typed sign asking for patience as we check folks in during covid19 times/rules. Were sorry you were not greeted politely. Please give us another try.
Aug 17, 2020
It was our first time here and it was awesome, we felt like we were out in the woods with all the trees around us! It is great a great place to stay!!!���
Aug 17, 2020
We intended to stay for 1 night so we could shower and dump our tanks. We were so impressed with the park that we stayed 2 additional nights! I appreciated that they had their pool open during the pandemic. My kids were thrilled to be able to swim! The sites are separated well and we enjoyed biking and walking the extensive grounds. It's a great park.
Aug 17, 2020
To no fault of the staff; we are full timing this summer and we just had the worst stay yet. Our neighbors were 6 ft away blasting music all night and smoking. Cigarette smoke and weed was filling our RV. Security was called a few times to ask them to turn the music down, but they would just turn it up even louder after security drove away. Never again.
CAMPGROUND RESPONSE / COMMENTS:
Were sorry we did not meet your expectations. We did address this issue and were not told at the time that it was continuing or we would have come back.
Aug 17, 2020
We will never come back. First we could not camp next to our group and then when a child got lost on the way back from the camp they could not care less. When we told a gentleman on a cart all the info about the child he pull in front of our vehicle and blocked us from continuing to look for her and then sat there until we read a site number to him so he could mark they were gone. Somanyotherissue
CAMPGROUND RESPONSE / COMMENTS:
We're sorry we did not meet your expectations. We try to group book folks if booked far enough in advance to do so. We had park staff looking for that child for 45 minutes until we were told she was found.
Aug 16, 2020
We stayed 2 nights and had a great time. Enjoyed swimming in the pool, playing disc golf and riding bikes around the camp. Bathrooms were clean.
Aug 15, 2020
First time there, would definitely go again
Aug 15, 2020
Great campsites. Clean bathrooms and showers. Would definitely stay again
Aug 14, 2020
We enjoyed our stay. We will come again.
Aug 14, 2020
it was a beautiful and well maintained park. I only wish the reservationist had told us we would be in only a water and electric hook up. When we checked in, he said we should have specified full hook up. Isn't that pretty much understood with most RV parks? Nonetheless, the site was beautiful, but we had to use a dump site at the end of our stay which was a little awkward.
Aug 13, 2020
Beautiful campground & area!!! The staff was so helpful and friendly!!! We will definitely be back again!!!
Aug 12, 2020
Best staff so incredibly nice. Even with covid restrictions we had a fantastic time!
Aug 11, 2020
The hosts were very friendly and welcoming.
Aug 11, 2020
We had a really nice stay at Little Diamond Lake KOA. We met some great people and the kids had fun. After years of trying, my son finally caught not one, but TWO fish! We were bummed that we didn't get to use the pool as all the time slots were taken, but the kids played in the lake and had a blast. The campground is beautiful with lots of amenities. There are tons of trails.
Aug 10, 2020
Just get's better year after year!
Aug 10, 2020
Great place. Great people. Laurie and Jill were so helpful when the wifi went down! The facilities were so clean and there were so many things to do. My boys enjoyed catching some fish in the pond. Our dog was in heaven with the nice path around the lake... we had a lovely spot. Bathrooms/showers were immaculate! We will be back for sure!
Aug 10, 2020
We had such a fun time! We will definitely be back. Great, clean campsites and bathrooms and so many great places to walk and explore!
Aug 10, 2020
Everything, all of it was wonderful!
Aug 10, 2020
So far off the beat and path, really felt like we were one with nature. The fishing was fun although we didnt catch anything. The store has bare minimum and the closest store is 15 to 20 minutes away, so make sure you have what you need. Even though there was some things closed due to covid. It was hardly noticable and we would love to come back and spend more time!
Aug 10, 2020
The sites were too close together, typically I have at least one side with a view of something other than another RV. We had RVs on three sides and a wonderful dump station to the front. Nothing like a parade of RVs at the dump station on a Sunday morning. We were also parked east to west which meant we didn't have any shade until the sun went down.
CAMPGROUND RESPONSE / COMMENTS:
Were sorry we didn't meet your expectations. There are trees between and behind these sites. You booked online for a sewer site. Next time call the park and we will be happy to get you a site not near the dump stations( water and electric only)and one with more shade.
Aug 10, 2020
disappointed we couldn't have a fire. Grass needed to be cut and I really didn't see a reason for no boat rentals.
CAMPGROUND RESPONSE / COMMENTS:
Were sorry we didn't meet your expectations. State burn ban is in effect, we have to obey the law. Propane fire pits are allowed. No boat rentals due to covid19 and staffing that would be required due to covid19 rules.
Aug 10, 2020
Not on Little Diamond Lake at all. Just have a small mosquito man-made pond in the middle of nowhere. We left after one night.
CAMPGROUND RESPONSE / COMMENTS:
Were sorry we didn't meet your expectations. Little Diamond lake is a small fishing lake on our park, No sites are near it. Big Diamond lake is down the road from the park and is all private homes.
Aug 10, 2020
Everything was perfect about the stay. The one thing that was frustrating was we did not catch any fish and the jacuzzi did not work :( Other then that, the staff was wonderful and the campground was extremely clean.
CAMPGROUND RESPONSE / COMMENTS:
Were sorry we didn't meet your expectations. Hot is closed for the year due to Covid19, and is posted on our website. Better luck next time with the fish! People say hot dogs have been working
Aug 08, 2020
Friendly staff showed us and told us about the koa camp site very clean and well maintained will be back .the location was nice quite at night
Aug 06, 2020
We Like Little Diamond KOA. Quite and Many Hiking trails. Our Dogs like as well.
Aug 06, 2020
We felt very sandwiched in and were much closer to another trailer than we had expected. We enjoyed the swimming and the playground for the kids.
CAMPGROUND RESPONSE / COMMENTS:
Were sorry we didn't meet your expectations. Your reservation was made the day before arrival Most weekends are sold out in advance. Next time book earlier and I'm sure will have a larger site. Hope to see you again.
Aug 05, 2020
Weekend stay! Everyone was very nice and site was clean! Nice to get away from home!
Aug 05, 2020
So relaxing. Enjoyed the small lake, and my pooch loved the great dog walking trail and dog park.
Aug 04, 2020
Met with family for 3 nights. Had a great time in spite of the Pandemic. All the facilities were clean and safe. Bathrooms and showers were cleaned three times daily. People were friendly and the grounds were extremely clean. We had a great time even though the temperatures were very high. Little Diamond wasn't in the best shape but the swimming area was clear of weeds and we all enjoyed it.
Aug 04, 2020
Clean well maintained park, quiet and shady spots. The little store was a bonus!
Aug 04, 2020
It was great and we will be back. We had 2 concerns. The internet service I paid $30 for was spotty at best. I am also not sure if the breaker needs replaced. It kept flipping of whenever I would run the hot water and the AC at the same time. I called an RV center and they said that should not have been happening. 30 amp is designed to run everything in the trailer at once. Thank you so much
CAMPGROUND RESPONSE / COMMENTS:
Were sorry we didn't meet your expectations. We have free wifi by the store and pool. The pay service is a third party company. We will let maintenance know about breaker.
Aug 04, 2020
Tent campsites are very small with no privacy. You literally right next to each other. Ours was about the size of a pickup truck. If you have noisy neighbors, as we did, really no way to escape. The dust from the cars flying past campsite was pretty bad. The staff was nice and there is a lot to do if you have kids. Campground felt very clean. I would camp here again only in an RV.
CAMPGROUND RESPONSE / COMMENTS:
Were sorry we didn't meet your expectations. The site you were in is a 35' site with woods in back and trees on both sides. Next time please let us know while your here about loud guests so we can help you. Call the park next time and we'll try to get you a site that better fits your needs.
Aug 03, 2020
Nice staff. Nice cabin.
Aug 03, 2020
This facility was very nice; the only complaint is reliable internet service. The service was even spotty with the purchase of extended service. Other than that the KOA was very nice!
Aug 03, 2020
It was amazing...will definitely be back...great campground
Aug 03, 2020
The campgrounds and amenities are nice, clean and well kept. The staff are friendly and professional. This is one of our favorite KOA's and we recently held a small family reunion here and the staff were very accommodating to our needs. I would highly recommend this KOA�