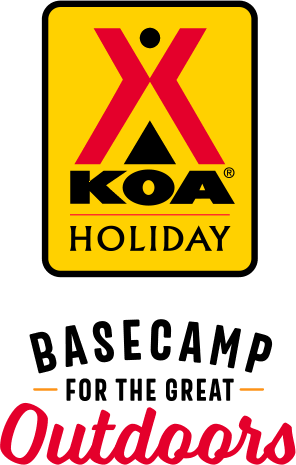 KOA Holiday Campgrounds
Whether you're exploring the local area or hanging out at the campground, KOA Holidays are an ideal place to relax and play. There's plenty to do, with amenities and services to make your stay memorable. Plus, you'll enjoy the outdoor experience with upgraded RV Sites with KOA Patio® and Deluxe Cabins with full baths for camping in comfort. Bring your family, bring your friends, or bring the whole group – there's plenty of ways to stay and explore.
KOA Holidays Feature:
RV Sites with a KOA Patio®
Deluxe Cabins with full baths
Premium Tent Sites
Group meeting facilities
Directions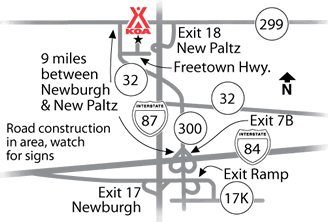 From Newburgh: I-84 Exit 7B or I-87 Exit 17, north 3 miles on NY 300, north 6 miles on NY 32 to Freetown Hwy. From New Paltz: I-87 Exit 18, west 0.25 mile on NY 299, left on S Putt Corners Rd, left on NY 32 S, 7 miles to left on Freetown Hwy.  GPS: N41.639226, W74.102595
Get Google Directions
Aug 23, 2021
It's was nice however they need to clean the bathrooms/Showers by the office more often. They were really nasty and barely had any soap. Other than that it was good and I had a great time
Aug 22, 2021
It was nice for a family get-together. Staff were helpful. I appreciated the refund for our early departure because of the hurricane. Perhaps you could do a bit more on nature exploring.
Aug 21, 2021
I've been at many KOA's around the country, from Cali to Utah to Colorado to Maine. This one was the most lackluster one. Saw the showers decided to wait and shower when I got home. There's 2 bathrooms for the entire camp? Rented a cabin for about a 100 bucks, musky, kinda smelly, open wires on the ceiling, and huge spider nests all along the bed posts. And, wood bundles were wet and wouldn't burn
Aug 17, 2021
It was nice but very boring no activities until the weekend
Aug 16, 2021
Water in cabin was brown and smelled TERRIBLE. Staff is very young and inexperienced (maintenance staff especially).
Aug 16, 2021
The cabins and sites were clean and nicely located. The pool that was open was great. the band was good. Need for improvement was the bathrooms needed cleaning more often and replenishing of toilet paper and soap. This was for hours at a time, nights and mornings.
Aug 15, 2021
The staff was fantastic. They were polite, attentive, and accommodating. The kids working at the snack bar were great! On the downside, one pool was not open and the bathroom was down it's only urinal. I understand temporary issues, but both were down for our entire stay.
Aug 14, 2021
The staff was friendly and helpful. The cabin was clean and ready for us when we arrived. The area was very nicely kept and the offering of activities kept the children entertained. We would stay here again.
Aug 14, 2021
It was all good except it all needed a good cleaning. Our cabin had chunks of dirt of from various sources on the floor. It was gross. Also, the showers needed a cleaning - and the urinal was broken and was smelling like dry urine. Hmm.
Aug 10, 2021
When we arrived our cabin was very dirty. I understand that we are camping however, our bathroom was so dirty that I had to clean it before we could use. The stovetop was very greasy. There was leaves on the bed in the bedroom and the punk beds had sticky candy on them, The list goes on. I went to the front desk and told them my situation, they we very nice. We've been coming here for 12 years.
Aug 10, 2021
i have stayed at the camp for the past 10 years ,i am sorry to say that this is the first year that i have been disappointed in my stay,firstly was no mention that the larger pool wasnt open .Also the bathrooms on saturday were absolutely filthy. i stopped in on 3 different times and it was worse each time , on sunday morning it was still filthy and both mens and ladies rooms had no toilet paper.
Aug 10, 2021
So much to like about this place, but the restrooms were absolutely disgusting, which is not the usual case when camping here. Also surprised that masks aren't required in the office/store, given how many anti-vaxxer types are camping here.
Aug 10, 2021
Showers and bathrooms were inoperable front desk a nightmare and. The people at camp are what brings us back.
Aug 10, 2021
Great stay. Rented a cabin and loved it. Appreciated the free pancakes!
Aug 09, 2021
Very clean showers, great food and activities for the kids
Aug 08, 2021
There is only One men's and One women's bathroom. In the men's Bathroom the urinal is broken and looks like it's been broken for years. That leaves two toilets for men to use. There must have been over a hundred male guest per toilet. Completely unacceptable. Of the five shower stalls, one was being used as storage. The "Pond" needs dragged and is completely devoid of fish. TERRIB
Aug 06, 2021
We had a one night stay just to start things off before our road trip and it was a great choice to rent a cabin. The young man at checkin, I think his name was Hector was polite, attentive, and very friendly. It just kicked things off right. The cabin was clean and basic which is what we expected. There's a picnic table and the grill and fire ring had been emptied of ashes prior to our arrival.
Jul 30, 2021
The cabin was beautiful. We were expecting a full size fridge and cooktop, we called ahead of time and that's what they said it had. No big deal we dealt with it. The hot water and water pressure was something left to be desired. If you turn on the kitchen hot water and ran the shower you got a scalding hot shower. We will absolutely be back for a few days next summer. Can't wait to book again
Jul 28, 2021
Overall the campground was nice. There is a pool to cool off in during those hot days and a pond where you can go fishing. Unfortunately, our deluxe cabin had bedbugs and my family and I had to leave and find other accommodation.
Jul 28, 2021
We love this campground. The grounds are clean and we'll maintained. Some of the showers needed cleaning. Many tables have been replaced, but the table at our site was old and splintered. Overall its a beautiful campground and the staff is very friendly. We will definitely be returning.
Jul 26, 2021
The bathrooms are a bit outdated and had a smell to them. There are only two community bathrooms on the whole campground which equates to 10 total stalls between men and women. The showers were decent. One of the two pools were closed and the snack bar menu has been downsized quite a bit. Overall the kids activities/crafts were cute! The rock wall was closed but we enjoyed the pool.
Jul 26, 2021
Everything was fine. The staff in the store/office were exceptional. Very crowded, send pool was not open and was needed.
Jul 23, 2021
Water system under maintenance. Water was rusty couldn't wash dishes or drink Bathroom had a leaking uninal water covered the floor White stain on the cabin on arrival (Wax from a candle) Removed by maintenance after I enquired what it was Rock climbing wall was not set up . Koa didn't have permits to operate Only one pool was open If I was informed prior I woluld have went somewher
Jul 19, 2021
Beautiful camping site, lots of activities, friendly and accessible staff. Grounds were clean, stores had several emergency items. Only inconvenience was that several of the toilets were clogged but staff came and attended to the problem and fixed them promptly.
Jul 18, 2021
We stayed in a deluxe cabin, which was standard for KOA. The property was very lacking & not to the high standard we have come to know with KOA campgrounds having stayed in at least 10 over the years. Everything seemed to be broken or in disrepair 1 of the pools empty/broken, firetruck broken, rock wall "needed a part". Very young staff hanging w/ their friends who were swimming in the 1 pool.
Jul 18, 2021
Excellent service
Jul 18, 2021
Our family enjoyed the stay very much. The only issue was that on Friday evening the bathroom by the front office was a mess and it ran out of toilet paper until the next day late in the morning when the front office was made aware. It would be great to know there was only one pool open beforehand. Other than that it was a great place to bring the family and to enjoy of nature.
Jul 17, 2021
The floors were filthy. Two young male staff members were getting high with a camper across from my family Wednesday around 7:30. There appeared to mold on the bathroom cabinet. The futon mattress was broken. The rest of the cabin was great and so was the staff. The pool and rock wall wereclosed leaving little to do with two teenagers. A little disappointing for the price paid for a deluxe cabin.
Jul 16, 2021
The cabins were very clean, spacious and very well laid out. everyone was very friendly and very helpful to us. It was our first time camping and everyone was great and patient with our questions.
Jul 12, 2021
Overall our stay was good. The campground was clean but the second pool was closed and the pond was a disappointment. We had an unfortunate first night as our neighbors had a massive party, loud music and people until well after 1 am. We called security but they partied on simply turning down the music when security drove passed. The cabins are over priced ( Camping Cabin) need deep cleaning.
Jul 07, 2021
My wife and I have been coming to KOA for the past 10 years (and my wife the past 35, her entire life). This stay was disappointing because there were several issues with our accommodations. We stayed in the luxury cabins on the water and had grill that didn't start, poor water pressure, a broken TV, and other issues. We love the KOA, but were disappointed with this stay considering what we paid.
Jul 07, 2021
Dirty facilities Dated facilities Rude workers No water pressure No hot water Toilet didn't flush in cabin Pool dirty and one not even functional No garbage pickup I've been camping here for 30yrs. I will not be staying here anymore. For the price it's definitely not worth it! Such a shame used to be a prestigious campground. Felt like I got ripped off!!
Jul 06, 2021
It's unfortunate that it rained on me a ride Friday our group had four cabins which we were assured would be next to each other and they were not so our camp had to be divided into two groups which was not easy considering they were children I told everybody about the pool and the activities and we feel the pool even though it wasn't anyone's fault it should have been fixed as well as was gr
Jul 06, 2021
I have no idea what happened from last year to this year but the staff are not friendly (except 1 or 2), the bathrooms & showers are NOT kept clean & I even witness a "cleaning" of a kabin where it was only swept out. Mine had previous guest masks, a ring and change on the shelf when I arrived. One would think after Covid - cleaning would become #1. I will be back but unsure of inviting friends.
Jul 06, 2021
Our stay was very good. There were lots of things to do (well planned activities). Every staff member we met was very pleasant. Our only complaint were the bathrooms/showers. They need to be cleaned a lot more often.
Jul 04, 2021
This is such a sweet place, and the perfect balance of a community/resort. It's definitely a campground, and a vacation destination, but it's a great place to get away and have quiet time. This is my 2nd time staying here, and the first was in the fall. I can wholeheartedly recommend both seasons!
Jul 01, 2021
We've been going to your KOA for 16yrs. It's the only local place we go. Everything was fine. I forgot to tell the general store that the shower head in the first shower popped off & hit me in the head. The store was already closed & I forgot to tell them the next morning (we had to pack up to check out). Other than that we had a great time! Thank you, DawnMarie & Glen Maybaum
Jun 30, 2021
I loved my stay at the sight camp but the only complaint that I have is the bathrooms. Both of the bathrooms and showers need to be clean more often and really well clean. Other then that it was a great experience. We would love to go back again in the future. Thank you very much !
Jun 28, 2021
We had a great time! There was so much for the kids to do. The whole trip was super relaxing.
Jun 28, 2021
The staff in the main office/store was very friendly and helpful. This site has a lot of activities for kids and the facilities are well maintained and clean. Would recommend if you want a camping experience within a couple of hours drive from NYC.
Jun 28, 2021
The place was packed and it was loud and it seemed like parents didn't watch any kids. We had rude people on every side of us blasting music all night and dogs barking. But the park itself is great. Super clean. The most friendly staff. So many activities for the kids like the pool, playgrounds and a ton of organized crafts. The do a wonderful job here
Jun 21, 2021
Loved our cabins amenities, but it definitely wasn't cleaned before we arrived. My son's feet were black after over an hour of walking around the inside of the cabin.
Jun 21, 2021
We had the BEST Fathers day weekend stay in a Cabin. It was the first time camping for my son and he loved it. So many activities and Carol is wonderful with the kids. My son is 5 and he caught his first fish! A nice 14" Bass. We ended up getting 3rd Place and Carol gave him a prize in addition to the Spider Man fishing pole. Saturday night there was a DJ and the kids had fun dancing.
Jun 14, 2021
very nice place.
Oct 21, 2021
I have stayed here 3 times this year. 4th time will be Halloween weekend. I have two trips booked for next year. Very friendly place all campers and staff are very nice. It can get a little loud at times. However you can't have fun being quiet. I do not use the bathrooms so I can not comment on that.
- John Bezold on Google
Oct 08, 2021
Nice clean campground, good staff, fun activities. Great little camp store for the last minute "forgotten" and nice camping accessories. Also, some nice souvenirs and clothing items available. I mainly have used the black water dump site due to close proximity and low cost. So I haven't participated, but been impressed with lists of daily activities available for all ages. Seriously considering a stay just
- Chris Hemp on Google