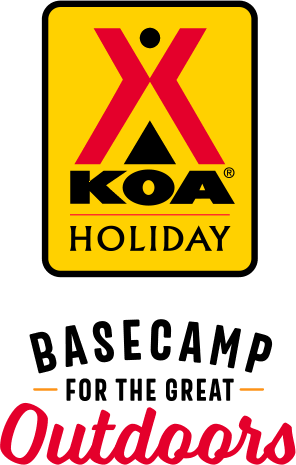 KOA Holiday Campgrounds
Whether you're exploring the local area or hanging out at the campground, KOA Holidays are an ideal place to relax and play. There's plenty to do, with amenities and services to make your stay memorable. Plus, you'll enjoy the outdoor experience with upgraded RV Sites with KOA Patio® and Deluxe Cabins with full baths for camping in comfort. Bring your family, bring your friends, or bring the whole group – there's plenty of ways to stay and explore.
KOA Holidays Feature:
RV Sites with a KOA Patio®
Deluxe Cabins with full baths
Premium Tent Sites
Group meeting facilities
Directions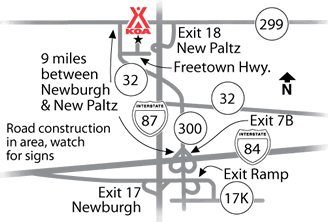 From Newburgh: I-84 Exit 7B or I-87 Exit 17, north 3 miles on NY 300, north 6 miles on NY 32 to Freetown Hwy. From New Paltz: I-87 Exit 18, west 0.25 mile on NY 299, left on S Putt Corners Rd, left on NY 32 S, 7 miles to left on Freetown Hwy.  GPS: N41.639226, W74.102595
Get Google Directions
Nov 12, 2020
First time camping. Came Halloween week. A bit cold. Def will be back for a summer trip. All your employees were friendly. Carol was by far the best. Def a great employee you have there!
Nov 06, 2020
We stayed Halloween weekend and it was so great! So many wonderful events for the kids and everyone was friendly, helpful and made for an excellent weekend.
Nov 06, 2020
Great place to stay. Even during the Covid mess they found things for people to do. Can't wait till next spring to do it again.
Nov 05, 2020
Hi my husband and I have a site at KOA for years and hope to continue. want to wish the new manager good luck, sorry we didn't get to meet you at the end of the season. would like you to mention to people reservng and checking in that it's important to clean up after your dogs. there are people who just let their pets do their business and not clean up after them
Nov 05, 2020
The Kabin we stayed in is in need of major repairs. There is a soft spot on the floor by the door from obvious water damage. Also one if the kitchen cabinet doors fell off when I opened it to get a pan to make breakfast. I ordered a wagon of wood to be delivered when I checked in and it was never delivered. Also our pipes froze and we had no water I called for some help and no one ever showed up.
Nov 05, 2020
Carol was excellent. We had a great time trick or treating, etc. at the camp ground.
Nov 05, 2020
Everything we great people staff except bathrooms were always dirty
Nov 05, 2020
Stayed in a cabin with my husband and me. Heater kept the cabin nice and warm.Just right for our family Halloween weekend.
Nov 04, 2020
I have been coming there for over 20 years it is my home away from home. It's my sanctuary. It's close to home so if I need to get back it's easy to get to. I love the words and all the trees and just being out in nature. Staff has always been very friendly and helpful. Would love to see a bathroom put in by the pool area.
Nov 04, 2020
Beautiful sites surrounded by trees. Fantastic fall colors.
Nov 03, 2020
Nothing special... small campground, not very scenic at all. Part of the campground is actually a parking lot!
Nov 03, 2020
We stayed at this campground for Halloween weekend and it was fantastic. Carol had a lot of activities planned and the kids had a great time! We'll definitely be back next summer!
Nov 03, 2020
A fun Halloween weekend!!
Nov 01, 2020
We stayed 10/27/20 for 3 nights. This CG was clean and quiet. We had full hook ups with 50 amps. We did not have an issue with any of the utilities. Cable was was available and adequate. Check in was efficient and uneventful. We are self contained and did not use any amenities.
Oct 29, 2020
Staff are wonderful and campground was clean. Good activities even during the difficulty of COVID-19.
Oct 29, 2020
Short stay every thing was fine
Oct 29, 2020
Nice clean level site. Clean bath house and a very nice polite helpful staff! Excellent campground, reasonable prices!!
Oct 28, 2020
My family and I visit this KOA every year. For the price, it is disgraceful, especially now with COVID changes. The studio lodge has terrible water temperature, ranging from burning to freezing, back & forth, within one shower, making it impossible to use. Due to COVID, there were no pancakes, no rock climbing wall, no 4 wheeler bikes, no pumpkin decorating/carving activities, etc.
Oct 28, 2020
Some issues with cleanliness of cabin and ripped screen on window. Otherwise comfortable stay. Have to say for the amount things we have to bring with us the price is a little high for four walls and a bathroom. Dog run is too small.
Oct 27, 2020
Really nice campground. Nice helpful staff. Halloween activities could be changed up a bit each Halloween weekend. It was a fun weekend though.
Oct 27, 2020
Although I have stayed there numerous times it is unbelieveable that they can not maintain the little gardens the seprate the lower open sites. This may not bother some but for me it is something that is easy to do and it would make the area look nice.
Oct 27, 2020
Too much noise as quiet hours not enforced. Campsites too close together.
Oct 27, 2020
We kept busy with all the activities that were offered during our stay.
Oct 26, 2020
Always great time Love your campground
Oct 26, 2020
My only complaint is that there was no control over a large group of teenagers that seemed to take over. They were running & yelling through the campground well past quiet time (10:00). They were outside our camper yelling & cursing & screaming. My young children had to listen to this & my whole family was not able to go to sleep to late. We reported the problem but the kids didn't listen.
Oct 26, 2020
1st night was horrible! Nobody went around like normal to make sure the noise was down after 10, it was extremely loud until about 2 am unfair to us that have small children
Oct 26, 2020
We really enjoyed our weekend there. Miss the haunted house, but with social distancing we understand. Nice campsites.
Oct 26, 2020
most of the sites are large and private, the "R" sites are minimally acceptable. staff is personable and helpful
Oct 26, 2020
The lowest rated KOA experience of our 1500 mile trip. The roads and sites are tight for a class A as compared to other KOA locations. Our site had tree branches hanging down and scratched up our motor-home pulling in and out. BBQ was filthy and not usable. Front desk team however, was friendly and loved the deck overlooking the pond.
Oct 26, 2020
Great wooded sites. The campground put me in the site that I requested. Had a nice relaxing time!
Oct 26, 2020
ALWAYS FUN STAYING HERE. STAFF IS VERY HELPFUL AND ACCOMMODATING AS WELL.
Oct 25, 2020
Very pretty campground, nice amount of space between each site and very quiet
Oct 25, 2020
Overnight stay in a cabin. The grounds are clean. Cabin was fine. The pond was low and green so not very attractive. Will come and stay again.
Oct 24, 2020
Had a wonderful season in spite of COVID. Looking forward to April 2021. May God bless us with a better year. Thanks for everything.
Oct 24, 2020
Loved the wooded sites. Very quiet campground.
Oct 19, 2020
This was such a beautiful and peaceful park. Definitely recommend and when I'm back in the area I will be staying here again. The sights are wooded and have a private feel to them. They have nice little cabins, a pool and a large playground. The office / store was well keep and well stocked. The staff was was very friendly and helpful.
- Tammy Morton on Google
Oct 13, 2020
We were here Columbus weekend 2020 and we coming back again. What a great campground. Our first time here for Columbus Weekend 2020 and we all had a blast. Kids had also a good time. Halloween theme weekend was good as it gets during these times of Covid19. Lots to do in the area wine tasting or hiking and biking. Place was clean and staff were really nice. We sure are coming back. it was nice listing to the music on weekends with band and dj.
- Ewa Kubiak-Thornton on Google
Oct 30, 2020
(Translated by Google) Very pretty (Original) Tres jolie
- christian turco on Google