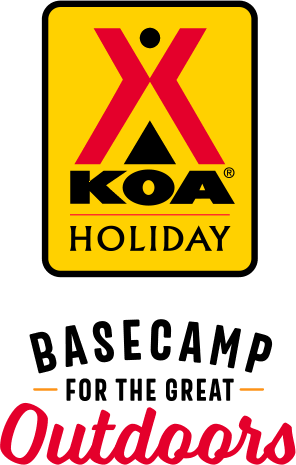 KOA Holiday Campgrounds
Whether you're exploring the local area or hanging out at the campground, KOA Holidays are an ideal place to relax and play. There's plenty to do, with amenities and services to make your stay memorable. Plus, you'll enjoy the outdoor experience with upgraded RV Sites with KOA Patio® and Deluxe Cabins with full baths for camping in comfort. Bring your family, bring your friends, or bring the whole group – there's plenty of ways to stay and explore.
KOA Holidays Feature:
RV Sites with a KOA Patio®
Deluxe Cabins with full baths
Premium Tent Sites
Group meeting facilities
Directions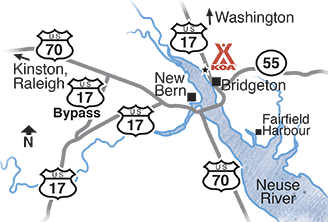 GOING 17 North (FROM WILMINGTON) - take 17 Bypass to Hwy 70 East, exit (147A). Follow 70 East to exit 417 onto Hwy 17 North (toward Washington). Campground on left in 4.8 miles on Hwy 17 North.
GOING 17 South (FROM WASHINGTON) - Campground on right 5 miles from historic New Bern.
GPS: N35.136150, W77.027164
Get Google Directions
Jul 25, 2021
A very nice clean campground on the Neuse River at New Bern. The staff is friendly and helpful. We will be back!
Jul 25, 2021
Great little campground with all the amenities and an awesome friendly and helpful staff.
Jul 25, 2021
iT WAS A GO BETWEEN STAY FOR US TRAVELLING TO MAINE. WELL KEPT. STAFF FRIENDLY. NEW BERN IS A QUAINT TOWN WITH SHOPS AND GOOD RESTAURANTS AND PLENTY HISTORY.
Jul 24, 2021
We loved it. The grounds were well kept and everyone was so friendly. A beautiful place to stay.
Jul 24, 2021
Great entertainment and activities for kiddos. Clean facilities and a well stocked camp store. Friendly neighbors too!
Jul 24, 2021
This KOA in New Bern was exceptional! It was clean, well managed, and very helpful in every aspect. We brought our grandkids and they were busy with lots of activities every day. No complaints of boredom in this campground, between the jump pad, pool, fishing pond, pedal boats, playground, lay down bikes, train, Gaga ball, and huge board games! The staff and Ms. Pat were awesome!
Jul 24, 2021
This place is great! Cannot wait to come back!
Jul 23, 2021
Great location and the services are what you expect from a KOA. Staff friendly and helpful.
Jul 23, 2021
Lived it and will be back soon!
Jul 22, 2021
Great time with grandkids. Lots of fun activities. It rained while we were there, so didn't get to do all we wanted, but still had a good time. I will plan to return again.
Jul 22, 2021
Great camping area. Excellent staff.
Jul 21, 2021
We have been RV ing for 6 years… this this absolutely one of the top Campgrounds we have ever stayed at. We were in space 48 and could not have been a more beautiful view. We had a large patio with umbrella table, fire pit and can you believe a Weber grill. We just have never seen anything so nice, clean and very well cared for….we'll be back again for sure.
Jul 21, 2021
It was very relaxing, the Staff was great,. friendly professional. I could have not ask for a better Camp Ground, and i have been all over the U.S. Camping we will definitely be returning, Roads paved, Canp ground well maintained, and space between, escort to site , Things for Kids and Adults to do,, good location not far from the town, lots of sites to see, and things to do,, Good Job New Bern
Jul 20, 2021
The campground was very well kept and the spaces were very large and well equiped.
Jul 20, 2021
The campground is exceptionally clean, beautiful, and equipped. The team members were very nice and professional, and were in constant work mode to keep the facilities and landscape clear of trash and/or other debris. It's the perfect destination for families, couples and singles alike. Our entire, overall experience was top notch, and we will be back soon.
Jul 20, 2021
We always have an awesome time when we stay at the New Bern KOA. Great for our Grandkids and our older children. This place is always nice and clean with very friendly and helpful staff. We highly recommend! Thanks, From The Fogleman Family
Jul 20, 2021
We love New Bern KOA. We stay there often, and will continue to return due to the friendly and efficient staff, clean and well kept facilities, it's a great place to camp.
Jul 20, 2021
Great place to stay! Everything is very clean but the best part is the staff. GREAT!
Jul 20, 2021
This was our third stay and we have already booked another one. A great place to have fun and relax!
Jul 20, 2021
Very nice campground with and extremely friendly staff! Looking forward to our next stay here.
Jul 19, 2021
Wonderful campground, staff very helpful & friendly. Check-in very easy, love the escort to your camp site. The grounds were very well maintained. We had a patio site & it was awesome.
Jul 19, 2021
Our stay was perfect! The site assigned was large and had a patio with furniture. Even though there were many people in the campground, at night quiet time was observed and we slept wonderfully. Able to have a very restful week. Shopped and ate lots of bbq. Workers in the campground extremely friendly. Enjoyed talking with them.
Jul 19, 2021
By far the best little campground we've stayed. The staff is super friendly, camp grounds are really clean (including the bath houses) and has a down to earth family atmosphere.
Jul 19, 2021
Awesome. Great site with a view. Great people working at the camp ground. Loved our stay and we will be back. Thank you.
Jul 19, 2021
Enjoyed every minute we were there. Everything was neat clean and organized. Our dog Marley even enjoyed the doggie wash area.
Jul 19, 2021
Had an issue with Jacks Bob was a big help Thank you! See you next time.
Jul 19, 2021
Very friendly atmosphere.
Jul 19, 2021
We love this campground! We cant wait to return. One suggestion is to limit the number of guests people can have. the camp site across from us had lover 7 cars there at one point with their camper and personal car. That was way to many quests and disturbed our time since they were out neighbors.
Jul 19, 2021
Very polite staff and eager to please guest
Jul 19, 2021
Everything and every one was wonderful!! We would go again!
Jul 18, 2021
We enjoyed out stay at New Bern KOA. Very clean nice park, staff very friendly. We will definitely visit again. Only recommendation I have is that some of the fire pits on the premium lots need to be moved. We were at #47 and the pit was right in the middle of the site. We weren't able to use it as it was directly under our awning and at the door to our camper. Most RVs are designed the same
Jul 18, 2021
Coming to the KOA of New Bern was an unexpected and delightful surprise. The camp ground it self is very clean and well landscaped. There are several onsite activities for the whole family to take part in, ex: canoes,fishing,bikes,outdoor games,pool and camp store. All of which my girls (15 and 11) enjoyed. The staff is very courteous and eager to help. We will definitely be coming back.
Jul 18, 2021
I think this was the best built and maintained campground we have stayed at. Plus, the staff were great. We will be back.
Jul 18, 2021
My wife and I both love the New Bern KOA. It's always clean, well kept and the sites are not too close together like some other places. We've stayed twice and had really good experiences both times. My only problem is that they are not allowed to tell you which campsites will be available for the next reservation.
Jul 18, 2021
As always it was great !!! Its your people that make so nice.
Jul 17, 2021
We enjoyed our state and the time we had with our grandchildren. The staff was absolutely great ... give them a 10 because they were twice as helpful as I thought possible. I discovered that I was missing some RV only items from my kit (leveling blocks and a surge protector being the most critical). Neither was available in the store. Had they been this would have a five star stay.
Jul 17, 2021
This has really become our regular campground for quite a few years now. Ms. Pat and her team have always been accommodating. We had a special request due to a recent surgery my wife had and Ms. Pat had no issue at all with providing a solution. We will continue to make this our regular spot!
Jul 17, 2021
Stayed one night ln a level pull w/a gravel base. The front desk was very pleasant & efficient. They even got the manager to give me the best way to get there w/a 45" RV w/a toad. The park was very clean. A very good experience will be back again.
Jul 16, 2021
The staff were friendly and great. Everything was clean. Plenty for the kids to do. Will absolutely stay there again.
Jul 16, 2021
AS always awesome! The place is always clean and quiet!
Jul 16, 2021
Very pleasant & caring people. Nice & clean, everything!! Definitely would stay again !
Jul 15, 2021
Our favorite of the 10 KOA's we have been too!
Sep 20, 2021
We love the New Bern KOA. We had tent camped there in the past but recently bought our first camper. The staff were so willing to help us with things we weren't sure about. We probably drove them crazy asking questions about how things in our camper worked. They helped us with our awning, they helped get our TV working and would often stop by just to encourage us first-timers. From checking in to checking out I can't say one negative thing. The campground is well-maintained. The bathhouse was one of the nicest I have ever seen, very clean and spacious. We loved sitting in the swings by the Neuse River. It is just a great place to unwind and relax. We can't wait to go back.
- cathy upton on Google
Sep 18, 2021
Such a spotlessly clean campground. Sites were comfortably spaced. View was wonderful. People were so friendly and helpful. It was quiet. There is obviously pride in their product. We will definitely stay again.
- pupnpony on Trip Advisor
Sep 04, 2021
Very nice very clean
- terry kresge on Google