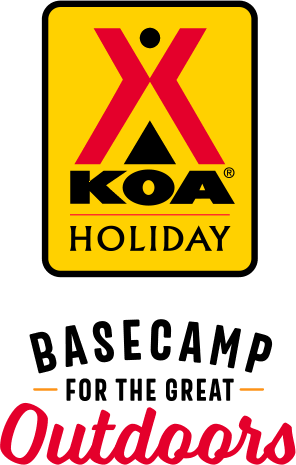 KOA Holiday Campgrounds
Whether you're exploring the local area or hanging out at the campground, KOA Holidays are an ideal place to relax and play. There's plenty to do, with amenities and services to make your stay memorable. Plus, you'll enjoy the outdoor experience with upgraded RV Sites with KOA Patio® and Deluxe Cabins with full baths for camping in comfort. Bring your family, bring your friends, or bring the whole group – there's plenty of ways to stay and explore.
KOA Holidays Feature:
RV Sites with a KOA Patio®
Deluxe Cabins with full baths
Premium Tent Sites
Group meeting facilities
Directions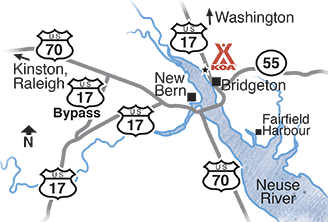 GOING 17 North (FROM WILMINGTON) - take 17 Bypass to Hwy 70 East, exit (147A). Follow 70 East to exit 417 onto Hwy 17 North (toward Washington). Campground on left in 4.8 miles on Hwy 17 North.
GOING 17 South (FROM WASHINGTON) - Campground on right 5 miles from historic New Bern.
GPS: N35.136150, W77.027164
Get Google Directions
Nov 19, 2020
Very Good. But for the lately check in, please notice your wi-fi password.
Nov 16, 2020
We have stayed at the New Bern KOA multiple times both in our camper and in the cabins. Never once did I have a complaint- this campground is impeccable which is why we will continue to be repeat customers!
Nov 15, 2020
Perfect little staycation. Cabin was clean & well equipped. Staff was friendly & helpful. Family enjoyed fishing, jump pad, park, outdoor checkers, mining for gems & our time around the fire pit. Thanks:-)
Nov 14, 2020
Came with our grandchildren to relax and enjoy them and that is what we did. We will be back in the spring again. Just an hour away and a great break to every day life!
Nov 12, 2020
Cabin smelled fresh and clean. Mattress was clean and comfortable.
Nov 11, 2020
Cabin was perfect! The bathrooms and our little cabin where both really clean. Was surprised how quite the space was considering the full campground. We will be back with our two little ones next time.
Nov 03, 2020
Great Job. A bit pricey though.
Nov 02, 2020
Beyond AMAZING! I was super impressed with the staff, and the cabin. The playgrounds were amazing, and the stay was all around awesome. I highly highly recommend!
Nov 02, 2020
*First Time Camper* Everything was amazing from the moment I checked in until I checked out. Ms. Pat and Patricia were super friendly and helpful. The store on sire had everything you could possibly need. The medium deluxe cabin was super comfortable for 2 adult, 2 teens, and 1 kid and was well equipped. The grounds and pier were beautiful and I honestly wish I had stayed longer!
Nov 02, 2020
The deluxe cabin was very clean and well stocked. The campground was also very clean. The store was run very well and check-in and check-out process was very easy. I loved having the gas grill, fire pit, and outdoor table right at our cabin.
Nov 02, 2020
We spent quite some time decorating our deluxe cabin. Only for the campground to award one regular cabin and one camper best decorated. We didn't feel that was fair considering deluxe cabin was supposed to be in its own category per handout. There is very minimum lighting at the playground area. Also only 2 regular k cups provided per deluxe cabin after that you have to purchase..
Nov 02, 2020
We have carried our 3 grandsons there for the last 4 Halloween weekends. They love it. We rent a cabin #5 and love to decorate and dress for Halloween. This will be a new tradition for our family. FUN for all!
Oct 31, 2020
Clean room and great staff.
Oct 30, 2020
I have honestly never stayed in a place where the staff is so friendly! That is one the reasons I look forward coming back. The grounds are always clean and there is plenty to do. One the other things I like most is how quiet it is. The beach is close. Another wonderful stay at KOA! :- )
Oct 27, 2020
Everyone was very friendly and helpful. Clean cabin, grounds kept clean, trash was always taken out. Can't wait to return.
Oct 27, 2020
I really loved the clean and beautiful cabin!!! I have never stayed at KOA before but I will be back !!! Thanks to all involved!!!!
Oct 21, 2020
This place was fantastic! Everything was close enough to not feel overwhelming, but spacious enough to feel like you had your own space. Everything was clean and well maintained. We can't wait to go back!
Oct 20, 2020
Great place!!!
Oct 19, 2020
I loved every minute of my experience!! Great staff and beautiful scenery. Can't wait until we go back!!!
Oct 19, 2020
Everything was great, didn't have any problems. Love to stay with KOA
Oct 19, 2020
This was our first adventure with our new camper. We were blown away at how nice everything was and how helpful the staff was! We can't wait to come back!
Oct 19, 2020
Immaculate lodge, nice playground area for kids, and very friendly staff.
Oct 18, 2020
This was my second visit. It's always a peaceful and clean. The grounds are clean as wells as the cabins. The beds are always comfortable. The staff has always been very nice.
Oct 17, 2020
I love going to this campground! The facility is excellent. The staff is always helpful and friendly. I plan to go back very soon! I hate when it's time to leave! Thanks for another wonderful time!!
Oct 15, 2020
AWESOME PLACE AND PEOPLE RUNNING THIS KOA
Oct 14, 2020
Wonderful, as always!
Oct 12, 2020
Super clean, staff is friendly, tons of activities for kids to do, DELIVERY of ice and firewood - this place makes having fun so easy!
Oct 08, 2020
I love this place!
Oct 06, 2020
We stayed in a deluxe cabin - spotless and well stocked. An extra blanket or two would have been great but we didn't ask for one so that's on us. The campground was small but well laid out. All campers observed the curfew and it was silent at night. The pier was a perfect place to watch the spectacular sunsets. KOA Staff at the office were incredibly nice and welcoming.
Oct 06, 2020
I absolutely love New Bern KOA, the staff and grounds keep us comming back again and again. Ms. Pat is the best. Always has a smil, even if you have an issue, she just runs over to fix it.
Oct 05, 2020
The facility was awesome as well as the customer service. We loved the amenities and enjoyed every aspect of our visit.
Oct 04, 2020
We loved staying in the cabin. It was very comfortable and clean. Very well taken care of. Had everything we needed in it.
Oct 03, 2020
Our stay was great, we enjoyed getting away to New Bern. Cabin was beautiful/clean, grounds were immaculate, and staff was friendly and helpful. One suggestion would be to turn the lights on at the pier when it get dark.
Oct 03, 2020
Stayed in Large Deluxe Cabin; very nice, compact unit!! Very nice porch! Good location in campground!
Oct 01, 2020
It was Amazing! The staff were so friendly and accommodating. Everything inside and out was clean and well manicured. Thank you, We will be back!
Sep 28, 2020
I've never stayed at a KOA before - but now I think it is my choice whenever we go out of town! I would prefer it over a hotel even!
Sep 28, 2020
Everybody was most helpful and very friendly. We were impressed by how neat the property is and clean the facilities are.
Sep 28, 2020
Cabin was clean and as described online. Staff, particularly Donna and her husband, were very friendly.
Jun 13, 2021
Wonderful weekend with our family...love this KOA campground
- Kristie Nixon on Google
Jun 04, 2021
Great Campground with boat dock. Very clean, friendly staff. Easy access.
- Teresa Bradley on Google
May 31, 2021
Very nice campground and wonderful staff.
- Melissa Simmons on Google