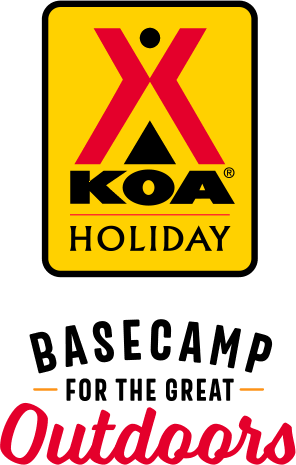 KOA Holiday Campgrounds
Whether you're exploring the local area or hanging out at the campground, KOA Holidays are an ideal place to relax and play. There's plenty to do, with amenities and services to make your stay memorable. Plus, you'll enjoy the outdoor experience with upgraded RV Sites with KOA Patio® and Deluxe Cabins with full baths for camping in comfort. Bring your family, bring your friends, or bring the whole group – there's plenty of ways to stay and explore.
KOA Holidays Feature:
RV Sites with a KOA Patio®
Deluxe Cabins with full baths
Premium Tent Sites
Group meeting facilities
Directions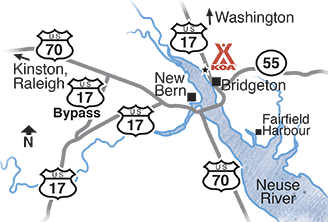 GOING 17 North (FROM WILMINGTON) - take 17 Bypass to Hwy 70 East, exit (147A). Follow 70 East to exit 417 onto Hwy 17 North (toward Washington). Campground on left in 4.8 miles on Hwy 17 North.
GOING 17 South (FROM WASHINGTON) - Campground on right 5 miles from historic New Bern.
GPS: N35.136150, W77.027164
Get Google Directions
Oct 27, 2020
I really loved the clean and beautiful cabin!!! I have never stayed at KOA before but I will be back !!! Thanks to all involved!!!!
Oct 26, 2020
Great place to stay. Only down side was sewer smell. Not sure if it was coming from other RV's or what
Oct 26, 2020
One of the best for us! Very friendly staff. We will definitely be back!
Oct 26, 2020
Had a pleasant stay. We encountered dog poop smell the first night and day but the staff did the best they could to get rid of the smell. However we were turned off by the lack of maintaining a pleasant view towards the front of the campgrounds. The first row has multiple spots where the campers have been there a while. Grass hadn't been cut. Would stay in the back of the CG on another visit.
Oct 26, 2020
This is one of our favorite places to camp! The grounds and all campsites are well kept and maintained, the bathrooms are very clean, and the staff are always so friendly and eager to help in any way! New Bern KOA is the best!!
Oct 26, 2020
Allen & John were the best people to help us out on our very first time camping experience!! Your place was spotless & your staff were just the kindest people we ever met. Patricia did a great job at the front desk. Thank you for making our first time a truly memorable one!!
Oct 26, 2020
Had a fantastic stay the staff were very helpful and very friendly ground keepers Have the campground looking great thanks so much
Oct 25, 2020
Great place! Staff goes above and beyond and were the nicest I have ever met.... they were actually genuine! We will go back!
Oct 24, 2020
Everything was great.
Oct 24, 2020
Very nice management. The park and our site was very clean. They also arranged for us to have perfect weather....
Oct 24, 2020
The facilities were very clean, and providing supplies to clean for yourself if desired is a great idea! I would prefer the small gravel near the tents to be paved so you don't hear every footstep and vehicle going back and forth while sleeping.
Oct 24, 2020
Wonderful stay at very clean New Bern KOA campground! All employees were very helpful and friendly. Hopefully we will be able to return —sooner than later!!!��
Oct 22, 2020
This is the 2nd and not the final time we will visit this park. Patricia and her staff ALWAYS go out of their way to accommodate campers. Everything is cleaned before you arrive-even leaves blown away! The park and area are beautiful but the people at this KOA make it so much better! Also they are very cognizant about the Covid 19 protocols and helpful to those who ask (check in, etc).
Oct 22, 2020
One of the best places we have stayed. Beautiful pier on the river inside the campground. Place to dock you boat, if you wish. Staff is wonderful, polite and knowledgeable. Will go back again. This was our first trip to New Bern which is small historical city with many fine restaurants and any kind of shopping you might want. We really enjoyed our stay and look forward to going back again.
Oct 22, 2020
Great park and riverfront.. you might consider fencing the playground by the jump pad. Kids and dog walkers were cutting through our site all the time. A person even stopped to tie his shoe while sitting on my door step.
Oct 22, 2020
We loved the place. Very well-kept! I would definitely visit again.
Oct 22, 2020
Stayed one night. Clean and friendly. Will comeback soon
Oct 21, 2020
very nice place to stay, very friendly people and helpful
Oct 21, 2020
John was very nice and personable.
Oct 21, 2020
Great place to stay, everybody is very helpful. Place is clean and very nice.
Oct 21, 2020
Very clean well kept place would definitely stay again
Oct 21, 2020
This place was fantastic! Everything was close enough to not feel overwhelming, but spacious enough to feel like you had your own space. Everything was clean and well maintained. We can't wait to go back!
Oct 21, 2020
What an awesome piece of paradise on the river. Nice level spaces and many patio sites with barbeques and fire pits. You can rent bikes, kayaks, and 2 or 4 person paddle boats. There is so much to keep the family busy. You are so close to the beautiful city of New Bern. It is very walkable with plenty of restaurants and shops. Definitely on our list for a return visit.
Oct 21, 2020
Beautiful location just steps from river (which we walked to every day and viewed! Only possible improvement would be to relocate some sewer dumps closer to midsite so easier to connect to. Other than that we loved our large site overlooking the pond and steps from the fishing dock. Truly tranquil setting. Richard Ross
Oct 21, 2020
Great, friendly staff
Oct 20, 2020
We had a wonderful stay at the KOA New Bern and will definitely be back! Our site was beautiful, staff was very pleasant and the whole campground was well kept. The pier on the Neuce River was great and the view spectacular!
Oct 20, 2020
Always a great stay here! We always come here multiple times a year! Ms. Pat runs a fun ship!
Oct 20, 2020
Great place!!!
Oct 20, 2020
Friendly staff nice camping sites. We had a back in rv site,plenty of space. enjoyed our stay.
Oct 19, 2020
Excellent campground, very well maintained, exceptional service.
Oct 19, 2020
We were there for a 4 night stay. The site we were on was very spacious. We would definitely stay there again.
Oct 19, 2020
New Bern KOA is one of my favorite resorts in the area. I always stay here.
Oct 19, 2020
We LOVE this campground!!!! The staff is friendly and very willing to make our camping experience as comfortable and enjoyable as possible!
Oct 19, 2020
Campground staff were friendly, helpful, and went above and beyond to make it a great stay.
Oct 19, 2020
I loved every minute of my experience!! Great staff and beautiful scenery. Can't wait until we go back!!!
Oct 19, 2020
Everything was great, didn't have any problems. Love to stay with KOA
Oct 19, 2020
We have stayed here many times. The staff is always friendly and helpful. This is a great campground. I will be going back again.
Oct 19, 2020
This was our first adventure with our new camper. We were blown away at how nice everything was and how helpful the staff was! We can't wait to come back!
Oct 19, 2020
Well maintained. Staff is awesome. Always look forward to returning there.
Oct 19, 2020
Nice people and campground. Will stay again.
Oct 19, 2020
Immaculate lodge, nice playground area for kids, and very friendly staff.
Jan 11, 2021
The staff is wonderful, they go above and beyond. The park itself is family friendly and well maintained.
- Gillian Christison on Google
Jan 04, 2021
Wonderful stay even though it rained half of the time we were there, but that's no one's fault! Charming campsite.
- Gina Moore on Google
Jan 03, 2021
Great camping trip! Beautiful sunsets from the pier and plenty of stuff for the kids to do. Will definitely return.
- Lucas Brown on Google