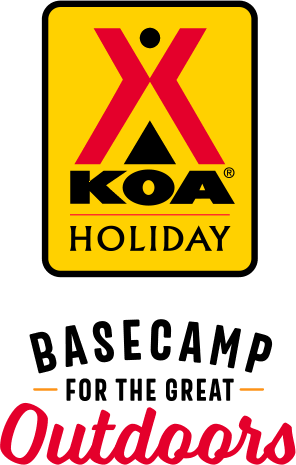 KOA Holiday Campgrounds
Whether you're exploring the local area or hanging out at the campground, KOA Holidays are an ideal place to relax and play. There's plenty to do, with amenities and services to make your stay memorable. Plus, you'll enjoy the outdoor experience with upgraded RV Sites with KOA Patio® and Deluxe Cabins with full baths for camping in comfort. Bring your family, bring your friends, or bring the whole group – there's plenty of ways to stay and explore.
KOA Holidays Feature:
RV Sites with a KOA Patio®
Deluxe Cabins with full baths
Premium Tent Sites
Group meeting facilities
Directions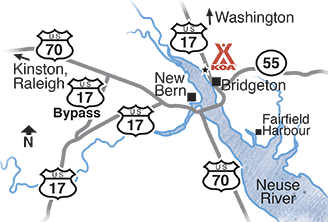 GOING 17 North (FROM WILMINGTON) - take 17 Bypass to Hwy 70 East, exit (147A). Follow 70 East to exit 417 onto Hwy 17 North (toward Washington). Campground on left in 4.8 miles on Hwy 17 North.
GOING 17 South (FROM WASHINGTON) - Campground on right 5 miles from historic New Bern.
GPS: N35.136150, W77.027164
Get Google Directions
Feb 06, 2021
No internet as promised and they never mentioned when we booked they were paving the park. LOUD and the smell was terrible. When they asked why we were leaving early and we told them they laughed. NEVER GOING BACK
Feb 04, 2021
Cabins were extremely clean and well stocked with everything needed for our stay. Staff was very friendly, personable and accommodating. Will be returning soon.
Feb 04, 2021
The stay was most enjoyable. The staff was very friendly and courteous. From the store to the cabins, cant say enough about them! Thank you for an enjoyable stay.
Feb 03, 2021
It is very quaint. Staff is very kind and friendly. The bath houses are amazing! Private three piece rooms that are truly heated in winter! Full hookups, patios, tables, water views from everywhere.easy access.
Feb 02, 2021
Great time good view great service
Feb 01, 2021
Excellent campground with courteous and efficient staff. Clean restrooms and showers.
Feb 01, 2021
The staff is very friendly and helpful. The facilities are clean. This was our first time camping and could not have asked for a better experience. 5 stars is not enough. Thank you so much for the good experience.
Feb 01, 2021
I love the stay, it was well worth it. I will come back when it is warmer.
Jan 30, 2021
It's an awesome campground. Wish we could have stayed longer. Most of the outdoor activities are open and the area is so peaceful and relaxing. You can make a fire, rent a cabin, it's a pretty great place. Thank you KOA for making it so memorable �ϋ�
Jan 28, 2021
The sites are too close together and there was very little to do during our stay. However, the staff was friendly and helpful.
Jan 28, 2021
Always an enjoyable stay. The staff is so friendly!
Jan 27, 2021
Easy access to park. Arrived later than expected but staff greeted us with smiles and escorted us to our site. Very clean park and bathhouse. The staff was wonderful! Our site had an amazing view! A perfect long weekend getaway! We will definitely return again soon!
Jan 26, 2021
Staff is always so friendly. Kids enjoy all the activities to do... can't wait to come visit again.
Jan 26, 2021
Thank you so much KOA crew of New Bern for all that yall do!!! Thank you for providing such a clean, serene and safe environment to stay in. Awesome as always :-)
Jan 25, 2021
Everyone was so nice during check in and Delhi weed wood to us several times! Campground was very clean and quiet- we really enjoyed our stay!
Jan 25, 2021
Very accommodating even with my mistake of booking one night short. Staff is very friendly. Campground very clean including the bathhouses.
Jan 25, 2021
Very friendly staff and clean bathrooms.
Jan 25, 2021
It's always a magical time when my son and I stay at a KOA. Especially when we stay at KOA New Bern. The staff are very friendly and attentive to the campers needs. The campgrounds...cabins...R/V sites...Bath houses...laundry...office/store are all very clean and well maintmaintained. Not to mention all the multiple things for kids to do and explore. So many wonderful things to say. A+ & 100% :-)
Jan 25, 2021
Thank you, nice place shower and restroom nice. Only complaint was lots of dog waist on grounds when walking around.
Jan 24, 2021
Nice campground. Nice staff. Only inconvenience was public restrooms being locked and needing a code to open.
Jan 24, 2021
My wife had a great short stay in New Bern! The park is in a great location, close to the city center and right on the river. The park is great, very clean and a great staff on hand!! Thanks for making our little get away memorable!!
Jan 22, 2021
Very nice and super clean and the staff are outstanding will be back
Jan 20, 2021
Great KOA with beautiful river views and level lots. So much to do and see in this area we always run out of time before running out of things to do. Everyone is always very helpful with getting us settled in and making sure we have everything we need.
Jan 20, 2021
all the staff are very helpful, was able to extend our stay an extra night, always a pleasure
Jan 20, 2021
Everything was great. Clean park. Great staff. Lots to do. Beautiful views!
Jan 20, 2021
Dry poor internet
Jan 19, 2021
Great accommodations. We will be back
Jan 19, 2021
It is a very nice campground. Clean bathhouse, nice pier, and staff was very friendly. Only complaint is the sites. They were extremely muddy( we have had a ridiculous amount of rain lately) and I think the sites could use more gravel. Also, it is packed tight. We will definitely stay again for the location on the river and the awesome staff.
Jan 19, 2021
We enjoyed our time here so much we've already booked our next stay. The staff here were so helpful and friendly. We even decided to store our RV here until we come back.
Jan 19, 2021
Best group of people around. We love it there
Jan 18, 2021
Great place, didn't use any site facilites, but all looked good with plenty of places for kids to play and adults to fish, boat or mix. Sites were truly level and well maintained with pleasant staff.
Jan 18, 2021
We had a wonderful time and plan on coming back! The spots were just beautiful!
Jan 18, 2021
We stayed in a Camping Cabin for a winter weekend getaway and had a blast! Hospitality was top notch and the cabin was perfect for our needs. Will definitely come back!
Jan 09, 2021
We had a great stay, staff is very friendly. Please do not allow policital associated flags. In my opinion this does not belong on a family campground.
Jan 09, 2021
We really enjoyed our stay at the New Bern NC KOA Holiday. The staff are awesome. The place is clean. We will definitely return soon. Thank y'all for all of your hospitality.
Jan 09, 2021
Fabulous! Extended stay.
Jan 09, 2021
Very muddy at the sites. Need more gravel. Sites are very small - there was not enough space for our truck once we unhooked our trailer.
Jan 06, 2021
This was our 3rd visit. We requested and reserved our site on 10/15/2020 with a confirmation E-mail "Back In, 50/30 Amps, Full Hookups... near the large catch & release pond." We were assigned a site on the main road with fire pit next to road. Informed we had to call to reserve a site. Office lady not very friendly..."At least you're not backed into the mud like me". Recommend calling!
Jan 06, 2021
One of the best KOAs we have stayed in. Sites are nicely spaced compared to most KOAs. Extremely clean. Super nice staff. Nice location. Only negative which isn't the KOA's fault were the trains that went through in the middle of the night. It was tolerable. We would definitely return.
Jan 05, 2021
My wife and I recently stayed wit y'all Christmas day thru new year's day. The 28th was our 30th anniversary. I was such a joy to camp at New Bern. The staff is always soo nice and helpful when needed. It's our favorite KOA. We have been camping there for years and plan and camping there for many more years to come.Thank You.
Jan 05, 2021
Campground is very well kept. The front desk staff and campground staff that help with your sites are AWESOME. Quiet at night although the campground was full. Very convenient to New Bern and the coast. Will come back and/or recommend to friends.
Jan 05, 2021
I was only there overnight and booked earlier during the same day. They were very accommodating and selected a site a site I could exit from easily early next day.
Jan 04, 2021
A great campground! Can't wait to come back �
Jan 04, 2021
This was our 2nd visit we like it a lot unfortunately we had 2 days of rain and the WiFi and internet was out I was unable to contact my grandchildren out of state since I have a prepaid phone
Jul 18, 2021
I loved the campground the kids where a litte loud and unruly all and all a good time had by all
- Allen Tompkins on Google
Jul 11, 2021
Very clean and nice facilities. Staff is friendly and helpful. Great experience!! Thanks!
- Patty Bronson on Google
Jul 10, 2021
Loved it!
- Cherie Beach on Google