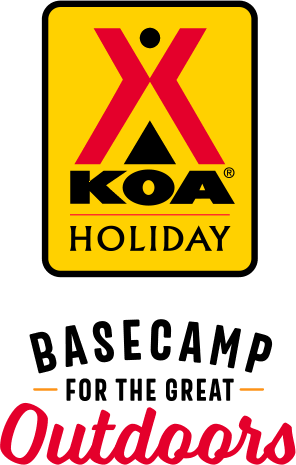 KOA Holiday Campgrounds
Whether you're exploring the local area or hanging out at the campground, KOA Holidays are an ideal place to relax and play. There's plenty to do, with amenities and services to make your stay memorable. Plus, you'll enjoy the outdoor experience with upgraded RV Sites with KOA Patio® and Deluxe Cabins with full baths for camping in comfort. Bring your family, bring your friends, or bring the whole group – there's plenty of ways to stay and explore.
KOA Holidays Feature:
RV Sites with a KOA Patio®
Deluxe Cabins with full baths
Premium Tent Sites
Group meeting facilities
Directions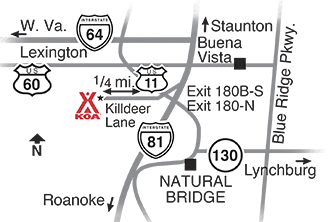 I-81 Southbound Exit 180B. Campground's entrance is right across from the off-ramp just to the left of the gas station.
I-81 Northbound Exit 180. Left on US 11 North and proceed under I-81 for 1/4 mile. Entrance is on left just before the gas station.
GPS: N37.677700, W79.507628
Get Google Directions
Sep 30, 2020
Excellent! The management team went out of their way to accommodate me. Check in was fast and simple. I would definitely recommend.
Sep 30, 2020
Loved this site. The KOA was so good. The people were very nice.
Sep 30, 2020
We only stayed one night at this facility but this was a very nice stay. The sites were not on top of one another, you had plenty of space. Will go back again.
Sep 30, 2020
Nicely layout campground. Lots of trees and room between sites
Sep 30, 2020
Very nice helpful staff at check-in. Neat and tidy facility. Our pull thru site was reasonably sized but could have been a little wider. Only one bathroom, which was nice and clean, but very far away from campsite. Definitely need another bathhouse. Wonderful location, easily accessible, close to a lot the area has to offer.
CAMPGROUND RESPONSE / COMMENTS:
The main restroom is no more than a 2 minute walk from this site. And we also have a 2nd bath house.
Sep 29, 2020
Very clean and up to date bath house! So much to do at the campground. My kids had a blast!
Sep 29, 2020
Nice campground. Easy on and off interstate. Close to attractions. Loved the chickens!!
Sep 29, 2020
Everything was good until we were highjacked at our rv site by people wanting our census information. They came twice. Didn't appreciate being bothered.
Sep 29, 2020
The cleanest bathhouse I've ever seen! Nice sites, the deck and picnic table we're in great shape, great staff! Excellent experience!
Sep 29, 2020
Our specific site was not level beyond the camper area. Most sites have a retaining wall are level beyond where you park the camper. This site (#16) was slanted. The table was slanted, and anywhere you put your chairs was slanted. There is a lot of construction happening there, which looks nice, but improvements to existing sites should be done as well.
Sep 29, 2020
The stay was good. Staff was friendly and the restroom was clean. The only thing was site 2 could use more gravel on it to keep campers out of the mud when it rained. We would definitely stay there again.
Sep 29, 2020
Although sites are close together, it is a very pretty KOA. The bathrooms were not only sparkling clean, they were pretty as well. The bathrooms were about three or four minutes away from my campsite. It would have been nice if they were closer but it wasn't a problem.
Sep 29, 2020
We really enjoyed our stay at this RV park. The site was well located and the park and grounds were well maintained. Staff was excellent and check in was easy. We will return. I really liked that there was an RV friendly gas station right at the entrance of the park.
Sep 29, 2020
Great staff, easy and quick reservation. Easy to find just off I-80.
Sep 28, 2020
Great place but getting very pricey.
Sep 28, 2020
Very nice campground!! Staff is very helpful and courteous! The concrete pad spots are very nice! Thank you KOA Natural Bridge, VA. for for a wonderful anniversary weekend!!
Sep 28, 2020
Location is great. Sites are close together and a bit small. WiFi was non existent and VeriOn's signal was poor.
Sep 28, 2020
Very nice customer service with staff member taking us to our site also delivering fire wood. Friendly staff at registration, cute camping store, large public bathroom with very nice showers. Good job following the CDC's rules with COVID 19. 1 mile or so from the Virginia Safari and about 4 miles from the Natural Bridge.
Sep 28, 2020
Over night. Intresting layout with the terraced spots but easy in n out. Just what i needed
Sep 28, 2020
Friends had a son at VMI several years ago and they stayed at Natural Bridge KOA. Now that we have an RV and are retired we have always loved the area and Love the KOA. They are very plesant and helpfull. Also have been wonderfull with site selection..We will be back on a regular basis for sure. (Love all the cats and excellent clean facility.
Sep 28, 2020
Great campground- good location and very good sites. Don't depend on WiFi. It did not reach our site and was spotty. The campground makes this clear though
Sep 28, 2020
Nice looking campground, staff were reasonably friendly and helpful. But the site I was at is built into a hillside, and the spot wasn't level. And there is no place to put out some chairs, because the space between the sites is a slope on a hill. Couldn't put my step down either due to the steep slope. And the site cost more than my three previous nights of camping combined.
CAMPGROUND RESPONSE / COMMENTS:
Since you booked the day of your arrival on a busy Saturday you were put on the last site available. The site is 80 feet long so most people are able to find a place to set up their chairs, etc. $58 for a full hook-up 50 amp pull-thru, if you got 3 nights of camping for that is an amazing bargain!
Sep 27, 2020
Wasn't thrilled with our site. Big rig towing a car and was a little tricky getting out of campground. Wish you had more large pull thru sites not surrounded by curves and trees!
Sep 27, 2020
We've stayed multiple times passing through. Always good.
Sep 27, 2020
Loved our site with the paver patio, fire pit and furniture! Had a great playground. Bathhouse was clean and campground was quiet!
Sep 27, 2020
Very nice staff. Clean faculity
Sep 27, 2020
Our stay was short but pleasant. We're in hopes of spending a few days in June on our way back north.
Sep 27, 2020
This park is directly off I-81, but set back far enough to block the highway noise. We had Avery nice deluxe landscaped concrete site with patio and a gas grill. Site amenities were great but WiFi was not available, probably because we were at the far edge of the park.
Sep 27, 2020
So nice we came back on our return trip. Nice easy access of I-81.
Sep 26, 2020
Very nice and well maintained campground
Sep 26, 2020
Not the best KOA we've stayed in but not the worst either. The woman checking us in for a 4 night stay had zero personality and was not at all welcoming.
Sep 26, 2020
Beautiful campground nestled in the mountains . Very friendly staff . Convenient to scenic tourist attractions and kitschy general stores. Great restaurants nearby !
Sep 25, 2020
Top notch facility! Top notch staff! Beautiful and quiet surroundings! This is my home away from home! �ϋ�
Sep 25, 2020
Stopped for an overnight. Very convenient location. Pull through lot with KOA patio was nicely level and spacious.
Sep 25, 2020
Well, organized and friendly staff. Our site was perfect for our vehicle and trailer. We have stayed here a couple of years ago and enjoyed it just as much this time as the first time.
Sep 25, 2020
Nice but very expensive
Sep 24, 2020
These folks go way out of their way to help. Escorted to site, offered to help with set up. Best experience anyone could ask for! I would highly recommend this Campground!
Sep 23, 2020
Had a great time. Very friendly staff. Awesome bath house and facilities. Very clean
Sep 23, 2020
Excellent campground! Always enjoy my stay.
Sep 23, 2020
Stayed here again, on our way back home. Different people at the front desk, but same great service. We and our friends had been assigned different spaces this time, but since the same two sites we had 3 days before were available, the assigned sites were quickly changed. I would definitely stay here again.
Sep 23, 2020
Again just a wonderful and peaceful place to stay
Sep 22, 2020
The personnel were excellent.,friendly and helpful. Campground was quiet and kept neat. Showers and laundry room very clean and nice. The only thing that flustrated me was the paper towel holder in the bathroom it never worked properly. Maybe a handdryer may be a better option. But over all was a great trip and would definitely come back and recommend to family and friends.
Mar 02, 2021
Nice size sites, accommodating staff.
- L R on Google
Mar 02, 2021
We had a cabin, and we love it. We heard we hear an eagle around.
- Lydia Brown on Google
Feb 26, 2021
Very nice place, great stop right off highway on way to North Carolina
- Doreen Guma on Google