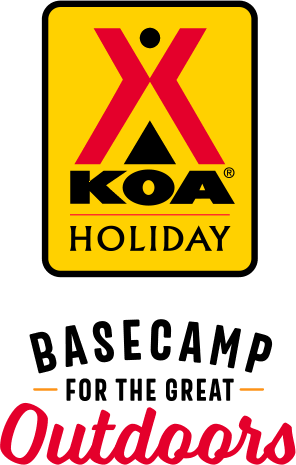 KOA Holiday Campgrounds
Whether you're exploring the local area or hanging out at the campground, KOA Holidays are an ideal place to relax and play. There's plenty to do, with amenities and services to make your stay memorable. Plus, you'll enjoy the outdoor experience with upgraded RV Sites with KOA Patio® and Deluxe Cabins with full baths for camping in comfort. Bring your family, bring your friends, or bring the whole group – there's plenty of ways to stay and explore.
KOA Holidays Feature:
RV Sites with a KOA Patio®
Deluxe Cabins with full baths
Premium Tent Sites
Group meeting facilities
Directions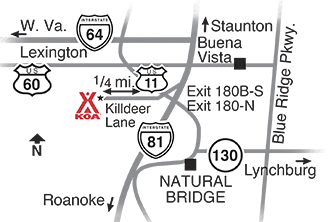 I-81 Southbound Exit 180B. Campground's entrance is right across from the off-ramp just to the left of the gas station.
I-81 Northbound Exit 180. Left on US 11 North and proceed under I-81 for 1/4 mile. Entrance is on left just before the gas station.
GPS: N37.677700, W79.507628
Get Google Directions
Oct 11, 2020
Clean, natural and pleasant.
Oct 11, 2020
Everyone was so helpful! Loved it and can't wait to come back!
Oct 10, 2020
4th visit. Really like it
Oct 10, 2020
The staff was great...the whole place was on a hill...all dirt and rocks....and the sites are way too small..I could hear the guy coughing in the rig next to us...not my idea of camping...but you like to be sandwiched in like sardines...then that's the place to be!!!
Oct 10, 2020
Gravel lots could be better leveled
Oct 10, 2020
Our site was right on the main drag and so close to both neighbors that you could hear them sneeze.
Oct 09, 2020
Great place to stay while visiting Blue Ridge area.Very clean rest rooms, showers. Convenient laundry . Had fun sharing trick or treating with kids.
Oct 09, 2020
Good location for visiting Natural Bridge State Park. Clean restrooms and looks like they are expanding with super cute new cabins!
Oct 09, 2020
Wonderful staff, very clean grounds and facilities. Quiet (in a good way), sites were large enough and flat enough.
Oct 09, 2020
Second time to stay here and liked it just as much as the first time. So convenient to I-81 - well maintained, with helpful, friendly staff! We will be back!
Oct 09, 2020
We only did an overnight stay but were happy with the staff and the grounds. We have stayed here many times over 15 years and have always been treated well. It is nice to see the improvements that have been made. We will continue stopping there on our trips north and south.
Oct 09, 2020
Nicely maintained park with very pleasant staff. Wooded level sites and clean rest rooms. And extremely convenient to exit off I-81.
Oct 08, 2020
Very nice loved the chickens walking around.
Oct 08, 2020
Nice staff, very clean. Close to interstate.
Oct 07, 2020
The staff was helpful and a fantastic camp grounds
Oct 07, 2020
Easy access to 81S. Friendly staff. Escort to large pull-thru lots. Very quiet.
Oct 07, 2020
The campground was so cute, pull threw sites with a table and a deck. Workers in office very nice and helpful.
Oct 06, 2020
This absolutely meets my needs for an overnight stop. Clean campground and nice staff. My rating 8/10 and 4 stars is not intended to indicate any mispleasure, I'm just not seeing Natural Bridge as a "destination" park.
Oct 06, 2020
Owners and staff are customer focused!! Always attentive and available to make your stay stress free.
Oct 06, 2020
We had an enjoyable time at this KOA. We stayed 8 days, so at times during the weekDays we felt like we had the whole place to ourselves. Our daughter enjoyed the arcade and Halloween activities. Only down side was the slope our spot had. We had trouble finding a level spot for our chairs around the fire. The staff were friendly, but not very talkative. It was convenient to lots outdoor activities
Oct 06, 2020
Clean, quiet, easy off and on the highway. We'll be back again!
Oct 06, 2020
Could not have been any better! This was our first time at a KOA. We usually stay at state parks.
Oct 05, 2020
We have stayed in the past and it has been a nice place to stay. However, they have been renovating their sites and they are amazing!
Oct 05, 2020
This is our second time RV camping. We made reservations online and the staff was very helpful. We enjoyed the campsite and the personal escort. The campground was very clean.
Oct 05, 2020
Great campground - check in was fast and our site was immaculate and quiet. Grandkids loved the playground and the restrooms/bathhouse was the nicest we have ever seen. We will definitely be back!
Oct 05, 2020
We enjoyed our short stay. We look forward to coming back for a longer stay
Oct 05, 2020
Absolutely loved this campground. Great mature trees. Currently undergoing some updates and improvements. Very easy to get to from the interstate. Convenient to local attractions. Great staff. Have already booked our next stay.
Oct 04, 2020
Only a one nighter but great pad and setup.
Oct 03, 2020
We enjoyed our stay at site 82. Because the site was an odd layout and very uneven we had a hard time Setting Up. It needed gravel and leveling we had to use boards and bricks to level.. there were roots and mud everywhere. There were much nicer sites. The staff was very nice, helpful and accommodating! We will definitely come back but hope for a nicer site.
Oct 03, 2020
Staff is great. Campground is clean. Highly recommend!
Oct 02, 2020
Very nice stay. Would return.
Oct 01, 2020
This was only our 2nd KOA stay. So far, we are not fans of the KOA brand. Booked site 3 months prior to our stay and got a lousy site right next to entrance/exit junction and construction area. Retaining wall of next site was less than 10' from our door. Zero "patio" space. No grass. Site not level; after finding most level place for 31.5' RV, insufficient room for car. Dog "park" is a
Oct 01, 2020
This our 4th time staying here and we love it. Great sites, excellent staff. It's always one of our stops heading north for the summer and going home for the winter. Keep up the great work! ��
Oct 01, 2020
We were there only one night but will definitely keep it in mind for another time. Clean bathrooms with good showers.
Oct 01, 2020
Campsite right hear bathrooms which were very clean. Showers looked new and very nice. Would stay again and for more than a day. Laundromat works well!
Oct 01, 2020
Nice park but the roads need work. Too steep around corners, felt like my RV was going to tip over
CAMPGROUND RESPONSE / COMMENTS:
Glad you liked our park. We haven't tipped over an RV yet! We are in the mountains for sure though.
Sep 30, 2020
We usually stay one night on our way to and later from PA several times (more than 5) a year. Right off interstate. Staff ALWAYS polite and helpful. Facilities are clean. Already have reservations for our next stay. SO glad this KOA is here.
Sep 30, 2020
Site 1 was nice. Laundry facilities clean. Winery close by was nice. We biked to the natural bridge. Liked the garbage pick up in the morning and firewood was delivered promptly.
Sep 30, 2020
Excellent! The management team went out of their way to accommodate me. Check in was fast and simple. I would definitely recommend.
Sep 30, 2020
Loved this site. The KOA was so good. The people were very nice.
Sep 30, 2020
We only stayed one night at this facility but this was a very nice stay. The sites were not on top of one another, you had plenty of space. Will go back again.
Sep 30, 2020
Nicely layout campground. Lots of trees and room between sites
Sep 30, 2020
Very nice helpful staff at check-in. Neat and tidy facility. Our pull thru site was reasonably sized but could have been a little wider. Only one bathroom, which was nice and clean, but very far away from campsite. Definitely need another bathhouse. Wonderful location, easily accessible, close to a lot the area has to offer.
CAMPGROUND RESPONSE / COMMENTS:
The main restroom is no more than a 2 minute walk from this site. And we also have a 2nd bath house.
Sep 29, 2020
Very clean and up to date bath house! So much to do at the campground. My kids had a blast!
Mar 02, 2021
Nice size sites, accommodating staff.
- L R on Google
Mar 02, 2021
We had a cabin, and we love it. We heard we hear an eagle around.
- Lydia Brown on Google
Feb 26, 2021
Very nice place, great stop right off highway on way to North Carolina
- Doreen Guma on Google