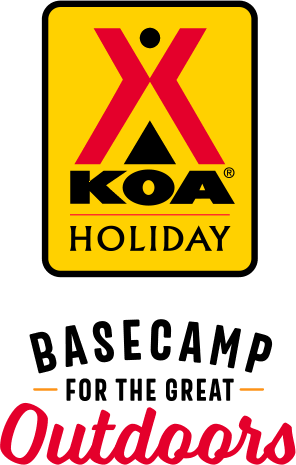 KOA Holiday Campgrounds
Whether you're exploring the local area or hanging out at the campground, KOA Holidays are an ideal place to relax and play. There's plenty to do, with amenities and services to make your stay memorable. Plus, you'll enjoy the outdoor experience with upgraded RV Sites with KOA Patio® and Deluxe Cabins with full baths for camping in comfort. Bring your family, bring your friends, or bring the whole group – there's plenty of ways to stay and explore.
KOA Holidays Feature:
RV Sites with a KOA Patio®
Deluxe Cabins with full baths
Premium Tent Sites
Group meeting facilities
Directions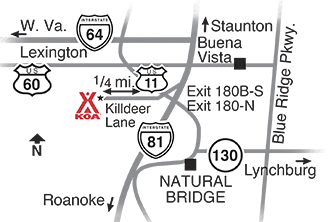 I-81 Southbound Exit 180B. Campground's entrance is right across from the off-ramp just to the left of the gas station.
I-81 Northbound Exit 180. Left on US 11 North and proceed under I-81 for 1/4 mile. Entrance is on left just before the gas station.
GPS: N37.677700, W79.507628
Get Google Directions
Oct 18, 2020
Very helpful getting us into our site. Thankful you were able to fill our request for a pull thru site, with only an hours notice. We flatlanders have a little trouble adjusting to all the hills. And our site was on one level of hill or mt. very skinny site. hard to walk around. But enjoyed the beautiful scenery. Thank you.
Oct 18, 2020
Great campground, easy to get to , awesome staff.
Oct 17, 2020
Enjoyed my stay very much. Interesting layout but as long as you are experienced in handling your equipment it was fine. I will come back in the summer because it should be a great cool spot.
Oct 17, 2020
helpful staff. only bad thing is their internet - it is very spotty and has parental block on it. example: I could not access amazon as it was blocked. Definately use your own hotspot.
Oct 17, 2020
We greatly enjoyed the campground. It is well organized and provides excellent service. We will come stay again.
Oct 17, 2020
Very nice and helpful staff. Would highly recommend.
Oct 16, 2020
The entire site is NOT ready for public use. You should FINISH construction BEFORE opening. Welcome section is DARK.
Oct 16, 2020
Restrooms were clean and large. We had a LOT of foot traffic coming right through our camping site from people staying in the cabins. Regular campers know the courtesy rules but those staying in the cabins might need a "Camping courtesy guide" upon arrival!
Oct 16, 2020
Nice friendly hosts. We only stayed one night on our way to North Carolina but, the camp ground is so nice we will be planning a longer stay in the future.
Oct 16, 2020
The staff was friendly during our stay. We are planningto book again for next year.
Oct 16, 2020
Liked the campground, friendly staff and escort. Loved that this KOA had food, and a nice menu. Would have like to know that from campground info. Definitely would have ordered but we ate on the way in. We were in site 37 and there were bright lights all night long at the building behind our site. Very hard to sleep with lights even with blinds closed.
Oct 16, 2020
beautiful setting, very peaceful
Oct 16, 2020
We always stay at Natural Bridge when traveling north from North Carolina. The campground is always clean, campsites are easy pull-through. Love the easy access off and on 81.
Oct 15, 2020
This is at least our 4th stay at this campground and we really love this place. The only complaint we have from this time is that our site and the site next to ours, where our daughter and her family stayed, turned into mud pits after 2 days of rain. The sites above and below us were fine. Management needs to re-gravel these 2 sites - please!
Oct 15, 2020
A little troublesome with a few people driving too fast
Oct 15, 2020
Awesome park set back in the woods. Nice size spaces. Friendly staff. We plan to revisit this KOA in the future.
Oct 15, 2020
Very nice setting and very friendly at the front desk. . We were only there for one night but it look like a really nice spot to spend a few days.
Oct 15, 2020
This would be a great KOA if the sites were level. It was almost impossible to get level and some vehicles had to have the wheels on one side completely off the ground.
Oct 14, 2020
We love coming to this KOA. The staff is so friendly, the campground is cute, clean and relaxing. The area is beautiful and I already can't wait til next year to go back.
Oct 14, 2020
Friendly and helpful staff. Easy access pull thru site. Nice amenities.
Oct 14, 2020
Nice campsites, the new construction site did not bother us at all!
Oct 14, 2020
Good stop but you need a much larger dog park Please! Our Labs need room to run!
Oct 14, 2020
Fabulous! Was exactly as described and staff was friendly
Oct 14, 2020
Our check-in was smooth and seamless, the site was fantastic. We will definitely be coming back, with friends, for a longer stay
Oct 13, 2020
Had a wonderful time staff was friendly
Oct 13, 2020
We come every year and is always clean and is a great campground
Oct 13, 2020
Staff very nice and helpful, site was large , everything went well I would stay at this koa Again.
Oct 13, 2020
Even in the rain, this was a clean, well run park. We really enjoyed the Halloween weekend.
Oct 13, 2020
We had a great time. Unfortunately it rained the entire time we were there so we could not do a whole lot but we definitely look forward to returning to experience more.
Oct 13, 2020
We booked this site as a stop over for the night. We got in just before dark and were escorted to our site. Escort helped us park our rig. Very helpful. Did not have time to enjoy the RV park as we pulled out first thing in the morning.
Oct 12, 2020
Our group comes every year at this time and we LOVE the KOA in Natural Bridge/Lexington. The customer service is second to none and the campground is clean and easy to navigate.
Oct 12, 2020
Our stay was great as usual. A group of us camp here every October same weekend. With Covid still around our turnout was smaller this year. The bathhouse/restrooms were clean. The weather was horrible due to hurricane delta. Other than that it was camping as usual.
Oct 12, 2020
Staff is extremely friendly and helpful. The campground is beautiful and continuously being maintained. This was our first time there and we already booked our site to come back next year. Family loved it, thank you.
Oct 12, 2020
awesome campground, had a lot of festivities, caramel apples, nature walks, site decorating and even trick or treat for the kids. i will be back next year.
Oct 12, 2020
Convenient location. Staff was very friendly. Sites were spacious, and we LOVED having the grill at our patio site. Only thing I would change would be to have updated playground equipment.
Oct 12, 2020
Checked in after dark , very helpful on getting me in my site ,
Oct 11, 2020
We love this place. Very friendly and we like watching the chickens roam around. Will. E back again.
Oct 11, 2020
We always love to stay at the Natural Bridge KOA. All the staff are ROCK STARS and the owners are awesome! We will be back for sure.�
Oct 11, 2020
Crowded, barely room for the picnic table between csmpsites.
Mar 02, 2021
Nice size sites, accommodating staff.
- L R on Google
Mar 02, 2021
We had a cabin, and we love it. We heard we hear an eagle around.
- Lydia Brown on Google
Feb 26, 2021
Very nice place, great stop right off highway on way to North Carolina
- Doreen Guma on Google