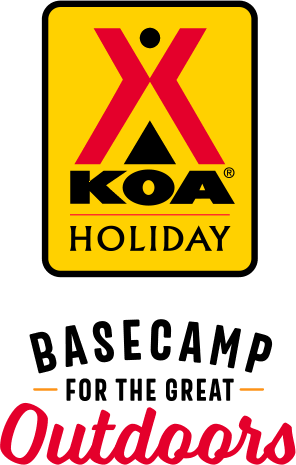 KOA Holiday Campgrounds
Whether you're exploring the local area or hanging out at the campground, KOA Holidays are an ideal place to relax and play. There's plenty to do, with amenities and services to make your stay memorable. Plus, you'll enjoy the outdoor experience with upgraded RV Sites with KOA Patio® and Deluxe Cabins with full baths for camping in comfort. Bring your family, bring your friends, or bring the whole group – there's plenty of ways to stay and explore.
KOA Holidays Feature:
RV Sites with a KOA Patio®
Deluxe Cabins with full baths
Premium Tent Sites
Group meeting facilities
Directions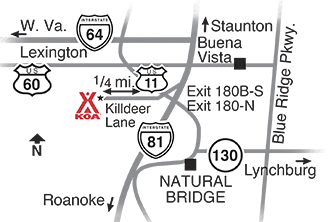 I-81 Southbound Exit 180B. Campground's entrance is right across from the off-ramp just to the left of the gas station.
I-81 Northbound Exit 180. Left on US 11 North and proceed under I-81 for 1/4 mile. Entrance is on left just before the gas station.
GPS: N37.677700, W79.507628
Get Google Directions
Oct 26, 2020
Excellent location for sightseeing, restaurants, interstates. Beautiful grounds and views of mountains. Jake Potter is an asset to your staff..friendly, polite, knowledgeable of the grounds and local area and attractions.
Oct 26, 2020
Great KOA, Like the way each site is at its own level
Oct 26, 2020
It's a lovely campground. We had a Pull Thru Patio Site which was really nice. Convenient to interstate for a one night stay while not wanting to disconnect our Jeep in tow. Office staff was very nice.
Oct 25, 2020
This is our third stay at this particular KOA. The location is beautiful and so quiet. We plan to continue to visit because we like the Natural Bridge area and the peacefulness of this KOA. I haven't had a lot of luck with great KOAs, but this one is a hidden gem.
Oct 25, 2020
Stayed about 10 days. Nice tranquil setting. Clean bathrooms and showers. All employees were pleasant and helpful. Particularly, Carrie helped us find a site when they were full and saved us money with value rewards card. Our new site was bit unlevel which they told us. We were able to make it work by pulling in parallel to road. Chris &Ken helped get us out when we left. Great place-Stay there!!
Oct 24, 2020
Beautiful wooded campground, spacious sites and easy on-off from Interstate 81
Oct 24, 2020
My husband and I stayed here for 4 nights to check-out the area. The sites are laid out nicely with plenty of space. There are chickens that roam the property, one greeted us one morning and we loved it! Our only complaint was the WiFi was extremely slow and spotty. We opted to use our cell phones as hot spots instead. But other than that, it's a great place.
Oct 24, 2020
It was just an over night stay on our way to SC but it was nice.
Oct 24, 2020
We reserved a pull through site with full hookups. Unfortunately no way to hook up sewer without a 30 foot drain which we do not carry. The gentleman that escorted us to our site said they had a dump station. Don't usually pay for full hookups to have to use dump station.
Oct 23, 2020
Great location; great support.
Oct 23, 2020
Great Place, Great People!
Oct 23, 2020
As always, the staff is so friendly. Campground is clean. The new cabins they are installing will be great for people without a camper. Restroom, showers and laundry are clean.
Oct 22, 2020
Nice campground!
Oct 22, 2020
Great location, clean and peaceful campground, friendly staff. Easy in and out. 42 ft MH plus towed. Will be back!
Oct 22, 2020
Ist time rv camper, friendly staff, nice setting and facilities, reasonable store lives, camping fees seem reasonable. Poor wifi
Oct 21, 2020
So very kind and understanding. We arrived tired and frankly out if sorts. The staff smiled , told us our site was reserved for us, and escorted us to our site. Told us the office would be open if we needed anything. So wonderful to be treated so nicely in these times.
Oct 21, 2020
Thank you! Level sites, chickens were fun to watch. Nice store.
Oct 21, 2020
We only stayed for one night but the deluxe site with concrete patio, metal table set, gas grill, and fire pit will have us returning for longer next season!
Oct 21, 2020
We had a wonderful time! We stayed four nights in October 2020 and enjoyed the halloween decorations and trick-or treating with the children of the other guests. It was also great fun figuring out the puzzle on the campsite trail. Would definitely recommend!
Oct 21, 2020
Great place to camp. Good site. Just wish the next door neighbor didn't burn paper in their camp fire. Got ash all over my RV.
Oct 21, 2020
We stayed here overnight. We arrived at 7:00, but there was still someone in the office and a person to direct us to our site. We stayed at this KOA last year and were happy to see the updates that were being done then were completed. (Some new cabins). The campground is close to Route 81 and there is a gas station and convenience store right by the entrance.
Oct 21, 2020
I want to thank the girls at the front desk for working with us to get a site that didn't require us to move every other day!! Excellent customer service!!!
Oct 21, 2020
We got in very late and we were greeted and guided to are site. Very thankful they where available to shows us to the site.
Oct 21, 2020
One of the best KOAs that we have ever been to. We came in October and they had a nature trail decked out for Halloween (but NOT scary - small children would love it). Pool was quite large. New cabins. Our RV spot was perfect. Plenty of room to walk our dog. Workers were super friendly. Lots of fun activities! They have lots of fun things to do and great local attractions!
Oct 21, 2020
Staff was very nice.. We understand that its the fall of the year but felt sites could have been better maintained.. Sites are very close to each other.. Your store needs a little better variety of food.. Your laundry room needs a change machine Enjoyed the chickens Overall pleasant
Oct 20, 2020
Very nice campground. The staff was very accommodating. The sites were very spacious and well groomed. We had a deluxe patio site, which I think was the best site in the campground. This campground was easy on and off from I-81 which is perfect for the snowbird traveler. We were close the the Blue Ridge Parkway and that permitted us to explore 125 miles during our week long stay. We will be back.
Oct 20, 2020
I love this place everything and everybody are awesome will be back next year
Oct 20, 2020
Wonderful trip, the staff and crew were very helpful. Trick or treating by the kids was a precious and unexpected pleasure!
Oct 20, 2020
Beautiful country along with lots of History!!.....Will Return!!
Oct 19, 2020
Very nice clean campground with nice facilities. Staff was also very friendly and helpful,
Oct 19, 2020
We stayed in a premium RV site that included a gass grill that was a nice touch. We stayed in a 40 ft. Fifth wheel
Oct 19, 2020
One-night only, but every thing was neat and there were not any problems
Oct 19, 2020
We have stayed here many times. The staff is very friendly and always accommodating.
Oct 19, 2020
The site was ok, it appears our site was in the older park of the campground. It needs some leveling work, but they provide boards to ensure you can level your camper. There's not much room around your campsite. The newer part of the campground is more spacious and roomy. I wish you could reserve a specific # site and not just a type of site.
Oct 19, 2020
Nice stay. The sites we were on were so level that it made setup so much easier. Definitely a nice play to stay.
Oct 19, 2020
We had a wonderful time! Everything was well taken care of and our dog loved Kamp K-9!
Oct 19, 2020
We always stay here when passing through. Always great staff, great activities, and clean facilities. Look forward to the next trip.
Oct 19, 2020
Awesome family stay, keep up the good work!
Oct 18, 2020
Great location. Facilities are well maintained. Staff is knowledgeable and professional.
Oct 18, 2020
We had a wonderful stay!!
Mar 02, 2021
Nice size sites, accommodating staff.
- L R on Google
Mar 02, 2021
We had a cabin, and we love it. We heard we hear an eagle around.
- Lydia Brown on Google
Feb 26, 2021
Very nice place, great stop right off highway on way to North Carolina
- Doreen Guma on Google