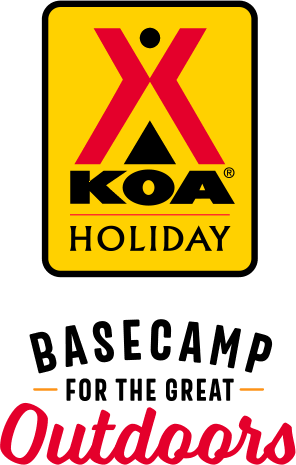 KOA Holiday Campgrounds
Whether you're exploring the local area or hanging out at the campground, KOA Holidays are an ideal place to relax and play. There's plenty to do, with amenities and services to make your stay memorable. Plus, you'll enjoy the outdoor experience with upgraded RV Sites with KOA Patio® and Deluxe Cabins with full baths for camping in comfort. Bring your family, bring your friends, or bring the whole group – there's plenty of ways to stay and explore.
KOA Holidays Feature:
RV Sites with a KOA Patio®
Deluxe Cabins with full baths
Premium Tent Sites
Group meeting facilities
Directions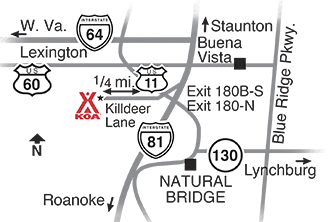 I-81 Southbound Exit 180B. Campground's entrance is right across from the off-ramp just to the left of the gas station.
I-81 Northbound Exit 180. Left on US 11 North and proceed under I-81 for 1/4 mile. Entrance is on left just before the gas station.
GPS: N37.677700, W79.507628
Get Google Directions
Nov 06, 2020
Great place to stay , close by to Rt 77 , great on and off ramps. Stayed there in March on way to Maine . Fred
Nov 05, 2020
The staff was friendly and helpful plus it is a beautiful campground
Nov 05, 2020
We have stayed here several times as an overnight. It is convenient to I-81 but very quiet. This time we drove to Lexington for dinner. Next time we will stay longer and visit. Lots to see.
Nov 04, 2020
Park was clean, kids had fun, good central location to the surrounding activities, easy access to Lexington etc.
Nov 04, 2020
Campgrounds neat and clean. Maintenance crew helps to keep place looking in shape, even after the fall of the leaves. No paper towels in Men's room (outpost not the ones adjacent to office) Sunday or Monday night.
Nov 04, 2020
Staff was very friendly and helpful and got us a new camp site that would accept my Motorhome and Toad without unhooking. Small store had everything (supplies) that we needed plus a propane fill up. The campground was very clean, with easy access from I 81. This is the 3rd time we have staid there and would again when i'm in the area. Thank You, Ed
Nov 03, 2020
Great time. Very friendly staff.
Nov 03, 2020
Great staff! Great Halloween weekend! Best cable of any campground we've stayed at! Probably the worst Wi-Fi. Great job on the Halloween trail. Very enjoyable Halloween weekend!
Nov 03, 2020
We had a great time and we are looking forward to returning.
Nov 03, 2020
office help was great - outside help was great - showers very clean - everything else was great - we will come back
Nov 03, 2020
A beautiful wooded setting with easy access from the Interstate. Always clean and quiet.
Nov 03, 2020
Jammed in so tight, our fire ring and picnic table were behind the RV (directly next to the other camp site's amenities), in a distinctly unlevel site designed specifically for fifth-wheels (we're 35' class-a) with the sewer hookup behind the RV and the electric toward the front forcing us to use an extension for one or the the other. We will not return to this Campground -Natural Bridge is fun!
CAMPGROUND RESPONSE / COMMENTS:
You made an internet reservation the day of your arrival for a 32' motorhome not towing anything for a site without sewer. When you showed up in a 35' motorhome towing a vehicle the office needed to scramble to find something that was long enough to fit your bigger rig towing a car.
Nov 02, 2020
Always clean. Always feels like family there. Did I mention always clean?
Nov 02, 2020
It was nice, the Halloween activities were fun, enjoyed them a lot.
Nov 02, 2020
We had a wonderful halloween weekend.
Nov 02, 2020
Outstanding and responsive staff. Clean and accessible facilities. Thoroughly enjoyed our stay.
Nov 02, 2020
We arrived late due to equipment issues at our earlier camp site. They stayed open and waited for us to arrive. Guiding us to our site with a flashlight. Even called us earlier in the day to check on our progress. Too bad that we were only there for one night. We wish we could have stayed longer but were on a schedule. We would stop again.
Nov 01, 2020
Beautiful setting , friendly and helpful staff, proximity to state park and national forest were great. Clean showers and laundry. Premium patio site was amazing.
Nov 01, 2020
Nice campground ambience and friendly staff. Prices of items in the camp store were competitive with local grocery stores - appreciated that they were not price gouging. We had stayed in another well-known brand campground in the area on previous trips, but we will definitely return to KOA next time!
Nov 01, 2020
Liked the site's. Thanks
Nov 01, 2020
Arrive after closing and after dark in the rain. A nice young man still led us to our site which was a blessing!
Oct 31, 2020
We always stop here on our travels when headed west or returning home. Very friendly, accommodating, and well maintained!
Oct 31, 2020
peaceful, quiet, relaxing. Outstanding staff!
Oct 31, 2020
It was a one night and every one was good This was our stop when we travel south on I81 and on our return north
Oct 31, 2020
Pleased, perfect. The staff is the best.
Oct 30, 2020
Friendly staff. Nice level site.
Oct 30, 2020
we always stay at this KOA going south but this time we came with friends and stayed for 5 days. One of our friends ended up in a different part of the park which made it a little hard for them sharing meals etc. I cannot thank the staff especially Kerri who helped find a spot right next to us! It made the last several days of our stay that much more enjoyable. Thank you so much!
Oct 30, 2020
The campground was quiet and clean. I loved all the trees and that it was established, not just a field to park my camper in. The people working there were super helpful and friendly. Already planning my return trip!
Oct 30, 2020
For a quick one-night stay, it was perfect. For a longer stay, you'd probably want a campground further away from the interstate which can be heard very clearly. Late check-in was a breeze. Men's room and showers were spotless and odor-free.
Oct 29, 2020
Everyone was very nice. Site was great, deluxe with patio! We've stayed there before on our way south. It's very convenient to Route 81. Easy on/off.
Oct 29, 2020
Loved the space we had for our rv also very neat and clean campground employees very helpful we will come again
Oct 29, 2020
Easy in and out, awesome staff!
Oct 29, 2020
very helpful convenient location
Oct 29, 2020
Overnight stay, easy access from the interstate. Friendly staff, clean facilities . We would stay again ��
Oct 29, 2020
Just stayed overnight but was pleasantly surprised with wifi and cable hook up
Nov 17, 2020
It was great other then the chickens trying to steal meat of the fireplace.
- Joshua Lindsay on Google
Oct 08, 2020
The sites are small but the staff is overwhelmingly wonderful!!! We had issues with our hydraulic stabilizers...they sent someone right away to help...the issue was'nt fixed...but they tried... It's a little too busy for my taste...but it seems that's what camping is like now!!!
- Eileen Dyer on Google
Sep 07, 2020
People are always friendly and helpful. Love the location
- Valerie Belisle on Google