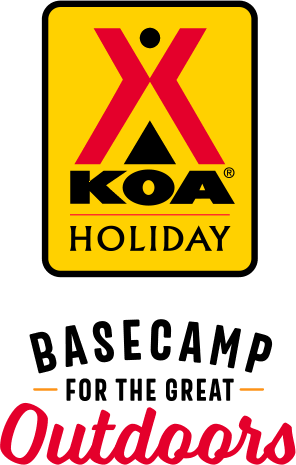 KOA Holiday Campgrounds
Whether you're exploring the local area or hanging out at the campground, KOA Holidays are an ideal place to relax and play. There's plenty to do, with amenities and services to make your stay memorable. Plus, you'll enjoy the outdoor experience with upgraded RV Sites with KOA Patio® and Deluxe Cabins with full baths for camping in comfort. Bring your family, bring your friends, or bring the whole group – there's plenty of ways to stay and explore.
KOA Holidays Feature:
RV Sites with a KOA Patio®
Deluxe Cabins with full baths
Premium Tent Sites
Group meeting facilities
Directions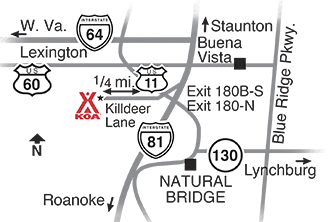 I-81 Southbound Exit 180B. Campground's entrance is right across from the off-ramp just to the left of the gas station.
I-81 Northbound Exit 180. Left on US 11 North and proceed under I-81 for 1/4 mile. Entrance is on left just before the gas station.
GPS: N37.677700, W79.507628
Get Google Directions
Nov 22, 2020
Friendly helpful staff, the sites a very close but well maintained and organized. Would highly recommend them.
Nov 21, 2020
Sites were spacious, clean and fairly new. Campground wasn't too big, very friendly staff, dog park and playground, a great brewery right around the corner and close to lots of attractions
Nov 19, 2020
This park was very well maintained by the owners/crew. We felt comfortable and enjoyed our stay.
Nov 18, 2020
Staff was great, convenient location and easy on/off from Rte. 81, sites are snug for big rigs towing.
Nov 18, 2020
Nice level spot we just stayed overnight.
Nov 17, 2020
We had an amazing time and with everything thats been going on with covid I think everyone at the campground including the campers did wonderful for a great Halloween get together the kids had a blast
Nov 17, 2020
I loved the amount of room in our site, but it was all gravel. I felt like we were parked in an old parking lot. The rest of the park looked nice...trees, bigger sites than most koas, nice cabins... but probably wouldn't stay again if it were in the same area.
Nov 17, 2020
It's a very nice, small campground - I'd like to see the sites just slightly larger or for them to have more screening in between - I don't expect them to be huge but a little privacy would be great - Our neighbors were super nice people but if they weren't, it could've definitely negatively impacted our stay - That being said, the setting is fantastic and so close to Route 81 without being noisy
Nov 17, 2020
Friendly staff, nice clean sites, easy to get into and out of the park.
Nov 16, 2020
This is one of the nicest KOAs ever! It's a wonderful family run gem! A clean, organized and overall lovely place to stay!
Nov 16, 2020
Very professional staff, campground is clean and in good condition. Plenty to do in the area.
Nov 16, 2020
We stopped for an overnight on the way home from Florida. Great service and atmosphere.
Nov 15, 2020
We had a great time, only complaints were that we had no internet, and flooded a bit when it rained so hard, but otherwise we had a great time and will be backQ
Nov 14, 2020
Perfect! Easy on/off from 81 Very efficient operation!
Nov 12, 2020
We stayed 2 nights. Very well maintained. Plenty of room for our big rig. Lovely walking areas. They have cute cabins. 4 are brand new. We love the energy of this one. Definitely will be back! Plenty to do in the area. While socially distancing!
Nov 12, 2020
Loved the escort!�
Nov 12, 2020
Arrived after it was dark, but the office was still open and we were escorted to our campsite which may have tricky to find on our own. The campground is very, very hilly however our pull through campsite was totally level and we didn't need to detach our 5th wheel. It was pouring rain in the morning, but we have dogs so I had to walk them. The campground is beautiful.
Nov 11, 2020
Sites are nice, area was quiet, bathrooms are spotless. Only stayed overnight on way South but would stay again!
Nov 11, 2020
Both time we stayed were great. Very nice campground. Clean and well maintained
Nov 11, 2020
Conveniently located 4 miles from Natural Bridge State Park. Incase it's helpful - the state park is RV/bus parking friendly. Even with our tow!
Nov 10, 2020
The campground was very clean and well maintained. We will definitely be back and if this is typical of most all KOAs, we will definitely try others.
Nov 10, 2020
It was a lovely park and very convenient to plenty of activities. We were greeted at check-in outdoors by friendly staff. I appreciated not having to get out of my vehicle or having to go inside. We found the site to be quite level and in a great location. Set up was easy and the site was laid out very nicely. The campground is relatively small with a variety of site types for all types of campers
Nov 10, 2020
Nice campground, very easy access right off the exit of I-81. Sites were clean and level, which is a big plus since the terrain was anything but level. Very close to Natural Bridge for sightseeing. Only disappointment was WIFI was spotty at my site. Being a full timer I like to keep up to date and I couldn't. I don't need it for movie and streaming but I need to be able to stay connected.
Nov 10, 2020
We loved our spot (#61) and the site was clean and quiet. A little taken back that we would be charged $10 to delay our checkout by a couple hours. I've never experienced that at a campground. This was our first KOA, though so maybe they are all that way. The campground cat that hung out was very pleasant and the store was very well stocked.
Nov 10, 2020
This is one of my favorite KOAs to date. The way the sites are tiered makes your stay nice. Everyone very helpful a d friendly. Will be back!
Nov 09, 2020
Very nice facility!
Nov 09, 2020
Nice campsite and a good value for what we paid. Very convenient to get to and friendly staff.
Nov 09, 2020
Great campground with clean sites and very clean hookups. Love the area, they really take the time to make your stay enjoyable. We will return for sure!
Nov 09, 2020
This is an above average KOA in terms of the site, lots of trees, diversity of the terrain, but way to cramped. My next door neighbors fire pit was less than feet from my trailer. Too many campers and people.
Nov 09, 2020
Beautiful long field to walk your dogs through, though on a leash it seems like it goes on forever. Staff is courteous and the campground is clean and obviously taken well care of. Location can't be better!
Nov 09, 2020
Very well maintained camp ground, friendly staff and many attractions in the area.
Nov 09, 2020
Fair amount of highway noise with the leaves off the trees. Otherwise a nice place.
Nov 09, 2020
Great campsite, bath house was clean, warm and just very nice . Our only negative was our neighbor who had three dogs and liked to bark at 5:30 am
Nov 09, 2020
I really appreciated the staff and their friendliness but please don't tell people you have internet when it is not available 90% of the time. Otherwise great stay and beautiful walking trails!
Nov 09, 2020
WiFi did not work.
Nov 09, 2020
Only a 4 star because of the lack of internet access and many sites without cable. Service,location & site were great. The store was fully stocked and had everything you needed. The bathhouses were spotless. For a weekend you will have everything you need. TV and internet will be needed on a rainy day or if you are working from home and want to go camping but still do some work.
CAMPGROUND RESPONSE / COMMENTS:
We have 48 channels of cable at every RV site and all of the cabins. Internet is difficult due to our rural location and the fact that high speed internet is not available to us. We do what we can with what we have.As always,if internet is a must for you,you will want to have your own reliable plan.
Nov 08, 2020
Good location. Woods around campground are nice. Terraced sites are on top of each other. They performing construction all day. They should have notified campers of the noise.
Nov 08, 2020
Stayed one night very easy to get into. Staff was very nice. I would stop here again. Wifi was weak.
Nov 07, 2020
Very nice and clean campsite.
Nov 07, 2020
We stay here every time we travel to DC area. Easy in and out. Great staff
Nov 07, 2020
We had a nice stay and once all the building, excavating and tree work as completed a stay there would be much more relaxing with way less noise. The Jones's
Nov 06, 2020
Stayed overnight on our way down south. Very convenient to I-81 and even have a Gas station and mart at entrance of the KOA. Came in after dark and someone escorted us to our site which was great. Staff was very nice. Would definitely stay here again.
Nov 17, 2020
It was great other then the chickens trying to steal meat of the fireplace.
- Joshua Lindsay on Google
Oct 08, 2020
The sites are small but the staff is overwhelmingly wonderful!!! We had issues with our hydraulic stabilizers...they sent someone right away to help...the issue was'nt fixed...but they tried... It's a little too busy for my taste...but it seems that's what camping is like now!!!
- Eileen Dyer on Google
Sep 07, 2020
People are always friendly and helpful. Love the location
- Valerie Belisle on Google