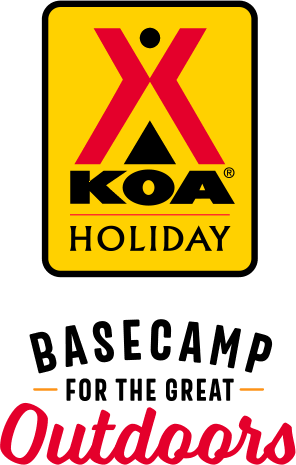 KOA Holiday Campgrounds
Whether you're exploring the local area or hanging out at the campground, KOA Holidays are an ideal place to relax and play. There's plenty to do, with amenities and services to make your stay memorable. Plus, you'll enjoy the outdoor experience with upgraded RV Sites with KOA Patio® and Deluxe Cabins with full baths for camping in comfort. Bring your family, bring your friends, or bring the whole group – there's plenty of ways to stay and explore.
KOA Holidays Feature:
RV Sites with a KOA Patio®
Deluxe Cabins with full baths
Premium Tent Sites
Group meeting facilities
Directions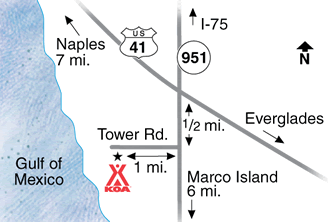 From I-75: Take Exit 101 and go south about 7 miles on 951 (Collier Blvd). Cross US 41, go through the first traffic light and take the next right on Tower Road at the Rookery Bay Reserve. Go to the end of Tower Road and turn left into the campground.
Get Google Directions
Oct 10, 2021
Very helpful and friendly staff with very clean facilities. Thank you KOA staff! A. Self.
Aug 01, 2021
Quick checking in. Super friendly and helpful staff. Everything was as described. Clean, cozy and private space lots of storage space. ���
Jul 26, 2021
My stay was awesome and Debra is very accommodating she answer all my question prior to my arrival, location is just minutes on 2 of the top beaches.
Jul 20, 2021
GREAT PEOPLE / GREAT STAY!
Jul 06, 2021
It was more than wonderful. I especially appreciate the phone call telling me about how bad the mosquitos were! THANK YOU SO MUCH! The site was clean, you can fish, jet ski, boat ramp, rent kayaks, check in was glorious. Laundry facility was beautiful, clean, A/C. Wifi was good. Walmart and eating facilities very near by. I loved the stay but will return when the mosquitos are at bay.
May 03, 2021
Everything was great. Bathrooms were always clean and the campground was beautiful.
Apr 27, 2021
We stayed at a premium tent site. Our site very limited afternoon shade, the one next to us was full sun all the time. Fortunately, we had a beach umbrella and our neighbors were creative with tarp hanging! The KOA is very clean, the staff friendly and attentive. The pool and jacuzzi were great. It is the perfect location for a base camp to the local state/ national parks and wildlife preserves.
Apr 26, 2021
The best part is that everyone is friendly and helpful. The place is clean and well managed. Thank you!
Apr 19, 2021
Enjoyed the camping site. very relaxing weekend.
Apr 12, 2021
The no cee-ums were horrible. The camp ground was very nice, clean, and with a very staff. But we checked out early and we cannot recommend This KOA because of the bugs...sorry...
Apr 12, 2021
New to camping and not sure what to expect at a KOA but Eddie was friendly and helpful as soon as I pulled in and the 4 unisex bathroom/shower units were clean and had hot water. Nice boat ramp and kayak launch. I enjoyed my elevated tent campsite.
Apr 11, 2021
Welcoming staff, extremely clean raised platform tent site. Regular cleaning and maintenance by caring staff evident in the bathrooms, boat ramp, and general facility. Staff was initially responsive to complaint about a noisy neighbor after hours, though there was no followup and the party continued a few minutes later. Office compensated us for our loss of sleep the next morning.
Apr 09, 2021
We loved the premium campsite. Pool was great. Everything was clean and well maintained. Staff is very friendly ... can't wait to come back
Apr 05, 2021
Had a nice relaxing time camping out my tent.
Apr 04, 2021
Staff was awesome, very friendly and welcoming, bathrooms spotless, overall property was well managed, my issue was with the overall camping experience; site was very exposed to sun, for the price, shade should be provided , very few activities and things to do around campsite, must bring canoes or kayaks, but overall experience was good
Mar 24, 2021
El personal muy agradable pero el precio para un espacio donde no tenía energía no fue lo k yo esperaba por el precio$$
Mar 23, 2021
Staff is great! Tent sites are comfortable and convenient to have the storage. Loved the easy access to the water to kayak. Good amount of on site activities. Kids loved the pool. Good location for adventuring the local area.
Mar 20, 2021
Les installations sanitaire mal entretenue. Le terrain lui est parfait.
Mar 16, 2021
People, including employees, were all very nice. Bathrooms were spread far out. The dog park was just a fence. There were only 2 horseshoes. We came back with lots of bugs. Standing water by tents probably to blame.
Mar 15, 2021
We had a great time and especially loved that you would deliver ice or firewood to the camp- very convenient. .
Mar 12, 2021
My niece suffered an accident and needed to be hospitalized. The staff and management stepped up and provided me with access to my original site for 6 more days. Huge kudos to Eddie and his staff. I don't have enough room to say all that I want and need to say. GOD BLESS YOU ALL, from the bottom of our hearts.
Mar 02, 2021
The place It's located next to the nice water canal. They have a big problem with bathroom and restrooms. It was not enough some of them they were locked.They were located in the trailer. I felt claustrophobic going to such a small place remind me of train Bathrooms. I can't believe such a big place has only six bathrooms. Showers were very uncomfortable, no water pressure totally ridiculou
Feb 21, 2021
We stayed five days. Friendly, helpful staff who put on activities, like music, bingo, dancing etc. Pool is open 24 hours.This KOA is well maintained and offers special decks for tent camping, which includes cooking counter, shelves, table and chairs (just ask for little hooks to keep tent poles in place). We can't speak highly enough about our neighbors in the campground. We didn't want to le
Feb 18, 2021
Our site was next to the dumpsters : / work area. Noisy and sort of ugly for $70 a night. Campground is a very good location. Everybody friendly.
Jan 27, 2021
The deck site was really nice. The staff was very attentive and friendly. The location was close to a lot of major stores like Walmart, etc. Overall, we really enjoyed our stay. Thank you.
Jan 11, 2021
Absolutely loved everything about my stay at Naples KOA
Jan 02, 2021
Bathrooms were ridiculous Temporary bathrooms in a trailer doors didn't lock floor always wet extremely tiny!!!! Could not even set any thing down No hooksd or shelves up keep things off wet floors We left early not what we paid for! Campsite ground sites we booked all 3 was extremely wet could only put a tent on concrete not what we paid for! Staff offered to split us up not what we pai
Dec 28, 2020
Loved everything about my stay at KOA
Dec 02, 2020
AMAZING VACATION !!! The campground was clean and quiet. The restrooms were among the best anywhere in a campground.
Aug 24, 2020
Loved our stay! It was a great atmosphere and everyone was very friendly! Only bad part was the no sees seemed to love to chomp on me and not my husband haha. We will definitely be returning for another visit. Thank you for the hospitality it made our stay amazing
Aug 17, 2020
Great facilities and employees onsite! We loved our stay and plan on going back! Thank you!
Aug 04, 2020
Extremely friendly and helpful staff. Very clean facilities. My kid and I loved this place. Will definitely be back.
May 25, 2020
Great, except weather & bugs.
May 19, 2020
Had an AWESOME weekend! Camping on the deluxe, raised site! Great with electric and water! Loved the set up with storage and counter! Perfect for cooking and relaxing! Nice table also at site and fire pit! Brought our jet ski along, AWESOME waterways to jet ski in! Bonus saw lots of dolphins and manatees! Will definitely be back �
Mar 12, 2020
Very nice clean comfortable, receptionist is very warm kind and helpful, definitely will stay again if there is chance to come back
Mar 11, 2020
It was only a day and a half but the facility was great. First time with a platform tent site. We really liked that. No stones under the floor of the tent and a great place to fix our meals. Also good storage
Feb 21, 2020
Nice close to food and shopping.
Feb 18, 2020
It was great, the facilities were very clean, all the staff were extremely helpful. I just found it super quiet for a family with 3 kids, as there were many older couples that either live there or stay long term. If I were to return I would definitely try to reserve the cabins or tent areas by the boat ramp, seems a little more kid friendly and active over on that end.
Feb 15, 2020
Space was quiet and comfortably spacious! Mosquito-problem is most considerable!
Feb 15, 2020
Very nice area. Food and shopping services are close by.
Feb 11, 2020
Everyone was very nice and helpful.
Oct 09, 2021
We spent 5 nights at this lovely park. Quiet rural setting, but close to everything! The staff was amazing. Friendly & always helpful. Immaculate laundry and restroom/shower facilities! Would definitely recommend this KOA 🌞
- Anne Badarak on Google
Sep 22, 2021
Can't say it enough this place was perfect in everyway, bring bug repellent in all forms though spray n candle for the porch was just fire wood delivered to it spot each spot had a fire pit, wildlife everywhere, hot tub, pool, kayaks, fishing holes, close by Naples pier had dolphins everywhere totally freaking awesome the deluxe cabins were you cute I will be back. Gift shop to die for it's a cute.
- Karma Star on Google
Sep 07, 2021
Friendly professional staff, come prepared for the bugs if you are near the creek.
- Rob Barroso on Google