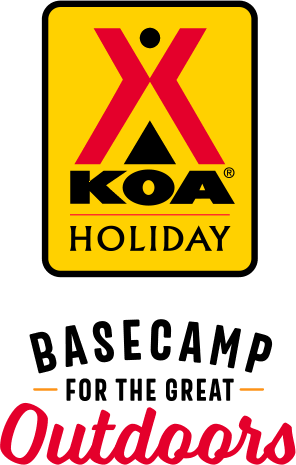 KOA Holiday Campgrounds
Whether you're exploring the local area or hanging out at the campground, KOA Holidays are an ideal place to relax and play. There's plenty to do, with amenities and services to make your stay memorable. Plus, you'll enjoy the outdoor experience with upgraded RV Sites with KOA Patio® and Deluxe Cabins with full baths for camping in comfort. Bring your family, bring your friends, or bring the whole group – there's plenty of ways to stay and explore.
KOA Holidays Feature:
RV Sites with a KOA Patio®
Deluxe Cabins with full baths
Premium Tent Sites
Group meeting facilities
Directions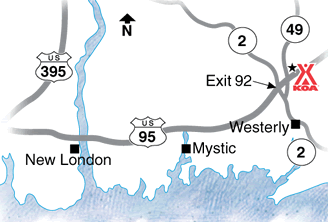 From S/W: Take I-95 N to Exit 92. At bottom of exit ramp, take a left at light onto 2. Go under overpass, take an immediate right at light. Take frontage road to 49. Take a left at light onto 49. Go 1 block to KOA on right.
From N/E: Take I-95 S to Exit 92. At bottom of exit ramp, take a right at light onto 49. Go 1 block to KOA on right.
Get Google Directions
Sep 22, 2021
Reserved one of the patio pull thru sites but was unable to enjoy it because of the hornet/bee infestation. The weather was so nice - making it very disappointing . Perhaps another time of year?
Sep 22, 2021
Everything was great. The only complaints are that the door to the bathroom didn't fully close and then front door to our cabin didn't seal. The gaps let tons of bugs in, but I imagine mice would love it in the winter. We reported it upon departure and they assured us maintenance would take a look. The staff is wonderful and friendly and the site was clean!
Sep 22, 2021
Beautiful campground and we love staying here however: sites are horribly unlevel! We had to move our coach because of not being able to level and also watched others having to move due to same issue!
Sep 22, 2021
We got there just at 5:00. I had forgotten to inform about our discount. They opened up the computer for us. Although it wouldn't take the code, they noticed that my bust was ex-military and gave us that discount. They couldn't have been nicer.
Sep 21, 2021
Our first visit was great! This 2nd visit not so great. Unfortunately we were next to a site that appeared to be dumping something from their trailer into the grass creating a disgusting looking cesspool towards the back of the site. There was broken glass around the picnic table and firepit.
Sep 21, 2021
Great stay, staff was helpful,campground was spotless.
Sep 20, 2021
Staff very helpful. Campground clean and well kept. Bathrooms clean but need updating. More shade/trees needed at more sites.
Sep 20, 2021
Great stay! Road noise was not that bad, we were in safari area. Staff was pleasant and ready to help. We had an amazing stay! Now the not so great. Could use some sprucing up. Playgrounds, rec areas, pool areas . Doesn't affect function but not so pretty. We will def be back no question ! Cabins are amazing, they have everything you need and very clean patios are great,maybe add some trees???
Sep 20, 2021
Campground is located right near the Highway. Some sites are very load at night
Sep 20, 2021
Everyone is very helpful and curious Its a relaxing time there
Sep 20, 2021
Wonderful stay. Staff is very friendly and helpful. Bathrooms and showers are updated and very clean. Lots of activities for children and adults.
Sep 20, 2021
We went tent camping. Pros: a lot to keep you and kids busy. Playground, long slides on a hill, fishing, pool, game room all great along with the usual camp stuff to keep busy.cons: the tent sites are on the side of the property that i95 is on. that's ALL you hear ALL NIGHT AND ALL DAY LONG.Sites are practically on top of each other.You do not feel secluded or have any privacy!
Sep 20, 2021
Traveling thru the area and lucked into Mystic KOA. Very nice! Thank you!
Sep 19, 2021
We had a lovely pull thru that overlooked the pool area. The pool was super clean as well as the campground. We were having trouble hooking up cable and KOA sent a staff member to test that our cable hook up was live - which it was. It was our camper that was labeled incorrectly and we got cable to work by plugging in the cable to the receiver that was labeled by the manufacturer as satellite.
Sep 19, 2021
Only 1 of the employees looked like she wanted to be there, not a smile on any other face. Our site was littered with garbage and kids toys. Signs up that they were doing updates but I didn't see any except Halloween decorations. Also be aware they don't mask in the store.
Sep 19, 2021
Contrary to most KOA's we have stayed at, in this campground we were packed in like sardines. If we had put our awnings out they would have almost been over the neighbors slide out.
Sep 18, 2021
First time in area - good location and facilities - hope to come back
Sep 17, 2021
We stayed at site D5 we really liked that site we will be back there next time we are back in CT
Sep 17, 2021
Enjoyed the stay. Nice campground.
Sep 17, 2021
We love this KOA!
Sep 16, 2021
Camp grounds need a lot of TLC! Not attractive at all.
Sep 16, 2021
Campground was well maintained. Staff were very friendly. Not sure why people in adjacent site were allowed to have a tent on their site when your rules state tents are not permitted on rv sites. Made it difficult to hitch up our 5th wheel when we were leaving.
Sep 16, 2021
Campground was clean; most of the staff friendly. prices at camp store we're to high; rules not enforced aka: speed limit, quiet time, campfires left unattended and burning. We had good neighbors on each side of us
Sep 15, 2021
My stay was perfect, as always. Staff and fellow campers were all so happy this past week! My cabin was sparkling clean, had all the amenities. I love getting texts about the activities going on at the campground when I am there. Thanks Mystic KOA!
Sep 15, 2021
It was wonderful! However, there was a major bee problem. We tried to use the bee trap that we purchased at the story, which did collect 30+ bees over the course of 24 hours, but there were still so many flying around.
Sep 15, 2021
The staff was so super friendly! Grounds were great Price was amazing for such a nice Delixe Cabin The firepit was great Porch was awesome Cabin was incredibly clean!! Gift shop was filled with great stuff!! Loved it!
Sep 14, 2021
Everything was amazing thank you so much
Sep 14, 2021
Staff was very friendly. Interior roads and sites need leveling.
Sep 14, 2021
Bathrooms by cabins need cleaning more frequently and updating.
Sep 14, 2021
My family and I really enjoyed our stay. And the staff were excellent! The visitors there were very friendly and polite as well:)
Sep 13, 2021
Allways great time. I frequent often. One of my favorite koa's
Sep 13, 2021
This was our first time! We'll definitely be back next year!!!
Sep 13, 2021
Mystic KOA was fabulous! My family had the best time. We look forward to returning next year!
Oct 19, 2021
great place to camp.
- Fred Harrison on Google
Oct 17, 2021
This KOA campground IS VERY nice!! Employees are all VERY nice and go above & beyond for you like there is NO issue!! We have visited this campground 3 times this year and have already booked for next year!!
- Tracie Barden on Google
Oct 10, 2021
Things were down for the season and Covid. Had this not been the case, this place would have been a fabulous campground with kids!!
- Neal Allen on Google