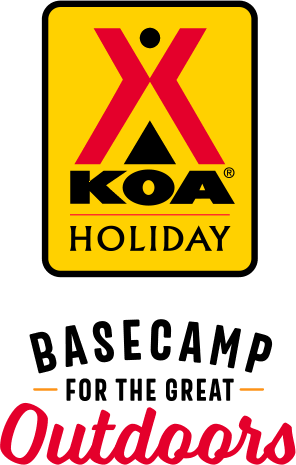 KOA Holiday Campgrounds
Whether you're exploring the local area or hanging out at the campground, KOA Holidays are an ideal place to relax and play. There's plenty to do, with amenities and services to make your stay memorable. Plus, you'll enjoy the outdoor experience with upgraded RV Sites with KOA Patio® and Deluxe Cabins with full baths for camping in comfort. Bring your family, bring your friends, or bring the whole group – there's plenty of ways to stay and explore.
KOA Holidays Feature:
RV Sites with a KOA Patio®
Deluxe Cabins with full baths
Premium Tent Sites
Group meeting facilities
Directions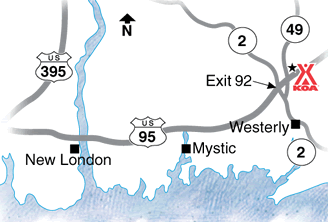 From S/W: Take I-95 N to Exit 92. At bottom of exit ramp, take a left at light onto 2. Go under overpass, take an immediate right at light. Take frontage road to 49. Take a left at light onto 49. Go 1 block to KOA on right.
From N/E: Take I-95 S to Exit 92. At bottom of exit ramp, take a right at light onto 49. Go 1 block to KOA on right.
Get Google Directions
Oct 03, 2021
Great place to stay.
Oct 02, 2021
Had a great stay. It was close to our dealership, where we had our RV inspected for warranty purposes. Very close to many activities within Rhode Island and Connecticut shoreline. Many great food places to eat in the area, and an awesome food truck on premises. Great staff operating this KOA also. Would recommend a stay there to anyone.
Oct 02, 2021
Staff was terrific and efficient with check in, sites were great, and location lovely.
Oct 02, 2021
I loved my stay there!!! It was a pleasure to be on the campsite, playing games and meeting very nice and sincere people. I plan on going again and again.
Oct 01, 2021
They are amazing and so warm and welcoming The campground is beautiful and kept up well
Sep 30, 2021
Overall excellent. Great people who are very helpful. Also really fun vibe at the campground. WIFI can be improved. As an IT guy I know outdoor networking is difficult. Keep working on it though, it's important if a person has responsibilities to stay on top of.
Sep 30, 2021
Nice. Clean. Need new shower curtains.
Sep 30, 2021
We only stayed for one night. The cabin was clean and comfortable. Everything we needed was provided. The cabins are very close to one another, that's the only thing I wish were different, and I would have given it 5 stars if that had been the case.
Sep 29, 2021
Nice place. Terrible WiFi. I liked and chose KOA because wifi has alwAys been great and streaming or zoom mire than adequate. This KOA not like that at all. Disappointed. Otherwise, very nice.
Sep 29, 2021
Great people
Sep 29, 2021
We loved Mystic KOA! It was probably one of our favorite trips this summer. We loved being so close to the beaches, Aquarium, Mystic Seaport and also have all the amenities right here onsite. (Pools, golf, playgrounds etc) Its so pretty. We reserved our site for next summer and plan to bring the grandkids. We also enjoyed the Hard Times Food and Pub Bus! Only disappointment was the Wifi.
Sep 29, 2021
Short stay but a very nice KOA, thank you!!
Sep 29, 2021
dirty bathrooms, no security, no staff on grounds after 5 PM
Sep 29, 2021
The deluxe camping cabin was awesome. The campground was well marked...easy to find our campsite/cabin. Friendly, helpful staff. Nice store. Definitely on our list for a return visit.
Sep 28, 2021
Stayed in a deluxe cabin. Clean, roomy, comfortable, and very clean. The team does a great job at upkeep and maintaining the large property.
Sep 28, 2021
Loved this campground! Restrooms clean and well maintained, roomy site, and very friendly staff. Will definitely be back!
Sep 28, 2021
Nice, clean campground,,,Convenient to most everything.
Sep 28, 2021
Very peaceful, clean. Would stay there again!
Sep 28, 2021
We stayed in a tent site, 2 adults. It was very clean, and spacious. The bathrooms were clean and well lit at night. The pools and the pool area were clean. I liked that they were open even after Labor Day. We received a text letting us know of upcoming events and telling us that the Pub Truck was open! We looked at the cabins and are looking forward to staying in one next time.
Sep 28, 2021
Everyone was so welcoming. The campground itself was beautiful. The store was well stocked. Loved the Pub bus. The bathrooms were immaculate. We will be back!
Sep 27, 2021
It was quick but good. Trees need to be trimmed bad if you have a camper 13-3 high. I had a pull through site but had to back out of the due to trees
Sep 27, 2021
Nice campground. Friendly staff. Convenient to areas that we had planned to visit
Sep 27, 2021
We had a great time. There is a lot for kids to do and the cabins are rustic but have everything you need. We will definitely be back!
Sep 27, 2021
Always wonderful….for the last 15 years
Sep 27, 2021
Very friendly staff. Safe campground for walking. Fun activities for the family
Sep 27, 2021
Besutiful campground, very well kept. Second time here and will definitely be back
Sep 27, 2021
Aside from the rain which is no reflection on the campground, everything was great. Friendly and helpful staff, quality campsites and amenities made for an enjoyable stay.
Sep 26, 2021
Beautiful park - well maintained with many family amenities. Our assigned site was very unlevel (deep holes in the gravel) which made setting up very challenging. A huge storm was forecast for the next day and we were concerned about further erosion under the rig. Despite a full park (a huge caravan group came in) they were able to fit us into another site - a move we truly appreciated.
Sep 25, 2021
Great campground always clean everyone associated with the campground very friendly. Can't wait to come back.
Sep 24, 2021
Beautiful campground, very friendly staff with lots of amenities. Be aware that they have a big wasp problem here. We couldn't sit/eat outside at all without being swarmed by wasps. Would have highly recommended otherwise.
Sep 24, 2021
Nice campground in a beautiful area. Close to beaches and Mystic. We didn't use facilities really but the campground was very tidy. Nicely decorated for Halloween.
Sep 24, 2021
Site was quite unlevel front to back, been there many times over 30 plus years. Worst site we've had. Staff were great.
Sep 24, 2021
It is a nice campground but a little pricey for the location. It is next to a highway (95?) so fairly noisy with trucks, etc. we stayed outside of Portland, Maine at another campground that cost less and was so much nicer. Could use some upgrades for the price.
Sep 23, 2021
The campground seemed very outdated. We expected more out of a Holiday KOA. We don't think the rates were appropriate.
Sep 23, 2021
Everything was nice but the parking is not good at all for the cabin we were in. We were in number 3. We had to pull around back as zero parking in front. Plus the campground had allot of other cabins open but smooshed us in a row with everyone else. We scoped out the other cabins and would have preferred to be in one with more parking and less people around. I kinda wanted a woods feel
Sep 23, 2021
We had a very nice stay here at the Mystic KOA, the 2 pools were great! The smaller cabin we stayed was very comfortable and cozy. The bathrooms, which happened to be near our cabins, were well maintained.
Sep 22, 2021
We love staying at the Mystic KOA. Very helpful and friendly people. The campground is clean and we enjoy our stay each and every time :)
Oct 19, 2021
great place to camp.
- Fred Harrison on Google
Oct 17, 2021
This KOA campground IS VERY nice!! Employees are all VERY nice and go above & beyond for you like there is NO issue!! We have visited this campground 3 times this year and have already booked for next year!!
- Tracie Barden on Google
Oct 10, 2021
Things were down for the season and Covid. Had this not been the case, this place would have been a fabulous campground with kids!!
- Neal Allen on Google