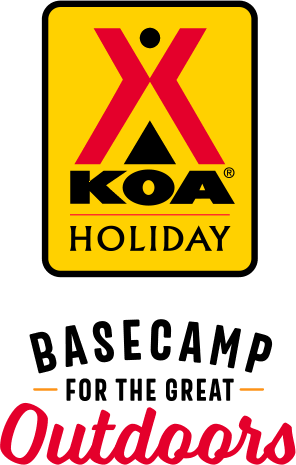 KOA Holiday Campgrounds
Whether you're exploring the local area or hanging out at the campground, KOA Holidays are an ideal place to relax and play. There's plenty to do, with amenities and services to make your stay memorable. Plus, you'll enjoy the outdoor experience with upgraded RV Sites with KOA Patio® and Deluxe Cabins with full baths for camping in comfort. Bring your family, bring your friends, or bring the whole group – there's plenty of ways to stay and explore.
KOA Holidays Feature:
RV Sites with a KOA Patio®
Deluxe Cabins with full baths
Premium Tent Sites
Group meeting facilities
Directions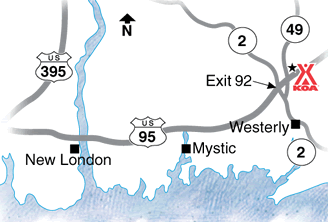 From S/W: Take I-95 N to Exit 92. At bottom of exit ramp, take a left at light onto 2. Go under overpass, take an immediate right at light. Take frontage road to 49. Take a left at light onto 49. Go 1 block to KOA on right.
From N/E: Take I-95 S to Exit 92. At bottom of exit ramp, take a right at light onto 49. Go 1 block to KOA on right.
Get Google Directions
Oct 13, 2021
One of the best camping weekends we've had to date! They had trick-or-treating for the kids, a costume party for adults and kids, movies, and camp decoration contest. The staff was ultra helpful and friendly. Everything was super clean and well kept.
Oct 12, 2021
I love the area, everything so. Lean, just wished pool.was open.
Oct 12, 2021
We had a great time and will likely to return!
Oct 12, 2021
Staff was extremely friendly...bathrooms were consistently cleaned....Maybe more activities for the kids overall...but very fun! We will be back!!!
Oct 12, 2021
Camp was nice and staff to the guest were super friendly! I would rate it 3.5 if it was an option. We stayed in a rustic cabin which was perfect for us. Loved the bathrooms being a few steps away and the daily cleanings. The cabin itself looked as if no one has cleaned or moved the furniture in years. I get we're camping and it's low maintenance but housekeeping is needed.
Oct 12, 2021
Nice to see more of the attractions open this season (blob and slides). However, our site was a little dissapointing as we had not previously stayed in the safari area of the park and the highway was 100 feet from our camper. We ended up leaving a day early because of the noise pollution but at least we know now. Kids enjoyed the halloween festivities. The park is always clean and kept up.
Oct 12, 2021
Have been going there for about twenty years
Oct 12, 2021
Kampgroung was very clean and well kept. Check in was easy, professional and friendly. Activities for the kids were great. Cable TV was a plus and lots of little extras made this campground top level. This was out 3rd stay and we will be back
Oct 12, 2021
Very centrally located Staff were very welcoming Other campers friendly and helpful
Oct 12, 2021
Nice site, friendly people, very clean
Oct 11, 2021
The floors in the cabin were filthy. It's obvious they aren't being washed regularly, let alone between renters/campers. The office/store & activities close exceptionally early for being a weekend. Grounds are decent & well maintained. Staff was very nice. Check in & key drop a total breeze. Would consider staying again.
Oct 11, 2021
Ok campground. Facilities were clean and in good shape. Biggest problem problem us was the highway noise. We were located in the back field in an S- spot and it felt like we were 10ft from I-95. It was so loud we couldn't even have a quiet conversation at our site. Most of the sites are right on top of each other, only a few wooded tents sites in the whole campground.
Oct 11, 2021
It's all about the all mighty dollar these days and not the compassion, and the willingness to help out those in desperate need of a friendly helping hand!
Oct 11, 2021
We wanted a quiet weekend and we got one. We are new to hard side campers and we were using this as a shakedown trip to determine what we did or did not need to keep with us, as we did on the last weekend outing we took. The list was much shorter this time, especially since I remembered to bring the coffeemaker.
Oct 11, 2021
Great Halloween weekend for the kids and their families. We don't have kids - but enjoyed the fun, costumes, trick & treat. The food/beverage (adult beverages too!) truck was a real plus!! We love this KOA!!
Oct 10, 2021
love the camp; well run
Oct 08, 2021
Nice. Clean and tidy. Easy access. Good location for day trips to places of interest. Not real great for bicycling nearby.
Oct 08, 2021
Got a nice corner lot with big tree .. was nice and quiet
Oct 08, 2021
The pull thru site 73 was tight getting into being 70', there should be a slight angle so you don't have to make a 90° angle to pull in. The sewer hookup is not close to the water and electric
Oct 08, 2021
Campground was in the perfect spot for easy access to local sites and activities. Plenty of amenities, clean facilities and unique extra events for entertainment, right within the campground! Looking forward to a return trip sometime in the future.
Oct 08, 2021
very pleasurable
Oct 07, 2021
We enjoyed our stay. The roads to the sites are very bumpy and could be smoothed out. Sites are reasonably level and have nice hook ups. Sites are close together
Oct 07, 2021
Great stay with plenty to do great area to explore we will be back
Oct 06, 2021
A nicer than usual CG. Very clean. Friendly staff. Quiet despite proximity to highway.
Oct 06, 2021
Stayed one night. Lot was unlevel, raining so just stayed unlevel. Nothing special to say, just ordinary
Oct 05, 2021
Awesome people, awesome site, we had a great visit!
Oct 05, 2021
Very clean campground, and friendly staff. There were a lot of activities available, and the food truck was a very nice bonus! It was a fun place and we will definitely be back.
Oct 05, 2021
We have fallen in love with this campground. Registration is easy. The grounds are spectacular, beautiful & so dog friendly. The staff is always ready to help. The sites are nice and level with plenty of room. My daughter and I plan on returning many times. The only problem we had was that the cable service is very unpredictable.
Oct 05, 2021
Facilities are beautiful and well kept, but absolutely no activities were planned or happening for kids or adults. If your looking to relax and do nothing and see no one then it's great
Oct 05, 2021
Very nice and clean. Great restrooms and facilities. Jumping pad is AWESOME. Interstate 95 is very close and very loud, especially back in the field. Everything and everyone was really nice, except for a lady named Laura who was working the after hours phone on Saturday night and the office on Sunday. She was consistently cranky and rude.
Oct 04, 2021
Your facility & restrooms were very clean and staff very pleasant.
Oct 04, 2021
Clean and very well maintained.
Oct 04, 2021
We had a wonderful stay. This is our favorite Koa so far. There was so much for our little grandsons to do and the facilities were up to date and clean. The only issue we had was the one lady in the store wasn't very friendly and was very short. It seemed like we were bothering her. Everyone else was so friendly and helpful. We loved the food truck too. I will recommend to everyone.
Oct 04, 2021
Very relaxing and enjoyable
Oct 10, 2021
Things were down for the season and Covid. Had this not been the case, this place would have been a fabulous campground with kids!!
- Neal Allen on Google
Sep 26, 2021
Awesome slides and playground for the kids. We also enjoyed the game room and mini golf. Clean facilities and overall great place! Only con was our site was very close to 95 and kind of loud with Friday am traffic. We will be back at a different site soon though!
- beth hill on Google
Oct 12, 2021
Nice place, I just wish that the bathroom was a little closer to the cabin also you do get a little road noise.
- JA Hughes on Google