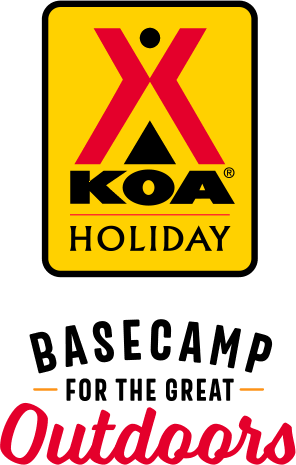 KOA Holiday Campgrounds
Whether you're exploring the local area or hanging out at the campground, KOA Holidays are an ideal place to relax and play. There's plenty to do, with amenities and services to make your stay memorable. Plus, you'll enjoy the outdoor experience with upgraded RV Sites with KOA Patio® and Deluxe Cabins with full baths for camping in comfort. Bring your family, bring your friends, or bring the whole group – there's plenty of ways to stay and explore.
KOA Holidays Feature:
RV Sites with a KOA Patio®
Deluxe Cabins with full baths
Premium Tent Sites
Group meeting facilities
Directions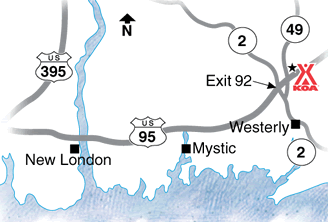 From S/W: Take I-95 N to Exit 92. At bottom of exit ramp, take a left at light onto 2. Go under overpass, take an immediate right at light. Take frontage road to 49. Take a left at light onto 49. Go 1 block to KOA on right.
From N/E: Take I-95 S to Exit 92. At bottom of exit ramp, take a right at light onto 49. Go 1 block to KOA on right.
Get Google Directions
Oct 19, 2021
Great location near Mystic Seaport.
Oct 19, 2021
We enjoyed our stay at the campground. It was very clean and well maintained. The front desk staffer was very pleasant and explained everything very well. The only complaint was that the sites are very close together, but luckily our neighbors on either side were friendly. We would definitely stay there again.
Oct 19, 2021
The stay was great
Oct 19, 2021
We love the place, we'll definitely come back soon !
Oct 18, 2021
I know it was late in the season ..... but paying full price and not having the pool open !!!
Oct 18, 2021
We were only there for the weekend, had a site with patio and full hookups. Nice view of the field with a game of some sort in progress the first day we arrived. Loved the pavilion set up for Halloween, really cute! Store was well stocked considering it is the end of the season! Staff was very pleasant and responsive.
Oct 18, 2021
Great staff. Great location. Bad firewood, it was not hardwood and it didn't burn worth a hoot.
Oct 18, 2021
We enjoyed our stay. Second time here, and I always recommended It to others. Would be helpful if the store stayed open later than 5 pm. The staff running about in carts are very friendly. Would be helpful to have a dumpster in the park, as trash is only collected from 9-11 am. Also, as there are no gates in use, there should be a security patrol at night to prevent noise after midnight
Oct 18, 2021
Nice place a little pricey... great staff
Oct 18, 2021
We had a great time. The deluxe cabins are beautiful, very clean and include all Yu need. Very pretty place and so relaxing.
Oct 18, 2021
We had a great time. The kids loved the playground.
Oct 18, 2021
We LOVE staying at the Mystic KOA campground!! Its a VERY nice well kept up campground!! The staff is ALWAYS VERY pleasant and say "Hi" to you all the time and will go above & beyond for you!!! This is on our FAVORITE list!!!
Oct 18, 2021
Everything was exactly as advertised. Our site was perfect. Clean and ready to use. The office staff was very friendly and extremely helpful. This was our first time camping with our new 36' Motorhome. We've never camped before!!!
Oct 18, 2021
Reserved pull through site, per online description. F7 is NOT. No picnic table at site. When I called the office to cancel my second night, the women said "they were going to get a table." Never happened. I checked with the office the next morning to be sure my second night was canceled/reimbursed. A different woman said they could have relocated me. Never offered by previous staff.
Oct 17, 2021
We had a wonderful stay at this KOA. The pull thru site we were in (D7) was a little narrow but overall this is a very nice campground and I would stay here again.
Oct 17, 2021
We always enjoy staying at KOA camp grounds. We just wish the WiFi connections were better! Sometimes when we are there we have to do some work for our jobs and the connections are never good.
Oct 17, 2021
The people were friendly but our site could have been more level. To be in the most level spot I had to use 2 full electrical cord lengths and 3 black tank tubes.
Oct 16, 2021
We had a great time - it was a large group of mixed campers and cabin rentals. The location was perfect! As a camper with a Popup - having the utility sink nearby was super convenient. the decorations were great - and the kids had so much fun trick or treating which was an unexpected treat! Definitely plan on a return trip !
Oct 16, 2021
We had a nice pull through site. All the employees were very friendly. They had a food truck on site that was a nice perk, sold food and alcoholic beverages.
Oct 16, 2021
We loved it. Our dog did also! Stayed in a deluxe cabin and it was much better than staying at a hotel. Everything was clean and in good condition. Thanks for the great stay.
Oct 16, 2021
We love it there. We'll maintained, great staff, nice sites! One of our favorite places to go
Oct 16, 2021
We enjoyed our stay. Staff was very friendly and helpful. Facilities were spic and span! Very nice!!
Oct 14, 2021
Nice level site, helpful, friendly staff, clean facilities. WiFi was ok but cable seemed to cut out at night and didn't come back on until 09:30, very odd! Our site was the very first one and we had every headlight shining on us while we sat at our camp fire. Still, definitely recommend!
Oct 14, 2021
We enjoyed our stay very much. The campground was clean and well maintained. The only minor issue we had was that the sewer pipe was rather high off the ground and was just about the same height as the drain pipe on our camper making it difficult to drain our tanks. Other than that, we would definitely come back again.
Oct 14, 2021
So much fun! So many great amenities! We were there for Halloween and it was amazing!Our kids had so much fun. Can't wait to visit again
Oct 14, 2021
They have very nice grounds to walk around, people were nice and everything was clean.
Oct 14, 2021
We had a fantastic time! Cabins were clean upon arrival. The staff was very kind and helpful, even delivering firewood to our site. Our kids played all day on the jumping pillow, playground and giant slides and had a great time trick or treating. This is our second visit and we will definitely be back!
Oct 14, 2021
We had a wonderful time. The staff is AWESOME, the Halloween festivities was great. We enjoyed the whole weekend
Oct 13, 2021
Awesome time, great location, friendly staff! We will be back again!
Oct 13, 2021
Enjoyed our stay at Mystic Koa. Very friendly staff. Clean campground. We don't have kids camping with us but the kids Halloween weekend looked so cute and fun. Will come back again.
Oct 13, 2021
We had a great time . The kids came home exhausted. we will be back
Oct 13, 2021
Had a great weekend camground and facilities were very clean. Staff was freindly and helpful.
Oct 13, 2021
Love it .. yearly thing be booking again in a few weeks
Oct 13, 2021
We had a great time staying Columbus Day Weekend. The staff and other campers put on a lot of Halloween themed activities for the kids. Can't wait to come back in the Spring.
Oct 13, 2021
It was Halloween weekend. We brought our 2 grandchildren. They loved the playground and bounce. We all has a GREAT time. The trick or treating was so much fun. They also enjoyed all the dogs. We most certainly will plan again for next year. Staff was very polite and accommodating. Thanks!
Oct 13, 2021
Great stay but very weary of children girls screaming about 12 hours of the day. We love kids but parents allowed children to scream every day which also upset out dogs. Really hope to see adult only designated areas at some point.
Oct 13, 2021
Site was a site that was for a smaller trailer and was very up hill very hard to get out big holes and standing water in the large tire holes trees over grow and hit trailer on way out nobody should be staying in sites in row j the sites are run down and playgrounds are over grown
Oct 10, 2021
Things were down for the season and Covid. Had this not been the case, this place would have been a fabulous campground with kids!!
- Neal Allen on Google
Sep 26, 2021
Awesome slides and playground for the kids. We also enjoyed the game room and mini golf. Clean facilities and overall great place! Only con was our site was very close to 95 and kind of loud with Friday am traffic. We will be back at a different site soon though!
- beth hill on Google
Oct 12, 2021
Nice place, I just wish that the bathroom was a little closer to the cabin also you do get a little road noise.
- JA Hughes on Google