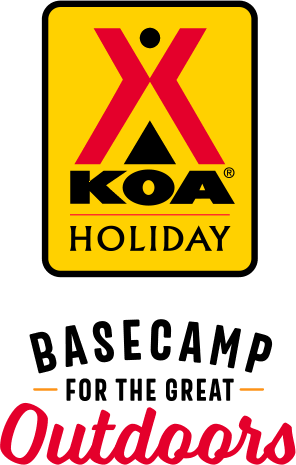 KOA Holiday Campgrounds
Whether you're exploring the local area or hanging out at the campground, KOA Holidays are an ideal place to relax and play. There's plenty to do, with amenities and services to make your stay memorable. Plus, you'll enjoy the outdoor experience with upgraded RV Sites with KOA Patio® and Deluxe Cabins with full baths for camping in comfort. Bring your family, bring your friends, or bring the whole group – there's plenty of ways to stay and explore.
KOA Holidays Feature:
RV Sites with a KOA Patio®
Deluxe Cabins with full baths
Premium Tent Sites
Group meeting facilities
Directions
Exit 234 off I-69, west on Highway 32, 2.8 miles to County Road 300E (Directly across from the Anderson Municipal Airport), North 1/2 mile to County Road 75N. Turn right, go 200 yards, campground is on the left.
*Northbound, exit 234 is a double exit. At bottom of exit ramp, go thru light, stay in right hand lane to hwy 32. Continue as above.
Get Google Directions
Sep 15, 2021
Absolutely one of the nicest campgrounds, bar none that we have ever stayed at! All of the staff were very friendly and helpful! Sites were all large enough and even though the campground was sold old it still didn't seem crowded at all!! Very well maintained and clean also!! We will definitely stay here again!!!!!
Sep 14, 2021
We had a wonderful refreshing experience.
Sep 14, 2021
Very nice campground with wide and long sites. Only down side was television and WiFi coverage. Want a big deal. We will be back.
Sep 14, 2021
Enjoyed the trip because it was nice and clean. Very nice staff.Lots for kids to do.
Sep 14, 2021
Beautiful well kept campground! Very friendly, even though we arrived after the office had closed, someone was there to greet us
Sep 14, 2021
Finally, enough gravel in the sites and most of the roads! This place is nice, orderly, and clean. One of the best things is the owner, who is very caring about people. His kindness to us after a very trying day on the road made us feel do much better. We were more than a customer to him; we were treated like family. Too bad more owners aren't like him.
Sep 13, 2021
Beautiful property. Great hiking trail along White River. I family oriented activities. Would definitely return!
Sep 13, 2021
We always enjoy our time here. The staff are always helpful and the park is always clean!
Sep 13, 2021
The staff is helpful and friendly and the campground is always presents well.
Sep 13, 2021
Beautiful grounds, very well taken care of. Very friendly staff. This is a hidden gem in central Indiana!!
Sep 13, 2021
always a great place to stay!!
Sep 13, 2021
Very well kept and organized. Staff is extremely friendly. Very nice place to stay
Sep 13, 2021
Nice. Clean and staff is always offering to help. Grest weekend and we will be back.
Sep 13, 2021
As always, it was a great weekend at KOA.
Sep 13, 2021
Worst campground I've ever stayed at. We even booked a site right next to a pond. What a joke. The only bites we got all weekend were turtles! Not a single fish in sight. A swing broke with my son on it. No bikes after dark? That's most kids favorite thing to do while camping. Their fishing pier was a slab of concrete on the verge of sliding into the pond and was roped off. No activities. Avoid.
Sep 12, 2021
Just overnight stay, but the campground was clean with beautiful places to walk and fish.
Sep 11, 2021
The folks are always welcoming and accommdating to our needs. Thanks for a great place to camp.
Sep 09, 2021
I had a great time and staff is wonderful!
Sep 09, 2021
It was just a brief overniter, but the management and staff were great.
Sep 09, 2021
One of our favorite campgrounds. Friendly, clean, a step above the rest.
Sep 09, 2021
Enjoyed a quiet camp site. Did not enjoy the timed showers. Convenient to our destination and activities. Clean and well maintained, friendly helpful staff, good grounds patrol. Would stay again for sure.
Sep 08, 2021
Awesome as always. Great campground hosts and workers. Always a great time.
Sep 08, 2021
One of our very favorite KOA's. My grandkids love it too!
Sep 08, 2021
Great spot with excellent neighbors.
Sep 07, 2021
was a great weekend. they had lots to do for the kids and had a band for the adults. always a good time at this campground!
Sep 07, 2021
Very neat and clean campground. Felt safe and comfortable.
Sep 07, 2021
Everything was pretty good except they charged my brother in laws card for a purchase that was supposed to go on my card. They didn't ask what card to put it on or anything.
Sep 06, 2021
We had a great time clean and friendly. We will be back
Sep 05, 2021
KOA Anderson-Muncie is an extremely well run campground in a beautiful setting. We stayed here while awaiting details for two separate funerals in the Midwest. The staff was very kind and understanding of our uncertain schedule. Without any doubt, this is the best KOA we have ever encountered in our travels! We will camp here again.
Sep 04, 2021
Perhaps the nicest KOA we've ever stayed at and in the top 10 of the nearly 400 campgrounds we've visited across the US and Canada!
Sep 02, 2021
I would like to sincerely thank all of the staff who went out of their way to help us out after the bad thunderstorm. Thank you!!!!
Sep 02, 2021
lovely quiet park with plenty of amenities, loved the dog park and the trail around the campground. Just wish there was air conditioning in the bathhouse so I felt refreshed after my shower rather than being hit by a wall of humidity just making me feel like I had never showered at all.
Sep 02, 2021
Outstanding staff WiFi needs work
Sep 01, 2021
Had a great time.All the people were wonderful
Sep 01, 2021
It's a beautiful, well-kept campground. The spots are spacious and clean. Upon arrival, we were escorted to our spot. Management was friendly and courteous. We will be visiting again.
Aug 31, 2021
We had a great weekend. This is a very peaceful and quiet campground. A great place to relax and get away.
Aug 31, 2021
they were very helpful in our delayed entry. checked in very late.830ish she was very helpful in the check in process and also waited til our traveling companions showed up. its to bad we showed up late would like to have seen the park during the day. We will definatly come back and enjoy the campcround
Aug 31, 2021
Nice park with nice staff, what more could you ask for?
Aug 31, 2021
Very clean and nice campground. HUGE pull through sites available. Several permanent campers but the lots are very nicely maintained. Rules are strictly enforced but everyone is very friendly. Lots for kids to do: nice swimming pond, fishing, playgrounds, "train" rides. Nice little camp store. Rates are a bit pricey.