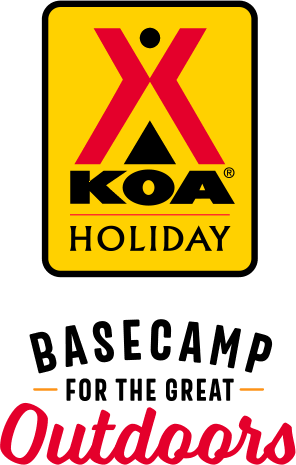 KOA Holiday Campgrounds
Whether you're exploring the local area or hanging out at the campground, KOA Holidays are an ideal place to relax and play. There's plenty to do, with amenities and services to make your stay memorable. Plus, you'll enjoy the outdoor experience with upgraded RV Sites with KOA Patio® and Deluxe Cabins with full baths for camping in comfort. Bring your family, bring your friends, or bring the whole group – there's plenty of ways to stay and explore.
KOA Holidays Feature:
RV Sites with a KOA Patio®
Deluxe Cabins with full baths
Premium Tent Sites
Group meeting facilities
Directions
Exit 234 off I-69, west on Highway 32, 2.8 miles to County Road 300E (Directly across from the Anderson Municipal Airport), North 1/2 mile to County Road 75N. Turn right, go 200 yards, campground is on the left.
*Northbound, exit 234 is a double exit. At bottom of exit ramp, go thru light, stay in right hand lane to hwy 32. Continue as above.
Get Google Directions
Apr 05, 2021
So peaceful and relaxing. Only stayed 1 night, but will be back to enjoy for a longer stay. Staff was amazing and led us to our site. Was a huge pull-thru with full hook ups. They seem to take care of the grounds. Good job!!!!
Apr 03, 2021
The family that manages this campground are so kind, friendly and extremely helpful!! The grounds were clean. Very friendly atmosphere! Love the walking paths!
Apr 03, 2021
We have stayed here a number of times on our way to/from FL. They are always friendly and accommodating no matter the time or date!
Mar 31, 2021
We always enjoy our stay at the Anderson KOA. My daughter, her husband, my son, and my mom all live within a short driving distance so we use this as our gathering spot. We have been coming here two or three times per year for three years and always enjoy seeing the family that operates the campground. It is nice to be remembered.
Mar 31, 2021
Clean, Quiet, Super helpful staff. Will stay again.
Mar 31, 2021
We needed last minute accomodations for an RV site and were coming in very late, KOA was able to facilitate that. They were so helpful and courteous even though it was off season. The facility was very nice and conveniently located.
Mar 26, 2021
We were really happy that Anderson/Muncie KOA was open! Electric and sewer were available and that was all we needed. The restroom facilities were not open yet so we could not rate them. The owners and staff here are wonderful!!
Mar 22, 2021
Very kind and accommodating
Mar 22, 2021
Very Friendly. Waited for late arrival to show us where to park. Park very nice and roomy for Big rigs...
Mar 21, 2021
Very nice staff. The park was very quiet and comfortable.
Feb 28, 2021
Amazing as always!!
Feb 26, 2021
Utility line buried under six inches of snow.Icy conditions. Rained on top of snow. Very slippery going from the camper to the car. Had to put cornmeal down to walk. No water here. Loaded in ten gallons from off site. Site not prepared for the cold!!!
Jan 15, 2021
Enjoyed our entire stay. Great hosts, always friendly and were there for you for any of your needs. Beautiful grounds. Highly recommend.
Dec 24, 2020
Really nice staff. Perfect for an overnight stay. Keep in mind that their water is shut off during the winter months, but electric and sewer are still available.
Dec 23, 2020
The hosts were extremely accomodating, when we needed to change our reservation. When we did arrive, they escorted us down to our site to ensure we were satisfied and had all we needed. Beautiful campsites and property! THANK YOU
Dec 19, 2020
50 amp hookup needed and they have it!
Dec 09, 2020
Needed 50 amp service and it was available.
Dec 01, 2020
convenient to family
Nov 30, 2020
Always great service and the sites are always in great shape. Thanks.
Nov 30, 2020
What a beautiful park! Large trees, lots of room between sites. We only stayed one night in Nov. The water was shut off but they gave us a discount because water was off. Staff was super nice! Would stay here again for a longer time.
Nov 26, 2020
Staff helpful and nice long pull thru so we did not need to unhook for our overnight stay. Looks like a very nice place for an extended stay.
Nov 25, 2020
Friendly staff and beautiful large sites.
Nov 24, 2020
Staff very helpful and nice campsite layout. Only problem was WiFi would not connect to internet
Nov 23, 2020
Tough to find without WASE (or similar) but really worth the effort! Beautiful setting even in the off season and a very hospitable team!
Nov 21, 2020
Great place with an outstanding staff.
Nov 21, 2020
The camp host was a complete joy to work with. Her and her husband keep a spotless camp ! I will definitely be back!
Nov 19, 2020
The site and facilities were exactly what we needed. The staff was exceptional. We had some issues with our coach, and the staff was very helpful and understanding of our predicament. We'll be back!
Nov 19, 2020
Everything was just perfect and everyone was so friendly.
Nov 19, 2020
The place had what we needed for the night.
Nov 17, 2020
Always a pleasure to go to this KOA. The folks are great and helpful. It's kept up and clean. I'll always stop and stay whenever passing thru this area.
Nov 14, 2020
The Best. Everyone was so kind and courteous, especially Dustin. This was a very clean campground. Charlie
Nov 13, 2020
Nice facility, well treated. Would stay again. Thanks!
Nov 12, 2020
This koa is on our way to see family it worked out great for us we plan to go back and stay and take in the sites in the area it's very clean and great for family
Nov 12, 2020
The campground is in a lovely setting with lots of trees and includes a walk along the White River. The staff were friendly and helpful and promptly assisted us when needed. This time of year the bathrooms, shower, and laundry were closed for the season - but we really appreciated having a pull through site with full hook up. I would stay here again.
Nov 11, 2020
Great place to camp. Very nice owners. Thank you
Nov 10, 2020
We enjoyed the clean and friendly campground with the benefit of walking trails, fishing, and close proximity to Mounds state Park. We will definitely consider camping there again!
Nov 09, 2020
very helpful staff
Nov 09, 2020
Outstanding KOA
Nov 07, 2020
Nice park with very nice managers! Good power and water in a level pull-through site.