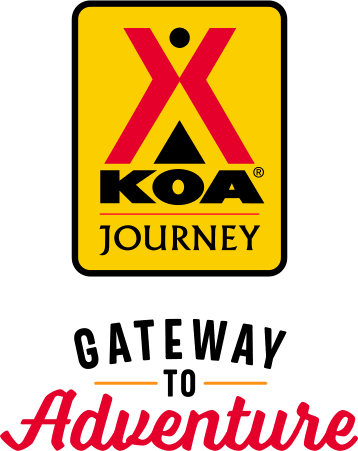 KOA Journey Campgrounds
KOA Journey campgrounds are the perfect oases after a day on the road. Whether it's along the way or a quick getaway, they've got you covered. Located near the highways and byways of North America with long Pull-thru RV Sites, they deliver convenience to the traveling camper. Pull in, ease back and take a load off.
KOA Journeys Feature:
Pull-through RV Sites with 50-amp service
Premium Tent Sites
Well lit after hours check-in service
Directions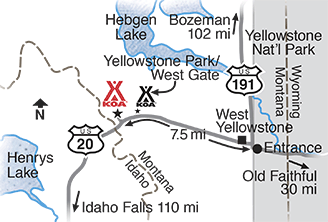 From Yellowstone: 7.5 miles west of West Yellowstone, MT and the West Entrance to Yellowstone National Park on US Hwy 20.
From Idaho: 1.5 miles east of the MT/ID border on US Hwy 20 - next to Super 8 Hotel.
GPS: N44.6866. W111.251811
*Please note that this KOA Journey is 1.5 miles west of the Yellowstone Park/ West Gate KOA also on US Hwy 20
Get Google Directions
Jul 21, 2021
Great. Friendly staff
Jul 20, 2021
Great stay! The bathrooms need a good cleaning but overall great place
Jul 19, 2021
Spots are not level for Motor homes needs Improvement , also sewer is way higher then the uneven spot where your motor home sits great challenge to get sewer to go uphill so.... RV Spots needs added dirt with gravel to level, also make it level to sewer pipe or a gradual angel down to sewer pipe.
Jul 19, 2021
The park and staff was great. This is a perfect campground to visit Yellowstone Park. The only complaint would be that the sewer hook ups are too high off the ground. It was entertaining to watch campers fight with emptying sewer lines
Jul 18, 2021
Very close to the park. Sites are a bit unlevel, but are very bug and open.
Jul 18, 2021
The campground and personnel were great.We enjoyed ourself very much. Great location to the park!
Jul 17, 2021
Good value, and close enough to Yellowstone West. It felt like they were they were understaffed. The desk team were very helpful, maintenance is on sight and friendly. This is a basic campsite offering, everything worked fine, and the stay was overall adequate.
Jul 17, 2021
Well-kept campground, good location, helpful staff. The manager personally drove out to check on a cloud of smoke that was worrying us; thanks for going the extra mile.
Jul 16, 2021
The staff was friendly and efficient. The site, indeed, all their sites, have a good view of the mountains. WiFi was great.
Jul 16, 2021
We had a great stay. Only negative would be the disregard for us being outside with the sprinkler….
Jul 16, 2021
Everything worked well! Bathrooms were clean and staff was nice. I didn't get to try any cooked food here unfortunately
Jul 16, 2021
Great place and helpful staff.
Jul 14, 2021
Our dump was so high off the ground that it made dumping a nightmare. The women that work there were mean. One lady yelled at my kids for playing by the playground. There is no coin dispenser in the laundry and if you don't have cash, the office won't give you quarters. I had to drive to the other KOA to get quarters for my laundry. I was so mad. Won't be coming back here ever.
Jul 14, 2021
Campsites are nice size and the showers and laundry facilities are EXCELLENT!!
Jul 12, 2021
Easy access too many things. Fairly busy. Private bathrooms
Jul 12, 2021
We had a great time at your KOA just would have liked if the bathrooms would have been a bit cleaner. We meet one of your workers named Joe that was always very helpful and pleasant. Great place
Jul 12, 2021
Freindly staff, clean facilities, nice spaces and quiet location.
Jul 12, 2021
We paid for a site with a grass tent pad with electric and water. We were given an RV pull through with no grass. We set our tent up on the camp spot next to ours in hopes that our neighbors wouldn't mind sharing their grass with us. Thankfully they didn't, we shared one grass pad and even then, our tent was half way on the gravel. I will not be back.
Jul 10, 2021
Great friendly staff clean park
Jul 10, 2021
Beautiful location, friendly staff, well-equipped store, decent playground, 10-15 mins from West Yellowstone entrance. Sites were packed tightly making it difficult to back in the camper (28' travel trailer) without my tow vehicle hitting the tow vehicles of the sites "across the street" from my site.
Jul 09, 2021
I was in sight 73 which is in desperate need of gravel to level it out. The park has a large staff which does a great job of keeping it clean but they should also look at the pad sights to see what needs to be done there
Jul 09, 2021
Very nice and beautiful place to stay with convenient access to West Yellowstone. WiFi worked well in the mornings. Consider putting a coin exchange machine in the laundry room to allow after hours laundry runs. Front desk people could be more friendly.
Jul 09, 2021
Our site was next to a long term resident. #160. They smoked right next to our camp, had 4 dogs which has dog feces all over, which we also smelled the entire stay. We stayed in much nicer KOA's for almost half the price. I would not stay here again or recommend it for the money that is charged. Very disappointing!
Jul 06, 2021
Clean campground, friendly staff but there isn't as much to do for families as the other KOA down the street.
Jul 06, 2021
The surrounding area is beautiful and we had a nice spot. However, the bathroom/shower house was the worst campground bathroom I've seen. It was a busy holiday weekend and the bathrooms/showers were "cleaned" once a day. Even after being cleaned, there was mud and hair balls all over the floors. The soap was empty often. I had to show pictures to the manager in order for anything to happen.
Jul 06, 2021
Very accommodating, friendly staff and spacious sights! Will stay here again !
Jul 06, 2021
Nice location, well maintained sites. However, bathroom facilities are not sufficient to handle number of guests.
Jul 05, 2021
Great long sites, clean bathrooms and grounds. Dog area was super small. Pizza was delicious! Overall, great stay and will return in the future.
Jul 05, 2021
Too expensive 110.00 night, no shade, no Wi_Fi, no pool. Great pizza but expensive too. I thought it would have been closer to Yellowstone park and wasn't
Jul 05, 2021
Very clean!!
Jul 04, 2021
Very nice place to stay. Staff was very friendly and helpful. Site was large enough for our 45 ft toy hauler. Close to Yellowstone would definitely stay here again... plan on it next year
Jul 04, 2021
Dusty campground. Generally dirty campers not respectful of the attempts of the facility to keep things nice. If committed to KOA, perhaps try the other one otherwise, even the Branding Iron which gets poor reviews for being in a parking lot, looks favorable.
Jul 03, 2021
Very disappointed. The grounds were very unkempt. The area around our campsite was broken concrete and weeds. Our space #3 faced the maintenance building and all the rock and sand piles that went with it. The picnic table and fire pit were nice. The creek does not go through the campground, rather it runs along the back and you are unable to access the creek because there are tent sites in front.
Jul 03, 2021
All good but cell signal is bad there, so WiFi is even more important than normal. I had a few works things to do, including online bill pay. The wifi networks all had different names, and they would constantly drop you, so doing anything was difficult. I finally went to the main office where it was better, but it still dropped me every 10 mins or so. Location is great.
Jul 02, 2021
We had a very nice time can't wait to come back thank you so much we really enjoyed our stay wish we could have stayed longer was a blessed vacation.
Jul 02, 2021
Nice clean park with General Store and pizza-type restaurant. Dn't Know Why it costs over a $100. a day, with discount, as there are not that many amenities! Must be the location, location, location feature! Visited in late June 2021 as the country was reopening, so little availability of other park sites.
Jul 01, 2021
Nice large sites with shade. Nice store and pizza restaurant.
Jul 01, 2021
Great stay, clean and friendly. Loved how close it was to Yellowstone.
Jul 10, 2021
Nice campground, close to town and Yellowstone
- Kris MC on Google
Jul 06, 2021
I thought this spot might be too far out from the entrance to Yellowstone, but it wasn't. We had elbow room. (They could use more restrooms though). Everything was clean & brightly lit. Very friendly staff. You can order pizza from the front desk & they'll deliver it to your RV or cabin. We walked on a nature trail behind the property.
- Teammilitello on Trip Advisor
Jul 17, 2021
Not a bad park. It is very open, no trees, but the spots are reasonably large. Not a lot to do in the park itself but I imagine most people are using it for a stay to explore Yellowstone NP and it is great for that, as it it only about 7 miles from the west entrance and West Yellowstone. It is a little spendy considering the lack of ammenities but again that is likely because of its proximity to the park. Staff was friendly.
- Doug on Google