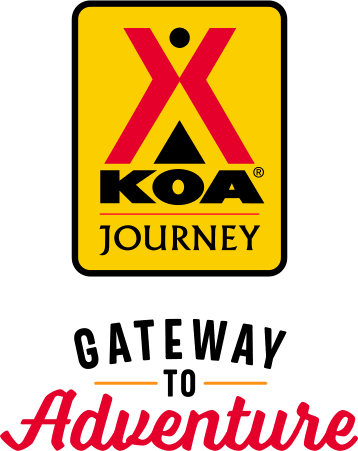 KOA Journey Campgrounds
KOA Journey campgrounds are the perfect oases after a day on the road. Whether it's along the way or a quick getaway, they've got you covered. Located near the highways and byways of North America with long Pull-thru RV Sites, they deliver convenience to the traveling camper. Pull in, ease back and take a load off.
KOA Journeys Feature:
Pull-through RV Sites with 50-amp service
Premium Tent Sites
Well lit after hours check-in service
Directions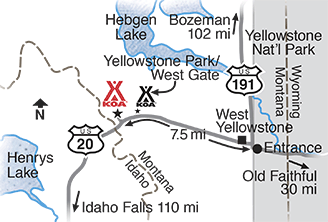 From Yellowstone: 7.5 miles west of West Yellowstone, MT and the West Entrance to Yellowstone National Park on US Hwy 20.
From Idaho: 1.5 miles east of the MT/ID border on US Hwy 20 - next to Super 8 Hotel.
GPS: N44.6866. W111.251811
*Please note that this KOA Journey is 1.5 miles west of the Yellowstone Park/ West Gate KOA also on US Hwy 20
Get Google Directions
Oct 25, 2020
Very nice park. Easy pull through spots. Nice office, convenience store. Efficient staff, got us set up very quickly. Bathrooms, showers and utilities for washing and drying were first rate. Total stay was very enjoyable and a great launching place for 3 days in the area.
Oct 07, 2020
We specifically thank Eleanor for her kind and gracious hospitality on check-in, and again when we had an issue related to a problem with our tote dolly which caused us to expand our stay. In addition, a big thanks to Mike, Manager, for his professionalism in helping us, too. Great park. Anyone would be fortunate to stay there.
Oct 07, 2020
The manager, Mike went out of his way to print out my daughter's schoolwork. Super friendly and helpful staff!
Oct 07, 2020
The campground was clean and comfortable. The staff was great and very eager to help. The only bad thing is that we had to leave as they closed up for the winter. I'm looking forward to another stay in the future!
Oct 07, 2020
Late season but looked very nice still. Nice folks, easy to work with.
Oct 07, 2020
I realize it was end of season, but packing up playground equipment while children were there, but ok. Closing showers but charging full price, not ok. Zipping around in cart non stop early and waking people, not ok. If you feel the need to halfway close, then put it on the website Ave discount the price! Empty store, dead grass.Fl price tho. Do not stay here the last month of their season.
Oct 06, 2020
Very nice nice laundry facilities everything was clean nice area to walk around
Oct 05, 2020
One of my best times camping. Staff was very friendly and the tent site we stayed at was perfect!
Oct 05, 2020
The park was good. The desk staff was very nice and helpful. The store prices were really good (not marked up). Great restroom shower and laundry setup. Showers and restroom are individual rooms. Very clean. I was a tent camper, and admittedly we are low on the pecking order. With that said, my one complaint is that my picnic table could was due a trip to the landfill. Wobbly and splintery.
Oct 05, 2020
Location was great, close to West entrance and Town.
Oct 05, 2020
John and Carrie indicated they were very satisfied.
Oct 05, 2020
Just super fast
Oct 04, 2020
Very nice and clean campground. Staff was very helpful and friendly. Would definitely stay there again!
Oct 04, 2020
The staff were very friendly and helpful. The park was neat and well cared for.
Oct 04, 2020
Sites were spacious and everything was relatively clean. The site stayed open longer than usual which was very nice, however they shut down all but one shower stall and one bathroom. If you are going to stay open, then STAY OPEN! The campground was about 80% full and yet they left just the one Bathroom building open and only one shower out of 4. I would say stay open fully or close.
Oct 04, 2020
Our spot was ready and everything was great ! Warm bathrooms were fantastic and so appreciated.
Oct 04, 2020
Nice campsite, but sewer pipe top almost as high as my holding tanks!
Oct 03, 2020
The facility was adequate. However as a short time camper who payed for the deluxe site I was placed in a corner next to the maintenance building. The web cite map depicts the site as extra space however that extra space is occupied by an unattractive maintenance building. For a few dollars more I would have selected the KOA camp ground just 2 miles up the road and closer to Yellowstone entranc
Oct 03, 2020
Very helpful and friendly staff, full service facilities everything was clean close to Yellowstone Park.
Oct 02, 2020
Nice, and mostly clean but they ran out of hand sanitizer in the middle of our stay, and even after telling the office, it was not replaced at the back bathroom door.
Oct 02, 2020
The location was perfect for our trip. The site was clean & quiet, staff was pleasant.
Oct 02, 2020
Good customer service and clean bathrooms!
Oct 02, 2020
They were very accomodating. After West Gate Was nasty to us. The showers and bathrooms were beautiful and awesome. Would stay here again. All of staff very friendly. Highly recommend it
Oct 01, 2020
It was beautiful and a well kept camp ground. Very friendly staff. Very quiet at night. Loved it. Very relaxing. The cabins were very clean.
Oct 01, 2020
clean site, bath/shower house and laundry. At check-in they told us that bears had been seen in the campground, and what precautions to take- which we appreciated. The advertised "mountain view" was just a sliver... not what I would call scenic. Overall, a good place to stay while exploring Yellowstone.
Oct 01, 2020
Location is great facilities are modern and well kept. Staff is welcoming. Campground has great options for every camper, RV, tent, and cabins.
Oct 01, 2020
Great location and excellent staff. Minor issue server connections are too high. Would stay again
Oct 01, 2020
Everything was fine as expected. Very freindly staff, nice site. My only complete would be the lack of masks being worn because of covid.
Oct 01, 2020
Very nice park. Friendly staff. Great views.
Oct 01, 2020
Staff was helpful and friendly, site clean esp restroom and showers, and access to park was quick and easy.
Oct 01, 2020
The staff was friendly and helpful
Sep 29, 2020
Close to park Nice sites
Sep 29, 2020
Staff was very friendly and informative. Cabins were clean and fully stocked for our stay. Would definitely stay again.
Sep 29, 2020
Nicely appointed campsite with a cute creek at the back. The staff were exceptionally friendly and helpful. The facilities were good, if a little grubby. My main (but minor) complaint is that in some bathrooms, the hooks for jackets/bags were directly over the toilet, which is kinda gross! There was a blank wall opposite too. The dish-washing facilities could do with a more regular clean too.
Sep 29, 2020
Beautiful view and very friendly helpful staff
Sep 28, 2020
It was great
Sep 28, 2020
Beautiful campground. Big rig friendly yet great tent sites.
Sep 28, 2020
Front desk staff very rude, needs serious customer service training. Once you get pasted the rudeness the place is clean & nice spots.
Oct 06, 2020
If you are looking for camping near Yellowstone, look no farther. KOA Mountainside is perfect. The employees are amazingly nice and extremely accommodating. The campground itself is set in a valley with breathtaking views, all around. The camp is bordered by Gallatin National Park, and a gurgling stream also runs along many of the campsites. Crossing the stream to the north takes you to an area with four fishing ponds and an amazing view of the mountains. Also, the bathrooms are very clean, there is a sink for washing dishes and the pizza at the camp store is delicious. Can't give this KOA enough stars.
- Lynette Hendershot on Google
Oct 02, 2020
This site was perfect for our trip. Park is clean & quiet, staff is pleasant.
- Julia Hendel on Google
Sep 26, 2020
Great option for camping near Yellowstone. Less than 15 minutes away from the west entrance, right off the highway. Bathrooms and showers were very nice and very clean. Staff was competent and helpful. For those who care, I had excellent LTE service on Verizon.
- matthewjam_ on Trip Advisor