Directions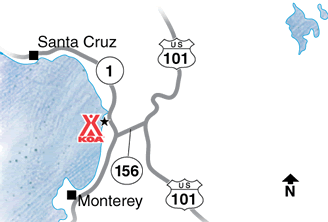 Moss Landing KOA is located just off of Highway 1 to the west, at the corner of Moss Landing Road and Sandholdt Road. From US-101, we recommend taking Exit 336 for Monterey Peninsula/CA-156 West toward Castroville, then take CA-183 to Highway 1 north.
Get Google Directions
Aug 21, 2021
We love staying there. This visit we were needed by a friendly woman from the office. This group of staff were by far the best over the past few years. Friendly and helpful. And we loved puppy Max!
Aug 21, 2021
Very clean park and quiet friendly neighbors. Great location to attractions around the area. I would definitely stay there again.
Aug 21, 2021
Great park but BAD traffic noise.
Aug 20, 2021
Clean, well maintained, quiet, staff is great and always around to take care. The campsites are the nicest of any we stayed at over the past 2 years. Sites are spaced nicely and landscaped to make a peaceful stay. All sites hookups in very good cond. and orderly. Will be staying here again. This was our 2nd time
Aug 20, 2021
Quiet and pleasant
Aug 19, 2021
Very clean park and quite.
Aug 19, 2021
We come here fairly often and always have a great experience.
Aug 19, 2021
People that work there are great. Helpful and pleasant.
Aug 18, 2021
We stayed for almost 2 weeks this time and were so sorry to leave. This park is so clean, so central and listening to the seals bark in the distance is so special. Every single person working there is friendly, genuine and caring. (Squeezes for puppy Max!) We come back every year, we'll be back in September too! This is a gem!
Aug 18, 2021
Very clean!!! Nice paved and level sites with friendly staff. Restrooms up to date and well maintained. We will be back.
Aug 18, 2021
The staff is always friendly and efficient. The place is kept immaculately clean. It's close to were we like to go. We stay there every year and always have a great time.
Aug 18, 2021
This place is amazing, clean and close to a few good things like the beach or a simple walk with your pets. Everyone here is so nice and very accommodating when needed.
Aug 17, 2021
Very nice and clean. Dog area with grass.
Aug 17, 2021
Other than the masked bandits(racoons) in our trash the first night, our stay was fantastic. We covered the trash every night after that incident. Ben and his wife were perfect camp hosts. I asked Ben if he could trim some tree branches so they'd cleared the rig and he was able and willing within a minute to take care of my request!
Aug 17, 2021
Always have a good time when we stay at Moss Landing. Staff is courteous and take great care of guests and RV park!
Aug 17, 2021
Beautifully maintained camping grounds! Staff is really super friendly and highly organized! We will definitely plan on staying there again.
Aug 17, 2021
This is a great location, clean park, and the staff are always very friendly and helpful!!
Aug 16, 2021
Sea lions make a lot of noise at night
Aug 16, 2021
KOA was clean. Employees were very friendly. Miss Landing does not have very many choices for restaurants. Not much to do in Moss Landing. Santa Cruz and Capitals over crowded.
Aug 16, 2021
We had a great time. The staff was very friendly and the facility was well kept. The only thing that kind of bummed me out was that there were no fire rings, but you are allowed to bring your own. Moss Landing is a cool little spot!
Aug 15, 2021
This is a small clean well maintained location. The staff is very friendly, hospitable and helpful. I truly appreciated the help we received from "Ben" one of the camp host who lives at the park, our trailer battery charger failed while there and he loaned me a 12volt battery charger... �
Aug 15, 2021
Absolutely love your park
Aug 14, 2021
Another wonderful stay! The Moss Landing KOA staff are friendly, considerate and professional. We loved meeting Baby Max and look forward to our next trip. Mike, Kathy and Reggie
Aug 14, 2021
Love the location ,access to Beach and Marina
Aug 14, 2021
We will definitely be back! The staff was very friendly and accomidating . The grounds were well kept and the bathrooms were very clean.
Aug 14, 2021
Peaceful, relaxing, clean. Helpful staffs.
Aug 13, 2021
The office staff are wonderful - so helpful! Even though the park was very small the sites were laid out well. They need a larger dog walk area, enclosed if possible!
Aug 13, 2021
Very clean restrooms. Noisy sea lions at bedtime.
Aug 12, 2021
The parks is small, but had everything we needed. The location is right near the water and wharf. Its a short drive to Monterey.
Aug 11, 2021
Liz was very welcoming. Great location for catching boats for whale watching, food and beach. Small, quite park
Aug 10, 2021
We stopped for only one night on our trip. The staff was very friendly and the grounds were very clean. This is a beautiful location. My wife found a couple nice things in their giftshop and they were priced very fairly. I would recommend this place.
Aug 10, 2021
The ladies in the office moved things around to accommodate an extra day for us. They were very conscientious & helped every visitor to their sites and were extremely pleasant. The location and facility are wonderful also nearby to Monterey and Carmel which was a bonus! We throughly enjoyed our stay.
Aug 09, 2021
This is the second time we have stayed at the Moss Landing KOA Express. It's a great location to explore this interesting little village. Close to the beach and several great restaurants and a fish market, it's sites are concrete and nicely landscaped.
Aug 09, 2021
Alex was so helpful, she was right there to guide us into our spot! Loved meeting little "Max", adorable! Love the location of Moss Landing, so close to Carmel and Santa Cruz without the congestion. Looking forward to our next stay! Thank you!
Oct 09, 2021
The Moss Lading KOA is on Monterey Bay, and the beach is only about a 10 min away. It is a small park, the sites aren't huge, but we had site #35, which was on the end so we only had neighbors on one side. The staff is attentive, and I appreciated seeing them in the park wandering around and checking everything was OK. Great location to visit Santa Cruz to the north and Monterey Aquarium to the south.
- Kiwiwaldo on Trip Advisor
Sep 22, 2021
Basic, clean, good location.
- Bob Harrison on Google
Sep 18, 2021
Friendly staff. Very clean and well maintained. Great location.
- Darrell Odom on Google