Directions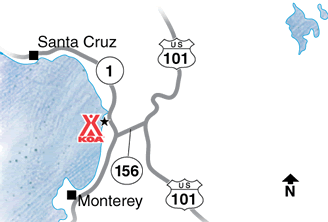 Moss Landing KOA is located just off of Highway 1 to the west, at the corner of Moss Landing Road and Sandholdt Road. From US-101, we recommend taking Exit 336 for Monterey Peninsula/CA-156 West toward Castroville, then take CA-183 to Highway 1 north.
Get Google Directions
Sep 07, 2021
Friendly staff, clean RV Park. Nice hookups. The Moss Landing Pier is next door offering deep sea fishing and whale watching. Many people kayak in the picturesque river nearby. The famous Phil's Restaurant is within walking distance. The park is not real large but has a good location.
Sep 06, 2021
Park and staff were superb. We can hardly wait for our next visit!
Sep 05, 2021
It is a clean quiet park. You can hear the fog horn and the sea lions all night. I loved it. And it was cool at night, so good for sleeping.
Sep 05, 2021
Very clean. Great people. Especially the two ladies that work there in the office.
Sep 04, 2021
Staff friendly and helpful. Site clean, well maintained, other guests friendly. Good experience.
Sep 04, 2021
Clean people and staff very accommodating. All dogs were on leashes no problems people were very friendly. At night enjoyed the sound of the fog horn and harbor seals. Close to all attractions, Phils fishmarket was excellent great food!
Sep 04, 2021
Overall a great campground, the spaces are little to close together. Very clean and well maintained.
Sep 04, 2021
The only complaint I have is that you offer WiFi and the connection is so poor I could never get on. Other than that our stay was great
Sep 04, 2021
People were very helpful. The part was immaculate. Enjoy your stay
Sep 03, 2021
Best KOA I have stayed at.
Sep 03, 2021
There was a potential domestic problem in the next site involving the safety of young child. The site on the other side also noticed and the managers were made aware and were calm and made sensible choices to handle the situation. While we don't know the outcome, we felt secure in the knowledge that the staff was capable of knowing what to do. It gave use a sense of reasonable safety. Thanks,
Sep 03, 2021
Everyone was so nice! Loved walking all around. Lots of fun!
Sep 03, 2021
The staff was very friendly and actually came to my parking site and assisted with backing in my 40 foot fifth wheel.
Sep 02, 2021
There is so much to do in the area and the Kia is clean and well maintained and the staff is very friendly. I've been there many times and always enjoy my stay.
Sep 02, 2021
The two lady managers were very helpful and friendly.
Sep 02, 2021
Wonderful, clean,and very well maintained. The two women that work there were amazing, friendly and added to a great stay.
Sep 02, 2021
The KOA campground in Moss Landing was fantastic! We stayed six days. Alex was wonderful and very helpful! We will absolutely be coming back!
Sep 01, 2021
Excellent except for poor WiFi.
Sep 01, 2021
The spot was level it was a nice picnic table, it's sort of an industrial arena area. The bathrooms were immaculate and the staff was very friendly and helpful. Especially Liz and her husband who helped streamline the check in process.
Aug 31, 2021
Campground is clean and staff is very helpful. But the spaces are very small for the money and the cable TV is terrible.
Aug 31, 2021
This was our 4th time to stay here. We have made this an annual destination park. We love it!
Aug 31, 2021
Campground was clean and quiet. Staff were very pleasant.
Aug 31, 2021
Right from check in to departure, we were treated like family. The office staff (2 females) went above and beyond expected service. She helped guide us to park and connect everything. And one of our group members forgot his phone in the restroom, she brought it to us and asked if it was ours. I would highly recommend this place. I will definitely go back here. Beautiful place too.
Aug 30, 2021
Great campground and very clean.
Aug 30, 2021
LOVE LOVE LOVE This Park! It's quaint and very sweet. Walking distance to the beach and Phils market which is a fabulous restaurant.
Aug 30, 2021
Lovely staff and cites. We will be back, thank you KOA!
Aug 30, 2021
Ben was very helpful. Great location. Great restaurants with-in walking distance. Also enjoyed the Shakespeare Museum with-in walking distance.
Aug 29, 2021
Great host very nice and friendly!!! I was in for a little shock on how loud the seal lions and birds are but other than that had an amazing stay.
Aug 29, 2021
Hassle free stay. Enjoyed the location. Close to fun places to visit.
Aug 29, 2021
We spent Mon-Fri at Moss Landing KOA & love it as it's near great places (like Elkhorn Slough for kayaking).The mgt/staff is super and it's VERY clean and well kept. IMO it's a great place for quieter small groups as the sites are fairly close together. Nearby walking paths, close to Monterey and Santa Cruz. We will return!
Aug 28, 2021
We loved our stay. The campground is small and well maintained. The staff are friendly and helpful.
Aug 28, 2021
This is my second time at Moss Landing KOA. They have always been friendly, professional and accommodate my 43' MH. The interior road and sites layout makes backing in ez and level with perfect hookup location. Grounds are keep clean and colorful. This is a Express which works well for us without kids.
Aug 28, 2021
Loved the location, size, appearance and feeling safe. Well maintained, shows pride of campground.
Aug 27, 2021
Amazing place! Amazing KOA! The staff was super nice, helpful and ready to help with anything!!! We will come back dine it is one of our favorite places now!!!
Aug 27, 2021
Friendly staff who go above and beyond
Aug 27, 2021
Great facility. Very clean. Awesome staff. Will return for sure
Aug 27, 2021
This was our first visit to the Moss Landing site. Our stay was short, comfortable, and found the staff to be very helpful, the site clean, very well kept, and would certainly return in the future.
Aug 27, 2021
We love your park the office was very helpful we had a great time thank you.
Aug 27, 2021
Great staff of people here. They even gave us a lock to lock up our bikes. Clean place and general area easy to get around.
Aug 27, 2021
Love Moss Landing. Love the staff too
Aug 27, 2021
Friendly staff. Very clean facility.
Aug 26, 2021
Enjoyed the weather and Monterey County during my stay.
Oct 09, 2021
The Moss Lading KOA is on Monterey Bay, and the beach is only about a 10 min away. It is a small park, the sites aren't huge, but we had site #35, which was on the end so we only had neighbors on one side. The staff is attentive, and I appreciated seeing them in the park wandering around and checking everything was OK. Great location to visit Santa Cruz to the north and Monterey Aquarium to the south.
- Kiwiwaldo on Trip Advisor
Sep 22, 2021
Basic, clean, good location.
- Bob Harrison on Google
Sep 18, 2021
Friendly staff. Very clean and well maintained. Great location.
- Darrell Odom on Google