Directions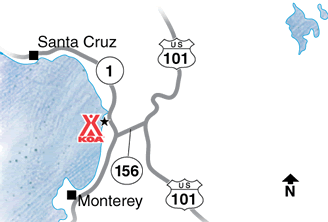 Moss Landing KOA is located just off of Highway 1 to the west, at the corner of Moss Landing Road and Sandholdt Road. From US-101, we recommend taking Exit 336 for Monterey Peninsula/CA-156 West toward Castroville, then take CA-183 to Highway 1 north.
Get Google Directions
Sep 18, 2021
Loved it! great location! great staff! Helen and Alex were the best. Can't wait to go back
Sep 18, 2021
Couldn't have been better. The hosts were the best!
Sep 18, 2021
We love this RV park! The management is very friendly and helpful! We'll be back soon!
Sep 18, 2021
Very nice clean nice staff everything was excellent we enjoyed our stay
Sep 18, 2021
2nd time there. Wonderful management! Nice area.
Sep 17, 2021
Very nice park and the two hosts were very friendly. Nice patio and lawn area that were very clean and well kept. What I like best was how quiet it was; hearing mostly seals, sea gulls and I think chickens.
Sep 17, 2021
The location was perfect for our needs and the property was clean, attractive and well run. Our stay was short and we were out pursuing activities so the small size of the individual sites was OK, however probably not suitable for longer term where more space and privacy would be important.
Sep 16, 2021
Like this location, all the employees are SUPER nice! Love KOA
Sep 16, 2021
One of the best parts about staying at Moss Landing KOA is the wonderful staff. Always so helpful and keep the park in good condition!
Sep 16, 2021
We come to Moss Landing twice a year and have always enjoyed ourselves . However, you can only have an American flag and no other. Which I believe goes against our freedom of speech here in America right? So we will not return. And I will tell all my friends who go to moss landing to not go either. And you should check the front of your rv park cuz there is a KOA on a polo. Shouldn't that f
Sep 16, 2021
I love the staff here. So nice and helpful.
Sep 16, 2021
About the friendliest KOA staff ever!! Always smiling and professional. Great experience!
Sep 15, 2021
The people managing the park were very friendly and personable. The rv park was nice and clean.
Sep 15, 2021
This small RV Park is our favorite close to home get away. It is clean, quiet, nicely managed, has mostly adult campers, several seafood and Mexican restaurants within walking distance as well as the ocean and water activities. Thank you, KOA and staff!!
Sep 15, 2021
Very friendly. Everything perfect. Thank you.
Sep 14, 2021
We really had fun talking to guests. This park draws a good crowd of fun folks!
Sep 14, 2021
We love staying at KOA Moss Landing. It's so well taken care of. Everyone is so helpful and we always meet some great people. Location is perfect for beach walking, several wonderful restaurants. Can't wait to go back!
Sep 14, 2021
A great facility and a short walk to the beach. The staff are all friendly and helpful. We are already planning a return visit!!!
Sep 14, 2021
Clean and quiet
Sep 14, 2021
The KOA was very clean and was in a pretty good location. It was also very small and had really no amenities. Considering the price per night, there should have been a pool or hot tub or at least an enclosed dog park.
Sep 14, 2021
Very helpful and friendly!
Sep 14, 2021
Love this place! Excellent location. Park is well maintained. And the staff are amazing! Friendly and over the top helpful! It's my go to spot.
Sep 14, 2021
We called last minute, when we were 15 minutes away... and fortunately there had been a cancellation. The hosts were so sweet, helpful and kind. We loved the campground, the location and the hosts! Would definitely go back and highly recommend!
Sep 13, 2021
Easy to find. Relaxing time. Within walking distance to a restaurant.
Sep 13, 2021
Always the greatest place to spend a few days and get away from the hot Central Valley, clean, quite, friendly staff ,
Sep 13, 2021
Managers are friendly and were extremely helpful with helping us into our spot Service 10 +
Sep 13, 2021
Excellent Service and Very Clean Park. Convenient to Monterrey.
Sep 13, 2021
Excellent location and sites. Very helpful staff.
Sep 12, 2021
We enjoyed our stay here mostly because of the location and proximity to the ocean and Elkhorn Slough. Though this KOA has few amenities, it was clean and the personnel were very nice.
Sep 11, 2021
always love Moss Landing but I do miss the seals barking at the marina
Sep 11, 2021
It was great! The office manager was friendly and helpful and it was clean and quiet. The only downside was the spaces were very close together. I loved being walking distance from the beach and Phil's Fish Market!
Sep 10, 2021
Very nice place to stay , small be so nice . You can see much TLC is taken to keep the place nice . Wish all KOA had that TLC !
Sep 09, 2021
Staff very friendly and helpful. Sites were level and wide.
Sep 09, 2021
Thought I had reserved site back in Feb., but never was actually confirmed. Liz worked at getting us a site and Ben helped us back the camper into the sit. Excellent team/couple!
Sep 08, 2021
I would rate a "5" except for the trees...Being a coastal site, shade is not really a necessity so they could be pruned upward so as not to cover the RV's with a huge tree mess and bird droppings. Other than that, Liz and Ben are THE BEST! Pleasant, hard-working, and they keep the place very tidy. Definitely will be back.
Sep 08, 2021
Nice clean campground only complaint is the tv stations never work no matter what site you are in. They could upgrade and upgrade picnic tables.
Sep 08, 2021
Love to relax there.
Sep 07, 2021
Moss Landing KOA is our go to RV campground for visiting the Monterey Area. The KOA itself is very small and extremely well maintained. You feel like you are in your own little island. It is surrounded by boats and you can hear the sounds of the sea lions barking in the night as well as the clanking of the booies and the fog horns. FOOD IN THE AREA IS FANTASTIC AS WELL! Enjoy!
Sep 07, 2021
Great location, very friendly and helpful staff. Perfect for what we wanted.
Oct 09, 2021
The Moss Lading KOA is on Monterey Bay, and the beach is only about a 10 min away. It is a small park, the sites aren't huge, but we had site #35, which was on the end so we only had neighbors on one side. The staff is attentive, and I appreciated seeing them in the park wandering around and checking everything was OK. Great location to visit Santa Cruz to the north and Monterey Aquarium to the south.
- Kiwiwaldo on Trip Advisor
Sep 22, 2021
Basic, clean, good location.
- Bob Harrison on Google
Sep 18, 2021
Friendly staff. Very clean and well maintained. Great location.
- Darrell Odom on Google