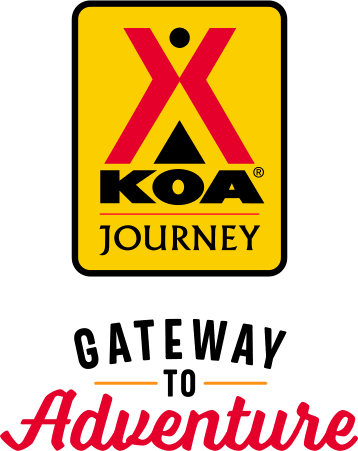 KOA Journey Campgrounds
KOA Journey campgrounds are the perfect oases after a day on the road. Whether it's along the way or a quick getaway, they've got you covered. Located near the highways and byways of North America with long Pull-thru RV Sites, they deliver convenience to the traveling camper. Pull in, ease back and take a load off.
KOA Journeys Feature:
Pull-through RV Sites with 50-amp service
Premium Tent Sites
Well lit after hours check-in service
Directions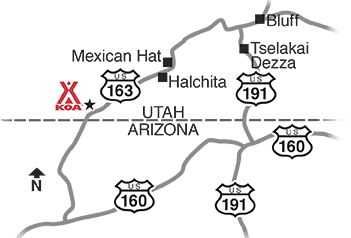 Conveniently located off US Hwy 163 at MM 2. From the north: 18 mi S of Mexican Hat, UT. From the south: 22 mi N of Kayenta, AZ.  GPS: N37.017002, W110.153417
Get Google Directions
May 26, 2021
Amazing views and wonderful staff. Doc was a blast to talk to and super helpful
May 26, 2021
Good camp in a great location to see all the sights of Monument Valley and surrounding area.
May 25, 2021
If you plan on camping, be mindful of the wind. We tried setting up a tent because winds weren't supposed to die down until after dark. The campground manager was very helpful. Beautiful night sky in the middle of the rock formations.
May 25, 2021
Frustrating that the Wifi did not work during the entirety of our one night stay,
May 24, 2021
Nice park, staff9 and management were great. The weather, and covid shutdown is what was bad. Guess I picked the wrong time of year to visit
May 24, 2021
The park looked very well kept. The restrooms and laundry were super clean. It was just a terrible windy, dirty time while we were there.
May 24, 2021
The owner was so nice!! Gave us great advice for seeing things since Monument Valley is closed from covid. Park is well kept. Only complaint was no cell service, wifi or tv.
May 23, 2021
The camp ground was just as I expected well kept clean office staff couldn't of been nicer Weather could of been better 50 mph wind is no ones fault would stay here again in a second
May 23, 2021
Welcoming staff, nice location, clean site and bathrooms.
May 23, 2021
Very poor Wi-Fi. Site is open and windy. Lots of flying dust.
May 23, 2021
We spent 2 nights, the grounds are in great shape (I suspect it's a pretty new facility), the restrooms and laundry are brand new and Ray was fabulous on a number of levels.
May 22, 2021
Newer KOA, so the bathrooms were immaculate! best part! tent sites of close are too close together, and are RIGHT on the Highway, which I knew, but that meant it had great views.
May 22, 2021
Nice area to stop for a night. It was really windy so we needed a break. The guys at the desk were very friendly and joked around. Everything looked new and the trees were small and recently planted. WiFi didn't work but they warned us about that. No big deal. It rained at night and cleared the dust clouds away but my gray Jeep is red now. � Got some great pictures going through the valley.
May 22, 2021
Still under development. Everything works but it's too early to rate it.
May 21, 2021
You can't beat the location...right in the middle of Monument Valley.
May 21, 2021
Clean, friendly, beautiful setting
May 21, 2021
No cell or wifi although there was supposed to be. No laundry. Just gravel on the sites. But great location, nice staff.
May 20, 2021
We have stayed at many campgrounds over the years and Doc is the most hospitable and helpful manager that we have come across. Thanks Doc.
May 20, 2021
Manager Raymond is a caring host making this a KOA with a community feel. He's retired military and EMT and stepped in with First Aid when a child of a visiting family had a cut from playing. He knows the area, not just what to see, but how long it takes, and how to get there. We rented a Jeep to drive the Valley of the Gods, just $100 for 4 hours. Saved our RV! Gt location, clean, dark skies! A+
May 20, 2021
bathroom are clean, hot water is hot. but the WOW comes in the morning and the monuments.
May 19, 2021
Very helpful man in the office, was able to help me refill my water tank.
May 19, 2021
Very tight sites close together. Obviously anew campground. Staff was very friendly. Views fantastic.
May 19, 2021
Bathrooms were clean. Check in was easy and the front desk staff is nice and friendly. The only reason to stay here is to use it to access the surrounding areas (like monument valley). Also, monument valley itself is totally closed unless you have a reservation INSIDE the valley, thanks to Covid. But the views from the Koa were really great. Not bad a single night stop over.
May 19, 2021
The manager was very friendly, helpful and knowledgeable about the surrounding area and sights to see. He always greeted us with a smile and genuinely cares about his guests experience while staying at his KOA. Thank you Doc for everything you did for us.
May 18, 2021
Stayed 30 minutes and left. Spots are so close with no room.
May 18, 2021
So clean and very respectful campers! Great amenities and beautiful views. Thank you for a great experience! On-site manager was a delight!
May 18, 2021
Nice clean bathrooms. Great pull- through sites. Stupendous views of Monument Valley. Not your fault, but wish there were stronger WiFi and phone signals. The trees, although small, were appreciated.
May 18, 2021
The host "Doc" and his associate Mitzi were very nice and warm.
May 17, 2021
Very clean restrooms and showers the customer service was great the views were amazing
May 17, 2021
Very welcoming staff. Location is great to use as base to visit sites around Monument Valley. Had a great stay.
May 17, 2021
Friendly greeting, clean and modern bathroom facilities, helpful with information whenever we asked! Got to see a herd of sheep pass through the end of the property being directed by two dogs. Beautiful views and stars at night.
May 17, 2021
Management was very helpful and curtious. Thank You!
May 16, 2021
Excellent place. Great place to see Monument Valley. Was disappointed about the internet.
May 16, 2021
Great communication, happy employees, great location, great hookups, great picnic table, nice to have car and horse rentals there.
May 16, 2021
It was a nice , quiet and clean campground! Beautiful scenery! We will definitely stay again. Everyone was pleasant.
May 16, 2021
Loved this place friendly staff will definitely come back again. We rented two of there Jeep's and spent the day exploring all the sites the staff recommended. Whole family loved it.
May 16, 2021
The view from this campground is wonderful. Also star gazing late at night wonderful. An extra plus is the tours will pick you up at entrance. A very special place.
May 16, 2021
Loved our stay.
Jun 21, 2021
Stayed here the past 2 nights. Monument Valley is a spectacular place to visit. There isn't a bad view in the entire campground. If you've never been and you camp then I recommend this KOA.
- Marcel Cartier on Google
Jun 16, 2021
Beautiful location. Friendly staff, roomy and relatively level sites.
- Travis Coleman on Google
Jun 05, 2021
Although the Hugesnet wifi was down, camp host was wonderful as well as location. By all means rent one of their jeeps for 4 hours to tour the rough road thru Valley of the Gods.
- Alex Fane on Google